 Why Roberto Firmino is so Important to Klopp's Liverpool

Liverpool have made a habit out of developing talented attackers throughout the years. The club's history is just littered with rough gems who have turned into diamonds during their time at Anfield. It must be environmental. Very few clubs in world football can boast that they've had the likes of Kenny Dalglish, Ian Rush, Robbie Fowler, Michael Owen, Fernando Torres, Luis Suarez and Daniel Sturridge on their books.
There's a player at the club now who will be spoken of in the same breath as the aforementioned players in years to come: Roberto Firmino.
It's a bold claim and one that would have been laughed at if it was mentioned during his initial weeks at the club. The Brazilian understandably took time to settle when he arrived in England. A new club in a foreign country playing a different style of play in various role to suit a manager who was on his last legs when he was signed. If all of that wasn't enough the versatile attacker broke a bone in his back early on in September in a Carling Cup tie against Carlisle and was ruled out of action for a couple of weeks.
When he returned the whole landscape at the club had changed. Brendan Rodgers was no more, in its place was Jurgen Klopp who'd shown an interest in Firmino during his time managing Dortmund. It seemed like the perfect union. Slowly but surely the Liverpool no.11 became an integral part of Liverpool's system as they registered impressive wins against Chelsea, Manchester City, Manchester United and put in a man of the match performance against Arsenal in a 3-3 draw. He was also instrumental as Liverpool beat Villarreal 3-0 in the Europa League Semi-Final.
Outrageous skill, questionable hairstyles, some memorable goals and a glut of assists adhered himself to the Anfield faithful as he went from "elegantly shite" to "BTEC Suarez" (a compliment) in less than 12 months.
Liverpool may only be a handful of games into the new season but he's well on his way to shedding his 'consistently inconsistent' tag. He's started the season in fine form with three goals but that doesn't tell the whole story. He's terrorised defences and had it not been for woeful finishing (glares at Coutinho for his miss against Spurs) and inspired goalkeeping he'd have a hatful of assists to his name already and even more people would be talking about him.
He looks in the sharpest condition of his career to date.
Why he's perfect for Klopp
In theory and in practice Firmino is Jurgen Klopp's ideal attacker. When you really think about what Klopp demands from players it's exactly what Firmino already gives you. His movement makes him untouchable at times. He's a goal threat, a grafter and most importantly, he's a team player.
He's played a variety of roles under Klopp and to his credit he's laid down a claim to be considered first choice in each of the roles. Whether it's as a false 9, an attacking midfielder or coming in from the left. There are arguments, points and reasons for him to be a starter in those roles. He's like an attacking Skeleton key.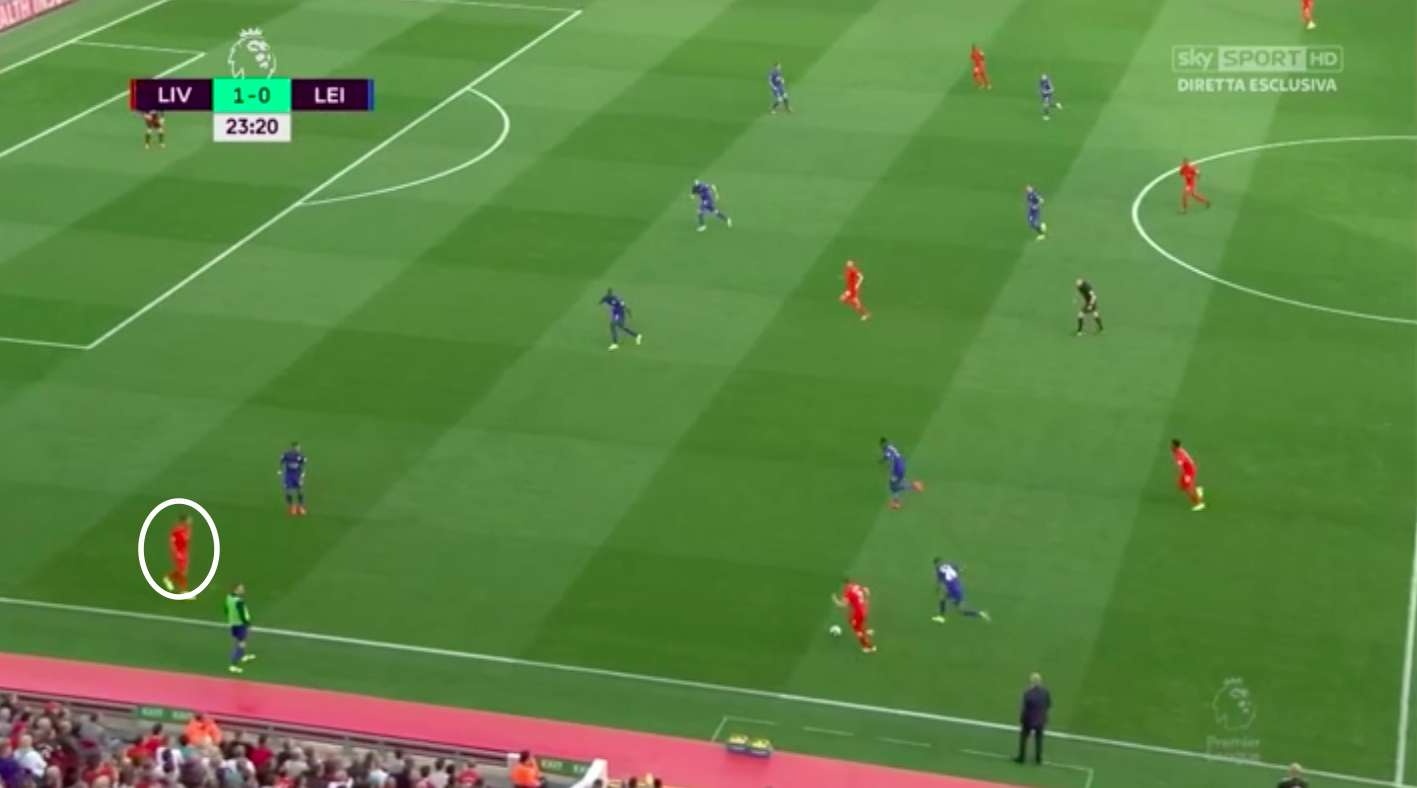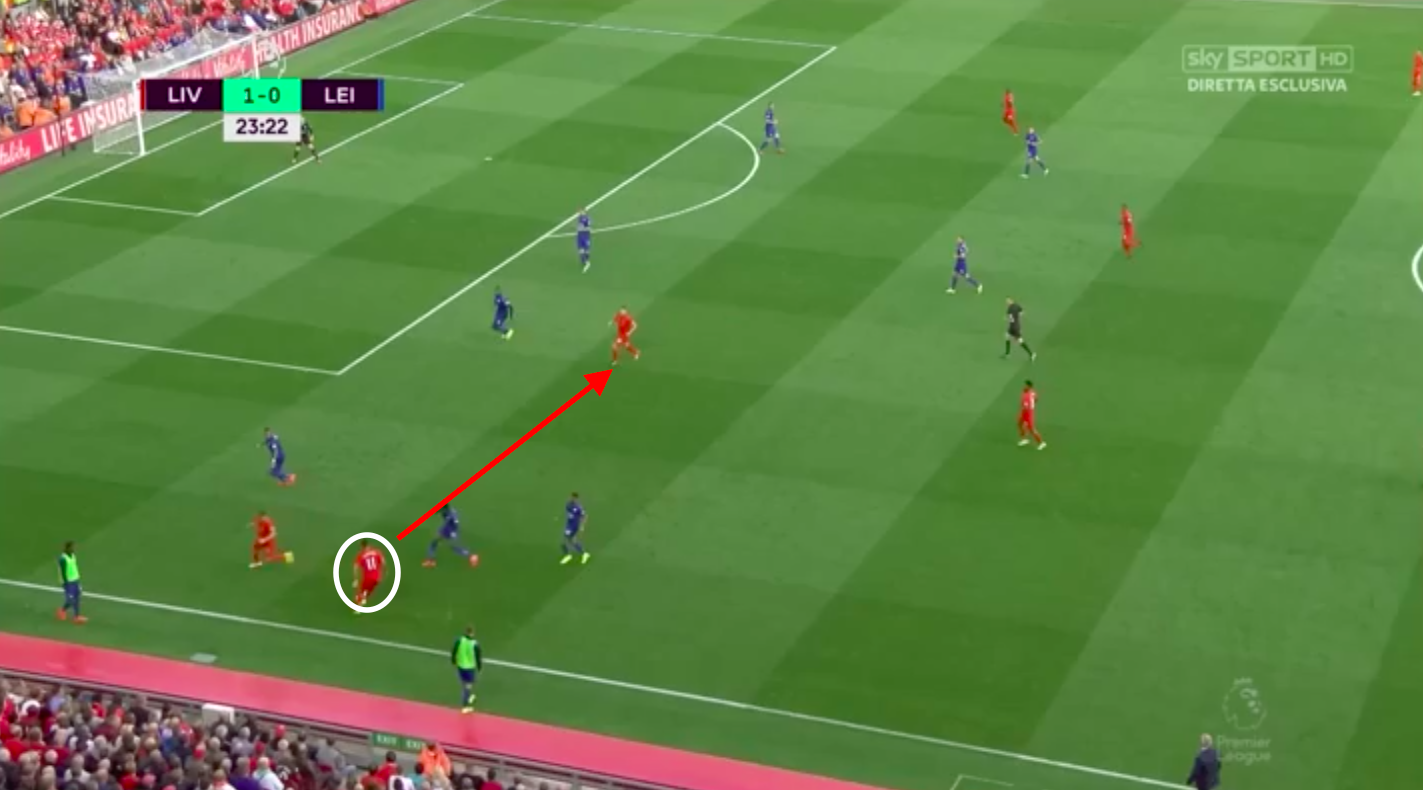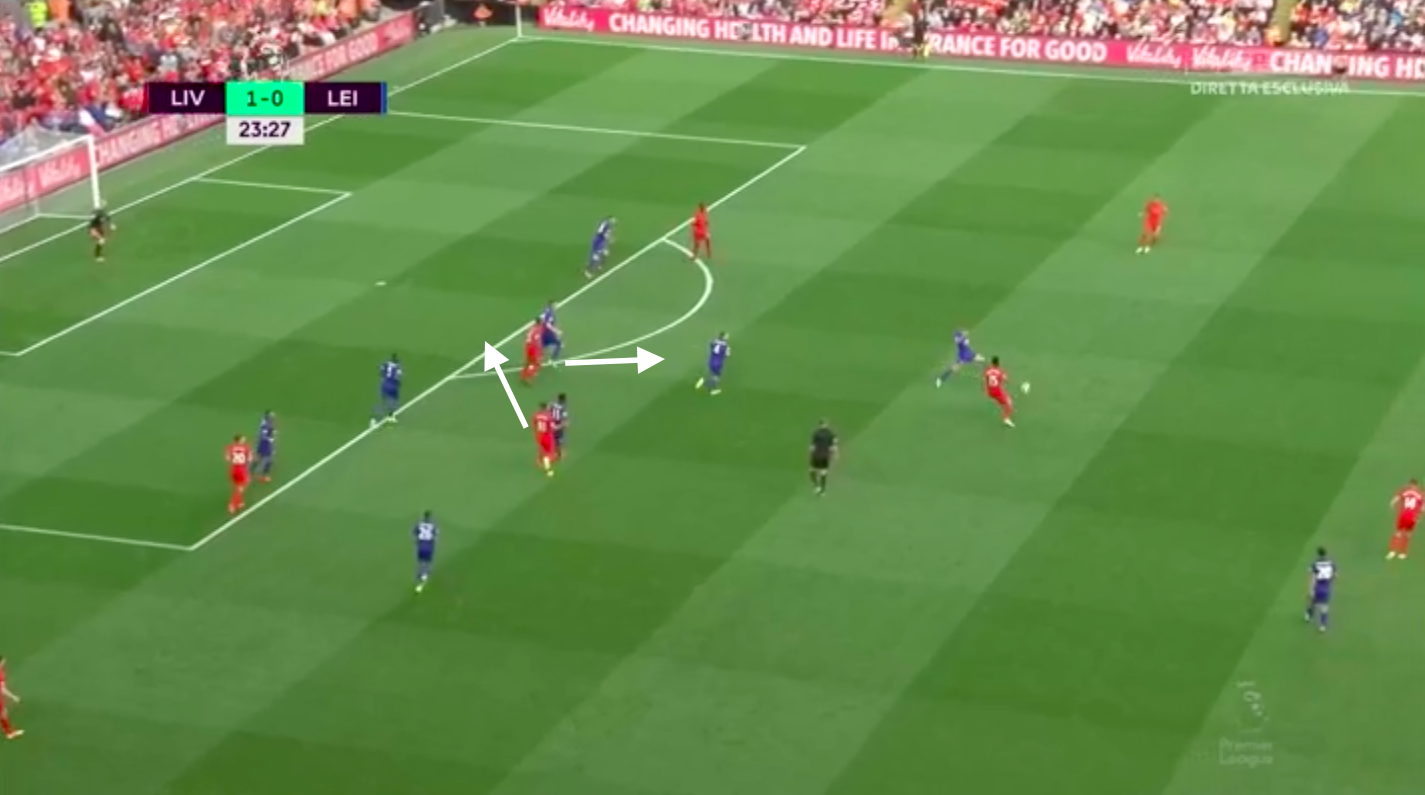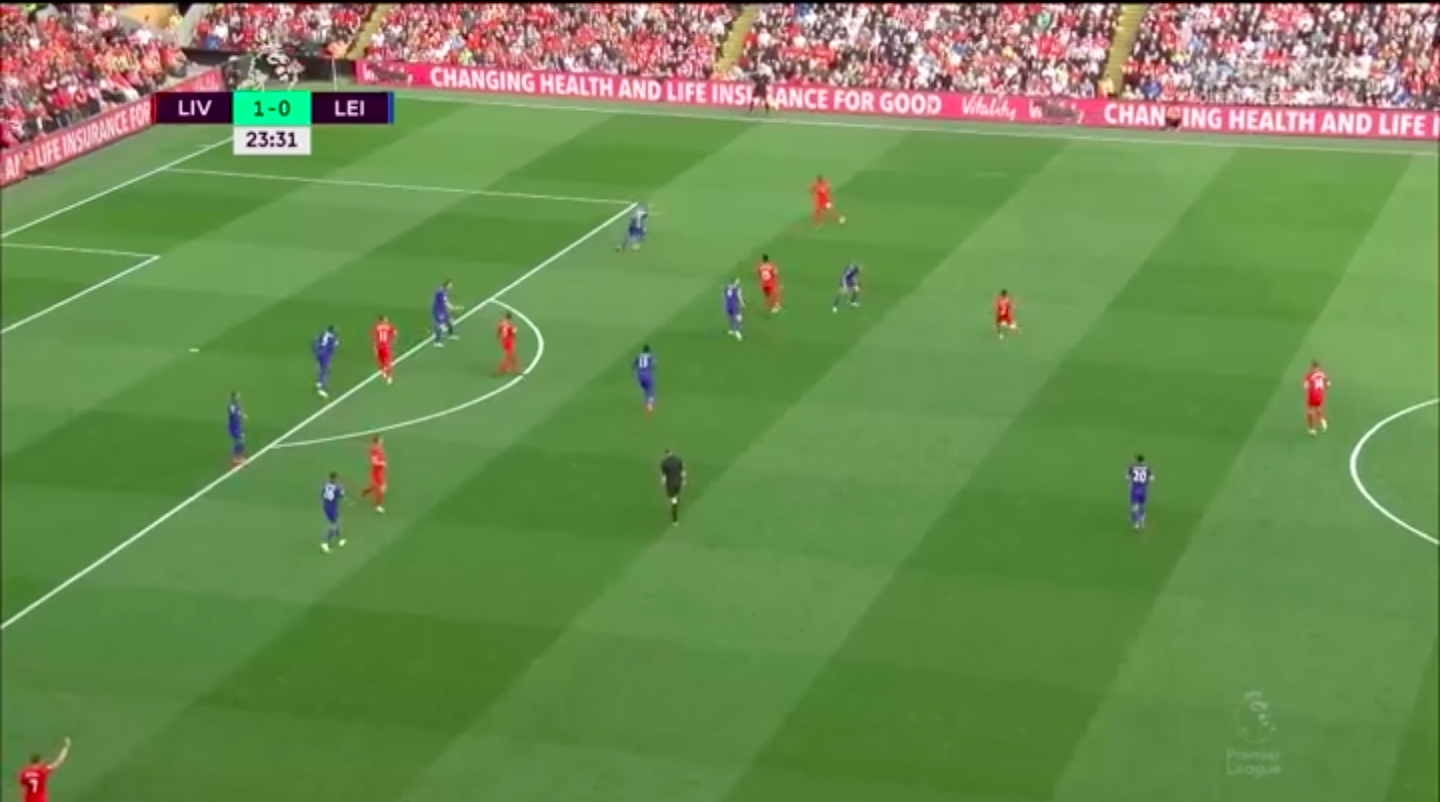 The series of screenshots above shows just a snippet of Firmino's movement from the left hand side against Leicester. It's not mind blowing or breath taking but it's not something many other attacking midfielders in the world do. He picks the ball up on the wide left, plays a one-two with Adam Lallana before making his way centrally before passing to Sturridge, the striker on the day. He then continues his run centrally as Gini Wijnaldum withdraws from the central role and picks up space just in front of the defence. Firmino then positions himself in front of Wes Morgan but he's looking to move off of Robert Huth who is keeping an eye on Wijnaldum. He's showing striker traits which allows Sturridge to roam from his role without Liverpool lacking that threat up front.
It's not ground breaking but you don't often see an attacking midfielder show that much intelligence when not in possession of the ball but to Firmino it's natural and it plays right into Jurgen Klopp's hands of wanting a fluid, and interchangeable attack.
Firmino's involvement in the Mane goal is criminally underrated. He takes up the central role with Mane right and Sturridge left. He then darts towards the half-way line to receive the ball and it's this movement that drags both Huth and Morgan up the pitch and opens up the space for Henderson to play Sturridge and Mane in. It's so simple yet it's so effective. It's almost guaranteed to be taken for granted.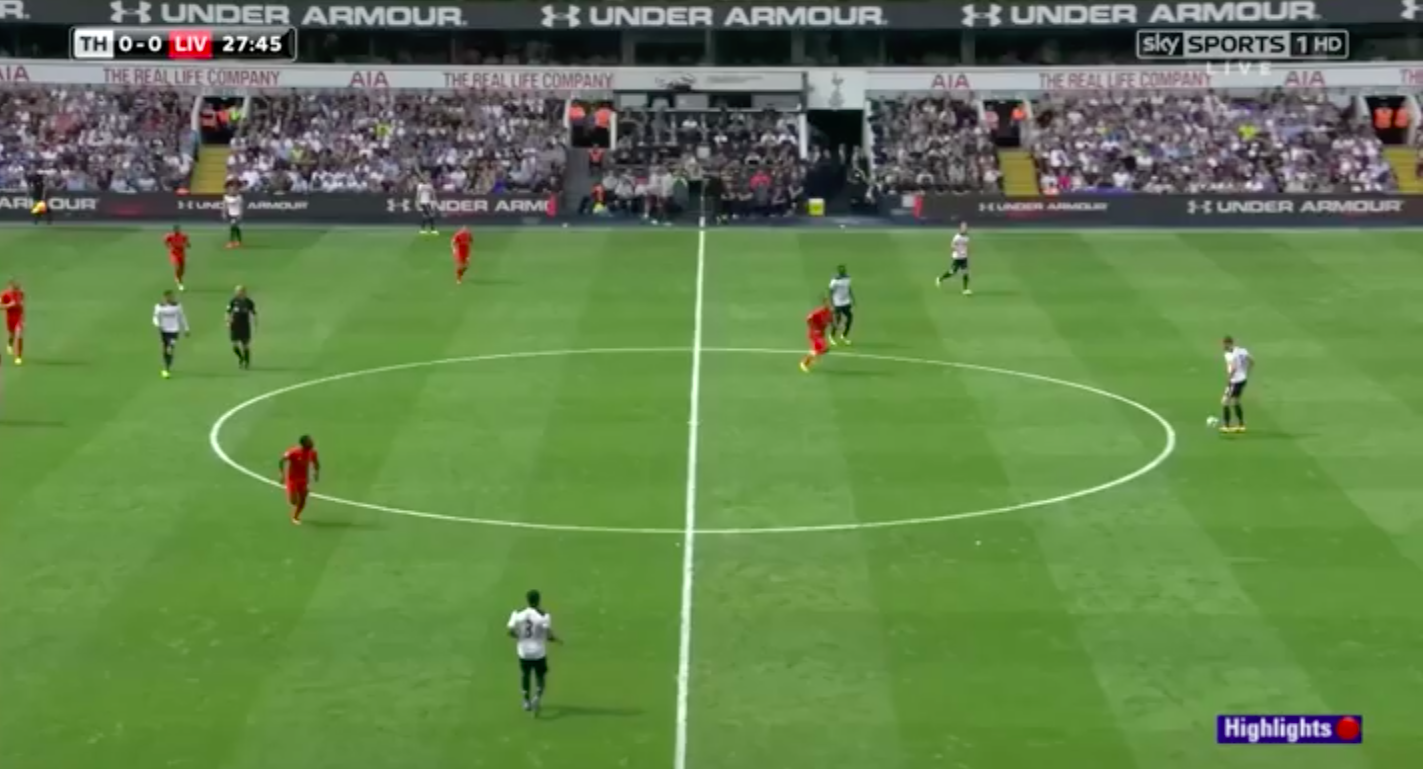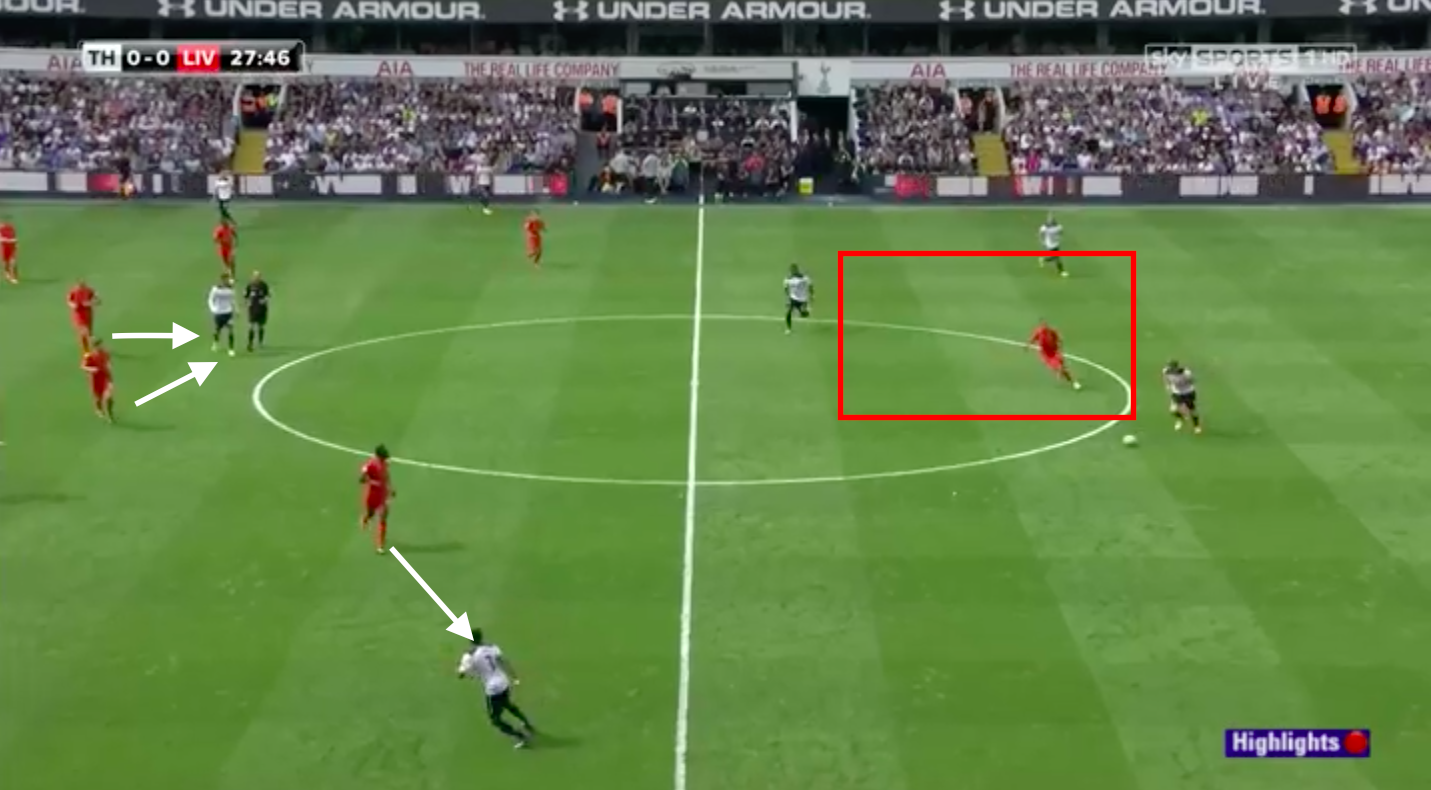 Firmino's intelligence off of the ball is also an important factor in the Liverpool press. In the screenshots above, taken from the draw with Spurs, you see just how clever Firmino is when he does press the opposition. In the first picture Toby Alderweireld has just played a cross field pass to Jan Vertonghen. Liverpool aren't set to press the man properly because if Firmino presses and doesn't get the ball it's safe to say Vertonghen would pass to Wanyama and he has 20 yards to run into and get Spurs further forward. Granted, that's all theoretical but it it's a possibility given the space Spurs have centrally.
So instead of pressing the player what Firmino does is he cuts off the passing angles. He positions himself so there's no easy ball for Vertonghen. If the Spurs centre-back looks to pass to Wanyama there's a chance Firmino intercepts. Mane has Rose covered on the Spurs left and both Lallana and Henderson can intercept any pass going to the man next to the referee. Vertonghen is forced to go long, Firmino gets a foot on the attempted diagonal pass and Liverpool regain possession.
If he manages to sustain his form for the entirety of the season or maybe even kick on, then Liverpool are going to have a special player on their hands yet again. What's interesting though is unlike other years there's a strong supporting cast around him in terms of the attack. It's an exciting bordering on eerie thought but this whole period of near misses for Firmino already this season feels like the calm before the storm. Liverpool fans are still yet to see Roberto Firmino playing to his full capabilities but it feels like it's building up to Klopp finally unleashing him.