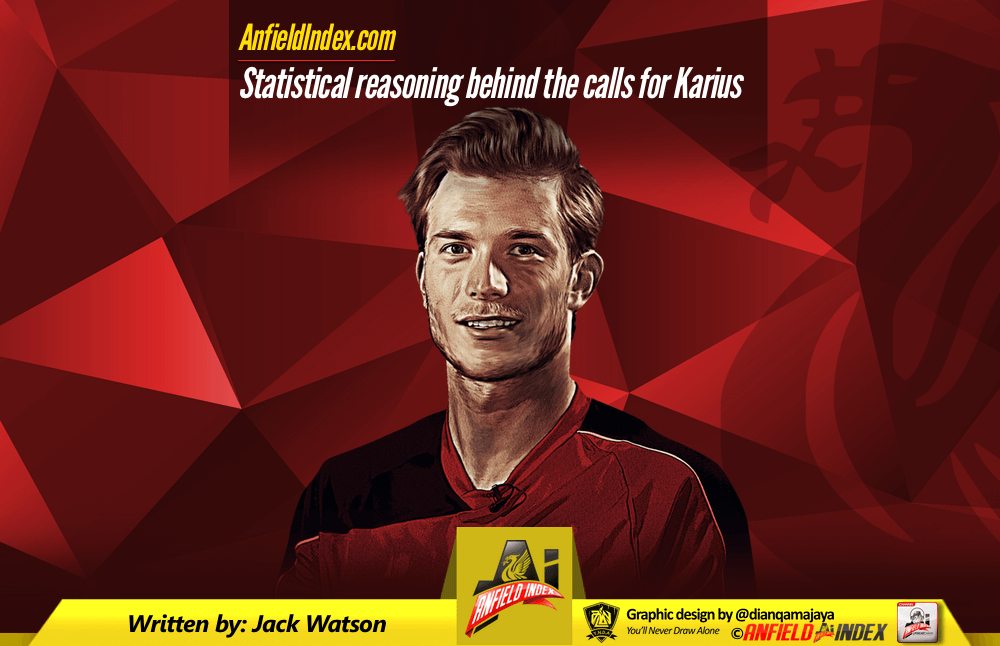 Statistical Reasoning Behind the Calls for Karius

I'm excited people. Very excited. The last time I was this excited about a Liverpool squad was, believe it or not, pre-Suarez/Sturridge/Sterling. Back in the day, the spine of Reina, Carra, Mascherano, Alonso, Gerrard and Torres was the strongest I've seen at Anfield, and a wonderful foundation to build a side on from front to back. But on the bench? The likes of Ngog, Kyrgiakos and Josemi hardly gave the stars of the team reason to fear and fight for their place.
Today is different. Today, we could start Firmino, Coutinho, Sturridge and Mané and still have the exciting Origi, energetic Lallana, and fresh, youthful Ojo to call on in attack. In midfield it's the same story, and at centre-back Klopp finally appears to be pulling a little solidarity together and getting something decent out of Lovren while adding the competent Klavan and highly promising Matip to the mix.
And, at long, LONG last, two goalkeepers who would, at the very least, actually be in with a chance of starting for a number of Premier League teams. At the most, they could be the man between the sticks for a Champions League team before long. Make no mistake, they're both alright.
It's always seemed utter madness to me to just have one decent 'keeper. Real Madrid, recently, went a couple of seasons playing one of Casillas and Keylor Navas in the league and the other in all the cups. If one gets injured, they can place the utmost confidence in the other to fulfil the job full time. Not a number one and an understudy, more two top notch players taking turns, sharing the load and doing a fine job.
Imagine relying on Brad Jones, Scott Carson or Charles Itandje holding the fort in the Champions League, or man the gates in the rough and tumble of the Premier League if Reina was to break a leg. No no no no.
But, the questions we're all asking – if we're to have a number one, who would it be? Many seem to have made their mind up. But let's do some digging on the matter, as I love to do.
Simon Mignolet has made his case. Three years is trial enough, and I think we've all got a very good idea of what we've got in the big Belgian. The general consensus on his shot-stopping: exemplary. Can handle a penalty and, from short range, he's bloody quick to react. He's quicker than me darting out the bath when there's a spider in it. Sounds pathetic but you should see the thing. Honestly, it wears a Metallica t-shirt.
Dealing with crosses? Meh. Simon is shakier than… well, me once I've run away from the eight-legged, five foot horror.
I swear it's that big.
Anyway, back on topic. Time and again we've been sat all twitchy-bottomed when Mignolet comes flapping at anything and everything in no man's land from corners and crosses. It's a familiar feeling, and quite frankly it can bugger off.
In tandem with this flaw, his organisation of the defence and ability to communicate with them effectively has quite rightly come under scrutiny. Outstanding shot-stopper Simon but, sadly, that's the very least you expect from a goalkeeper. "Great shot-stopping = great 'keeper" is like saying "great manners = great person". You could have good manners and still be a murderer – there's much more to think about.
So what does the big Bavarian bruiser Karius offer that's different?
A good record for Klopp's former employees Mainz with 28 clean sheets in his last 90 league games – one every 3.2 games. Mignolet has 35 in his last 108 – or one every 3.1 games. Though Liverpool have edged Mainz in league position over the last three years, Karius's clean sheet ratio is still slightly better, and I like to think Liverpool, historically at least, should be aiming slightly higher than the German underdogs.
Clean sheets do indeed reflect on the team as a defensive unit, rather than solely the goalkeeper. Saves made, however, are different. In the last two seasons Karius has ranked 6th and 3rd in Bundesliga for saves made, with Mignolet 9th and 15th in 14/15 and 15/16 respectively. Karius ranks higher in this sense than his team do in the league, while Mignolet very much dips below his team in that regard.
Mignolet faced the same number of shots on target as David De Gea last season, making 15% fewer saves and keeping 11 clean sheets to 15. Again, his contribution is statistically falling short.
Yes there's more to the art of goalkeeping than saving shots, but when that's Mignolet's strength, where does he rank for weaknesses? Just how much is that, statistically speaking, pulling the team down? He inspires panic and uncertainty among the side's defensive ranks, and naturally isn't the ball playing sweeper keeper to fit Klopp's system.
Conversley, Karius completed almost 99% of his attempted catches last season, compared to a paltry 84% for Mignolet. The Belgian also made 1.67 saves per goal conceded, while Karius made 2.81 – nearly 50 more saves while conceding the exact same number of goals.
Karius has looked good in the tough German division while Mignolet just doesn't quite cut the mustard here in Blighty. I don't think we can safely say yet the Karius has to be given the number one jersey – it is a different league, a different defence in front of him and he will have to prove himself, like anyone would.
The stance to take at present isn't 'he's surely got to be our number one', rather 'let's give the lad a chance to see what he can do'. He's got a lot to prove in a physical, competitive league with expectant fans and a scrutinising media.
Mignolet has had that time to make his case, though. I quite rightly think it is Karius' turn. Best case scenario – he's world class and we have a decent back up. At the least they'll push each other hard for that top spot.
I don't think I've come up with anything ground-breaking here, more established what many already feel with some statistical proof in Karius' favour. Let's hope it continues.
I'm getting very excited…