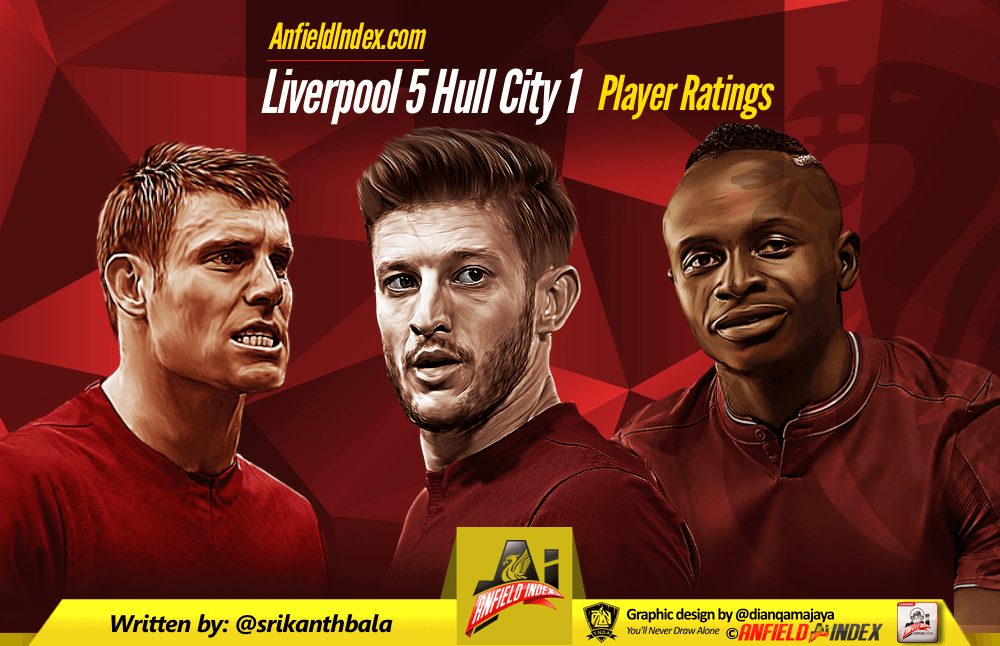 Liverpool 5 Hull 1: Player Ratings
After a dynamic one-off performance on the Match Ratings column (a la Moreno) from Sam McGuire in the midweek cup game, we are back to the usual dour, weekly match ratings piece (a la Milner) from yours truly.
9 goals in 2 games at home. Conceded 2 unnecessary goals at home. Clearly we are doing things the Liverpool way.
Another breath-taking performance at home as Liverpool swatted away the challenge from Hull. There were worries pre-game if we would falter like we did against Burnley but the first-half squashed any such thoughts.

This is how the Reds fared.
Loris Karius (N/A) – Spectator on his Premier League debut and could not have done anything for the goal.

Nathaniel Clyne (7) – The performance from Clyne was all about joining the Liverpool attackers as we attacked in droves pretty much through-out the entire game. His interplay with Mane was great as they took turns to stay wide and cut inside. It was interesting to see both full-backs staying wide whenever the ball was on the other side of the pitch and Clyne executed the game-plan very well.

Joel Matip (7.5) – His imperious first season at Liverpool continues as he won every duel there was to win and was prepared to carry the ball into the attacking half. How did we get him on a free?!?

Ragnar Klavan (8) – Was put into the lineup as Lovren took ill. He stepped up to the half line as Liverpool dominated possession and swept up any loose ball near the half-way line. Made a delightful pass to Milner in injury time at the end of the first-half. He was pretty much untroubled in the second half.

James Milner (8) – A goal capped off an excellent first-half from Milner. His presence often hugging the touchline ensured that Liverpool stretched the field of play thus opening up space for the midfield. He beat his man more than once and was ever-ready to make a tackle. He could consider himself unlucky for earning a yellow card. A second penalty in the second-half ended his game on a good note, but should be blamed for unnecessarily conceding the corner from which Liverpool conceded.

Jordan Henderson (7.5) – The captain kept things simple sweeping up every second ball available and constantly moving the ball at a good tempo. Took a couple of shots from distance, but who can blame him after that wonderful goal last week. He is clearly warming to his new role and Can might have a more tougher time than imagined getting back into the first XI.

Adam Lallana (8.5) – Lallana continues to have his most impressive season yet as his strong performance yielded a goal and couple of assists, the first of which was made by his oft-criticised turn with the ball.  His finish for the goal was very well taken with a reverse shot catching Marshall unaware. Hounded Hull on the rare occasions they had the ball. Was taken off in the middle of the second-half.

Giorginio Wijnaldum (7.5) – Very impressive performance from the Dutchman in the midfield with his intelligent movement leading to couple of chances and could have easily had a goal any other day. He is growing into this Liverpool team quietly, but more importantly, effectively.

Sadio Mane (8.5) – Mane showed what Liverpool missed against Burnley; the use of pace frightened the Hull defence as he twisted and turned their defenders with ease. Mane himself must be surprised by the space afforded by Hull in the box, and he did not fail to punish them by scoring a well taken goal. What an impressive beginning to his Liverpool career.

Phil Coutinho (8) – It was a joy to watch Phil pulling the strings from a deeper, and more central position. His trickery and feints opened up spaces where they did not exist originally. It would not be Phil though unless he misses a chance presented on a plate though and scores with an outrageous goal. Typical day at the office.

Roberto Firmino (7) – Firmino was chosen ahead of Sturridge to head the attack. He would have liked to be involved in the goal fest, but was his usual aggressive self acting as the first line of defence, but seemed out of sync with the other attacking players. His time for goals will come soon.

Substitutes
Daniel Sturridge (6) – Sturridge got a run for 25 minutes in the second half and won a penalty for Milner to put away. His look while getting up after winning the penalty is sure to become a viral meme.
Emre Can and Marko Grujic (N/A) – Both the midfielders got a short spell in the second half once the result was clear as daylight.