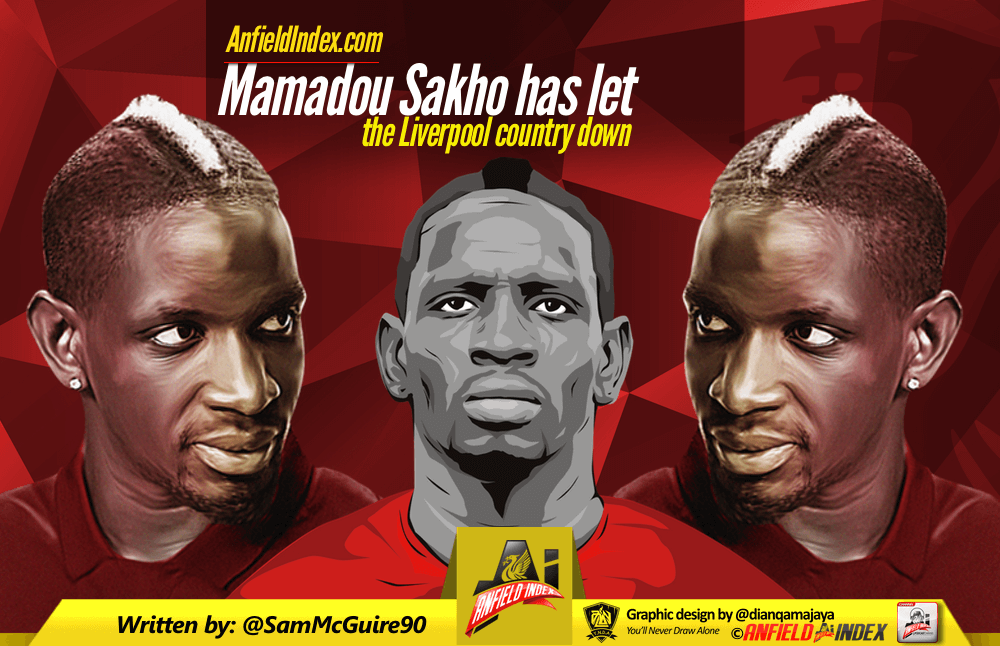 Mamadou Sakho has let the Liverpool Country down
"Now it's 3 weeks since I am fit to play games. I finish all my rehabilitation work. They don't want me to play also with second team lol! Why I don't know."
"Still working hard like Scouse Soldier! Still not talking cos I want speak on pitch.. I will speak soon for the people who support me and don't understand the situation.
"Still happy to live in my "Liverpool Country" with my family, hope to have chance to play soon to give my best like I try to do always!

"I accept my situation but I can't accept the lie… The fans deserve to know the true! Thanks for your support."
Mamadou Sakho took to social media platform Snapchat, at 2am no less, to break his long silence after being sent home from the club's pre-season tour of America for an unprofessional attitude. It's kind of ironic, isn't it?
It's an ill-thought-out plan on the centre-back's part and does nothing to quell the claims his poor attitude is the reason Reds manager Jurgen Klopp has frozen him out of the first team. Less than a month after Sakho rejected a loan move away from the club, despite Klopp advising him that a move away would be the best chance he had of regaining his place in the team, the frustration of not seeing any match time, not even in the u23s, has clearly got the better of him.
This outburst from the Frenchman may be the final nail in the coffin of his checkered career at the club and may see the fans finally turn on him.
He implied Jurgen Klopp is lying when he's been asked about about the player in public but in a recent press conference the manager said "It's not about how the player feels, it's about how I feel." Rightly so, Klopp has to be 100% confident when fielding a player. Why would he risk disrupting Liverpool's good form by putting in a player who is not only lacking match fitness but has the ability to disrupt a settled and highly switched on Liverpool side?
Sakho's choice of wording is interesting as well. Initially when he spoke about Liverpool Country it was an off the cuff remark and it was well received. He was one of us and he got Liverpool's us versus the world mentality as a city. Using the comment in his series of Snapchats seems like a cheap tactic to get people on his side and effectively pit them, the fans, against Jurgen Klopp. The messages don't come across as a random rant, but something he's thought about for some time.
All of this on the eve of a match against Hull when Liverpool have momentum on their side. Five games without defeat, lots of positivity and Sakho feels it's appropriate to try to derail that? It doesn't really come across as a player trying to do what's best for the club. No player is bigger than the club.
It's disappointing for fans who have defended him since his move to the club from PSG at the beginning of the 2013/14 season. He was ridiculed for how he looked on the ball, he rocked the boat when he walked away from the derby after Brendan Rodgers didn't select him in the squad, he stupidly didn't consult the club regarding the diet pills he was taking and because of it missed the Europa League, as well as the Euros, and then was sent home for three strikes in America.
Despite all of this there were still fans who looked at his attitude and ability on the pitch as reasons to stick with him. He was spoken about as a leader and as a potential captain. But his actions come across as unprofessional, selfish and petulant. Sakho's best approach would've been to bide his time, try to impress in training and gradually regain Klopp's trust.
Instead he's burned even more bridges with the club and simultaneously strengthened Klopp's standing with the fans. Many questioned his Sakho stance and his desire for Sakho to be loaned, but with the centre-back's comments it appears the manager has been proven right and fewer people should, in theory at least, question the manager's decisions moving forward.
The cult hero status he worked so hard to get with some standout performances, especially in the Europa League match against Manchester United, now counts for nothing. He's undone it all.
Sakho united his 'Liverpool country', but they're united against him.