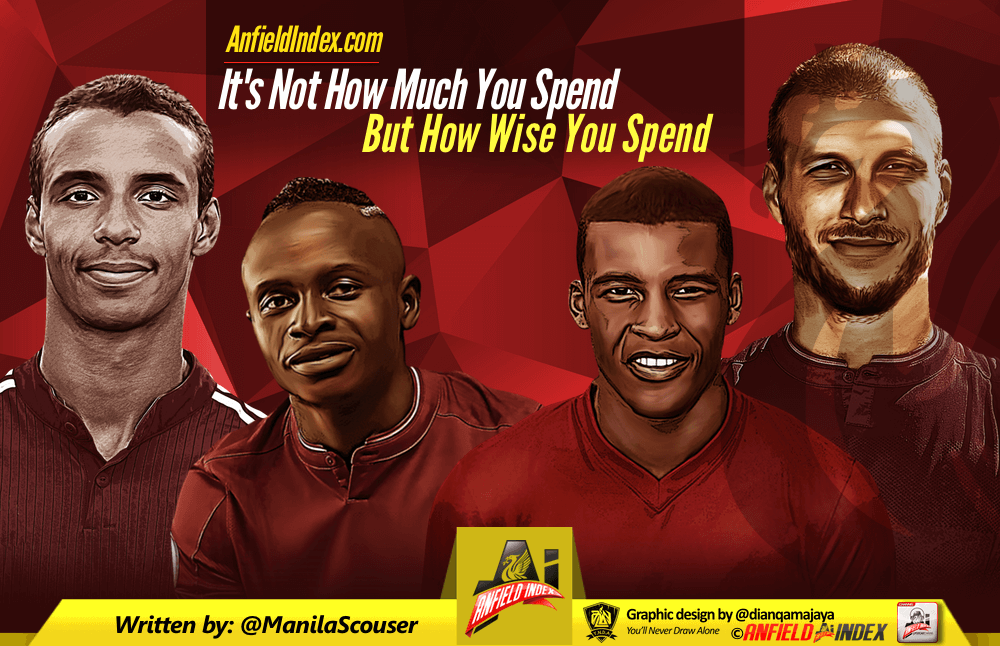 It's Not How Much You Spend - But How Wise You Spend
Zlatan Ibrahimovic, Paul Pogba, Henrikh Mkhitaryan, Michy Batshuayi, Granit Xhaka, Ilkay Gundogan and Leroy Sane are among the names that are highly known across Europe for their quality, talent, and hefty price tag and/or wages, and they all have one thing in common with each other – they're not currently associated with Liverpool Football Club.
Jurgen Klopp clearly envisioned a plan in this previous transfer window, and while we aren't privy to some of his ideas, the plan was in place long before the window had even opened.
It's quite a reactive instinct to some that they can't help but compare and moan about who Liverpool are bringing in as compared to our rivals who regularly splash money on players we so often salivate on. But Jurgen doesn't seem care about names or money.

There's a lot more to the players we signed than their names, but what impresses me the most is how these players have transformed our team from being a Basking shark, feeding off plankton to a Great White on a rampage, obliterating everything in front of us, becoming an apex predator it is.
Prior to the beginning of the new campaign, there's always been a sense of belief that's been instilled by our manager onto the players, and what was once a season where goals were reliant on individual brilliances, has turned into incredible and effective teamwork; all in a span of eleven months.
Sadio Mane has produced immediate offensive impact for Liverpool. His pace adds another dimension to our attack and is just something we lacked sorely since the departure of Raheem Sterling.
While we're extremely busy looking at Coutinho, Sturridge, Mane, and Firmino, Georginio Wijnaldum has been another performer we should start noticing and deserves more credit than he's currently receiving. He's slowly grasping the new responsibility as a central midfielder at the club and he's growing on the role he's been tasked upon, getting quietly but very effective at it.
Joel Matip has been immense for the club so far. After a stop start in his Liverpool career due to a nagging injury, he's finally had a run of games and is performing to please the fans. Comfortable with the ball on his feet, dominant in the air, and plays excellent passes to make the transition from defence to midfield very fluid. We got him for free.
Marko Gurjic is one who's definitely a raw talent but we've seen what he can do over the preseason, and his performance so far in the cup games few cameos in the league look nothing short of promising.
After the fans have been crying for a new goalkeeper to takeover as Liverpool's number one, Loris Karius, the handsome goalkeeper has been purchased around half the price we paid for Simon Mignolet, and has been exactly what I'd like to see in a keeper. Commitment. If he comes out, he'll fully commit to it. He looks a very decisive keeper and on a personal note, that makes me feel calm. If I can feel nervous thousands of miles away watching Mignolet hesitate at something, I can't imagine what his teammates would feel. Nervy at the back isn't something that can be put to the side and dealt with later on. A lot of people have said they'd prefer Mignolet to start over the weekend due to his good form, and rightly so, majority of the goals we conceded were nothing to do with him, and nothing he could've done, but there's a reason we bought Karius and he's shown that in his performances so far, albeit such a small sample size.
The transfer period passed without Liverpool signing a big name and ended the window with a positive "net spend", but honestly if the team keeps on playing this way, I couldn't care less if the club remains to make the most profit in transfers across the continent.
It's not about how much you spend – rather how wise you spend.