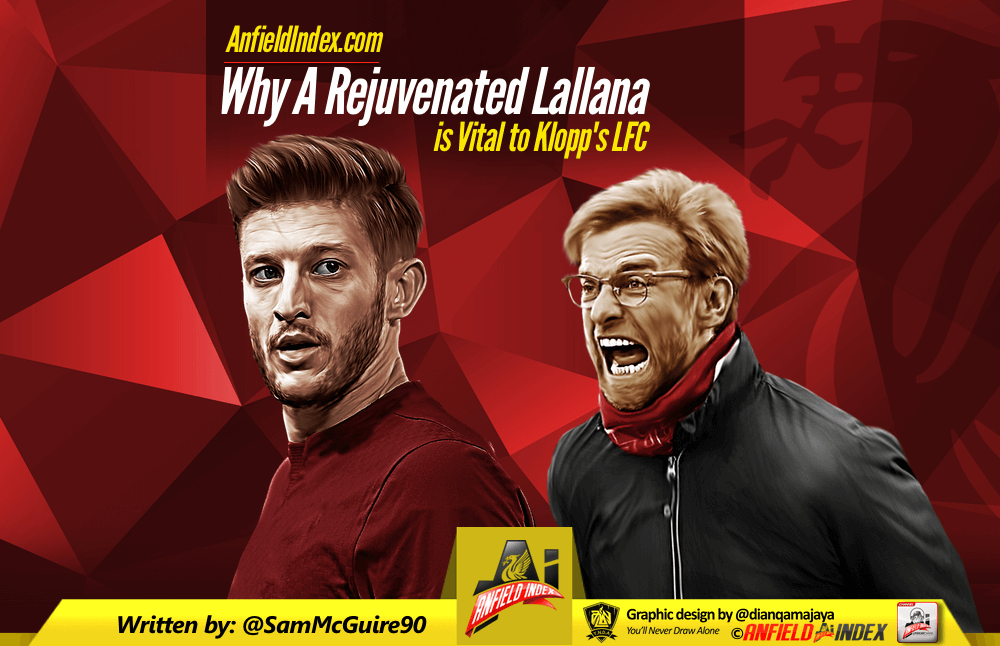 Why A Rejuvenated Lallana is Vital to Klopp's LFC

Jurgen Klopp has made a habit of making everybody – fans, pundits and the general media – look like fools. James Milner as a Premier League left-back, Lucas at centre-back, Roberto Firmino as a false 9 and Jordan Henderson as the deepest midfielder are ideas that made very little sense, on paper at least, yet the German manager has made all of these ideas, to some extent, work.
James Milner is Liverpool's Kevin Großkreutz. The versatile midfielder has filled in at left-back, a role that's important in the Klopp system. He sees a lot of the ball, and he's done an impressive job. Granted he's not been tested defensively what with Liverpool being so dominant in the opening games but game by game he seems to be adapting to the role. An initial complaint at Milner there was his insistence on cutting back onto his favoured right-foot. It made him easy to defend against and it made Liverpool narrow. However, in the last few games – specifically the match against Hull – he's started to mix his game up and go on the outside of the opposition's full-back. It's really helped the Liverpool attack.
Lucas had no right to forge a niche in the Klopp squad but he's done that. He's rash, he hasn't got the legs for a Jurgen Klopp system and his positioning isn't the greatest. But Klopp spotted his strengths; his aerial ability and his incisive passes, and tweaked his role to start using him as a centre-back. Lucas in midfield is a glaring weakness in the Liverpool line-up but Lucas in defence is a weapon.
Roberto Firmino starting as a false 9 when Daniel Sturridge and Christian Benteke were sat on the bench twiddling his thumbs had supporters up in arms. BT Sport covered the Liverpool match against Chelsea on Halloween in 2015 and it genuinely sounded like Trevor Francis, who was supposed to be co-commentating on the day, was going to cry two minutes into the match because Klopp didn't have a striker on the pitch and the Liverpool team, who were 1-0 down at that stage, needed goals. Fast forward 12 months and Roberto Firmino's performances leading the line for the Reds have adhered himself to fans. Klopp flipped everything on it's head. It's ironic that fans are now worried when he's not leading the line.
Jordan Henderson has grown into his deepest midfielder role. He originally struggled in the opening fixtures and couldn't, or didn't, impose himself on the matches. Not bringing in a midfielder to cover Emre Can looked like a risk that Klopp had got wrong but the German persisted with Henderson and he's put in a run of impressive performances that's lead to questions being asked as to whether Can will get back into this side. Henderson is by no means perfect in that role but it's not been the car crash that many had envisaged after the opening two Premier League matches.
It goes to show that no matter how much theory goes into these opinions nothing trumps Jurgen Klopp on the training pitch. 
However, his greatest creation is Adam Lallana as a box-to-box midfielder. 
The £25 million signing has been on the receiving end of a lot of criticism since his move to Anfield from Southampton in the summer of 2014. His affiliation with Brendan Rodgers, whose standing amongst Liverpool fans quickly started to deteriorate at the beginning of that season, certainly didn't help adhere the bearded maestro to the Anfield faithful for starters. He appeared to be a Brendan Rodgers guy.
Fans judged his performances on a £25 million player when he had nothing to do with Southampton demanding that fee for their then captain. The price-tag was like an anchor around his neck. Whenever there was  glimpse of any class from Lallana there seemed to be a general feeling, on social media anyway, of resentment because he wasn't doing it on a regular basis.
There were question marks over his stamina. Both at Southampton and under Brendan Rodgers he seemed to be blowing out his arse after 60 minutes and it was rare to see him complete a 90 minute match.
The biggest worry though was Lallana's lack of ruthlessness in front of goal. It was a regular occurrence for Liverpool's no.20 to miss big chances and fans at one stage could reel off a list games he missed guilt edged chances in. The miss against United at Anfield is burnt into my brain.
In the calendar year of 2015 Lallana only scored one Premier League goal. For an attacking midfielder who featured regularly it's an alarming stat and although he had an impact on the attack in terms of pressing and creating space and chances for others the Liverpool attack weren't as clinical as they could've been with Lallana in that right sided attacking midfield role.
Goals from midfield are a key part of Klopp's tactics. Lallana only scored 4 Premier League goals whereas both Roberto Firmino, who played a withdrawn role at times, and Philippe Coutinho hit 10 and 8 goals respectively.
The signing of Sadio Mane looked as though it would put and end to Adam Lallana's Liverpool career, as a starter at least. The explosive Senegalese attacker brought pace and a goal threat from that wide right role, just what the club lacked last season. To go with Mane, Klopp bought Gini Wijnaldum from Newcastle and it was difficult to pint point exactly where the England International would fit in.
Teaches us right for trying to second guess Klopp. The manager moved the goal posts. Klopp is synonymous with the 4231 system but broke the trend and set Liverpool up in a narrow 433 system. The emphasis was on the two box-to-box midfielders to support the attackers and make up the numbers in the box, something Liverpool lacked last season.
Klopp identified Lallana's ability on the ball as being key if the Reds' midfield was to play through the opposition's press.  He's completing 2.3 dribbles per 90 this season as opposed to the 1.5 dribbles he's completed on average over his Liverpool careers. He's become an integral part in Liverpool's transition from defence to attack as he effortlessly brings the ball under his control before passing to the likes of Coutinho, Mane or Firmino before carrying on with his run forward.
It differs from the Lallana of old who would hold onto the ball for too long, try a Cruyff turn and slow counter attacks down with his dithering on the ball. Klopp's clearly instructed Lallana to keep it simple and he's reaping the rewards.
Klopp's put Lallana in a role to maximise the talent he has. There's less pressure on Lallana to score and he's having more of an influence on games due to a deeper starting position. He's also worked on his stamina and fitness. Now he's no longer flagging after 60 minutes, instead he's covering the most ground by a Liverpool player and he's been given the responsibility of being Klopp's hunter. The the opening 6 Premier League games he's scored three and assisted three goals. He's involved in a goal every 82 minutes. Against Hull City it was a pleasure to watch him.
The rejuvenated midfielder went from being viewed as a potential squad player this season to being a key component of Klopp's well oiled Red pressing machine. It's been a combined effort on the part of both Klopp and Lallana. The managers persistence and coaching alongside the players ability and hunger to improve and because of this the club are enjoying the fruits of their labour.
Both deserve a lot of credit for this turnaround.