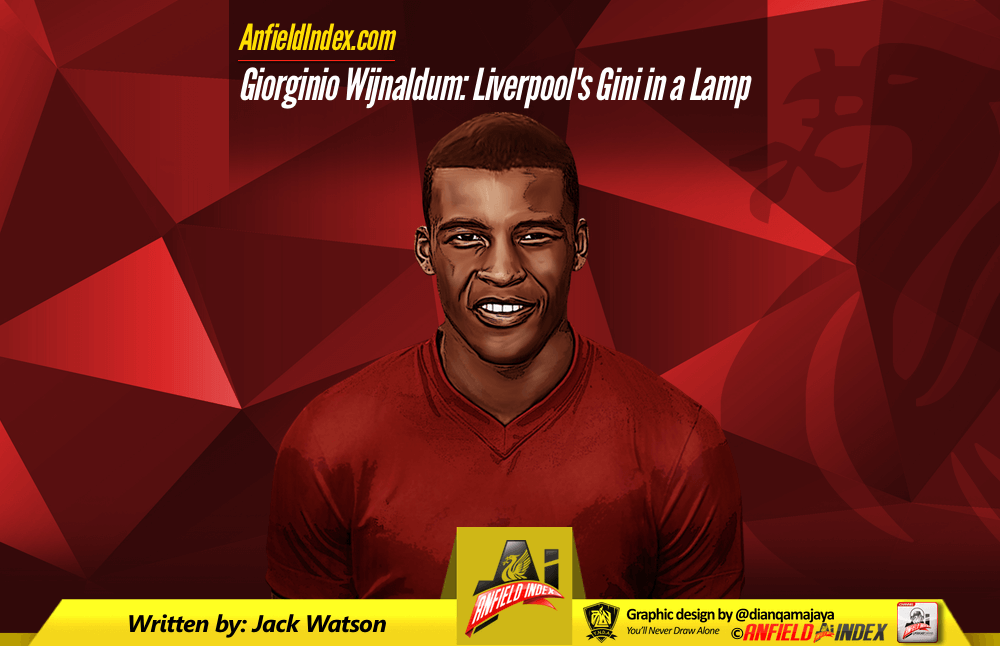 Giorginio Wijnaldum: Liverpool's Gini in a Lamp
In recent seasons, I think Liverpool's transfer dealings – signings mostly – have been pretty poo. From Balotelli and Benteke to Carroll and Markovic, there have been a number of expensive signings bought for their individual quality rather than as crucial cogs in a cohesive machine.
I think the aforementioned are all talented players, but Markovic spent some of his time under Brendan Rodgers at right wing-back, and I've never really known Liverpool to succeed on the route one, cross-pumping football the other three thrive on.
I confess myself disappointed at first with the signing of Gini Wijnaldum as well. The way I saw it we were spending £25m on a winger/forward when we've already got plenty. This disappointment, though, was based on a miscalculation. He's not the all-out, wing-based attacking maverick I thought he was.

Why did I think this? Two reasons.
1) I didn't do my research. Happens a lot. My mistake, whoopsie daisy.
2) Because, for the type of box-to-box player he actually is, his goal record is bloody brilliant.
99 goals in 363 career games for club and country, or one goal every 3.66 games, is flipping good going. Wijnaldum's still only 25 as well, so there should be loads more to come. Steven Gerrard's Liverpool career brought a measly average of one every 3.81 games. And he's really, really good.
Not only that, but Gini's only once failed to hit double figures in a season in the last 6 years, and that was during the injury-plagued 2013/14 season where he played just 15 times. This glut of goals isn't just a recent thing – the lad has always had them in his locker. This, I believe, bodes well for the future.
Rather than being another high-price recruitment in a very well stocked area of the team I thought he was, he provides the kind of box-to-box, defence-to-attack transition player Klopp adores with a mint end product. Result.
There's far more to him as well. In his last two seasons with PSV Eindhoven he captained the team out onto the pitch, aged just 22 the first time he did it. In 2014/15, he led PSV to one of the most dominant seasons in the history of a very competitive division, winning by 17 points to end an 8 year title-drought.
Of course, there's a lot of reasons why they won the league, but his corresponding rise as a talismanic leader must certainly be one of them.
It gets better. At club level, he has unbelievably amassed just 5 yellow cards in the last three and a bit seasons. I've done that many in a month before.
However, there's been one small, teeny tiny thing in the back of my mind.
I believe that, in his quick and successful start to his Liverpool career, he's been a beneficiary of Emre Can's early season injury woes. In 6 league games, Liverpool are yet to keep a clean sheet, and my natural instinct is to say Can might be the shield our improving, but imperfect, defence needs.
Leicester hit us when Lucas ran out of passing options ahead of him. Burnley caught us out cold, twice. Arsenal almost got a foothold in the second half of our victory at the Emirates to salvage a draw. Might a more defensively minded midfielder have helped prevent all this?
Can ranked 14th in the BPL last season for tackles made by a defensive midfielder, despite missing 8 games, while no-one above him boasted a more successful tackle percentage rate. Gini ranked just 69th, though his tackle percentage was the same. He can tackle, clearly, but it's not in his natural inclination to do so nearly as much as Can.
As I said, my natural instinct is that Can might be what we need to be more solid at the back. But, the more I think about it, do we need it?
Gini is working wonders in supporting our blistering attack. His runs from deep create space all over the park. His powerful running on the ball pushes the team forward. His instinct to attack, not defend, puts us on the front foot.
Klopp utilised Nuri Sahin – ironically a failure at Liverpool – and Ilkay Gundogan in much the same way at Dortmund to resounding success, using their offensive mentality as the springboard for his energetic, Gegenpressing game and swift, fluid attack.
Gini is Klopp's Liverpool. His first defensive thought isn't to stop the other team attacking our box, it's to help pin them in their own. His defensive style isn't to sit deep and wait, it's to press, with the rest of the lads, and get the ball back before they've had chance to decide to do with it.
He wants the ball up the field and he wants to score goals. We may leak a goal every game so far, but we're scoring 3 on average so that's just fine by me.
When Can finds fitness, he may still work his way into the team because, as good as he is defensively, he too is fairly handy going forward. He uses the ball well, can ping a pass and has some pace. I would be inclined to play him and provide another layer in front of the defence.
But i'm going to have to go against my natural instincts this season watching us this season, which I must say I'm loving. If Gini's early form is anything to go by, I don't need to worry about us conceding. He's the calm, collected and powerful engine behind a goalscoring machine of a team with a proven end product that can wash away defensive frailties with a tidal wave of goals.
I've every faith Klopp's writing a new fairytale at Anfield, and in Wijnaldum he has his 'Gini in a lamp'.