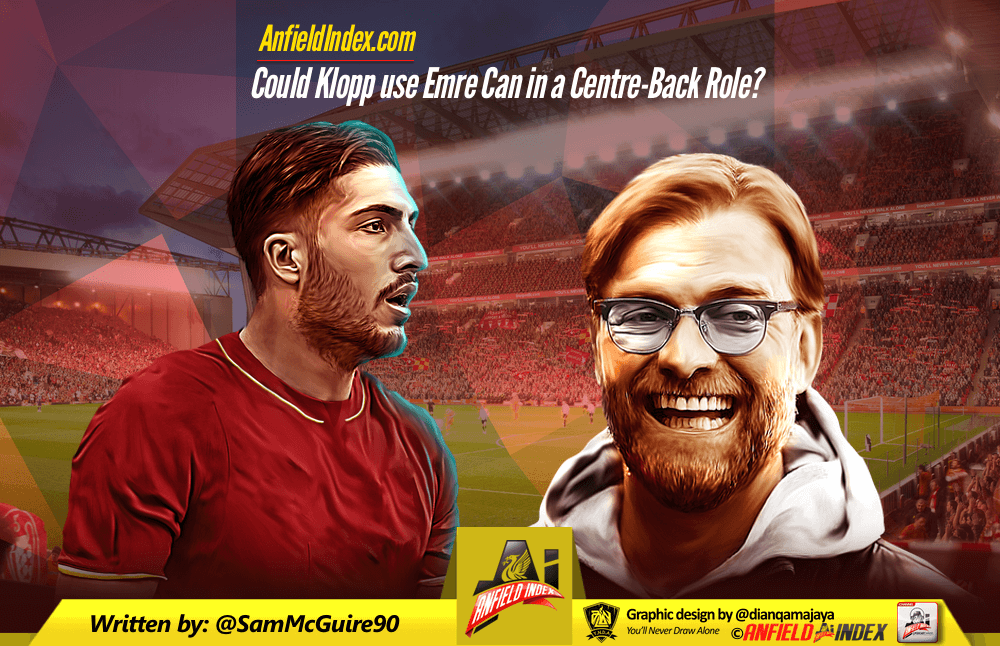 Could Klopp use Emre Can in a Centre-Back Role?

Jurgen Klopp has shown just how ruthless he can be this season with squad selection when he dropped Belgian 'keeper Simon Mignolet in favour of Loris Karius for the match against Hull City. While the general consensus seemed to be Mignolet was on borrowed time after a series of errors last season and he was only starting this season because of the injury Karius picked up in pre-season it was still a bit of a 'wow' moment when the team news was announced and it was in fact the German 'keeper starting between the sticks.
There's no room for sentiment if you're hoping to be successful and Klopp wasted no time getting Karius, a better suited 'keeper to the Liverpool style, into the starting XI.
This leads on to Klopp's next selection dilemma – How does he get Emre Can into the starting XI when he's fit to start?
After the opening two Premier League games it looked as though Can would come in and replace Jordan Henderson. It would've been a big call but the Liverpool captain's limitations in that role seemed to be a hindrance to not only the player but the team too. Henderson isn't the best when receiving the ball facing his own goal with players on his back and on a few occasions he opted to play the safer pass which slowed Liverpool down and lead to the midfield and the attack being a little disjointed.
However, Joel Matip's inclusion in the first team has aided Jordan Henderson. Instead of there being a reliance on Henderson to start play from deep both centre-backs are able to pass the ball from deep, carry the ball forward and break the defensive lines of the opposition. Hull effectively man marked Henderson early on but it wasn't noticeable because our build up play didn't suffer.
There's an understanding between Henderson, Adam Lallana and Gini Wijnaldum and the midfield looks practical and functional. To break it up to accommodate Emre could be seen as an unnecessary risk at this stage.
Klopp's in a bit of a predicament – Emre Can needs minutes to rediscover his 2015/16 form but the midfield, as things stand at least, picks itself.
Can at Centre-Back
An option Klopp may entertain could be to use Emre in a deeper role against teams Liverpool expect to dominate the ball against. As seen in the victory against Hull both Ragnar Klavan and Matip seen a lot of ball and spent time in the Hull half as Liverpool looked to squeeze them into mistakes. There wasn't much defending for the pair to do and there's no reason Can couldn't play that position.
It's not exactly foreign to the Liverpool no.23, he played as part of a back three under Rodgers and excelled on the right side. It would be a similar position for Can under Klopp with the centre-backs often splitting and Henderson dropping between them. As Matip has shown in a few games this season the centre-backs at Liverpool aren't shackled, they are able to maraud forward if the opportunity presents itself and you would imagine Can would make the most of this and it would cause the opposition all kinds of problems.
His ability on the ball is an asset that should be utilised. He has the vision and the ability to execute incisive passes no matter where he is on the pitch.
Of course, there are downfalls to playing Emre there. Ideally you want a consistent pairing at centre-back so that they form an understanding with one another as well as the goalkeeper. Centre-back isn't really a position you chop and change depending on the opposition but Klopp did do just that last season in a match when he dropped Kolo Toure in favour of Lucas. His reasoning was he thought Liverpool would dominate possession and wanted ball players in the side. He was right. There's no reason he couldn't replace Lucas in this scenario with Emre Can. It may be a route Klopp wants to go down against teams intending to come to Anfield and park the bus.
Emre Can's forever home won't be as a centre-back but if it's a role that get's him the much needed first team minutes he needs, as well as helps Liverpool as a unit, then maybe it's not such a bad idea.