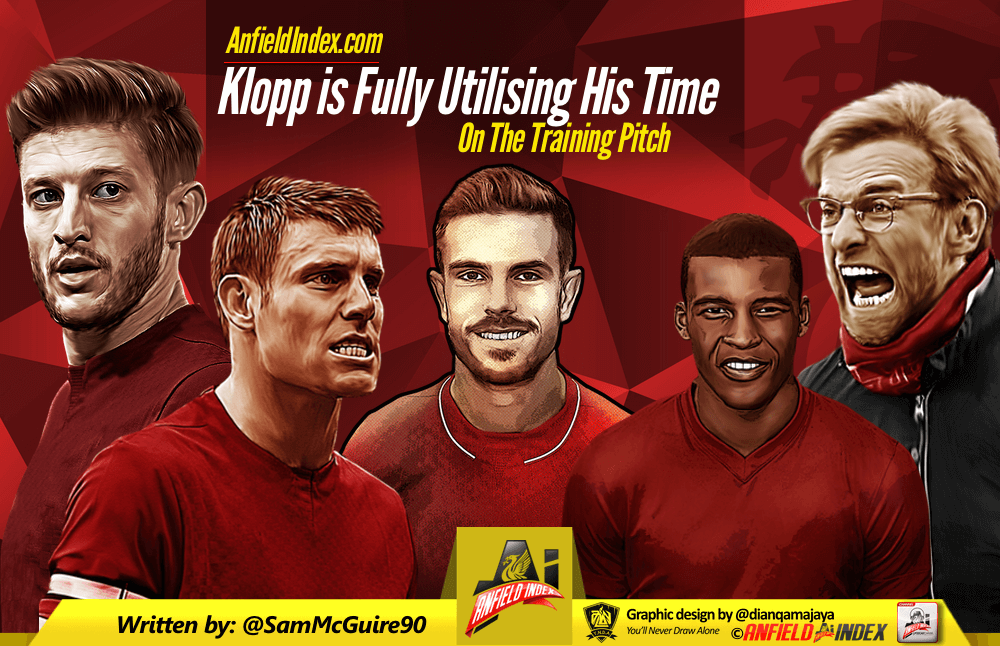 Klopp is Fully Utilising His Time On The Training Pitch

Jurgen Klopp has done a lot of good since being appointed as Liverpool manager, and he's been rightly lauded for it, but one area that went under the radar was his ability on the training pitch. He's able to identify player profiles and place them in areas of the pitch which maximise their strengths. These observations aren't glaringly obvious either. This isn't simply sticking a centre-midfielder who scores goals into an attacking midfield position and thinking just because they scored in a deeper role they will definitely score more in an advanced role.
The decision comes after analysing stats, passing the eye test and backing your coaching ability as a manager.
Players who have impressed in a tweaked position under Klopp.
Kevin Stewart – Before Jurgen Klopp's appointment the ex-Spurs man could be best described as nothing more than a big shrug. He played at right-back and at centre-back for the Liverpool reserves as well as during his loan spells and never really excelled. He wasn't bad there, he was just a big ol' shrug.
Klopp arrived and seemingly noted that he had all of the attributes to play as a deeper midfielder. He impressed there in his cameo appearances with his tackling ability, shutting down the space and the way he kept Liverpool ticking over and during pre-season there were even calls to suggest he'd played his way into the first-team.
Lucas – Klopp's reinvented Liverpool's longest serving player and in turn there's an argument to be made that the German has extended the Brazilian's career at Anfield. For the past few seasons Lucas has struggled in a midfield role and he was considered to be a weak link. It was thought that he wasn't going to suit Klopp's relentless pressing style and that maybe the case but Klopp decided Lucas had the requisite quality and ability to play a centre-back role in his system.
His ability on the ball is one of the most underrated aspects of his game along with his aerial ability and both of these strengths are showcased in the centre-back position.
James Milner as a centre-midfielder just isn't functional for a Liverpool midfield. His lack of positional discipline often left Emre Can as a one man midfielder last season and with the summer signings it was unlikely he'd be getting any minutes in that central role this season. Instead he's being used as a left-back and Klopp's making it work.
James Milner is Liverpool's Kevin Großkreutz. He's industrious, efficient and simple on the ball which benefits the team. He sees a lot of the ball and his incisive passes from that wide role into the feet of Coutinho and Firmino seem to work with Liverpool goals coming from that move in recent weeks.
Jordan Henderson struggled in the defensive midfield role when he played there under Brendan Rodgers and early on under Jurgen Klopp. Instead of shielding his weaknesses it appeared as though playing Henderson in that role was like a bullseye for the opposition. The opposition would press Henderson knowing full well he'd look to turn so he was facing his own goal before playing a pass backwards and Liverpool would have to clear their lines.
However, Klopp's worked on this 'problem'. The additions of Joel Matip, Ragnar Klavan and Loris Karius mean Liverpool are able to play out from the back with relative ease. So, if Henderson does play it backwards we're able to play through a press, take opposition players out of the game and give Henderson the ball back in space so he's capable of starting play.
Adam Lallana's Liverpool career looked as though it may be over when the Reds signed Sadio Mane and Gini Wijnaldum but Klopp just harnessed his abilities and used them in a role to benefit both the player and the team.
With the players Liverpool were linked with in the summer it was clear Klopp wanted a player in a deeper position who had the ability to break the oppositions lines. Whether that was a press or a defensive line, Klopp wanted a midfielder who could play through that. Lallana's close control and dribbling ability means he can do just that and has been this season. Liverpool are benefitting from it.
Gini Wijnaldum was viewed as an attacking midfielder and his signing was a bit of a head scratcher. But much like Adam Lallana, Klopp identified Gini's strengths as being a player who could play in that central area. His dribbling ability means he's able to transition the team from defence to attack in such an effortless way. His off the ball movement gives Liverpool an attacking threat as he ghosts into dangerous positions unopposed and unmarked. He's just brilliant in the role and it's not one that many saw coming.
Divock Origi arrived at Liverpool after a disappointing season with Lille in Ligue 1. His initial games for the club were slightly underwhelming, he looked off the pace and weak in the physical Premier League. Klopp arrived, took him out of the team, had him bulk up and he came back into the side looking like a striker that could terrorise Premier League defences for the next decade.
It just does to show that Klopp is maximising his coaching time and unlocking things that others wouldn't have been able to identify in players. It means there is rarely ever a lost cause for Klopp so long as they have some traits that suit the profile needed.