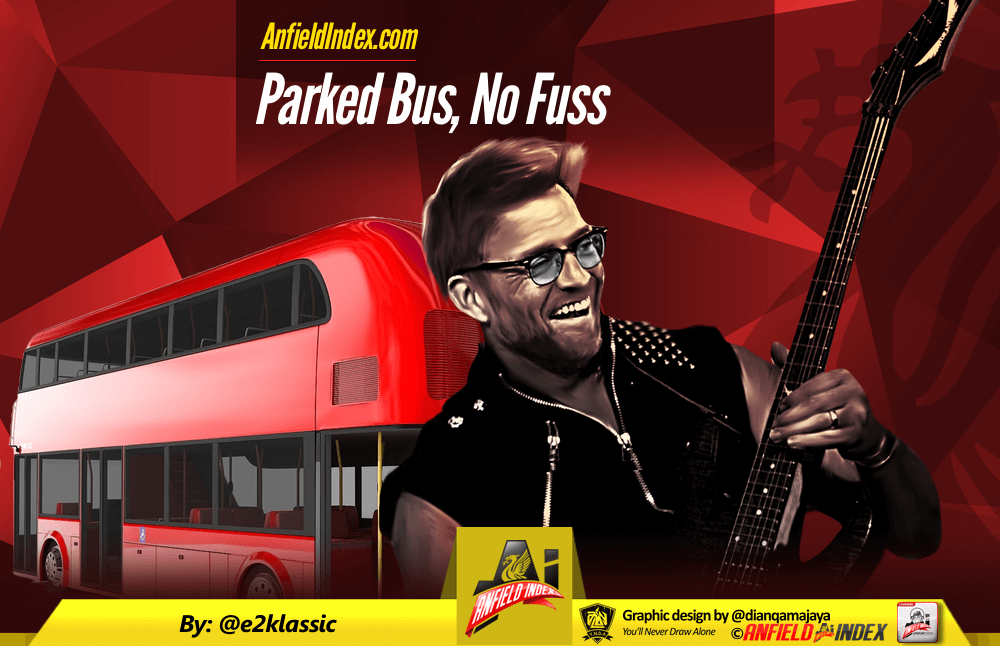 Parked Bus, No Fuss
There isn't an awful lot to say, in general, about Liverpool's performance last Saturday that Hull City captain Curtis Davies hasn't already covered. Two aspects of what he said after the game are particularly encouraging from a Liverpool perspective. Firstly, as Davies points out, "Liverpool have that mix of nice little passes and then people who will run and run at you and beat you as well. Like Mané. Like Coutinho." Indeed, there is suddenly a level of flexibility in Liverpool's attack which, although hinted at last season, the club has lacked for quite some time. Even in years when teams who "parked the bus" at Anfield typically left empty-handed, we rarely saw this kind of variety and it clearly bothered Hull.
Liverpool regularly got around the back of them on Saturday, especially during that dominant first half. Sadio Mané, once again illustrating the speed of movement and thought which he has brought to this team, hit the goal line twice and pulled the ball back for a couple of Philippe Coutinho shots which were cleared off the line by Elmohamady (once via legal and once via illegal means). The Brazilian returned the favour later, accepting a return from a short corner and dashing goalwards to square for Mané, whose shot cleared the bar by maybe a foot or two. Over on the left-hand side, meanwhile, James Milner, nominally Liverpool's left-back but playing as a glorified winger on Saturday, got forward to good effect and at one stage played a superb low cross straight along the six-yard box which no one in the middle read. And along with the penalty for the home side's second, Mané's third came from good work down the left by Milner again and Adam Lallana.
The danger wasn't just coming from wide, however. Liverpool were equally adept at probing the crowded central areas, with a couple of surging runs by Coutinho straight at the heart of the visitors' defence resulting in the first and fourth goals and Daniel Sturridge doing similar for the fifth. Jürgen Klopp's players are taking what's on offer so far this season, not allowing itself to be limited by strengths in this area or that but setting out to be strong everywhere. At Stamford Bridge last week, facing a cagey home side defending deep and looking to take away the space in which to play, Liverpool scored via a set-piece and a world-class strike by their captain. Against Hull, they beat them wide (the second and third) and centrally (the first, fourth and fifth). They played through Hull, they played around Hull. They scored from distance, they scored from close range.
Such flexibility and variety is, of course, down primarily to the ability of the players. Where once Liverpool were dependant on something less than a handful of creators and scorers to provide the inspiration, that responsibility is now spread across five, six players, all of whom are comfortable on the ball and adaptable enough to hurt opposition teams in different ways. The spread of goals so far bears this out: 3x Coutinho, 3x Lallana, 3x Mané, 3x Milner, 2x Firmino, 1x Lovren, 1x Henderson. The last time Liverpool mounted a title challenge, 2013/14, it took until early December and the 88th minute of the 14th game for them to notch that many scorers in the League. This is with Sturridge yet to contribute a goal and very limited minutes for Emre Can and Divock Origi so far, two of the main influences in the club's Europa League run last season.
Perhaps an equally telling point is that it has come without Luis Suárez, the man whose departure left such a hole in Liverpool's attack that it has taken two seasons to adequately fill it. Judging by Davies' words, and indeed the evidence of our own eyes, the Uruguayan's responsibility to lead the attack and set the tone has now been shared out amongst what at times against Hull was a front 7: "It is hard to lay a glove on anyone, put it that way. When there is so much interchanging you cannot put your mark on one person. It is tough to try and get in and try and make a tackle which makes them think again because literally one second Mané will be in that hole, then Lallana and then Coutinho. With the full-backs playing like wingers it becomes very difficult because you end up with backs against the wall."
Which brings me to the second hugely encouraging point made by Davies: "Liverpool didn't give you a chance to breathe." This seems like as good a headline as any to take away from the game and suggests that if breaking down packed defences at Anfield has been a problem in the past (and I'll discuss that in a bit more detail later), then it may not be for much longer. This is not intended to be triumphalist: that Liverpool were able to win 5-1 win at home against a newly-promoted side with a thin squad who are likely facing into a season-long battle for survival and were down to 10 men for an hour should come as no surprise, and there will be 17 more visitors to Anfield this season, each of whom will present their own unique challenge which, in many cases, will involve breaking through a ten-man rearguard.
Hull are a limited side for sure, but they're a limited side which still had to be beaten and they were beaten well, not alone by the quality of Liverpool's play but by its intensity. A team full of what were Championship players up until a few months ago is likely to require "a chance to breathe", as Davies puts it, particularly early in the game. Get a solid 20 minutes behind them is the approach, quieten the crowd, withstand the best early efforts of the home side and then, once that initial burst is over and the natural fluctuations of the game take over, start making inroads into opposition territory. In other words, to make Liverpool play on their level instead of having to play on Liverpool's because, with the gulf in class and finances between the teams, that likely wouldn't end well for them. On Saturday, Liverpool made Hull play at their level and, sure enough, it didn't end well for them.
History tells us that if a team is good, then facing a packed defence at home is likely to present no significant issues. This is not to say that it will always be easy or that there won't be bumps in the road, but a team's chances of scoring goals clearly improve in parallel with the ability and confidence of its players. The question then really becomes whether Klopp's team is of that quality. Curtis Davies certainly seems to think so: "When you play against a Liverpool team that is vibrant, exciting and enjoying itself it is tough…The interchanging, the good football, the passing — they are a very, very tough team to deal with when they are on their game."
Whether this truly represents Liverpool overcoming an Achilles heel against teams who "park the bus" at Anfield, I'm not so sure. This narrative, no doubt emboldened by the 0-2 loss at Burnley a few weeks ago (which, in any case, was an away game), was pushed loudly enough throughout the week leading up to the game that the manager even addressed it several times in his pre-match press-conference, and the media persisted with it afterwards, Klopp addressing one such question by answering "I'm not interested in making statements, actually. I'm interested in collecting points."
It is no surprise that Liverpool teams and squads rich in self-belief and talent have tended to feast on lesser opposition while bad ones have not. So sides regularly able to field Xabi Alonso, Steven Gerrard and Fernando Torres at something approaching the height of their powers (2007/08, 2008/09) or Coutinho, Sturridge and Suárez (2013/14) enjoyed a pretty good record against bus-parkers at home whereas ones which regularly depended on Joe Cole, Milan Jovanović and David N'gog (2010/11) or Charlie Adam, Andy Carroll and Stuart Downing (2011/12) to do the same did not. The only exception to this rule is the difficult 2009/10 season when Liverpool finished a relatively lowly 7th despite being virtually flawless against lower-half opposition at Anfield, a reminder that breaking down packed defences at home is only one part of the job.
There are natural correlations between more successful Liverpool seasons and results against the teams most likely to come to Anfield and defend in numbers, and it's a bit of a "which came first, the chicken or the egg?" proposition. Many would argue that those seasons were successful precisely because the team found that ability to swat aside weaker teams at home, thereby securing the easiest points available, whereas I would contend that teams low on confidence and lacking sufficient quality in the final third of the pitch will be unsuccessful in general and naturally inclined to find it more of a challenge facing a team defending with numbers. In other words, consistent failure to circumvent a parked bus has usually been a symptom of broader issues rather than a defining flaw in and of itself.
We all remember occasions over the years when Liverpool failed to win games against the relegation strugglers and mid-table battlers at Anfield, days when poor finishing made heroes of visiting goalkeepers and opposition throw-ins seemed to take an eternity as time ticked slowly away, the home side failing to create an opening of note despite enjoying a virtual monopoly of the ball. Those kinds of performances and results have become burned into our minds to such an extent that a vague déjà vu when the team struggles to break down a packed defence at home has morphed into the concrete fact, with a little help from a media ravenous for narrative, that Liverpool cannot beat teams who arrive at Anfield and "park the bus". The reality is more complex than that.
As good a place as any to start exploring this perception is with the arrival of Rafael Benítez in June 2004, since he is the one whose name is most often associated (by some) with frustrating results against the Premier League's lesser lights. If we take it that the bottom-half teams in any given season (i.e. 11th to 20th) are the ones most likely to stick nine or ten outfield players behind the ball at Anfield (and this is not an exact science by any means since it ignores the prospect of better teams using a similar approach: see the case of Mourinho, Chelsea, April 2014), then Benítez's record against these sides was actually very good and substantially similar to that of the immediate rivals his teams were chasing.
In 2004/05, his first season in England, Liverpool averaged 2.3 points and 1.9 goals in games against the bottom-10 sides at Anfield. This compares favourably to Everton's home record against the same teams (2.4 points, 1.4 goals), Everton being the club which kept Liverpool out of the top-4 that season.
In 2005/06, the club's attentions turned towards a title challenge. Again, Liverpool's averages against the bottom-10 that season (2.6 points and 2 goals per game) were comparable to those of champions Chelsea (2.8 points and 2.2 goals per game).
In 2006/07, Liverpool actually bettered champions Manchester United's points average at home to the bottom-10 (2.8 vs. 2.5) and scored a similar amount of goals per game (2.4 vs. 2.5).
In 2007/08, Liverpool averaged a lower number of points per game at home to the bottom-10 than Premier League (and European) champions Manchester United (2.4 vs. 2.8) but scored slightly more goals (2.6 vs. 2.5).
In 2008/09, the season which really seemed to copper-fasten the view of Benítez as a conservative coach whose team couldn't break down packed defences at Anfield, Liverpool averaged only slightly less points per game at home against the bottom-10 than champions Manchester United (2.6 vs. 2.8) and scored the same amount of goals (2.3 per game).
Finally, in 2009/10, the season which ultimately cost him his job, Liverpool took 28 points from 30 at home to the bottom-10, scoring 30 goals in the process and hitting marks for points and goal averages (2.8 and 3.0 respectively) which compared extremely favourably with what fourth-place Tottenham managed against the same teams at White Hart Lane (2.2 and 2.3 respectively).
Overall, Liverpool's home record under Benítez in 60 games across 6 seasons against each year's bottom-10 saw 48 wins and only 1 loss (0-1 to Birmingham City in his first season). His side scored 142 goals in those games for an average of roughly 2.4 goals per game and registered only 6 blanks. They scored 2 or more on 45 occasions (75%) and 3 or more on 28 occasions (46.7%). A better man than I, or woman, can extrapolate how these figures compare to each of the teams who finished above Liverpool in those seasons, but I have to say, if we're talking about getting past parked buses, those numbers don't look too bad on first glance and suggest that if Liverpool fell short of achieving their objectives during those campaigns, there were also other factors at play.
The following season, even with Benítez's successor Roy Hodgson guiding Liverpool to embarrassing home losses against Blackpool (1-2) and Wolves (0-1), the club still ended up with an identical points total at home against that season's bottom-10 as fourth-place Arsenal (2.2 per game) and only fractionally less goals (2 per game vs. 2.1).
2011/12 is perhaps where the idea of Liverpool struggling to break down packed defences at home starts to ring a bit truer. Under Kenny Dalglish, and with the task of finding a way through those padlocked penalty areas now regularly falling to players like Adam (next club Stoke City), Carroll (next club West Ham United), Downing (next club West Ham United) and Jay Spearing (next club Bolton Wanderers), all of whom would go on to play for mid-table and relegation-threatened clubs themselves after leaving Anfield (Championship, in the case of Spearing), Liverpool's averages against the bottom-10 at home would drop alarmingly to a disastrous 1.5 points per game and 1.1 goals, way off fourth-place Tottenham (2.2 and 2 respectively).
Even in a debut season which would see Liverpool finish 7th, Dalglish's successor Brendan Rodgers was easily able to improve on those wretched numbers, finishing on 2.3 points per game at home to that season's bottom-10 (not a million miles from the mark of 2.6 set by fourth-place Arsenal) and an average of 2 goals per game (light years from The Gunners' mark of 3.1).
In the memorable 2013/14 season, his side took 28 points from a possible 30 at home to the bottom-10 (the only blot a sloppy 2-2 draw against Aston Villa) and averaged a phenomenal 3.3 goals per game against them. Perhaps a sign of just how difficult it was for Liverpool to win the title that season was that eventual champions Manchester City notched identical figures.
To be fair, the last couple of seasons have seen Liverpool's record against the respective bottom-10's of the Premier League deteriorate once again. 2014/15 saw 1.9 points per game and 1.3 goals, miles away from the marks set by fourth-place Manchester United (2.7 and 2.5 respectively), and last season's averages (both 1.9) were nowhere near those of fourth-place Manchester City (2.8 and 3.1 respectively).
Overall, then, across the last 12 seasons, in 120 games at home to each year's bottom-10, Liverpool have won 83 (69.1%), scored 258 goals (for an average of 2.15 per game) and drawn blanks in 13 (just under 11%). These figures have certainly been skewed somewhat by difficult seasons in 2010/11 (6th), 2011/12 (8th), 2014/15 (6th) and 2015/16 (8th), two of which saw a managerial change mid-season and one of which was guided, effectively, by a caretaker manager. 2.15 goals does seem a bit on the low side, but is a number which should still be enough to see off most visitors.
I have no idea how these numbers stack up against the club's Premier League rivals, but I did have a closer look at Arsenal's results against the bottom-10 in each of those 12 seasons to get a comparison. Why Arsenal? Well, they and Liverpool have identical major trophy hauls over that period (1 Champions League, 1 FA Cup, 1 League Cup for Liverpool, 3 FA Cups for Arsenal), both have finished 2nd twice, and both have made a habit of losing their top players (Alonso, Javier Mascherano, Raheem Sterling, Suárez and Torres have all forced their way out of Anfield, ditto Adebayor, Clichy, Fabregas, Nasri and van Persie at Arsenal).
The big difference is the average League position, and Liverpool would surely swap their 5.1 for Arsenal's 3.3 considering it has guaranteed Champions League football at Highbury/the Emirates every season. Arsenal, in other words, have typically been one of the teams chased by Liverpool in that period (having finished above The Reds in 8 of those 12 campaigns) without being so much better that they ended up winning the kind of silverware that Chelsea and Manchester United did in those years (and there's no point in comparing with Manchester City and Tottenham, who only arrived as consistent contenders relatively recently and would therefore have skewed averages).
Arsenal's record against each season's bottom-10 at home during that period was, in fairness, substantially better than Liverpool's, The Gunners scoring more goals across those 120 games (299 for an average of 2.5 per game vs. Liverpool's 258 and 2.15) and winning more of them (96, for a percentage of 80% vs. Liverpool's 83 and 69.1%) than The Reds. This record was no doubt aided by the stability of having one man in charge versus Liverpool's five (one of whom had been out of football for a decade, one of whom was Roy Hodgson), with all of the instability that brings. Liverpool's record was better in 3 of the 4 seasons that they finished ahead of Arsenal in the League, and again, how you process that information depends on your perspective. Mine is that a club which has finished 7th, 6th, 8th, 7th, 6th and 8th in 6 of the last 7 seasons is likely to have experienced some difficulties against every team, home and away.
To be fair, none of this really has anything to do with Jürgen Klopp or this current version of Liverpool, although aside from lacking historical context this "park the bus" narrative also lacks perspective in the present. Of Klopp's 7 games against the bottom-10 at Anfield last season (Rodgers was still in charge for the visits of Bournemouth, Norwich and Aston Villa), Liverpool scored 2 goals or more in 5 of them (for a ratio of 71%), which suggests that there were no chronic problems breaking down packed defences. Of the other 2 games, Liverpool won one (1-0 against Swansea) and lost 1-2 to a Crystal Palace side which was flying at the time and would go as high as 6th (level on points with 4th place in mid-December) before the wheels came off.
The 2-2 draws at home to Newcastle United, Sunderland and West Bromwich Albion are a perfect example of where context is lacking. These results went down in black and white as failures to beat 3 of the bottom 7 sides at Anfield, but Klopp's team notched a brace in each and were 2-0 up in a couple of them and coasting before defensive errors cost them the points. These, then, were not examples of failing to find a way past a parked bus but have nonetheless added to the overall sense of Liverpool continuing to struggle against weaker sides at Anfield.
Nine goals scored at home against 12th and 14th so far tells a different story, and my suspicion is that if opposition teams and players believe even one iota of the media hype and roll up to Anfield this season expecting laboured, unimaginative opposition before them, then they are likely to suffer a severe shock. On that note, I'll leave the final word to Curtis Davies: "They will open the game up just on their own by making runs and beating people. It is very difficult to take. When we went down to 10 men then, if I am being honest, as a Liverpool player I would be thinking, 'We can give them a hiding. Let's be ruthless.' And they were ruthless."