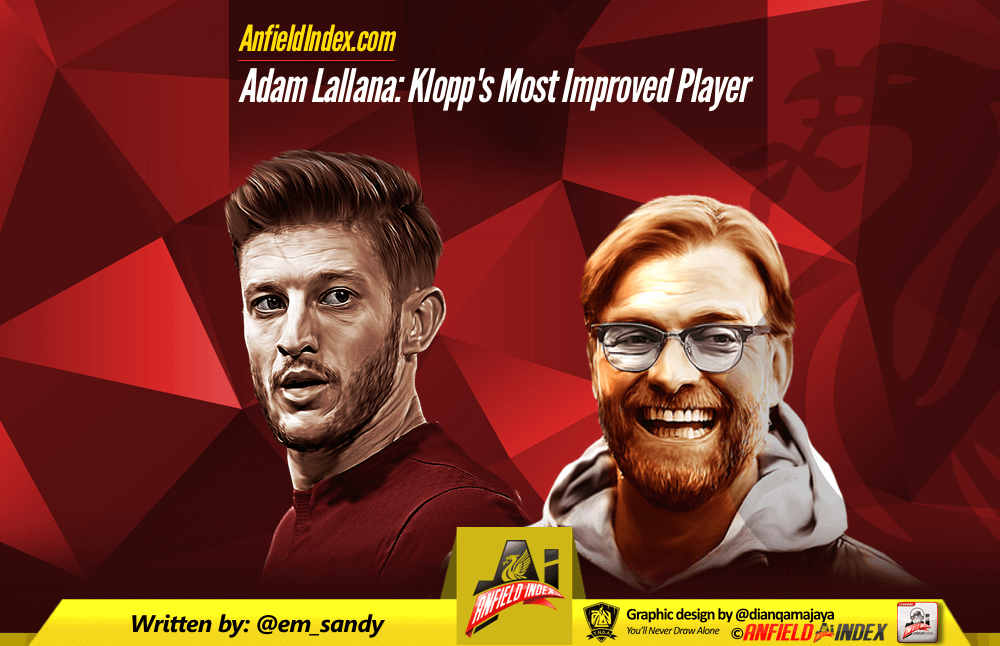 Adam Lallana: Klopp's Most Improved Player
It's been 12 months since Jurgen Klopp took over at Liverpool and already the Reds have been transformed. The side that came so close to winning the 2013-14 season was but a shadow in the dying weeks of Brendan Rodgers' reign. Since taking over, Klopp has rejuvenated his side, transformed the team's philosophy and brought the best out of some of the club's biggest under-performing stars.
As part of a series celebrating Klopp's first year in charge, we take a look at some of the candidates for Most Improved Player since his appointment in October 2015.
Heavy price-tag burden
Brendan Rodgers signed Adam Lallana in the summer of 2014 for a reported £25 million after one of the most impressive Premier League campaigns for Southampton. The former Saints captain was the driving force behind his team's success, netting nine goals and creating 68 chances throughout the 2013-14 season. He made his international debut and was part of England's 2014 World Cup squad, capping off a tremendous individual season.

However, he struggled to adapt to life on Merseyside despite popular belief he'd excel under Rodgers and as part of Liverpool's quick-passing, intricate set-up. Instead, he seems off pace, imbalanced and short of confidence as criticism grew throughout his opening 12 months at the club. Rodgers fan's concerns and continued to play Lallana as part of Liverpool's front three in a wide role but the England international never looked comfortable.
It was obvious why he was valued by the manager. He was hard-working in training and in games, often leading the way in off-the-ball pressing but on the ball he was a shadow of the player Southampton became accustomed to unleashing. The midfielder's price tag seemed to weigh on him as his ability came under question and he divided the fan base. When Sadio Mane and Georginio Wijnaldum were brought in by Klopp this summer, many believed it signalled an end for Lallana despite showing progression in Klopp's opening months. Nobody could predict the rapid improvement the England man would demonstrate in the early stages of the 2016-17 season.
Stats don't lie
In 2015, the midfielder failed to record a single goal. That's a damning statistic for a player worth £25 million, playing in an attacking trio alongside Philippe Coutinho, Divock Origi, Daniel Sturridge and Roberto Firmino.  The number of chances missed is likely to surpass the number of shots on target from Lallana but the truth is that there were very little stats that jumped out for Lallana. This was his main problem – in most games he went 'missing.'
Towards the end of last season, Lallana began to find his form and with added responsibility, renewed faith from Klopp and a larger emphasis on high pitch pressing, his importance on the side felt even greater. It seems to have spurred him on and since then, has gone on to record some impressive statistics.
After seven games in the 2016-17 season, he's already got three goals to his name as well as three assists and his most impressive performance came in the 5-1 thrashing over Hull City at Anfield. Lallana was deservedly rewarded LFC's September Player of the Month and it was no surprise given his contribution to six of the Reds' 18 goals so far in the campaign.
Nine chances created, 100% shot accuracy so far and an average of two crucial defensive actions a game, he's an all rounder and is finally proving his worth under Klopp.
Progression under Klopp
It's clear he's become a crucial puzzle in Klopp's jigsaw. Lallana is everything that Klopp stands for in a footballer. He's hard-working, reliable, loyal, intuitive and adaptable and although he had a troubling start to life at Liverpool, it seems he'll only grow from here on.
With the Reds likely to progress as part of a long-term development project under Klopp, European competition is the club's ultimate goal. More games and more competitions would mean Lallana's role in the squad should become even more important as Klopp continues to demand the best from his players.
Lallana's progression under Klopp in the space of a year has been astonishing and it's no doubt he's a candidate for the most improved player. There's a whole host of individuals who have shone since the German took over and it seems he's found a way to play to all their strengths. Only Daniel Sturridge seems to be struggling to hit top form but amongst his attackers, Klopp has brought the best out of Firmino, Origi and Lallana and there have been noticeable improvements from Henderson and Lovren too.
However, above them all, Lallana has come out as the most surprising package. Though his quality was clear to see at Southampton, he seemed to have lost his way at Liverpool. Whilst Firmino and Origi's potential qualities have been witnessed in glimpses prior to Klopp's arrival, there was very little hope for Lallana. It's for this reason that he may be Klopp's most impressive project so far.