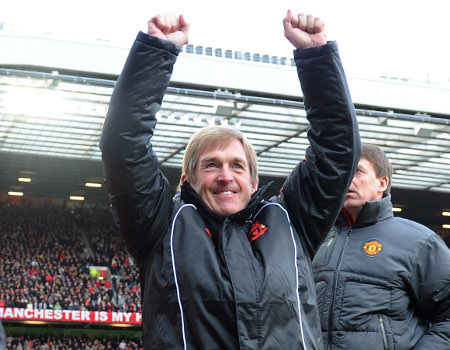 The Kenny Effect
Who would've thought that we would end the 2010/11 season off fighting for European qualification and having probably the best attacking duo in the Premier League? Well let's take a look at how we got to where we are after a dismal start to the season.
We started the season with a newly appointed manager Roy Hodgson, who brought in a couple of new (if a bit questionable) players, hoping to challenge for the league and various other pieces of silverware. In October we finally got rid of H&G and got new owners(FSG) who promised to return Liverpool Football Club to where it belonged. But hope soon faded and fans lost faith in Hodgson after the club only managed 6 wins in 19 league matches. Soon FSG's patience also wore out and on the 8th of January 2011 it was announced that Roy had left the club by mutual consent and that club legend Kenny Dalglish will be caretaker manager until the end of the season. And the rest is, as they say, history.
And what a history indeed. Since then we have gone on to take 10 wins in 16 games beating 3 of the current top 3 teams, settling for a draw against Arsenal. We've scored 35 goals taking our goal difference out of the negatives in December to +18 with two games to go. King Kenny has loaned our (Roy's) most ineffective players, as well as shipping of Ryan Babel and a lackluster Torres hoping to restart his career elsewhere. The new owners responded tremendously by bringing in Uruguayan forward Luis Suarez and record signing Newcastle striker Andy Carrol as replacements, spending only the money from Babel and Torres. Both Carroll and Suarez went on to score their first league goals at home matches with Suarez's coming on his debut and Carrol's in his first Anfield match, proving themselves very effective signings.

Another signing made by Liverpool was that of first team coach and fellow Scot Steve Clarke and the duo(Kenny and Steve) have proven to be a prolific team, overseeing the resurgence of players like Raul Meireles, Dirk Kuyt, Martin Kelly and most recently Maxi Rodríguez. We also saw 4 very promising youngsters in Flanagan, Robinson, Spearing and Shelvey make strides into the first team in part due to injuries but also because of their talent, and they showed everyone how well they could handle the pressure of the premier league. Another player flourishing under Kenny is our Brazilian midfielder Lucas, who has been proving himself to be quite the midfield maestro having a pass completion rate of 83% and having a successful tackle rate of 63.69% making 100 successful tackles out of a total of 157 tackles made. This all shows how Kenny has changed Liverpool from a team relying on two players to win games, into a team where everyone is looking forward to matches and working as a team to get a victory and putting us on a five match unbeaten run, scoring three or more goals in 4 of those matches.
But the Kenny effect stretches much farther than just the players, he has given every single Liverpool fan all around the globe hope of a brighter future with a lot of silverware, making us proud to wear the Liverbird on our chest and proclaim that we are fans of the greatest club in the world.  Liverpool and Kenny's resurgence has also made Liverpool an attractive team for prospective signings in the summer again. Sadly one thing that was missing was his much called for appointment as permanent manager of LFC with the new owners seeming reluctant to announce his appointment, but as of today (05 May 2011) that has changed with the long-awaited announcement that both Kenny (Dalglish) and Steve (Clarke) have signed three year deals at Liverpool Football Club. I wish them both the best of luck over the next three years and I hope to see this club we all love so much challenging for silverware next season.
YNWA
I'm studying Journalism at the moment and would love to hear your thoughts on my piece and topic, so leave a comment or give me a shout on Twitter: @ChrisV21.