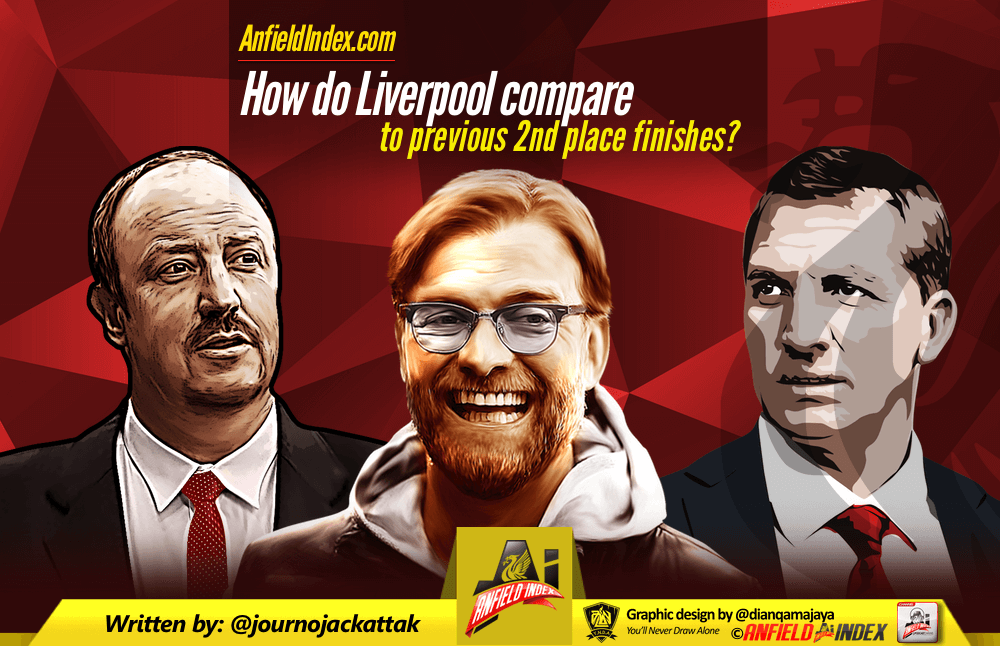 How do Liverpool compare to previous 2nd place finishes?
Liverpool's form has picked up, the team seem to be gelling, and there's a lot of belief among the Anfield faithful that something very special could be upon us and our beloved Reds.
This I expect.
What I didn't expect, however, was for neutrals and bookies to be quite so on board as well. Last I checked, we ranked at 5/1 for the title, second only to Manchester City and at around half the odds of Arsenal and Man Utd. Big stuff

Twice we've finished second, in 08/09 and 13/14. This got me thinking – how does the current side compare to those of 2008/09 and 2013/14? Can we usurp these past shortcomings and pip City to the post this time? If so, how?
First, lets take a look at 2008/09.
We should have been pretty good going forward 8 years ago (it's really been that long). Torres supported by top scorer Gerrard, and Keane as a pretty able back up/partner for the Spaniard. Not a bad start.
However, injury limited El Nino to 14 goals in 24 games and a bizarre six months saw Keane struggle his way to 5 goals before departing in January. That left Voronin and N'Gog (Kuyt mostly a winger) to do the job, which is far from ideal.
One particular run of form summed Liverpool's failings up for me. In the 10 games leading up to Keane's departure, he scored just twice and Liverpool won only 3 games, while we finished the season 4 points from the title. In the end, Liverpool were top scorers, but I can't help but feel a little more reliability and greater strength in depth up top might have made the difference in a period like this.
At the back we were pretty good, with Carra, Agger and Skrtel sharing the CB positions, Arbeloa and Aurelio/Dossena flanking and my beloved Pepe Reina in goal. Individually these weren't the greatest defenders but, where defending is an art form, the team were the artist here. 27 league goals was slightly bettered by only champions Man Utd and 3rd place Chelsea.
What Rafa did with the money the club spent at times during his tenure was remarkable, and while this league title was beyond him, 86 points remains our best in the Premier League. Eventually built an excellent squad with a strong spine, which very much hit it's prime in 08/09.
We were very impressive against the big boys, unbeaten against the rest of the top 6. No complaints here, one 4-4 draw with Arsenal aside (some silly goals if you remember). Against the rest, it was a story we're all too familiar with though as Liverpool were let down by their results with lower teams. Averaging 2.28 points per game in 28 games against teams outside the top 6 was practically the same average as our record against the main rivals, but it should be higher. In the end, we drew a quarter of such games. Just one more goal in two of those draws would have had us champions. Waaahhh.
08/09
Goals – 77 (highest)
Conceded – 27 (3rd lowest)
Points per game (ppg) vs top six – 2.2
Ppg vs the rest – 2.28
Great, solid team full of quality but a repeated inability to put the 'easier' games to bed due to lack of cover for Torres cost crucial points all too many times.
Now to 2013/14…
Up front it must be said, we were something else going forward. Suarez, Sterling and Sturridge took it to another level, some of the football was out of this world, and the 101 goals had me at the edge of many seats for months. Man City just HAD to goal a goal further though, didn't they. 9.9999*/10 for me.
This time, the defence was very much our Achilles heel. You have to drop to 10th place Newcastle to find anyone with a defence that leaked more than 2 goals more than us. Nearly double the goals conceded than in 08/09, and results like the 3-3 draws with Palace and Everton, the 3-1 defeat to Hull City and three more 2-2 draws were games we should have won and all emphasise the strain the leaky defence put on the rest of the side.
Brendan Rodgers, meanwhile, did marvellously in utilising our attackers, but never quite organised a backline void of star quality in the same way Benitez did. He did his best to deflect as much attention and pressure from the team as he could but inexperienced proved vital and, when it mattered the most, Liverpool caved at the final, final hurdle and it all seemed a bit too much for them to take. Could Benitez have won it with this squad? Very different managers, but his experience at this higher level might have made a difference.
Liverpool were fairly strong once again against the teams at the top, with 16 points in ten games against the fellow top six finishers, but defeats to Arsenal, Chelsea and City at the end of 2013 showed the standard was high elsewhere. Conversely, we won 21 of 28 against the rest, averaging 2.4ppg. While there was the odd result against teams further down the ladder (defeats to Hull gets mentioned once again), we usually put them to the sword and drew fewer than in 08/09. Given the immensely competitive, 'anyone can beat anyone' nature of the Premier League, it's hard to blame second place on too many results against them in the same way as it was under Benitez.
Goals – 101 (2nd highest)
Conceded – 50 (8th lowest)
Ppg vs top six – 1.6
Ppg vs the rest – 2.4
Possession – 3rd highest
Passing % – 4th highest
Mistakes leading to opposition goals – 2nd highest
Brilliant on the ball, as you can see, all too often poor off it. Clear to see what cost us the title in the long run.
2015/16…
The question we all want to know – can we go one better?
Still too early to say for sure. But here's how we compare to the past.
In attack, looking brilliant. I think that, not only are the lads scoring all over the park, the movement is beyond anything I've ever seen at Anfield and I think that will prove the difference in a few tight games. The strength in depth is staggering as well – lack of back-up for Torres cost us in 08/09 and Suarez was the star of the show in 13/14, while this time we've got tons of options. I unashamedly dare say the attacking unit really pushes that of 13/14 close.
The defence is getting there, but a bit too slowly. Conceding slightly more than during the 2013/14 season so far (1.4gpg now and 1.3 then), and yet to get a clean sheet in 7. This needs to shore up for us to have any hope of usurping the relentless Man City Machine, but Matip looks very good, Lovren looks somewhat better, Clyne is a cracking player at both ends, Gegenpressing starts right from the front and there's some stiff competition in goal at last. I think it will come.
More positively, we're all feeling the Klopp factor and it's just bloody lovely. The system he's developed squeezes the most out of the attack and gets us defending from the front to ease the pressure on the backline, which I'm hoping will show with more clean sheets. Most teams have found us impossible to cope with and he's made the country fear us and envy us in equal measure. Check out his appearance recently on MNF on Sky.
Plus, what a total chap. You got to love the man.
Against the bigger teams I have no complaints at all. Some big games out the way already and goals, points and sexy football has put us among the bookie's faves for the title. We just need to iron out those let-downs against the rest of the league we're all afraid of (the famous Burnley game, for example).
More recently, though, ruthlessness against Hull and determination against Swansea have done the job. I'm both hoping and expecting to see more of this, and if that happens the Burnley result will pale into insignificance.
What I see from this team is the attacking fear factor and swash-buckling football of 2013/14 – Liverpool currently rank 1st for shots on goal, goals scored, pitch coverage and passes completed. Now though, we've got Klopp's experience, character and winning mentality as well. What we're lacking is the defensive solidarity of 08/09 to back that up, but for a team without a clean sheet I don't feel the same sense of panic at the moment as I have in the past. Hopefully, the lads learn quickly from playing with each other and that unit at the back hits some consistent solidarity.
This will have to shine through if we're to back up our surprise tag as second favourites, and we've shown before how damning it can be as a weakness. Do that, though, and I really, truly believe, somewhere deep down, we may have a special season among us.