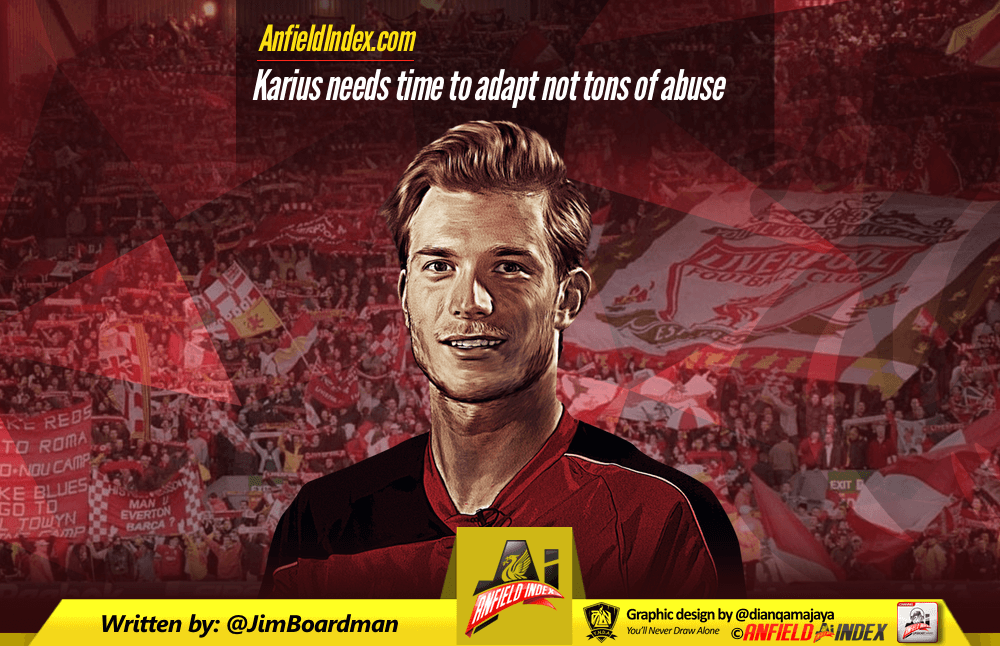 Karius needs time to adapt not tons of abuse

Liverpool moved into second place, at least temporarily, after a 2-1 win away to Swansea, meaning the Reds go into the international break off the back of four straight league wins. A time for Reds fans to celebrate, to smile about the work Jürgen Klopp has put in so far? Not in some cases – it was time to use social media to give Liverpool's young new goalkeeper a piece of their mind.
The Reds had come back from a goal down – the one conceded not the fault of the keeper, by the way – to pick up all three points. Firmino headed the equaliser and Milner was calm yet again from the spot for the winner. Liverpool's new goalkeeper, Loris Karius, was playing his second-ever Premier League game and the first one in which he's really had any work to do.
Karius is EXACTLY THE SAME AGE as Danny Ward, the young Liverpool goalkeeper sent out on loan by Jürgen Klopp to gain experience. Ward is clearly thought of by Klopp as one for the future, not a finished product at what is a tender age for a goalkeeper. Karius and Ward share exactly the same birthday, turning 23 on the same day in June. Karius is many ways also seen as one for the future, not quite in the same way as Ward – if he was he wouldn't be starting games yet either – but still in need of experience, especially in a league that is brand new to him. He's not going to get that experience by sitting on the bench watching other people play, he'll get it by starting games and by learning as he goes along.
Not that he is a complete rookie – he arrived having been a first choice keeper elsewhere – but he does need to learn the ropes in a new league, one where goalkeepers are given far less protection than they get on the continent.
He also needs to learn about his team mates – who of course are also learning about each other. In time the back four will develop a hierarchy, leaders will emerge, trust will be built, decisions will be made in high-pressure situations almost by instinct and practically always in concert with each other.
This was the first time Karius had played with this exact back four, Matip and Clyne the only constants over his three Liverpool appearances in all competitions so far.
For those who view football through the bottom of a half-empty glass none of this is good enough, especially those who use social media to share their anger at any sign of imperfection.
If the £5m signing wasn't as good as Pepe Reina and Ray Clemence at their peaks combined then why on earth did Liverpool buy him, they'll say. It's time he took his gloves elsewhere, they'll add. No doubt they all do their own jobs with absolute precision and unrivalled expertise and even if they moved to a new employer with slightly different practices in a completely different country they would still be just as perfect.
For the rest of us there are still plenty of positives to share about Karius. First of all, now that Jürgen Klopp has seen him in a real live Premier League situation you can guarantee there will be coaching sessions designed to help him improve his weaknesses. On top of that we also got to see the qualities Karius arrived with, qualities that make him seem to be such a perfect fit for a Klopp side.
As we mentioned on the Nina Kauser show post-match, one sign of his confidence came when he saved a shot that was moving at some pace, knocking it downwards rather than trying to hold it – there were no defenders around him – and then catching it one handed, ready to move Liverpool forward again. Talking of getting Liverpool moving forward again, Karius will certainly be a huge boost in helping the Reds turn defence into attack.
There was one moment that stood out, when the keeper was under pressure from the Swansea attack and showed what he can do with the ball, sending a brilliant pass forward to Clyne out wide and giving Liverpool a chance to set up another wave of attack. In a less obvious way he was used on a number of occasions by team mates struggling to break through the brick wall that Swansea put up after taking the lead, a ball back to Karius used quickly and sensibly by the keeper and giving the Red machine the chance to reset and launch another wave of attack.
Passing the ball back to Karius wasn't a negative tactic, it opened up new options for the team in trying to find ways to break through – with measured passes, incidentally, not long balls. It's not too dissimilar from they way many a Liverpool attack would begin in days gone by, the goalkeeper an integral part of many an attacking move by the all-conquering Reds sides that dominated Europe.
Not everything worked for Karius but plenty did – as his confidence and understanding builds more and more of what he does will work and Liverpool will have a top class keeper on their hands. As many of Liverpool's more positive supporters pointed out on social media, David de Gea didn't start off in the greatest way when he first started to play in the Premier League. Nowadays he's arguably one of the most coveted goalkeepers in world football.
Liverpool won, just one goal conceded, second in the league at least for a bit and Karius was clearly delighted at what it meant for the team. Another three points.
The goalkeeper went on social media afterwards to share that delight with his followers and to thank the fans that were lucky enough to be at the game for their support.
Difficult game today, but a very important victory! 💪🏼⚽ Thanks to our travelling fans 👏🏻👏🏻🔴#SWAvLFC #YNWA #LK1 @LFC pic.twitter.com/MhyCkyjYyq

— Loris Karius (@LorisKarius) October 1, 2016
Footballers going on social media for any reason doesn't go down well with some fans. The very idea of a footballer even having a social media account, let alone using it, brings the rage out in some fans and for no logical reason. "If you spent less time on social media and more time learning how to be a [insert position here] maybe we wouldn't keep losing!!!" they'll tweet.
Their logic, if you can call it that, seems to be that if the player making them so angry didn't spend up to three or four minutes a day, a few times a week, sharing pictures of himself and his wife/girlfriend/teammates/mates/siblings/parents/kids/pet being happy he would now be the best player in his position. Like ever.
It's as if a footballer taking a quick photo and captioning it with a hashtag and a few emojis is doing something that is a serious risk to their long term fitness and form. "He'll weaken the bones in his fingers trying to switch his camera back onto front facing again all the time," they probably think to themselves every time Karius tweets his excitement about playing in the next match.
Jose Enrique would have got less anger and bile aimed at him from certain Liverpool fans if he'd been snapped by paparazzi wearing a Manchester United kit under an Everton tracksuit on a fun day out with Tom Hicks and George Gillett than he did any time he shared an innocent photo on Twitter depicting a trivial moment of happiness. Enrique left Liverpool in the summer but still people use him as some kind of yardstick for how casual use of social media absolutely ruins players and loses leagues. Or something.
@JimBoardman @NinaKauser This karius.His socialmedia like Enrique.His keeping like migs. His demeanour like model. Not sure I like too much

— LFCINVEST (@LFCINVEST) October 1, 2016
"This karius," tweets 'LFCINVEST', "His socialmedia like Enrique." Uh-oh. "His keeping like migs," they add, but just as you think it can't get any worse they drag up another no-no for the modern footballer: "His demeanour like model." Footballers caring about their appearance? How on earth can a footballer sharpen their skills if they're wasting a few minutes a day brushing their hair?
"Not sure I like too much," 'LFCINVEST' concludes, sounding far more sure than they're letting on.
It isn't always full blown anger and bile, of course, but it's rarely polite or constructive and more often than not it gets shared using social media. There's nothing the fuming fan likes more than firing off a load of tweets to THE PERSON THEY FOLLOW ON TWITTER sharing their disgust at the very cheek of that player using that same medium to spread a harmless bit of joy.
Karius using social media to thank supporters and share his pleasure at the result in a difficult game was like an open goal certain members of #LFCTwitter.
There was no other way of reacting to such comments from the 23-year-old than to say exactly what they thought of his performance – in exactly the kind of way they would never dream of doing to his face.
@LorisKarius @LFC @JHenderson save your style and show your actions in cut crossing. Shit style, shit hair.

— Ajri Inda Robbi (@Inda22Robbi) October 1, 2016
Ajri presumably has amazing style and astounding hair, but it's hard to tell when you've got a picture of James Milner as your profile pic. Ajri probably also knows what "cut crossing" is and how saving your style allows you to show your action in it.
@LorisKarius @LFC @JHenderson yeah you were kinda shit bruh

— Arfu (@_Arfuu) October 1, 2016
Arfu, meanwhile, does hold back slightly. Ajri was unequivocal in terms of which bodily excretion Karius is but Arfu says the keeper is only "kinda" like that. Arfu also claims to be "Master of spontaneous witticisms", although the Twitter bio doesn't clarify how many years there are between each spontaneous witticism.
@LorisKarius @LFC @JHenderson German Mignolet

— ㅤㅤㅤ (@af1fmna) October 1, 2016
"af1fmna", who seemingly doesn't have a name, could be a massive Mignolet fan for all we know, so "German Mignolet" could be the biggest compliment possible. But it probably isn't.
@LorisKarius @LFc worst player on the pitch

— Jason Clarke (@jasonsimoclarke) October 1, 2016
Jason thinks Loris was the "worst player on the pitch", which could really just be a compliment to all the other players involved in the game – but probably isn't.
@loriskarius @lfc you should be react rapidly!!! you were a bit doubtfull !!! Lets train more to be fit!! ftw let Mglet the place

— Djoman franklin Lfc (@Djomanlfc) October 1, 2016
"You should be react rapidly!!!" exclaimed Djoman, half an hour after Karius had tweeted. Djoman also exclaimed "you were a bit doubtful !!!" before exclaiming "Lets train more to be fit!!" By this point Djoman must have run out of exclamation marks and, with space also running out, decided not to explain what was so troubling about the keeper's fitness. There was just enough room for one demand for Karius: "ftw let Mglet the place"
https://twitter.com/thomaskwanlfc/status/782272143128010752
Thomas, whose surname may or may not be a comedy anagram, kept the Mignolet theme going, telling Karius: "You are not much better than Simon Mignolet, if at all." Just as Karius was thinking 'but still better?' Thomas kills his hope with the "if at all" and adds a sad face emoji on the end to hammer the nail in. He also copies Mignolet into the tweet to ensure both Liverpool goalkeepers know how much of a failure he finds them.
"Az", however, had no time for pleasantries:
@LorisKarius @LFCTransferNRS @LFC @JHenderson Fuck off flappy hands

— Az (@AzerFox) October 1, 2016
Not long before Az was telling Karius, directly, where to go, he (or she) also admitted to being able to see things that no other Liverpool fan anywhere in the world can see. No, Derek Acorah doesn't have competition, Az just reckons "Clyne is our biggest problem". Az has been able to see this for a long time, unlike "all our gobs***e" fans.
I've said Clyne is our biggest problem for a long time but all our gobshite fans don't see it

— Az (@AzerFox) October 1, 2016
Believe it or not Az is right. No, not that Clyne – today's Sky Sports Man of the Match (not my choice, but still) – is Liverpool's biggest problem, because he isn't. Also not that he's the only person in the world who thinks this – #LFCTwitter is bound to have more. Az was right because he has been complaining about Clyne for ages.
In fact it was back in March that Az told Clyne to leave – after the right back posted a picture of some trainers he was wearing. ON SOCIAL MEDIA!
@Nathaniel_Clyne @nikesportswear Leave please

— Az (@AzerFox) March 24, 2016
#LFCTwitter is a funny place, often unintentionally so, and hopefully Karius will see the responses from a handful of Liverpool fans to his victory tweet exactly for what they are, as something so bad that they are best just laughed at.
Can you imagine any of these people talking like this if Karius happened to be shopping in the same place they were one day next week? Of course not, because they'd be running over to tell him how HUGE a fan of his they were and whipping their phones out as quick as they could for a selfie to share on social media, alongside the photos of their lunch and their critical tweets about the lack of class other club's fans have.
From what we have seen in a year of Klopp's management of Liverpool FC there is every chance that Loris Karius will go on to become a commodity that is actually quite hard to come by in football – a top class goalkeeper.
We only have to take a moment to look at what we thought of certain Liverpool players a year ago, on the eve of the manager' arrival, and what we think of them now to see how much better a player can become under Klopp.
Klopp will ensure Karius gets the coaching he needs to adapt to the English game and, as the new keeper and his teammates get to know each other more and more, we will all get to see exactly what it was that Klopp saw in him.
When that happens most of us will be celebrating – whilst Twitter's perennial moaners find someone else to vent their spleen over.