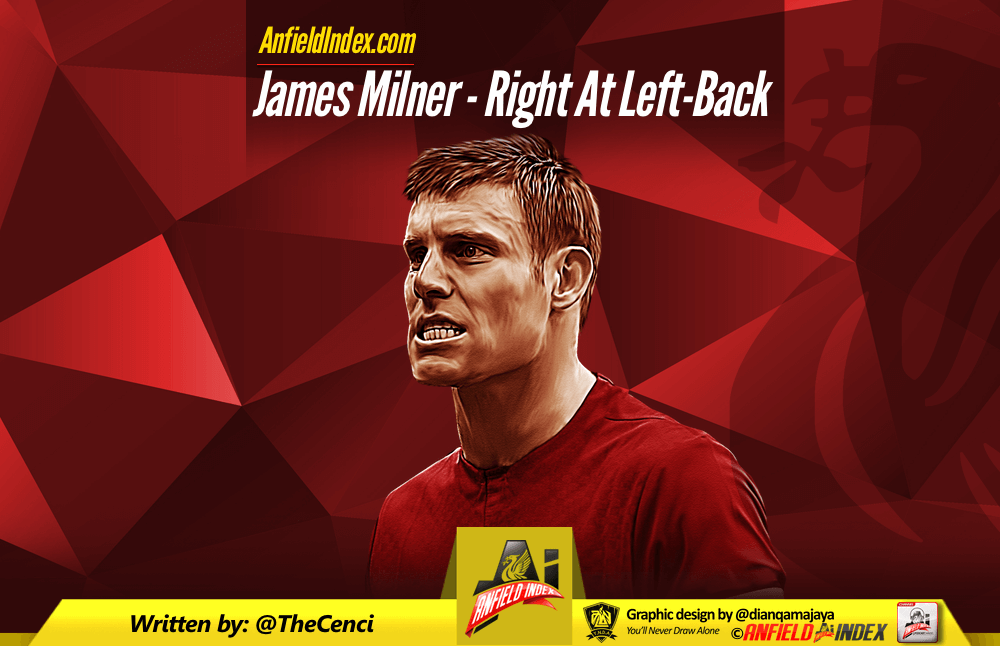 James Milner - Right At Left-Back
At the end of the transfer window, Jurgen Klopp looked at his left back options, nodded and moved on. With Alberto Moreno throwing himself about with reckless abandon, the German gave the shirt to the 30 year old James Milner, knowing that the Yorkshireman would simply get on with it. Left back was done as far as he was concerned, though some questioned the wisdom of having a veteran player in such a demanding role.
Eyebrows were also raised at the lack of cover at centre back. Even though Mamadou Sakho was yet to commit Snapchat suicide at that point, it was clear that we all had a better chance of making the first team before him yet Jurgen closed the book with just Lovren, Matip and Klavan covering two places. Yes, there was Joe Gomez – a man with an Anfield pedigree of just five starts – but there was a loud concern about our top loading the squad and hoping that the attack outscores the defence. People kicked off.
And I was one.

I'm not ashamed about that at all. I thought Jurgen got that wrong. Still do, to be honest.
Yet, here we are in October, and Milner has been a revelation. Klavan has stood up well in a new league and Joel Matip looks cool enough to put on a raincoat after training and solve crimes in his spare time. Seriously, how unruffled is that man?
The caterwauling has quietened to a noticeable degree as the Reds have marched up the table following the hammerings of London and nine Anfield goals in two games. It may look threadbare at the back but it's not hurting us.
That may sound smug, but this is a confession rather than a polemical diatribe at people who got it wrong. I was one of the naysayers. Point your rifles this way.
I say this because there's something seemingly embarrassing about voicing an erroneous opinion. I'll never understand why. Surely being proved wrong is the greatest thing in football. Harsh opinions tend to be negative in flavour so if you're wrong then something good has happened elsewhere.
Naturally, this is amplified by social media where miscreants keep your tweets for years until they reveal you to be a hypocrite. It goes with the territory, but isn't that half the fun?
I'll happily confess to my greatest/worst calls. Some of them go back years. Here goes.
If John Barnes is holding us hostage to get a move to Arsenal or Spurs he can just fuck off. He's not all that anyway. One goal in the Maracanã and he thinks he's Jairzinho. I'm not alone in that one, incidentally. I think it took me four minutes of seeing him in the flesh to perform a U-turn.
Seriously? He's buying him just because he LOOKS like Rush? Jesus, Kenny has lost it. On the signing of '60 goals in two seasons' John Aldridge.
I don't care how passionate he is, Carragher just isn't strong enough in one position to become a regular.
Yep.
Comparing Gerrard with Souness? He's not a third of the player Souey was He'll never touch his brilliance. I was wrong there. He touched it. Didn't surpass it, to my mind, but I never expected that career from him.
But, here's my favourite. You may need Google such is the obscurity of this claim. It still gets brought up by my mates when I'm smugly telling of them of a rare correct prediction.
When Rush retires we should partner Robbie with Mike Sheron. An all Scouse forward line! We'll conquer the world with those two.
We all know everything, we all know nothing.
But back to Milner. The most interesting selection this season is his starting place at Burton. Given his age and look of permanent knackeredness, many thought that Moreno would have been given that game bearing in mind it was a tie you'd expect us to win. He certainly filled the left back berth in the next tie at Derby County, but the manager still preferred to play Milner in the earlier game.
There could be many reasons for this. Firstly, he's a captain and we are a club that has lacked leadership since Gerrard left so a calm head against the Division One side may have been required had they made it tricky. Then, of course, he could have just wanted to see the first team play against weaker opposition and get used to the idea of winning and even winning heavily together.
The problem is, where does he get a rest? We may be at an advantage with a lack of Europe, but we have to consider that older players pick up injuries and our only cover is berserk. Rest days are as important as any double training session and he may need more as the season goes on so why burn him out now?
One thing that won't be a hindrance is the player's attitude. Much was made of Sturridge saying that he preferred to play centrally rather than wide to Roberto Firmino – though it didn't look like a protest to me – but Milner just wants to get onto the pitch and do a job for the team.
He knows he can do a job there too. Sometimes people fail to realise that players complaining about being in the wrong position are predominantly about their worry that they can't do the job.
In 2009 I was stood on the front row at the Riverside to watch us play Middlesbrough. We had just beaten United and Madrid and confidence was high though injuries were beginning to take their toll. Following a knock to Alvaro Arbeloa, we were low on cover at right back. We had Stephen Darby on the bench but you'd expect Carragher to move over for one game. Rafa, inexplicably, chose Martin Skrtel. As the team warmed up, Skrtel stood in front of me, on his own with his hands on his hips, staring at the ground. Carra spotted him and put both hands on Skrtel's shoulders while he softly (for Jamie) spoke to him. It looked for all the world that Skrtel was sulking about the role he had been given, but a short glance to the away end told a different story.
The man was petrified. Absolutely petrified.
We were going for the league and every minute of every game was of savage importance. Skrtel looked like he might have an error in him and would bring the whole circus to an end. Carra was merely telling him what to do – no doubt to keep it simple and use the nearest shirt if danger was at hand – and calming him down.
We lost 2-0 and there was an error from a Liverpool player that day. Xabi Alonso scored an own goal.
Skrtel was dreadful though.
Milner isn't really like that. He's played pretty much everywhere in his career and won Leagues in most of them so there are no worries on that front. He's not afraid of any position on the pitch and can master it in weeks. Is there a better left back in the League at the moment?
For a man on the wrong side of 30 there's plenty of fuel in the tank and he manages his sprints perfectly. This is borne purely from experience as he knows when to cut inside and slow a game down and when to attack a by-line. The result is that we now have two full backs who don't scare the hell out of us when they have the ball. Clyne has made a couple of expensive errors (Burnley and Swansea) but he too is calm and collected when receiving the ball. We've not always had that luxury.
Of course, the point still stands. We're two knocks away from Moreno and Lucas in the back four for weeks on end and though they're capable of doing a job on their day, it's strange that a club of such glorious resources should just cross their fingers and hope.
In the meantime, I'd like to make a bold early prediction – Milner should be looked at when they start handing out Player of the Year awards. He's been brilliant for the Reds and though he isn't as showy or as high octane as the front lads, he is absolutely integral to Jurgen Klopp's plans.
And I'll stand by that.