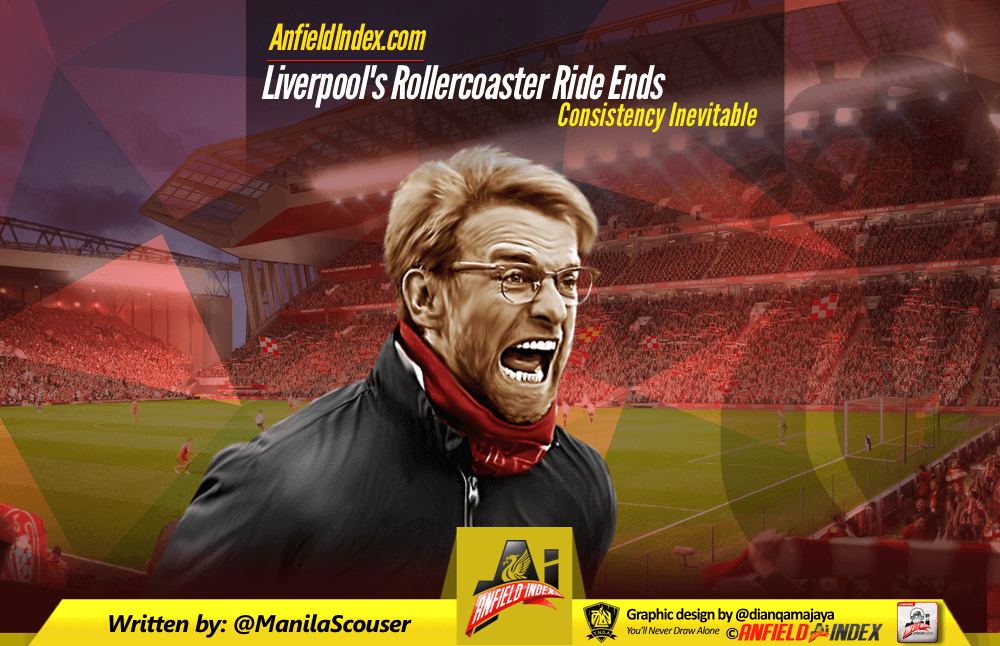 Liverpool's Rollercoaster Ride Ends - Consistency Inevitable
It's been a very entertaining year for Liverpool fans across all seven corners of the world so far.
Scintillating games from October last year with masterful performances against Chelsea, Manchester City, Villareal and Borussia Dortmund, followed by disappointing results against West Ham, Watford, Southampton and Newcastle was indeed a rollercoaster ride last season, as said by plenty of Reds when Liverpool Football Club decided to part ways with incumbent Celtic manager Brendan Rodgers, and appointed who is probably their biggest signing of the decade in Jurgen Klopp.
Liverpool has progressed in a year under the guidance of Klopp. What now feels like such a long time ago, albeit only two seasons prior, the team was barely able to muster up courage, energy, and will to hit back at our opponents. We knew it, and dreaded it.

That was a dark period for all avid Liverpool fans. We were aware that if certain things happened in a game, there was inevitability to come. If Liverpool had conceded first, there's little to zero chance we were going to threaten and score to win, or should the Reds concede an equaliser with not much time left until the final whistle, the game would end in a draw or a loss. Concede a goal and it was as if Liverpool were thrown into a pitch-black cave, afraid to search for the exit.
Today however, it couldn't be more different. Our recent performance at Swansea was evidence enough of how much the performances of the Reds have progressed since those days we all want to forget.
There's belief now within the dressing room, and the match against Burnley now seems like a one-off. The players look as if they know they can do something to change how Liverpool fans would feel returning home should the team get sucker punched at any time of the match, and there's plenty of evidence to support it. Norwich & Chelsea away, Arsenal and West Brom at home last season.
It's not only about coming from behind to win games. What impresses me the most is how we've managed to grind out results away from home when the pressure was on us. Arsenal and Chelsea away this season are two very good examples. We've absorbed the pressure at the Emirates and Stamford Bridge, both difficult places to get results, but we did it. We were able to hold off our opponents from equalising and ruining our party. Two years ago, as I said previously, an equaliser was inevitable.
Results from games like these are vital to our progress as a cohesive unit, and personally it's a much bigger victory than winning 4-1 against Leicester or 5-1 against Hull City. Obliterating teams is always a good thing, and it's an incredible feeling to witness, but managing to get results from a poor performance is something we've previously lacked in our locker, and having it now is a sign that Liverpool are not only a team that can gather points by scoring 3 or more, but we can also scrape out a result when we're faced with difficult situations.
As Jurgen Klopp said: "It's important to win the not-so perfect games"
This is how Liverpool should be, and now is. A team that's angry when another team wants their points, which is another quote our manager has said. That mentality is crucial to a team aspiring to bring home silverware. We're playing to win, and we go for the jugular.
There's plenty of definitions of consistency in football. Performance and results are one of them. And while there is indeed plenty to improve on, there's also plenty we have improved on. We were horrible in the first thirty minutes against Swansea, we played our game, produced a decent performance in the second half, enjoyed a win, and put pressure on the teams around us in the table. I think Liverpool is pretty consistent thus far.
Now we enter the International break with our hearts filled.
Bring on United. Forza Liverpool.