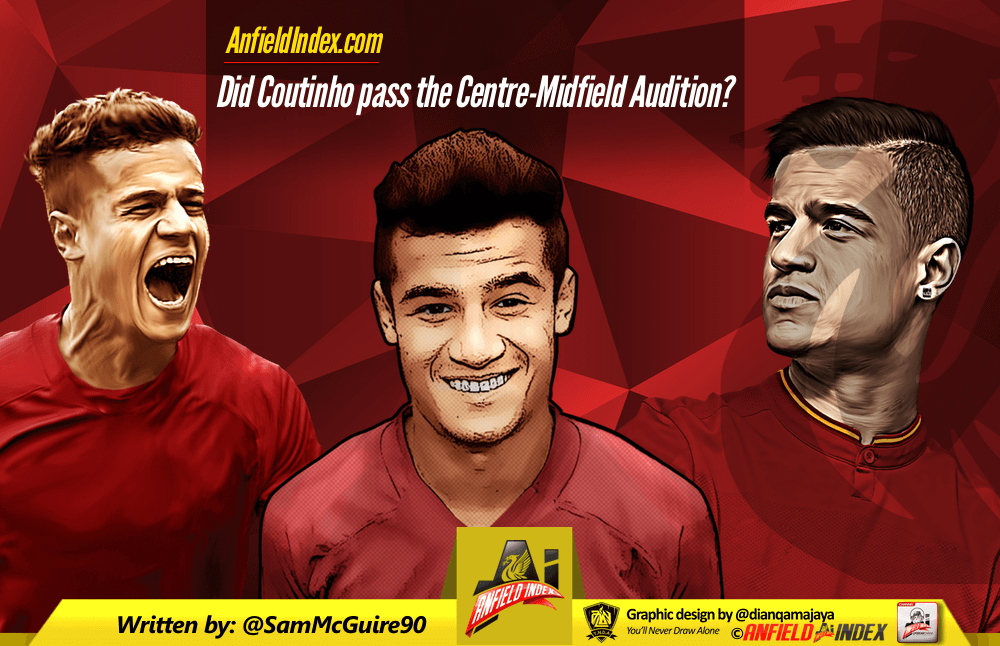 Did Coutinho pass the Centre-Midfield Audition?

Philippe Coutinho in centre-midfield in a Jurgen Klopp side.
It was an experiment many Liverpool fans had wanted to see for quite some time but it's unlikely many would have wanted the switch to happen under such circumstances. Adam Lallana, a player who was playing arguably his best football since signing for the Reds, limped off 20 minutes into the victory over Swansea with a groin injury.
To the surprise of many Klopp opted to move Coutinho to a more withdrawn role and bring on Daniel Sturridge as opposed to sticking with Phil as one of the attacking three and bringing on one of Marko Grujic or Emre Can.
The surprise wasn't because Coutinho isn't suited to that role. He is. He's played it before. It's because in Klopp's year as Liverpool manager he's seemed reluctant to play Coutinho in a withdrawn role. It's a topic that's been widely debated on Twitter with everyone offering up an opinion as to why Klopp hasn't restored Coutinho to the position that really endeared him to the Anfield faithful.
"If Coutinho is having an off day he doesn't give 100% and a Klopp midfield can't carry passengers."
"He really is like Houdini. One match he's the centre of it all and the next minute he's completely vanished. He's just too inconsistent for such an integral role."
While the inconsistency tag is fair his overall performances have improved under Klopp. People also suggested Coutinho wasn't fit enough as well as a few implying he just wasn't good enough. Whatever the reasoning behind it, the German finally caved in and gave the majority of fans what they wanted to see.
The switch paid off and it left many wondering whether it may be a position he takes up on a more regular basis.
As soon as the little Brazilian dropped into a deeper role Liverpool started to gain control of the game. The Swansea press, which was problematic early on, wasn't as effective with Liverpool's no.10 being able to dribble his way out of trouble before threading incisive passes between the lines.
Coutinho nullified the Swansea tactics and simultaneously started to create space for the Liverpool attackers.  The Reds suddenly had a foothold in the game and started to cause the home side some problems. It was reminiscent to Coutinho's performances in the number 8 position during the 2013/14 season. He was direct, aggressive in his play and showed just how industrious and dynamic he could be. He wasn't your stereotypical Brazilian that many had become accustomed to over the years.
The Swansea tactic was inspired by the Burnley blueprint. There's a bullseye on Jordan Henderson's back and when he's press there's definitely something there for the opposition. Against Hull Joel Matip and Ragnar Klavan helped the captain but against Swansea the Liverpool centre-backs, and goalkeeper, were pressed just as aggressively. It meant the away side had to go long and for all of their strengths Roberto Firmino and Sadio Mane aren't the best target men.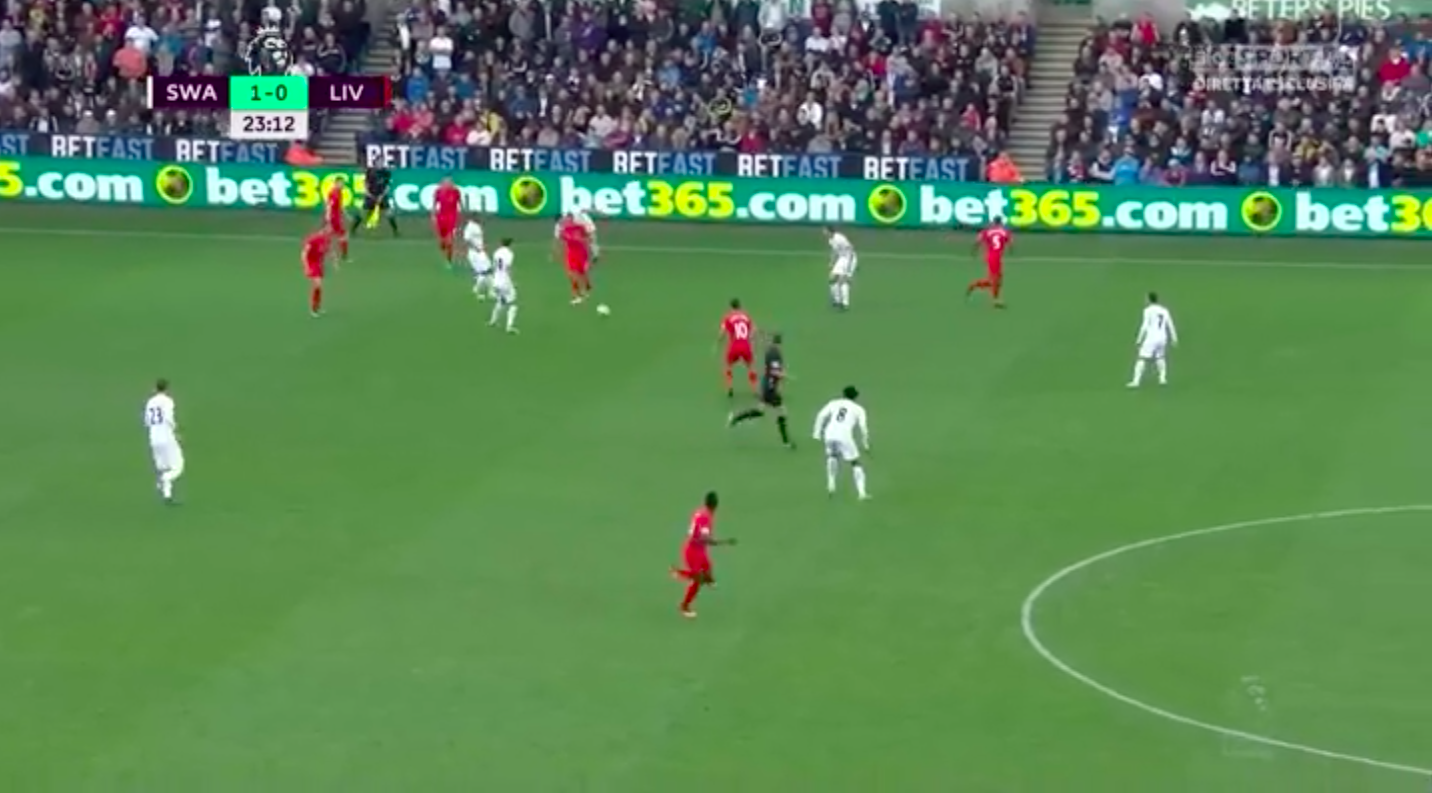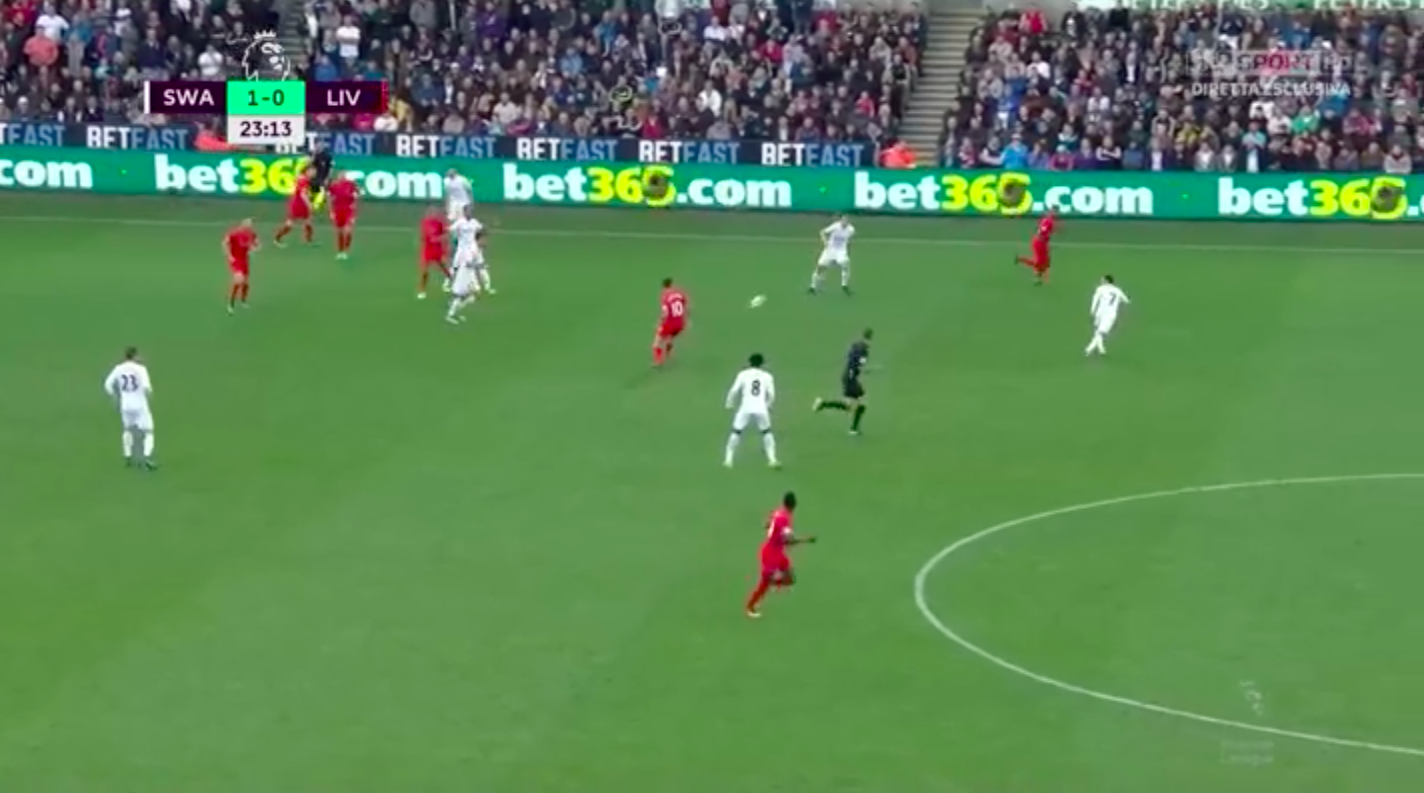 The two pictures above show just exactly how less is more. Swansea are pressing Liverpool in the Liverpool half with seven white shirts all within 30 yards of each other. Henderson finds Coutinho and a centre midfielder here would usually take a touch, turn on the ball and look to play it to Mane. Instead Coutinho repositions his body and plays a first time outside-of-the-foot pass to Gini Wijnaldum who is already on the move and Liverpool are able to take seven Swansea players out of the game due to Coutinho's quick thinking and ability.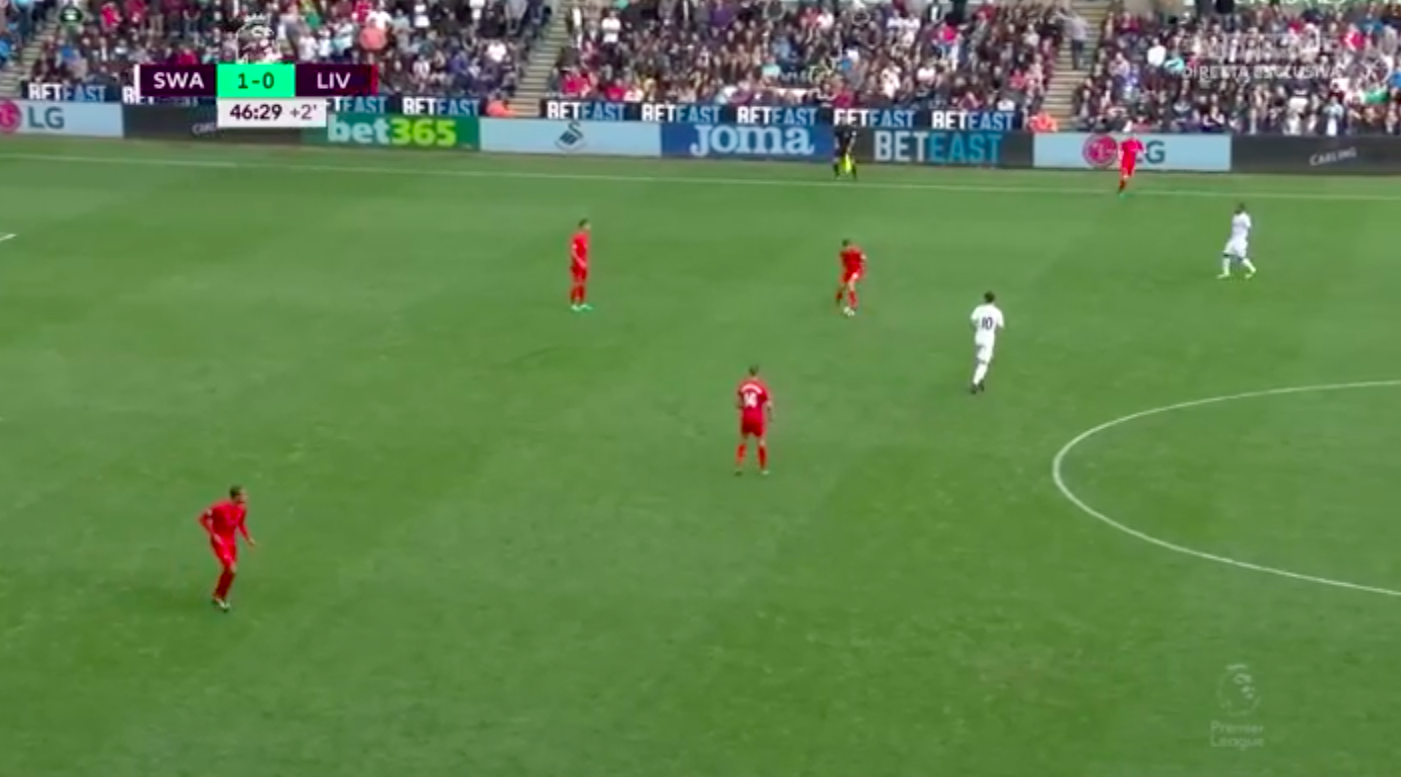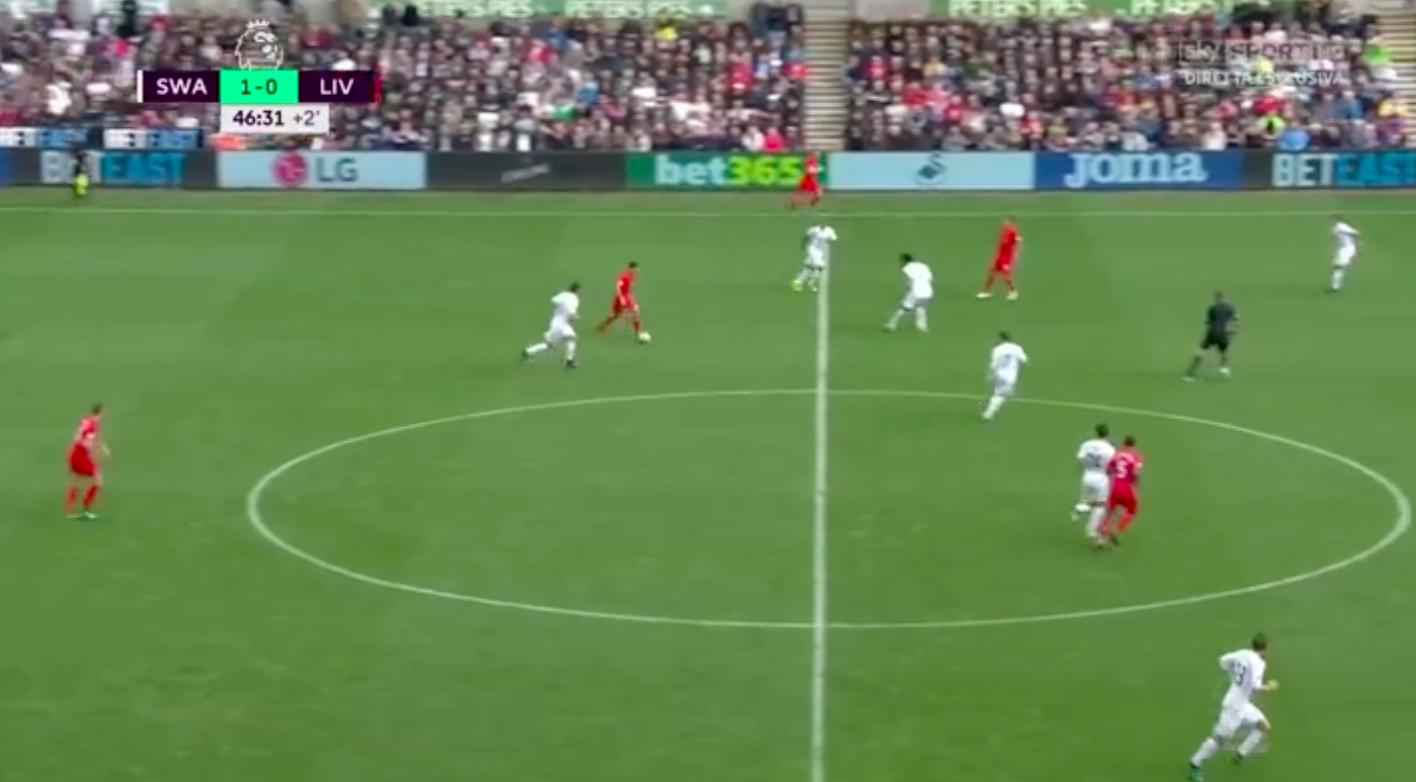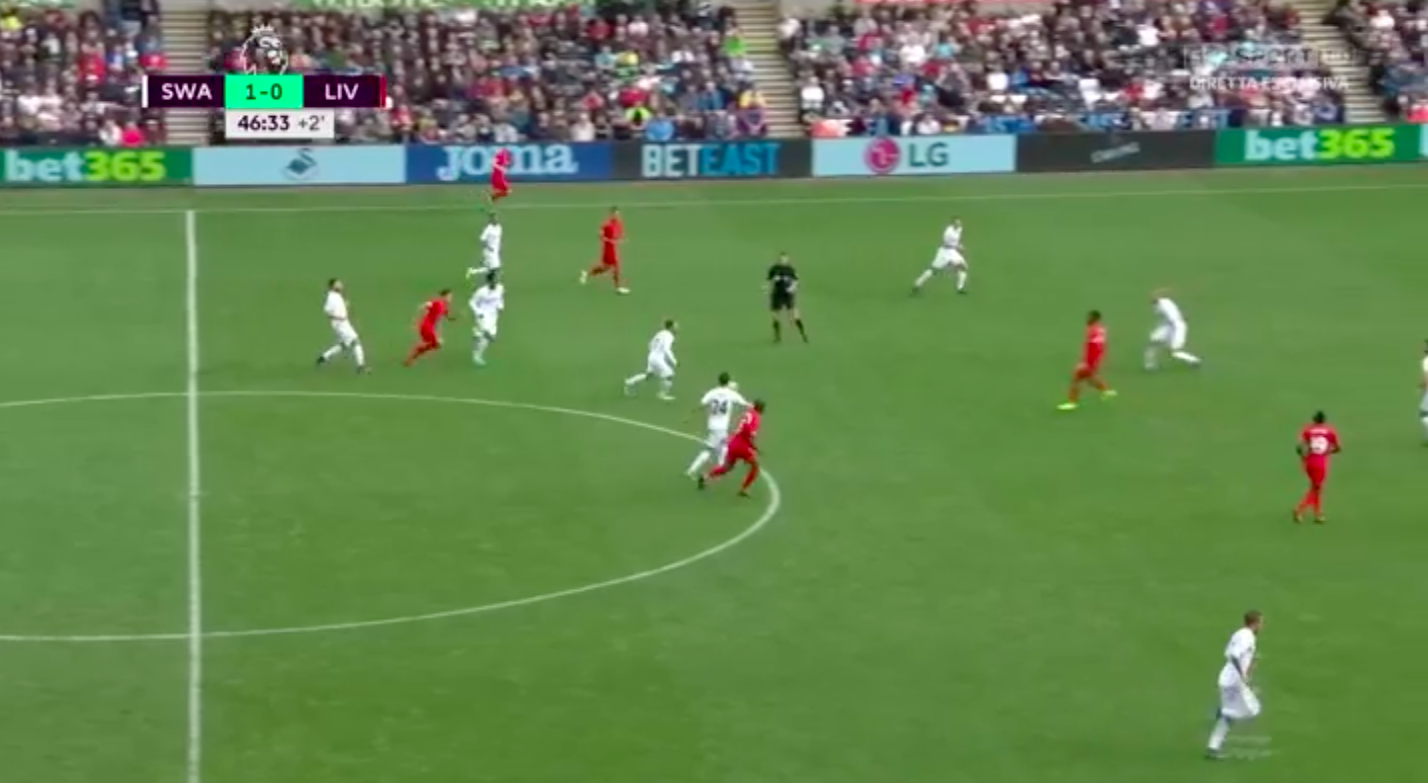 The three images above show how Coutinho's dribbling ability really had an impact. In the first picture you see Coutinho in possession having received the ball from Lovren. He could play it to Henderson who would then play it to Matip on the right and Liverpool could build that way but instead he drives into the space. This puts Swansea on the back foot and they start to retreat. Nobody gets close enough to him to put in a challenge and he threads a pass through to Sturridge. This takes the Swansea midfield out of the game and puts Liverpool in a good situation with Sturridge on the ball, Mane supporting and Coutinho carrying on his run from deep. The move peters out but Coutinho managed to turn defence into attack in a matter of seconds single handedly.
That's showing his influence on the attack in a deeper role but he didn't shirk his defensive responsibilities. In the first quarter of the game, when he was playing in an attacking role, he was pressing the opposition every 4.6 minutes but after moving to the deeper role it improved to a press every 3.6 minutes. He also finished the game with the most wins of possession via pressing. He seemed to relish being more involved.  
His performance didn't suffer despite the change in roles. On average Coutinho attempts 48 passes per 90 with an 85% pass success rate – on Saturday he attempted 56 passes with an 83% success rate. His season average for dribbles is 2.4 completed per 90 but against Swansea he completed 5 of the 7 he attempted. He also managed to create 4 chances after the switch
Coutinho passed his audition with flying colours. Against teams that press Coutinho has put his name in the mix as a starting centre-midfielder. He's press resistant and he's shown he can be just as influential in a deeper role as he is in an attacking one