 Henderson Analysis Shows Why Liverpool Need Dahoud

There's been a lot of talk recently surrounding Jordan Henderson silencing his critics after an impressive run of games as the deepest midfielder. People cite the worldie at Stamford Bridge and his dominant performances against Leicester and Hull City as evidence that he's acclimatising to his new role.
For all the unfair criticism levelled at him after the matches against Arsenal and Burnley people have now gone the opposite way with their praise for the captain. He's been much better than his early form suggested but 'world class' and 'proved all the doubters wrong' he has not. Especially when you factor in how teams have noticed the target on his back with big flashing red letters saying 'press here for prizes'.
The prize of course being you stop Jurgen Klopp's men from playing football. Liverpool had issues against Arsenal, Burnley, Swansea and to an extent Hull although the scoreline against the latter wouldn't suggest that was the case. All four sides pressed Henderson and didn't allow him time to turn away from facing his own goal. It meant Liverpool weren't able to build from the back effectively.
Arsenal, Burnley and Swansea smothered the Reds. They starved them of time and space. They not only pressed Henderson but pushed on to the centre-back pairing meaning Liverpool either lost possession by being pressed into an error or simply surrendered it by punting the ball long. Hull nearly had the right idea but their midfielders didn't commit fully to pressing the centre-backs, so even though Abel Hernandez dropped to man-mark Henderson Liverpool were still able to play out from the back. To combat the press against Swansea Phil Coutinho, who'd replaced the injured Adam Lallana in centre-midfield, dropped deeper and carried the ball out. Coutinho's quick feet and ability on the ball mean he's what some would consider to be press resistant. It's not a fancy new term – it's just a brief way of saying when pressed he's able to shield the ball, turn on the ball, dribble past the opposition and thread a pass forward. He's positive but not stupid, he still looks to retain the ball but not to the detriment of the team style.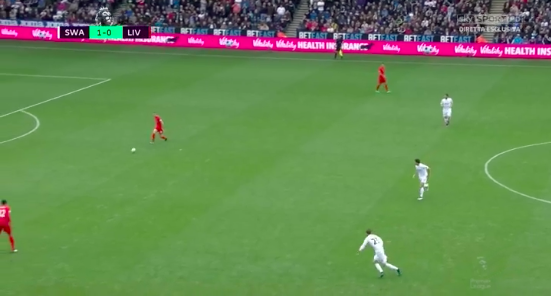 Klopp bought ball-playing centre-backs to supplement the team, the likes of Klavan, Matip and Lovren shouldn't be a necessity because ideally your deepest midfielder would be able to play through the press. However, on Saturday at times Henderson was deeper than Matip and Lovren as he searched for space to start attacks. What's usually a pretty close midfield three was scattered because of it. You don't want the team dropping back because Henderson is (unless it's a tactic) because then it's hard to get out. The above picture shows just how easy it was for Swansea as they dictated the space early on.
I'm not criticising Henderson for this. It's not his fault that what's required from a player in that role at times isn't what he excels at. It's foreign to him. His excels when given time and space as well as when he's coming onto play. Being tasked with dribbling out of trouble isn't a strength of his and you know what? It's okay. It shouldn't be one size fits all and it's okay to have weaknesses. Against some teams he'll be good there whereas against others he's struggle. This isn't a Henderson assassination.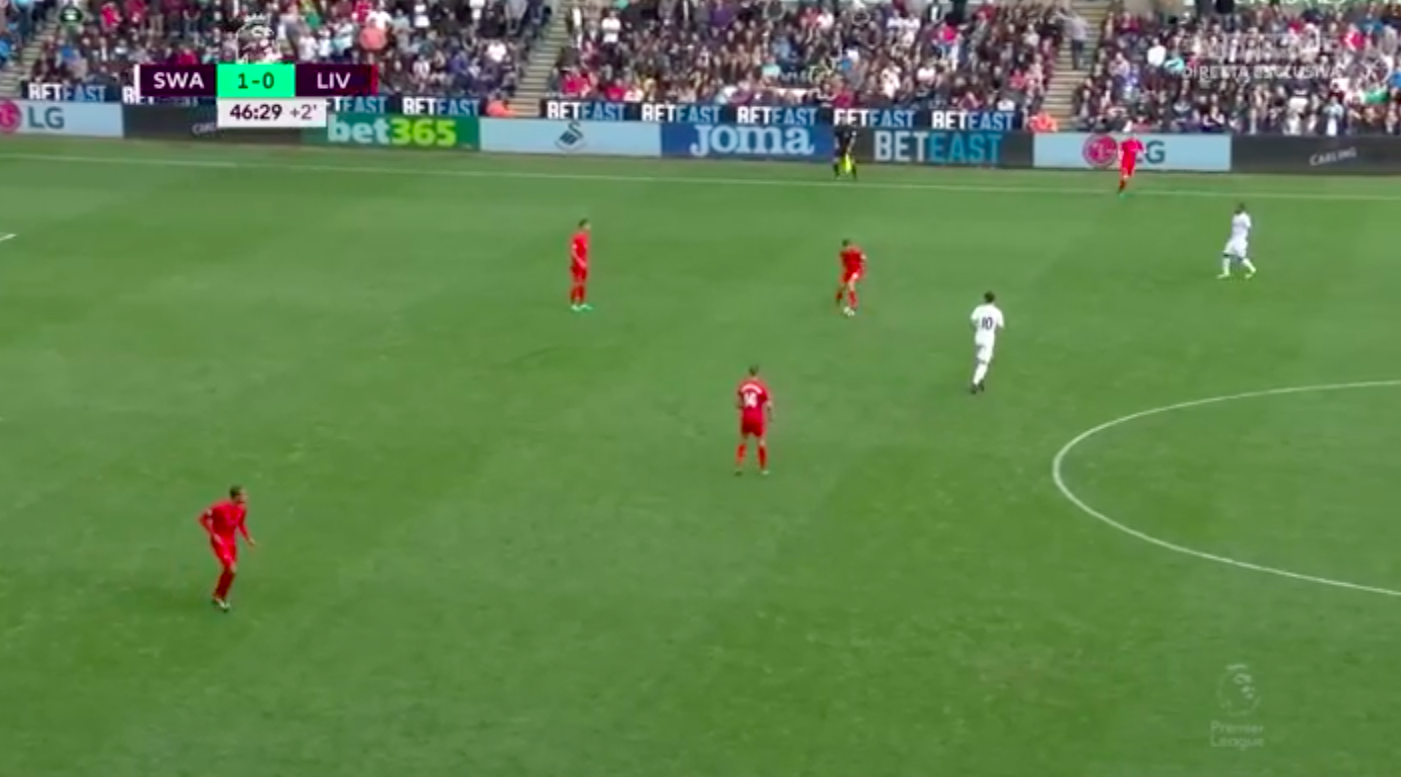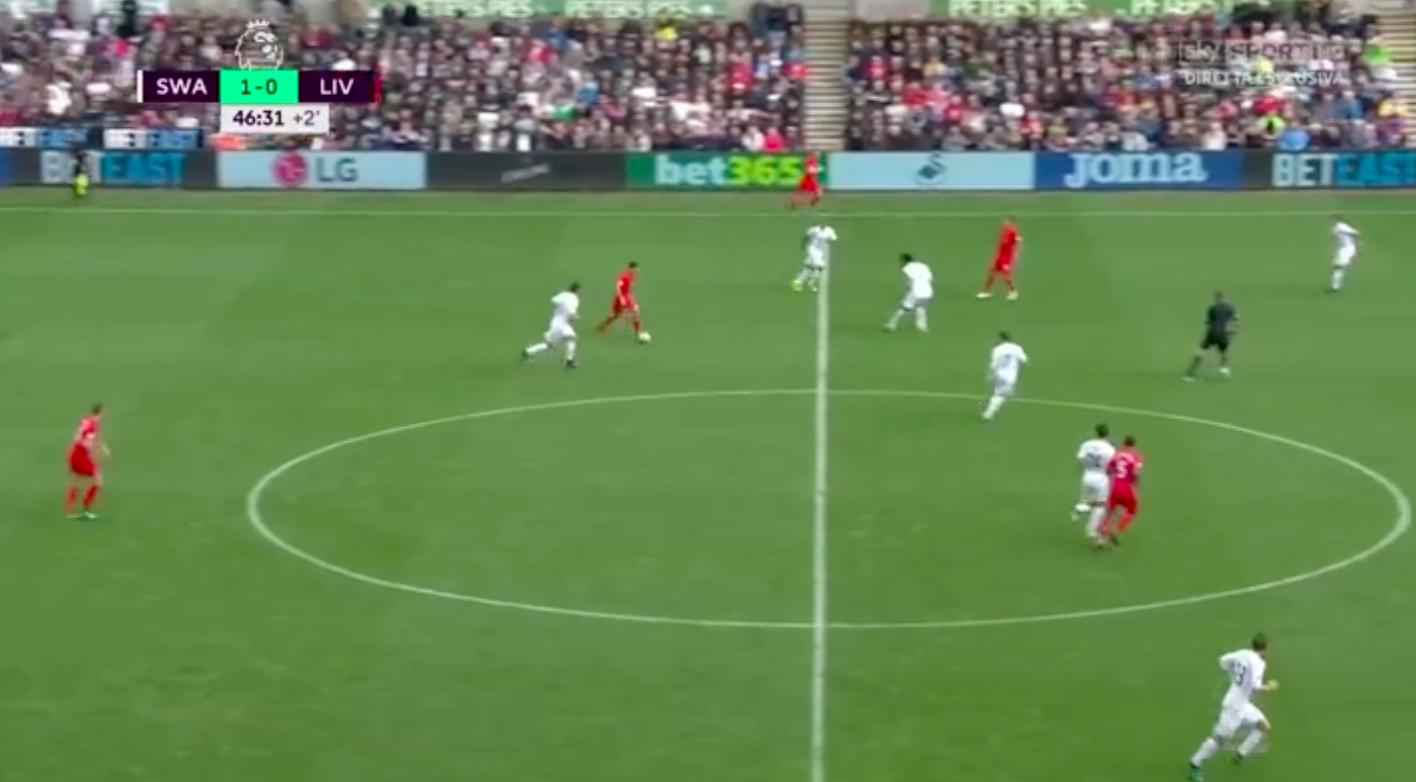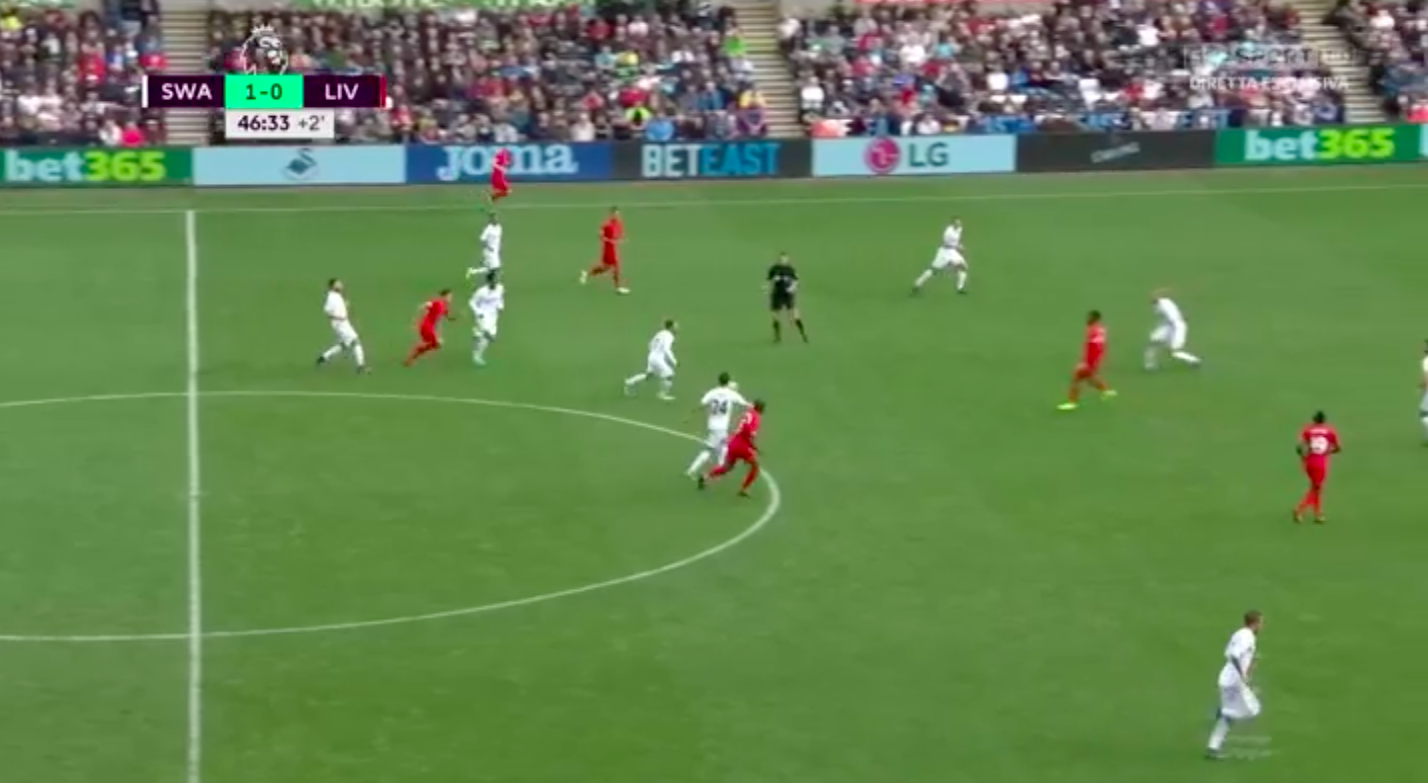 Emre Can has the ability to dribble out of danger in his arsenal, sometimes he doesn't even have to dribble he just bulldozers his way into space. He drives forward and this takes the opposition players out of the game and gets Liverpool onto the attack. Philippe Coutinho highlighted it during his centre-midfield cameo against Swansea. In the pictures above you'll see he picked the ball up deep, aggressively attacked the space before threading a pass to Daniel Sturridge which took six Swansea players out of the game and had them all turning to face their own goal. You know why he was able to do that? Because dribbling is one of his strengths.
Although people thought Henderson's performances had quelled the thirst for a new midfielder with similar strengths to that of Emre Can in fact it's done the opposite. It's highlighted how Henderson is a perfectly adequate deep midfielder in certain scenarios but he's not Ditto from Pokemon, he's not able to transform to suit every single midfield requirement.
I understand it would be wasteful of Liverpool to spend £35 million with the exact same profile as Emre Can because it means you either have Emre Can sat on the bench and not developing or you have a £35 million midfielder on the bench and Liverpool frankly just aren't at that level yet. But there's no reason Liverpool can't buy a player with a profile that enables him to fill in that role as and when required.
One such player who fits the bill is summer target Mahmoud Dahoud. He's always looking to play on the half-turn meaning he can swivel to depending on what's required. He doesn't just have to go backwards when in trouble.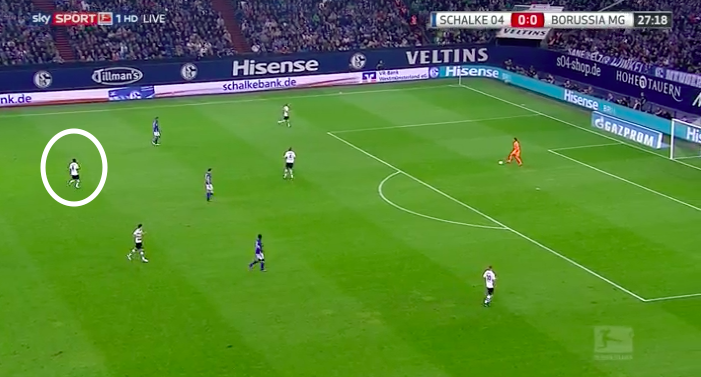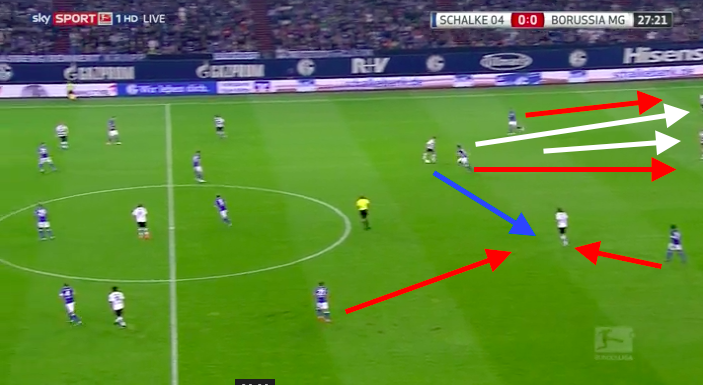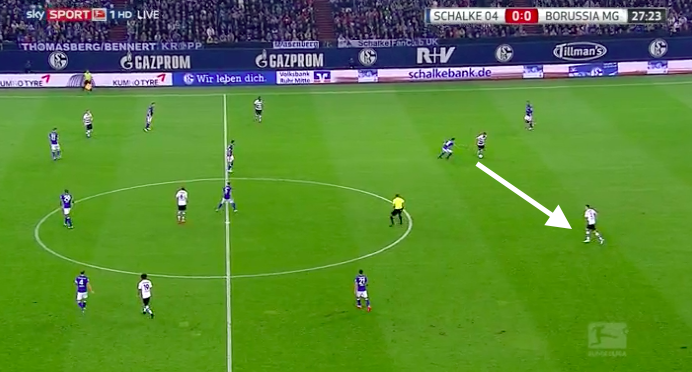 Excuse the rainbow on the second picture. The white arrows are passing options for Dahoud, the red arrows show Schalke players in positions to press and the blue arrow highlights a risky pass that Dahoud could opt to play. In this situation Henderson would more than likely take one of the white arrow passing options and the opposition would then press the receiver. However, Dahoud comes back on himself, doesn't panic despite the Schalke players being in dangerous positions if they were to regain the ball and simply plays and inside pass. The Schalke player towards the bottom of the right in the second picture went to cover the two centre-backs after Dahoud cut back on himself meaning the man Dahoud eventually passes to has space to run into and takes three Schalke pressers out of the game.
Let's face it, if teams expose a weakness they're going to try to pounce on it. Four of the seven teams the Reds have faced this season have actively targeted Henderson. Fortunately Liverpool have only dropped points in one of the games but that luck might not last forever. It's negligent if the club doesn't address this in the January window and it's criminal if they don't save Mahmoud Dahoud from stagnating on the Gladbach bench.