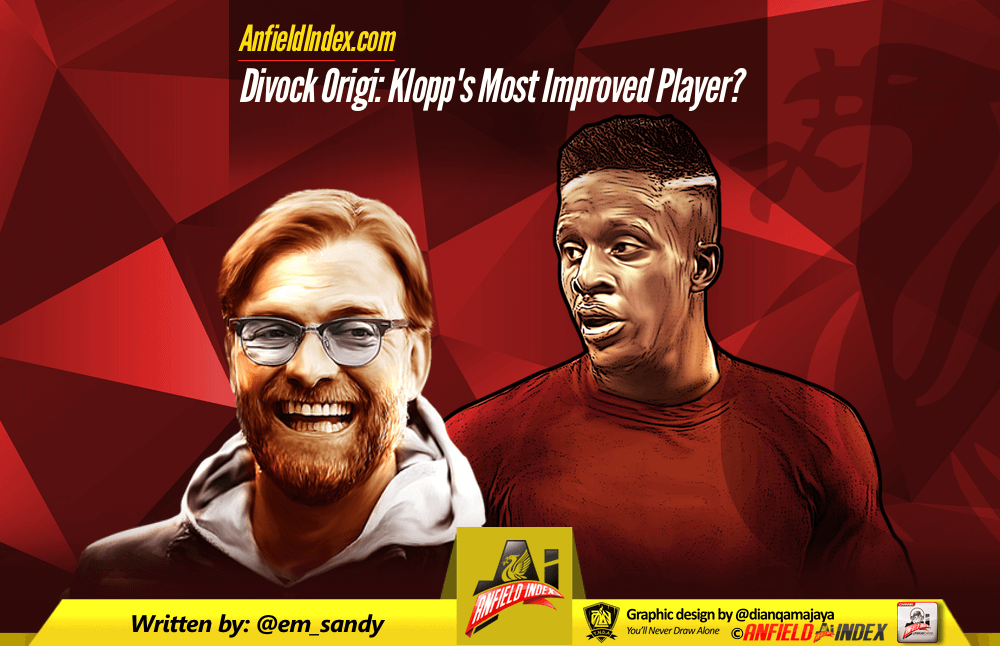 Divock Origi: Klopp's most improved player?
As part of a series celebrating Jurgen Klopp's first year in charge, we take a look at some of the candidates for Most Improved Player since his appointment in October 2015.
There's been a number of changes at Anfield since the German manager took charge but the most important difference has been an improvement in performances on the pitch and this has been a mixture of individual progression, tactical success and strategic change. All these have played a major contribution to Liverpool's early success during the 2016-17 campaign but a number of players have led the way and set a high standard of performances so far. Amongst the most improved players, Divock Origi has grown under Klopp and although he's yet to feature heavily for the Reds this season, there's much that can be said of Klopp's influence on the young Belgian forward.
When Origi arrived in Merseyside in June 2015, he had suffered a season of turmoil and frustration with his beloved childhood club, Lille. The young forward was their rising star but after apparently snubbing off the club for a dream move to Anfield, secured in July 2014, he returned to Lille a for a final season on loan. His return wasn't a welcome one though and with fans feeling betrayed and his mind apparently elsewhere, Origi struggled to hit the form of his earlier years.

He was given a fresh start on his move to Anfield, with Liverpool fans recognising Origi's talent and potential. There was a level of excitement as fans hoped they'd secured the services of one of Europe's most exciting youngsters and as Daniel Sturridge's injuries, Christian Benteke's poor form and Roberto Firmino's hesitant start to life in England evolved, Origi was thrust into the limelight earlier than perhaps planned.
He made his debut under Brendan Rodgers in Liverpool's disappointing 3-1 defeat against Manchester United at Old Trafford on 12th September. He featured in four more games under Rodgers, including the two Europa League draws with Bordeaux and FC Sion but failed to make another Premier League appearance before Klopp arrived at Anfield. The Belgian had demonstrated pace, skill and the ability to make clever runs in behind the defence but he wasn't given adequate time to showcase his true potential. Rodgers' insistence on playing Adam Lallana and Christian Benteke, who were largely under-perfoming, was met with frustration from fans and Roberto Firmino was showing little progression as the central striker. Origi sat patiently on the bench, producing glimpses of spark in the rare cup appearances but still his involvement was ignored by Rodgers.
However, upon Klopp's arrival in October, anticipation and optimism spread as fans hoped the German would experiment and give some of the squad's brink players an opportunity to shine. Origi was immediately identified as a player who could benefit and within a matter of weeks it was clear the influence would be great. Klopp instantly demonstrated faith in the youngster, handing him another Premier League appearance against Tottenham during Klopp's first league game in charge. He would go on to feature in the next 11 consecutive fixtures and became an important part of Klopp's plans. As the forward's confidence began to grow and his position in the team thrusted more responsibility onto him, Origi marked his influence with a hat-trick against Southampton in an impressive 6-1 rout at St Mary's stadium.
He'd broken the goal-scoring deadlock and added another important goal against West Bromwich Albion in December and rounded off the year as part of the team which defeated the Premier League champions 1-0. The victory against Raneiri's side would prove to be his last for almost two months when he picked up a serious injury and fans were left in despair as a clearly distraught figure was stretchered off the pitch. In just a matter of weeks, Klopp had already promised a bright future for Origi and the manager sung his praises, announcing his full appreciation and support for the Belgian. Origi had made a mark on fans too and upon his return in February, he was regarded as a different player.
A further six goals that season, including a goal in each leg of the Europa League quarter-final clash with Borussia Dortmund and one in the 4-0 thrashing of Everton in the Merseyside derby, further connected the fans with Origi and as he heading into the European Championships with Belgium, he was bursting with confidence. The arrival of Sadio Mane and the incredible form displayed by Firmino and Lallana has so far kept Origi out of the starting line-up. But with Daniel Sturridge also facing a struggle for a starting position, it's no disservice to Origi's ability. He still maintains an important role in Klopp's squad and as he fights to regain match fitness following an extended summer break, he promises an exciting future at Liverpool.
Origi's clocked up just 98 minutes for the Reds so far this season and it yet to get his name on the goal-scoring sheet but his improvement in the last 12 months has been emphatic. Although he'd demonstrated huge progression, Adam Lallana and Roberto Firmino's influence on the team under Klopp has been more influential and Origi probably just misses out on the accolade but the next 12 months could be even more exciting for the Belgian international.