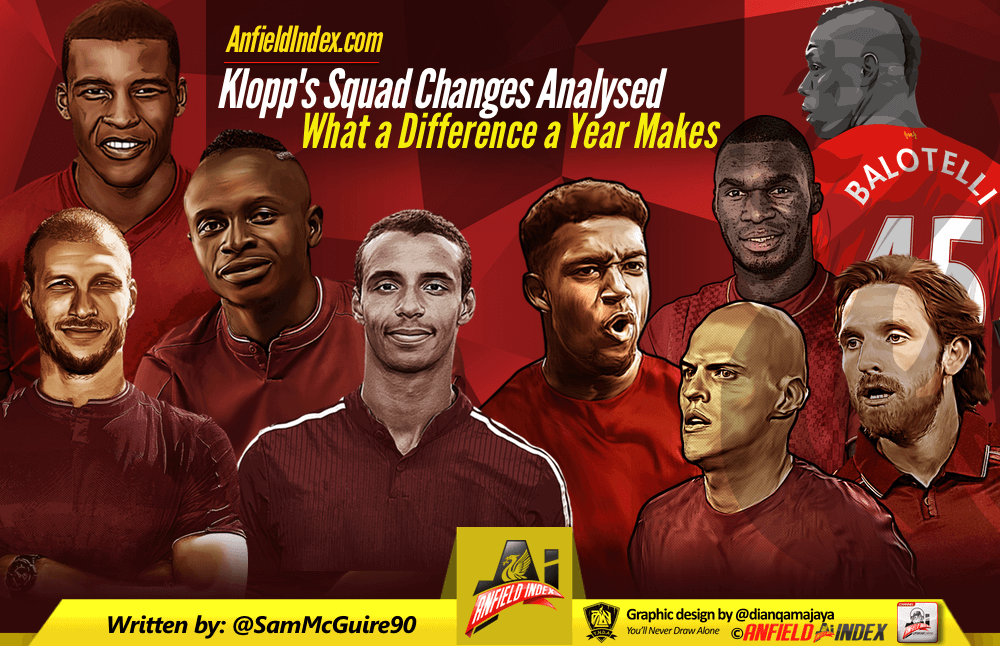 Klopp's Squad Changes Analysed - What a Difference a Year Makes
It's flown by hasn't it? Klopp's appointment as Liverpool manager doesn't seem like it was a year ago. Everything about him at the club still feels fresh and new but at the same time it feels like he's part of the furniture. It's testament to the man that he's managed to come in and change so much in such a short space of time. It's genuinely scary to think that if history repeats itself Klopp will only be here, at Anfield, for another six years.
To celebrate the German's anniversary I've decided to have a look back at what's changed with regards to personnel at the club since his appointment.
Klopp took over a squad with a lot of potential but no recognisable style or identity. The recruitment team went about identifying and signing players with profiles to excel in a particular type of system whereas Rodgers was playing a completely different style. I doubt for one moment Danny Ings and Roberto Firmino thought they would be playing as wing-backs at Old Trafford but that's exactly what happened.

The team was underperforming but how much of that was down to the players being mismanaged? It was up to Klopp to find out.
The German used his first season as a long auditioning process for the players already at the club. It was a way to see whether they had what it takes to fit into a Klopp system, or whether there was enough potential and ability to coach for Klopp to keep them around.
The teething process wasn't a comfortable experience. For starters Martin Skrtel continued to feature. Then we had to witness the likes of James Milner and Lucas fill in at centre-midfield simply because there were no other alternatives.
But unlike his predecessor Klopp got the team playing with a clear style. These weren't his first choice players by a long shot but Klopp pieced together a functional and fluid side. Liverpool were once again playing football. His side hit seven past Man City and Chelsea. This the same group of players who months earlier scored just four goals in five games against Stoke City, Bournemouth, West Ham, Norwich and Everton.
The summer transfer window happened and Liverpool fans were finally able to see how Klopp intended to shape his squad.
Outgoing 
Christian Benteke
Mario Balotelli
Martin Skrtel
Jordon Ibe
Joe Allen
Brad Smith
Kolo Toure
Luis Alberto
Klopp used his first summer transfer window as a way to offload the players who didn't fit the system.
Benteke's lack of movement, pace and work rate meant he just didn't have a place in the squad. The Reds didn't often opt for the 'plan B' route so keeping the Belgian around when clubs were prepared to pay £30 million for him made little sense.
Jordon Ibe is a player with potential to fulfil but who would need minutes and if he'd stayed with Liverpool it's unlikely he would have played enough to really develop. His end product was lacking and he was a player who excelled in space, something Liverpool sides didn't have an abundance of when teams came to Anfield to park the bus. He was a piece of the puzzle that just didn't fit.
Martin Skrtel was finally moved on having outstayed his welcome. He's not a bad defender he's just ill-fitting for a Jurgen Klopp defence. He's reactive instead of proactive. It just meant there was a disconnect in the heart of the Liverpool defence and teams exploited it. Moving him on completely removed the prospect of having him back in the line-up if the team had a series of injuries. It was an important move.
Incoming 
Loris Karius
Sadio Mane
Gini Wijnaldum
Ragnar Klavan
Joel Matip
Liverpool upgraded their squad. It's as simple as that. The recruitment team identified players with profile who could deliver exactly what Klopp wanted.
While there are still question marks hanging over Loris Karius' ability as a goalkeeper his calmness and composure when in possession of the ball is a definite upgrade on what fans have become accustomed to with Simon Mignolet. His inclusion benefits Liverpool as they look to play out from the back.
Sadio Mane has everything Liverpool have been missing since Raheem Sterling left. He's direct, he's confident, he's aggressive, he works hard defensively and he's a goal threat. The Reds lacked all of that in the final third for large parts of last season and his impact has been immediate.
Gini Wijnaldum's signing was met with confusion. Liverpool had an abundance of attacking midfielders at their disposal and there didn't seem to be any space for another one. However, Klopp has harnessed his ability to beat a man with his dribbling and off the ball movement and simply shifted his starting position back by twenty yards. Instead of being the link man between midfield and attack he's now linking the defence and the midfield, and to great effect.
Ragnar Klavan and Joel Matip look right at home in the Liverpool defence. Both have featured already this season and both have added a calmness to the backline. When pressed Liverpool no longer look to just get rid of the ball, instead the centre-back pairing simply pass the ball out from the back. With Henderson splitting the pair it's almost as though the team are playing with three ball players in the defensive third.
Staff
The summer of 2016 saw the club hire nutritionist Mona Nemmer and fitness expert Andreas Kornmayer both from Bayern Munich. Fans aren't privy to what goes on behind closed doors but it's safe to say the squad are looking the fittest that it's been for quite some time. We're only just in October yet the likes of Adam Lallana and Roberto Firmino look sharper than they did at any stage of last season. That could just be a coincidence but it's more than likely down to the staff.
Klopp's only been here a year but in that time the team, as well as the club, have come on leaps and bounds and it's primarily because everyone is once again pulling in the same direction. Liverpool now have a style and much yearned for identity. The recruitment team (the once much maligned transfer committee) are able to identify players whose style fits in with Klopp's vision. The players know exactly what their roles are. The club have the staff in place to give Klopp every chance of succeeding and so far the team are benefiting from it after an impressive start to the season.