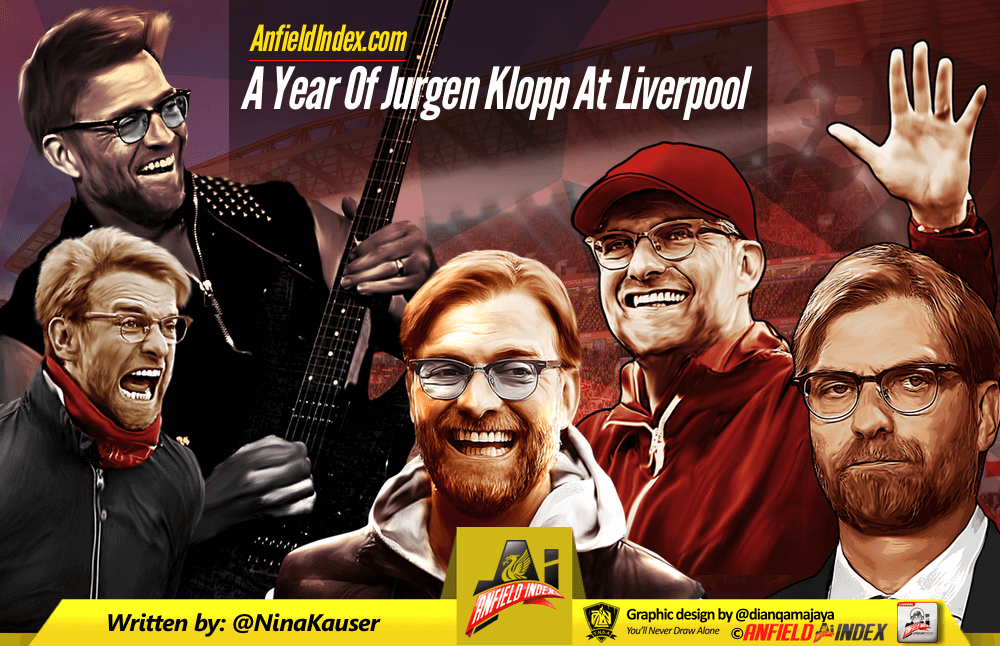 A Year of Jurgen Klopp at Liverpool
Reds, can you believe it's been a year since the charismatic German took over as Liverpool FC manager? That moment when your wildest football dreams came true, well they certainly did for me. Jurgen Klopp has been in his post for a year and to say it's been eventful, is a gross understatement. Let's rewind back to October 2015 when Klopp took over a demotivated team that played uninspiring football and the results and league position certainly showed that. Liverpool were 10th in the League, winning 3 out of 8 league games with 12 points to show and a -2 goal difference. Not exactly a pleasant trip down memory lane and it's no wonder the average Liverpool fan was a pessimistic doubter and Jürgen certainly had his work cut out. With a fractured fan base and a squad void of any confidence, let's look back at how Klopp did in his first year.
1 – Bring back the pressing
Pressing football was a thing at Liverpool back in the 13/14 Premier League season under Brendan Rodgers but since that "oh so near" season the Reds steered away from it and lost their football style identity along the way and the King of Gegenpressing himself wasted no time in re-introducing this high intensity brand of football in his first game in charge away to Tottenham. Granted the pressing football didn't last the entire 90 minutes of the game, these things need time, patience, discipline and fitness and you witnessed the team evolve under him and produce some fine pressing performances. Personal favourites of mine from last season include Manchester City away and Everton at home.
2 – Boycotting the winter transfer window
This may have irked a portion of the fan base but I found it rather refreshing. Granted the squad was plagued with injuries and things went from bad to worse on that score and his stance on the Alex Teixeira deal was commendable, sent out a positive statement and that statement being this club will no longer be held to ransom. In the end it worked out for all; Teixeira got his big money move to China and Klopp had time to thoroughly assess and work with his squad to see who does and doesn't make the cut.

3 – Challenge the fans, thank the fans
It takes great courage to take on your fans especially when you've not been at your post for very long. That's exactly what Jürgen Klopp did when fans decided to leave early against Crystal Palace. Needless to say Klopp's men were losing and indeed lost but this mindset of leaving early to dodge traffic or head to the pub early really angered the new Liverpool manager and he addressed it in his post match press conference where he said "he felt alone". Don't worry about it Jürgen you're not alone and previous managers probably felt the same but you were the first to challenge the fans and for that I salute you.
Speaking of saluting, don't not forget the time when Klopp took his team to applaud the Kop after the 2-2 draw against West Brom. Of course this is a done thing in Germany but that didn't stop opposition fans sniggering. Me on the other hand, I adored it and it was a touching moment that endeared the fanbase to the lovable German and visa-versa.
4 – You're in it to win it
Liverpool Football Club exists to win trophies and no cup or competition should be snubbed, luckily the man in charge feels the same way. Reaching two finals in just eight months without spending in the transfer window was a remarkable achievement and something I couldn't foresee with the previous regime. The run in the Capital One Cup was pretty straightforward and of course the Reds fell short against Manchester City in the final, these things happen. What impressed Liverpool fans more was having a manager who was more than competent in European competitions, again something that was really lacking with Brendan Rodgers. Yes it was only the Europa League and fans crave Champions League football at Anfield but those magical European nights returned albeit on a smaller stage. Beating the likes of Manchester United, Borussia Dortmund and Villarreal wasn't too shabby. Watch this space.
5 – Being transfer savvy
In recent times this is something that you wouldn't associate with Liverpool Football Club, for too long they've paid over the odds for a player, bought players that sort of fit the system or let go of gems and replacing them with inadequate replacements. This has been the state of play in recent years. However, the German's first active window seems to be a very impressive one as things stand. It's evident he's used his time in charge getting to know his squad and decided where his team was found wanting last season.
The purchases of Karius, Mané, Matip and Wijnaldum are showing some promise and have been getting regular first team action. Sure there's a few that question the keeper but let's not forget this time last year they probably thought Firmino was a waste of money too. There were also many cries for a new left-back and rightly so, it was certainly a position that we could have done with strengthening but good old James Milner seems to have made that position his own and last season I was one of his biggest critics.
What impressed me most about this transfer window was the players that were sold; selling the likes of Ibe and adding on a buy back clause was a stroke of genius by the club, what was equally impressive was selling Benteke for 27 million to Crystal Palace who had an underwhelming season at Anfield and of course I welcomed the departures of Skrtel, Balotelli and Enrique, aka the turd that wouldn't flush! The only player that divided Reds was the exit of Joe Allen but it's something the fans have come to terms with after seeing the midfield trio of Henderson, Wijnaldum and Lallana flourish. Speaking of Lallana, it's so refreshing to see a much maligned player come to the fore. Here's hoping it's a breakout season for Adam at Liverpool and one that defines his career.
So many positives in one year and it feels like Klopp has performed surgery on the entire club. The results and table standing a year on certainly shows that. Here we are 7 games in and Klopp's Liverpool are 4th in the league, winning 5 with a goal difference of +8. It's evident that the defence needs work but overall the pressing football has significantly improved which could be attributed to a lengthy pre-season and lack of European competitions giving Klopp and his coaching staff time to implement their footballing philosophy.
Despite me being a huge admirer of Klopp, my feet are firmly planted on the ground and I think it's too soon to talk about a title challenge as I feel this squad is still a work in progress. However that doesn't mean I've not enjoyed the said title talk. What a stark contrast to last season, all that remains for me to say is Happy one year anniversary to Jürgen Klopp! Here's to the next six. What a manager, what a man!