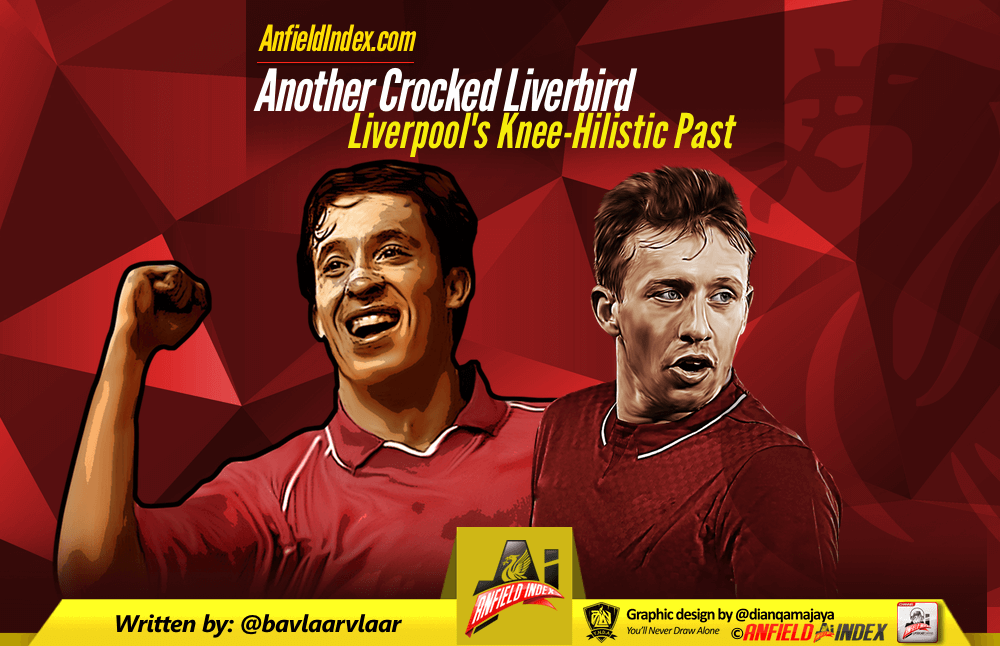 Another Crocked Liverbird: Liverpool's Knee-Hilistic Past
Some weeks make you wish God had come up with something other than knees – weeks when you can't wear shorts for fear of seeing your own knees in a mirror and losing all sense of what it means to 'be'. It has been a year since the beginning of one such week, when as a result of two Liverpool employees falling over in unconnected incidents, the phrase 'anterior cruciate ligament' achieved unprecedented frequency of use.
At the time, Danny Ings and Joe Gomez were seen as bright sparks thrown up by the smoky wreckage of Brendan Rodgers' tenure, and the news of their near-simultaneous collapses pretty much ruined the 'we've got Klopp' party. But these are more optimistic days, and while Gomez remains mysteriously confined to the corridors of Melwood, Ings has returned to some sort of working order, as evidenced by last week's hat-trick against Ipswich's second string.
With little else to talk about this international break, I decided to investigate Liverpool's cruciate history in hope that it would shed a realistic light on the stricken pair's prospects of recovery. Below is a list of former and current Reds stars, all of whom 'went ACL' at some point in recent(ish) years, but what happened to their careers as a result? Did they really (as the obligatory Instagram caption goes) 'return stronger than ever'? Sadists read on.

Robbie Fowler
Aged 22, the man known to Kopites as 'God' had passed 30 goals in three consecutive seasons, and was regarded by some as Europe's finest young marksman. But in February 1998, a clash with Everton goalkeeper Thomas Myhre caused him to miss around seven months of football including that summer's World Cup. The best tally he managed thereafter was 18 in the 1998/99 season, although he did play a starring role in Liverpool's treble triumph of 2001, scoring in the League and Uefa cup finals. The post-injury sequel Fowler never quite scaled the heights of the original, and a falling out with then-boss Gérard Houllier led to him joining Leeds. Returned home briefly during Rafa Benítez's tenure.
Lucas Leiva
Following a sluggish start to Anfield life, the former Grêmio man bloomed during Benítez's final season, being named the Reds' Player of the Year for 2010/11. In the early part of Kenny Dalgish's second managerial spell Lucas was consistently imperious, dominating crunch clashes against the Reds' domestic rivals and establishing a place in Brazil's first eleven. However, to the dismay of fans on both sides of the Atlantic, a stray Juan Mata boot caught him during a cup tie against Chelsea, and Mr. Unlucky returned the next Autumn a crucial fraction slower in his movements. Remains a composed, savvy presence, but had fate been less cruel this adopted scouser might now be revered as one of the decade's great number sixes.
Martin Kelly
One of few local players to have forced their way into Liverpool's team this century, the Whiston-born full-back's raw athleticism, rampaging vigour and underrated crossing ability made him a favourite of managers and fans, many of whom viewed him as a possible successor to the esteemed Jamie Carragher. At the time of his injury, sustained in September 2012 against Manchester United, Kelly had just travelled to the European Championships with Roy Hodgson's England and was a regular club starter under Brendan Rodgers. He reappeared a year later, but failed to reclaim his former status and was sold to Crystal Palace in August 2014.
Michael Owen
Although not a Liverpool player at the time of his cruciate injury, the former Ballon D'Or winner built his reputation at Anfield, notching 158 goals in 297 appearances for the Reds before being poached by Real Madrid in 2004. After going down in action for England against Sweden at the 2006 World Cup, Owen lost most of the pace and agility that made him so effective. Despite being just 26 when stricken, the remainder of his career yielded only nine England caps and 41 club goals. In the latter part of his career he tried with mixed success to reinvent himself as a deep-lying forward at Newcastle, Manchester United and Stoke.
Sebastián Coates
Signed from Nacional after being named Best Young Player at 2011's Copa America, Coates' Liverpool career effectively consisted of 24 appearances over two seasons. Ahead of what should have been a third, many fans who admired the centre-half's style hoped that the retirement of Jamie Carragher might leave space for the lanky Uruguayan in Brendan Rodgers' first team plans. Unfortunately, days before the start of the domestic calendar he went down during an international game against Japan and did not play competitively for the Reds again, eventually moving to Premier League strugglers Sunderland. Is currently playing alongside Lazar Markovic on loan at Sporting CP.