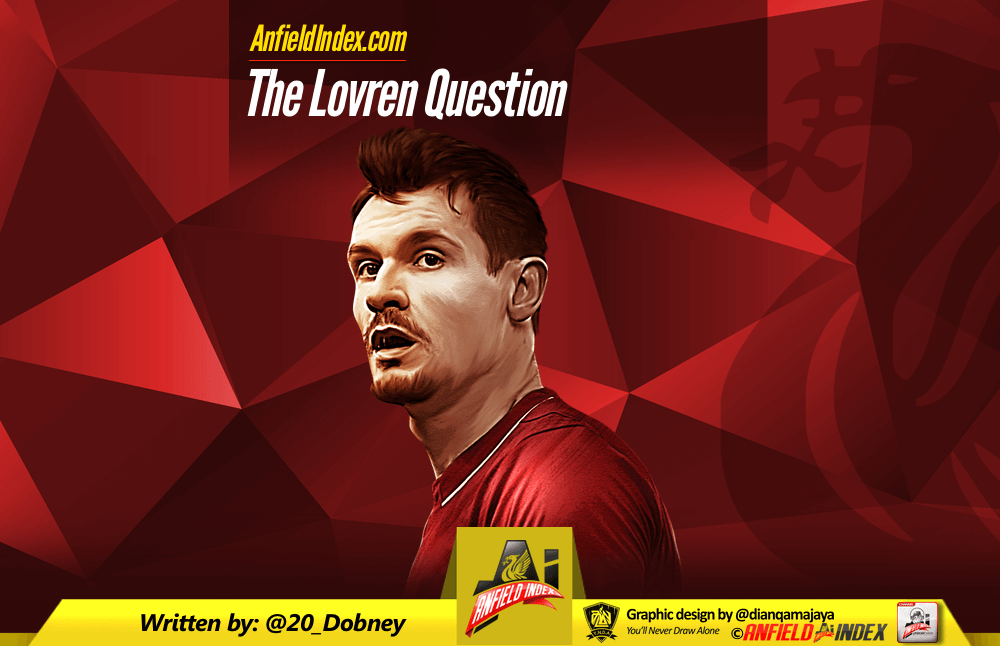 The Dejan Lovren question

The question surrounding the transformation undergone by Liverpool defender Dejan Lovren is not only complex, but his upturn in fortune is also a mystery to many a Reds fan.
I would like to cast your minds back to August 29, 2015 and Liverpool had just been humiliated, humbled and simply outclassed by a West Ham team, that resulted in a 3-0 Anfield defeat. The fan inquest that shortly followed West Ham's first win at Anfield since 1963, solely (and on reflection, quite harshly) placed the blame on defender Dejan Lovren.
Ignored was the rash sending off of Philippe Coutinho, or the spurned misses of Christian Benteke, the blame for the defeat was down to Lovren. Although having previously shown questionable performances in his first season, in which a horrendous error that gifted Robin Van Persie a chance to score Manchester United's third of three goals comes to mind, the defender's Liverpool career had not sunken lower than this.
It was the 28' and Lovren had befuddled himself on the by-line, seeming incapable of dribbling a football, let alone even playing the game. Seconds later, Midfielder Manuel Lanzini stole a march on the Croat, set up Mark Noble, and it was 2-0 to the away side before the half hour mark.
In the post-match write up that followed, the Daily Mirror ranked Lovren as the worst Liverpool performer, with an opening summary sentence that read, "oh dear". Not only was the defender's confidence and profile gone, but so to was his social media existence, following the tirade of abuse from Liverpool fans.
Fast forward 8 months and a managerial change, and Lovren was now seen as a cult hero amongst some of the fan base. His barnstorming header that clinched a dramatic 5-4 aggregate win against Borussia Dortmund and his subsequent celebration that followed, was a seen as a symbol, and this moment has made itself a permanent feature within the new main stand.
Shoulders squared, chest out and mouth roaring, Lovren wheeled away following this goal, launching himself into the air only to be sucked into the Kop, disappearing amongst the sea of red jubilance. Just writing about that moment makes the hairs on myself stand up, we all remember where we were on that dramatic moment.
The promise of redemption had been fulfilled, the rock-like performance from that game was not in isolation either, as Lovren under manager Jurgen Klopp had improved, from the torrid time the Croat had endured in the Brendan Rodgers era. Following the dramatic Europa League game, there was a testimony stating that a new father had named his new born baby, Dejan – admiration at its very best.
But just what has happened?
Quite simply, the Lovren question can be answered by one thing or should I say, person.
With each hug and each congratulatory praise post-match, from Jurgen Klopp, Lovren did not bare the persona of doubt nor incapability. Klopp's relationship with the player could go mistaken for that of a councillor, which has left the Croat not hiding from the ball or passing responsibility to colleagues, and in doing this, a rapport with fans has been re-established.
Dejan is now one of, if not the first name on the team-sheet each Saturday, this season. Much debated and largely despised at one point, and still is by some, the defender does deserve credit when assessing the revival, and that is, as fans, something we love to see.
A player not shying away and asking for a La Liga or Seria A transfer, Lovren waited for his chance and is rightly soaking up all the positivity that comes his way, talking publicly about his sensational rise to provenance and the struggles he encountered.
Time seemed to stand still, when Lovren leaped into the emersion of the Kop, that dramatic moment will surely be a highlight of his career.
With consistent performances already for the Reds from the outset this season, the debate regarding Lovren, is now who shall be his partner in the back four come match days.
If there's proof man management within football can not only help, but save careers, the Dejan Lovren mystery is certainly a shining exemplar.