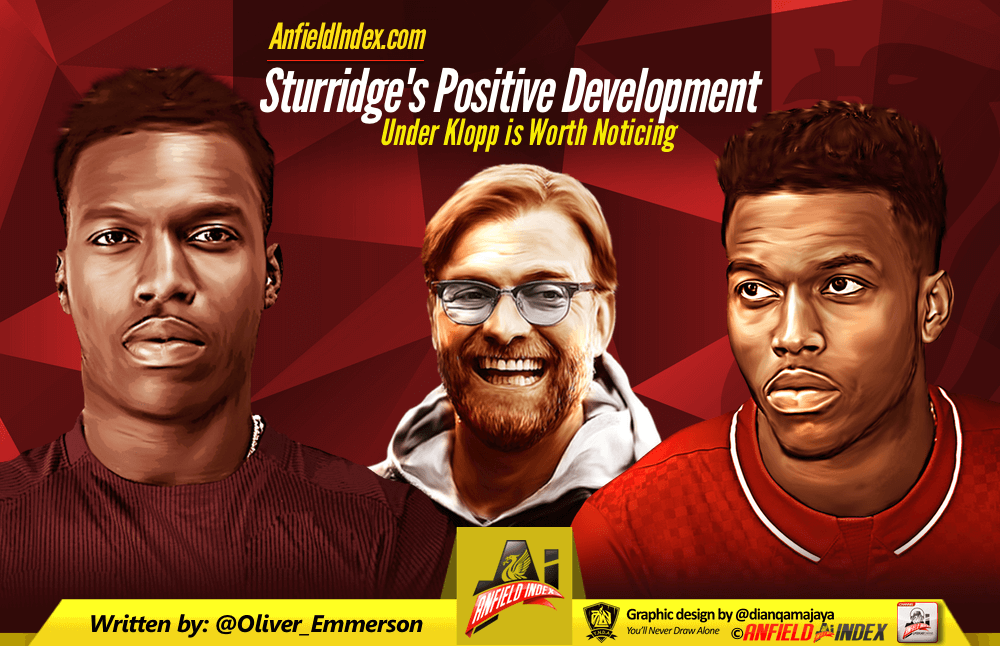 Sturridge's Positive Development Under Klopp is Worth Noticing

When Jürgen Klopp arrived at Liverpool, much was made over whether Daniel Sturridge – the Reds' star man – would suit the German's high-intensity pressing style of football. Comparisons were made between Sturridge's inability to fit into the style of play, and Christian Benteke's. Then came Southampton away. Southampton 1-6 Liverpool, eight weeks into Klopp's tenure.
"Now I know what everybody is talking about", stated Klopp after the game. It was a small quote, as he swiftly went on to speak about Divock Origi, but those few words said a million.
For weeks after arriving, Klopp had become more and more bemused at the constant questions thrown at him regarding Sturridge's fitness. Whilst his qualities were obvious to the manager, he was forced to wait for an opportunity to field him in a game, and said as such – "I knew about his quality but not live in a stadium".
Sturridge had scored twice in that superb win, tearing the Southampton back-line apart with pace, trickery and intelligence, let alone finishing. He'd arrived under Klopp, in hope of a second coming at Liverpool.
Of course, around a year on, there are a huge number of players that Klopp has brought on leaps and bounds.
He's done this in different ways. Emre Can and Roberto Firmino are developing into the players that we'd hoped they would. Dejan Lovren and Adam Lallana have improved, after questions over their futures at the club were raised. Adding to that, there's been youth development. Divock Origi is a changed man, Sheyi Ojo is in and around the first team squad, whilst Kevin Stewart is slowly being morphed into Liverpool's very own John Obi Mikel, or human full time whistle, if you prefer.
However, is Sturridge's development under Klopp one that is a little harder to see?
Quite simply, the post-Suarez era under Brendan Rodgers was dominated by Liverpool's 'need' to have Sturridge fit.
In the absence of the Uruguayan, the Birmingham born striker was finally the main man on L4, but a horrific run of injuries meant that he was often forced to watch on from the sidelines as youngsters Philippe Coutinho and Raheem Sterling attempted to carry the mantle.
Part of the problem, to an extent, was that when Sturridge did return to the team, he was fantastic. He scored the winner on the opening day of the 2014-15 season, before an extended period out saw him miss a number of months. Back against West Ham United in the spring, he came off the bench to score almost instantly.
Coming under increased pressure to turn things around as the months went by, Rodgers Liverpool became something of a 'Sturridge or bust' side, with question after question each week regarding his fitness.
This was something that Klopp experienced when coming into the role, the German constantly tiring of being asked about the Englishman's fitness, before he finally returned on that night in Southampton.
However, by that point, Klopp's Liverpool had already put three past Chelsea, four past Manchester City. The reliance upon Sturridge had lessened, allowing the striker some breathing room after an 18 months which could only be described as hell. Nevertheless, the pain wasn't over by then. Sturridge was struck down with injury once more, a hamstring injury picked up in the defeat to Newcastle would rule him out for another two months.
It was then, seemingly, that the issue hit Klopp. Liverpool had become too over reliant on an injury prone, albeit brilliant, striker. He had to be nursed back to health slowly, not rushed back for one of many short term gains that would develop into long term problems.
Klopp was incredibly patient with Sturridge, less so with reporters as more questions came, but as Liverpool toiled at times in winter (West Brom, Watford et al), there was never a desire to rush the star man back into action.
He did finally come back, again. This time it was the 6-0 win over Aston Villa, a game in which he scored. This is where the main point of all this comes in. Sturridge came in and Liverpool won 6-0, but they may well have done similar without him.
In the time that Klopp spent watching Sturridge on the sidelines, he did what Rodgers was never capable of, in developing a system so that when Sturridge did come back, it was at the right time. Sturridge was eased back in, only scoring twice from open play in his first nine games after getting fit, however some of those were from the bench.
The important factor was that Sturridge wasn't starting every week, because he didn't need to. Whilst part of the reason for this was that Sturridge wasn't always the tactical answer, such as when Divock Origi was employed in the starting role away at Dortmund, but much of it was because Klopp new he couldn't take the risk of putting the pressure on the striker's body.
As Liverpool progressed through the Europa League and began to field more rotated sides in league football, it gave Sturridge a low-pressure environment in which to adapt to the Klopp system, and find his shooting boots. He did just that, scoring against Stoke, Bournemouth, Everton and Newcastle in an April which yielded four goals.
Klopp's use of Sturridge also enabled him to be something of a super-sub at times, never more so than against Dortmund at Anfield, he and Joe Allen coming on to change the game, and it's often forgotten that it was Sturridge's clever run and pass that set up James Milner to tee it up for you know who.
Sturridge really came into his own in the second leg of the semi-final against Villarreal, scoring the second as the Reds won 3-0 in one of their most complete home performances under Klopp.
His final goal of the season, and 11th under his new manager, would come against Sevilla in the Europa League final. Although Liverpool lost the match, Sturridge's beautifully curled strike a timely reminder of his qualities, going into a summer where the arrival of Sadio Mane would transform Liverpool's attacking landscape.
Coming into this season, there was a little speculation over Sturridge's future. "Do they still need him?" was a question asked, as Mane, Coutinho and Firmino ran riot on the opening day.
With Mane sidelined, Sturridge was then used to little effect against Burnley on the wing in the 2-0 defeat six days later. Mistakes will still be made with Klopp in regards to Sturridge, as they will for every player, but he does seem to be getting it right.
Sturridge is struggling for starts a little this season, but not because of injuries, because of competition.
He's just one part of one of the most feared, if not the most, attacking groups in the land. He can come in and perform, such as against Leicester City, or sit out and watch, like against Hull.
It's obvious that Sturridge isn't Klopp's *ideal* striker, and won't be at Liverpool forever.
However, around this time last year, the idea that he was an expendable part of Liverpool's side, whilst still performing at an incredibly high level, would have been laughed at like Nathaniel Clyne's attempts in the LFC Hip Hop Challenge.
Klopp hasn't developed Sturridge in the same vein as a string of noticeable others, but the changes made over the last 12 months may well have been the most important for Liverpool moving forward.