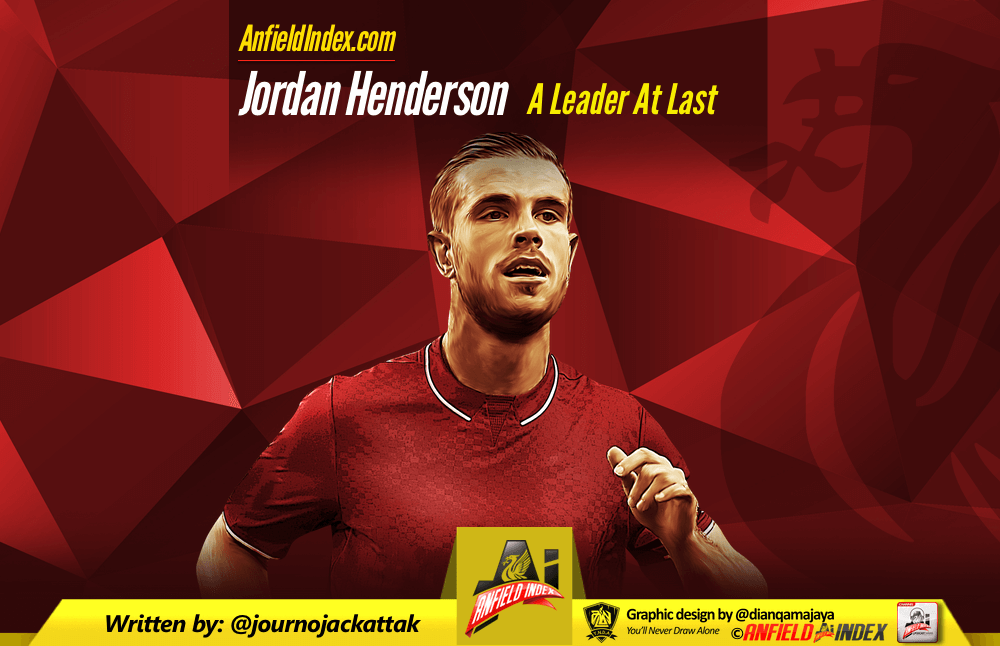 Henderson - A Leader At Last

Happy Klopp anniversary everyone!
Ok, I'm a little late. Sorry. Nonetheless, during these lengthy and joyous annual celebrations of Anfield life under Klopp, I've decided to take a look at our captain, Jordan Henderson, and what's changed for the skipper under his manager. As he hardly played under Rodgers last season due to injury, it's pointless comparing him to the couple of games he featured in so my statistical comparisons will be between this season and the 2014/15 one for the most part.
In recent seasons, Jordan Henderson's new role as Liverpool captain has made it all too easy to compare him to his mythical predecessor Stevie G. Armband and nationality aside though, I don't see there being an awful lot between them that's that similar and I never have, and I think had he not shown the maturity to step up and fill those enormous Scouse boots, we wouldn't be comparing them at all today.
Gerrard was, naturally, a much more dynamic creature at Liverpool. He was quicker, stronger and had much better ball control for a start. Man he had an eye for a goal as well, and so many belters. His best season garnered 23 goals as he played the no10 position behind Torres in the strongest Liverpool team I remember. When someone says Gerrard, this driving, game-winning force of nature is what they remember. Not the steady quarterback he ended his Anfield career as.
Hendo has usually been a fairly box to box player, but now sits in CDM (though many think that may end with the fitness of returning Emre Can). A very different style of play to the enigmatic man of myth we look back on in Gerrard. I can look back over every player on Earth in my lifetime and I can't think of many quite like the talismanic Gerrard, never mind in the current LFC squad. Henderson's not that style of player – end of, regardless of his standard.
One thing Jurgen Klopp hasn't changed in Henderson is his ability to run with the ball, score goals and do the things Gerrard is so famous for which we all quite rightly miss and crave. There are, however, a few statistics that prove how the Mackem has improved hugely under Klopp which, I think, make a case at last his worthiness of the armband and show just how important he is to Klopp's Liverpool.
Exhibit A. Klopp's Gegenpressing, which we've all grown to love rather swiftly, requires the team to press the opposition quickly and win the ball back before they've chance to get it up the field. We all know that.
Hendo, though, is our best at this – averaging 4.1 tackles per game in the league puts him a sensational fourth in the entire division, as opposed to a medial average of 2.3 in 2014/15. Danny Rose is the only defender with more tackles per game this season. While one or two others in the team press harder and cover more ground, no one is as effective at winning the ball back than Hendo. Quality over quantity.
On the ball, we're expected to play the ball sharply, quickly and cleverly. Henderson has so far completed more passes than anyone in the division, has the highest success rate in the team of 90%, and a staggering 73% of those passes have been played forward. In 2014/15 he succeeded with 82% of his passes, and wasn't playing with anywhere near the same attacking intent.
Look at everyone else in the top ten and they all average shorter passes as well, bar Middlesbrough's Ben Gibson who's roughly the same. The average distance of Hendo's passes is around 20m – a 15% increase from two years ago. Rather than just simple, sideways passes, they have intent, risk and, ultimately, a high level of quality. Just what Klopp wants – lots of quick, meaningful, offensive passes with the odd defence-splitter thrown in the mix. Despite progressively adding a little distance and range to his passing, he's actually improved the quality of them to be better than he's ever managed in his career.
These numbers show two things. The first is Klopp's ingenious ability to see the best in players and tailoring a role to their capabilities. All these things – pressing, tackling, stamina, shorter sharper passing – are what Henderson can do. He's not just fairly good at these things anymore, he's suddenly one of the best in the business.
The second thing is this shows Henderson's strength as a leader in this particular LFC team. He's being asked to adapt, change position and play a little differently, and he's doing it both gladly and successfully. He's also leading the line, statistically, in every aspect of the game Klopp reveres and demands. What a statement that is. What better way to say 'do as I say' than be able to say 'do as I do'. What a weapon to have to prove yourself as the leader of your team.
Jordan Henderson isn't the best at the dynamic running, the goals and the flashy match-winning moment, but he doesn't need to be and there's no need to expect that of him anymore. We've got tons of players to do that now. The Gerrard-shape void he fills comes in the form of his ability to characterise everything the manager wants in his side and lead emphatically by example.
I've always respected those I'd consider leaders in my life, but by goodness you can win my approval much, much quicker by backing up your expectations of me with a genuine ability to do it yourself.
Bloody well done Klopp. Hendo hasn't ever been the same universally popular inclusion in the team as Gerrard, never mind the number one fan choice for the armband. He'll never be the same player on the pitch, others are better at that, but he's being in many ways the kind of leader Gerrard was and that's what far few others are capable of.
This has come courtesy of the way he's been managed this season. What Klopp is doing is helping him not only succeed on the pitch and play his part for each individual result but, in this system, found him to be right for the armband after all.