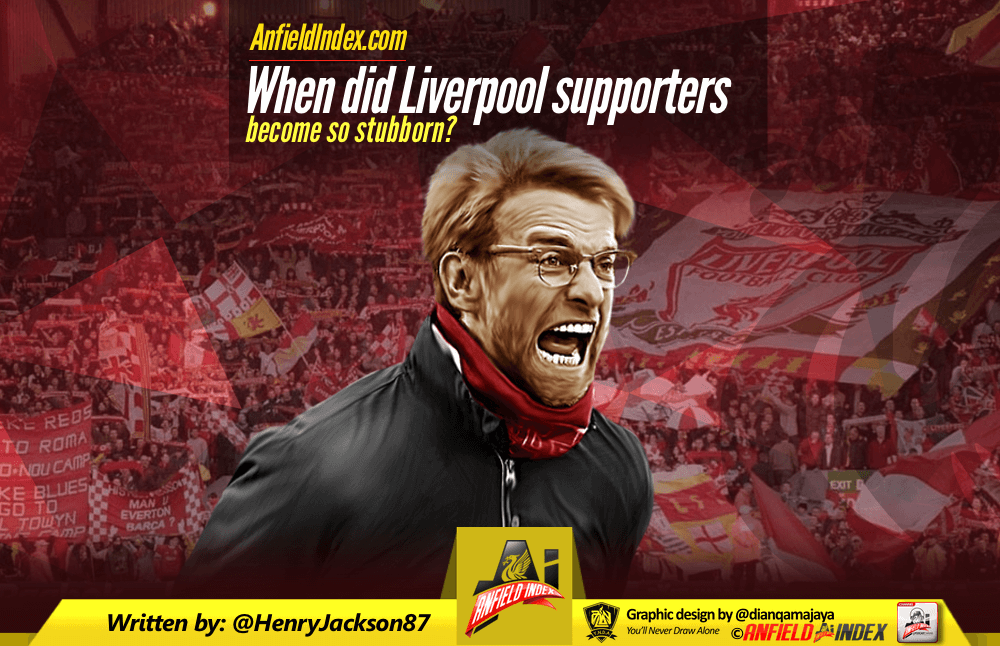 When did Liverpool supporters become so stubborn?
I promised myself I would make the most of the lack of domestic action this weekend and enjoy a productive football-free weekend for once in my life.
Instead, my Saturday was spent with a vicious bout of man flu, and my Sunday consisted of bickering with fellow Liverpool supporters on Twitter. Pathetic, really.
Having expressed my frustration at the lack of praise James Milner and Dejan Lovren have received from some quarters this season, I was bombarded with both positive and negative responses.

What struck me most was the exact reason why I sent that Tweet in the first place: football fans have never been more stubborn in their views.
Nobody quite wants to admit it, but we all have players we secretly long to do well, and also those who we would most like to lose Liverpool a game, should that miserable event occur.
I'm guilty of it, without question, so this is not me arrogantly claiming, "you should all be more like Henry Jackson". Far from it.
People must now be sick and tired of my constant support of Jordan Henderson – a player who, in my book, has been more underrated and harshly criticised than any English player in my lifetime. Every good thing he does, I will pounce on and belittle those who dare say he's rubbish.
On the flip side, say the name Martin Skrtel to me, and my face will contort into a frown and I will be haunted by memories of his incompetence. In general, he couldn't do a thing right in my book.
Now that I've been man enough to admit that I'm a biased, narrow-minded eejit on occasions, let's lay into the rest of you.
There are the Alberto Moreno lovers, who simply can't, and never will, accept James Milner as his replacement at left-back, regardless of how well the 30-year-old performs.
They love to bang on about how wingers run past Milner lots, and how Moreno creates chances, but through watching Liverpool matches with my own eyes, I know Milner is doing a far more solid job currently. Or maybe that's just me being subconsciously biased against Moreno.
Lovren is far from the most dominant centre-back in the business, but he has as much chance of being lauded by some as Jason Statham has of winning an Oscar. Of all the current Reds players, Lovren is the one who seems to be vilified the most.
There is absolutely no issue with not rating him as a player, but when there is a concerted effort to never praise him and jump on every iffy thing he does, that doesn't sit well. Nothing was said about a superb showing at Chelsea, but after a poor display at Swansea City, the reaction was deafening.
Mamadou Sakho could do no wrong with some before seemingly going off the rails – he was another who I praised to death – but he was also seen as "clumsy" and "a liability" by another sizeable section of the fanbase.
Both sides of the argument were extreme, and the stubbornness of us all meant we were never going to budge either way.
Adam Lallana's supreme form this season has been impossible to ignore, but there are still some who will say "he did well today" through the most gritted teeth imaginable.
This is just a small sample of the divide that the current players cause, but the point is that this is an unhealthy divide. I loathe the term, but there are agendas left, right and centre.
We have an ability to turn into children when it comes to football, and the ever-increasing tribalism and competitiveness of the Premier League has only made us more impatient, petulant and obstinate.
These days, so much of being a fan is about not making yourself look foolish, showing the world your opinion is right and refusing to admit you are wrong.  The perils of the internet mean you can be reminded of incorrect predictions you made years earlier, with some obnoxious online troll sharing said prediction as a way of saying "I told you so".
As I said to Anfield Index's writer extraordinaire Sam McGuire on Sunday – you know, that pest who loves Moreno and hates Milner! – we are the "I told you so" generation.
It's a rather sad state of affairs, but I now can't watch a Liverpool game and not think of the abuse that will come my way if Henderson makes an error. Or if Moreno bangs in a 30-yard volley. Rather than celebrate the joy of a Reds goal, people will think "I've got to tweet that Jackson fella and tell him Moreno is good".
Perhaps that's my problem, and I need to ignore the vast minority of idiots who speak nothing but nonsense, but I'm terrible at ignoring these kind of things.
I hope this doesn't all sound too condescending – it's really not meant to.
There's nothing wrong with having different players that we think fondly of, and we are all undoubtedly guilty of having blind faith in those that we rate the most.
I spent 2014/15 moaning about the people slagging of Steven Gerrard, because he was my all-time hero who I still believed was a fantastic footballer. I can look back now and admit I was wrong. My Gran had more pace at that point, and she peaked in the 1940s.
The only issue is that, compared to 20, 10 and even five years ago, this loyalty and stubbornness has now reached a stage where the fanbase doesn't feel as together as it could.
Jurgen Klopp has obviously worked wonders in that respect, particularly inside Anfield, but there is more bickering than there has ever been.
It is fantastic that we see the game in a different way to one another, but the current bias that goes on is no good to anybody.
The sooner we realise that we can praise a player we don't like, and still not think highly of them, the better.