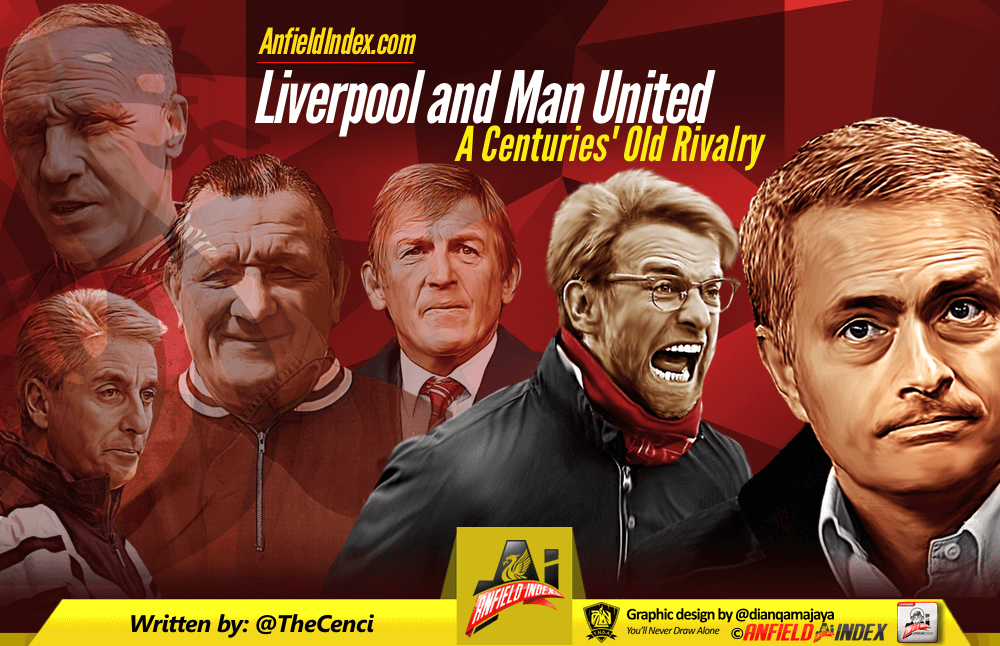 Liverpool and Man United - A Centuries' Old Rivalry
In the mid-1990s I was in a band.
Don't bother Googling my name along with the words 'hits by' or 'world tour'. We played two gigs and broke up when the bass player went to play jazz in a London hotel, but back then we were going to build empires with our jangly guitared take on urban life.
I moved from Liverpool to London in 1988 and my bandmates were mostly from my Polytechnic, which is what average universities were then called. One of them – Jase, the drummer – was also a part time DJ with me and our mates Matt and Bollocks (long story) on the Poly campus. Again, don't head for a search engine and tap in 'DJ Coppack'. We played the hits of 1989 a full six years after the event. The House of Love to a crowd who wanted Chaka Demus & Pliers and Cotton Eyed Joe. Ibiza nightclubs chose not to solicit us.

But the band was the thing. Every Saturday we would practice/rehearse (there's a moment when one becomes another) at Jase and Chris's (guitarist) house and, occasionally, on the Sunday too. For a five piece with a handful of chords we were pretty good as we worked hard on sculpting a set. Not surprisingly, this got in the way of my match going routine and my Anfield regime around the time of Fowler and McManaman rivalled Piers Morgan's Arsenal record.
They've moved grounds now, Piers.
Liverpool were a decent side in the mid-90s if a little inconsistent. The type of side who could put five past Chelsea one weekend and fall to Coventry the next. Now, Man United were the opposite. They were irritatingly consistent and won regularly regardless of off-days. This was particularly galling as, when I left Liverpool, the city had everything in control. Back then, United would usually finish 4-6th or runners up if we'd already bombed the League by March. Someone somewhere had allowed them to steal the march while I was away planning fantasy tours with Pulp and Blur.
One weekend we played United in an early kick-off which meant I could watch the game at home before traipsing over to Clapham (that's where the drum kit was). We'd lost and I wasn't taking it well. I spat venom for a full ten minutes about United while the others tuned up and let me get it out of my system.
Jase – a native of Hastings – was a Forest fan and a happy one. They were doing well too with Steve Stone, Stan Collymore and Dutch international Bryan Roy lighting up the City Ground. However, he had never seen them play in the flesh and was hardly likely too given our weekend itineraries.
Jase has a pleasant disposition. Anger never comes easy so he was often surprised at my anti-Ferguson invectives. He chose this time to call me on it.
'How can you hate a football club that much? It can't be healthy.'
A fair question. I replied with a question of my own.
'You're a Forest fan, right? What do you think of Derby County?'
He screwed up his face into a tortured rictus.
'That fucking scum?'
Of course, Forest and Derby hate each other and though Jase isn't from either town he bought into the enmity when he first strapped on his Forest scarf and chose that path. It goes with the territory. To support one you must hate the other.
Okay, my hatred was stronger given my birthplace and years supporting the Reds, but football is made up of rivalries even if you yourself are not directly a part of it.
I've hated Man United since the 1977 F.A Cup final. I was only eight and they tore my world apart with their (pretty decent) white kits and their Greenoff brothers. They deprived us of the very Treble they would win in 1999. This is not a modern thing. Even when they were bad and had Dave Sexton as manager I absolutely despised them.
There's a little over thirty miles between the two cities and its close enough to keep that emotion alive at all times. Conflict has existed off the field and is centuries old. Liverpool and Manchester were once the two great economic powerhouses of the 18th and 19th centuries. They had the cotton and the mills; we had the river and the gateway to the world. We had different types of wealth, different accents and different attitudes. From 1911 we had the Liver birds and they didn't so we win. There.
Now, Man City were a different prospect altogether. They hated United too so there's an (albeit) weak affiliation. Plus they had a nice kit (important at my age), but they didn't have Lou Macari and Stuart Pearson who would make my blood boil. No, City were alright. I hated United rather than the city. Or City.
Then came 1985. The two F.A Cup semi-finals – the first played at Goodison Park, the replay at Maine Road – are generally considered to be the most hostile atmospheres in any English game. Any subsequent rivalry today seems like a minor disagreement over a menu by comparison. This was pure full on hate. War. Everything coalesced into a ball of bitter fury. It was them, it was being played on Everton's ground and we would play a derby in the final if we beat them. That's a heady mix. Both sides came prepared. They even won their greatest ever kits.
I asked a couple of mates from either side of the divide about the Maine Road game. My scouse mate said…
'The bus I was on had all its windows put in and when we stopped at the lights one lad casually walked up to the driver, leant over, opened the doors, stepped out and knocked out a Manc, stepped back on, closed the doors and resumed his seat.'
My United mate reckons that if Goodison was electric, Maine Road was nuclear.
Of course, the culture led to that point – both on and off the pitch. The mid-1980s saw Liverpool in angry mood. The government had already discussed leaving us to a 'managed decline' after the riots of 1981 and now a far left wing group – Militant – were in charge of the city's council. I was 16 in 1985 and about to leave school with no prospects of finding employment. I don't think there's a more politicised group of school leavers in the country since those times. Margaret Thatcher had it in for the North and we marched whenever we could. It wasn't just us she was attacking but we felt it as declaration of war on the city and Liverpool, frankly, wasn't taking it.
But we had football, though even that was under threat from Manchester. We always had our eye on them even when we were streets ahead. The best Liverpool sides I've ever seen rarely beat them in the League so the hostility grew and grew. Liverpool had won the League, League Cup and European Cup in 1984 and Everton were about to take the League away from us. Now Manchester wanted a slice. No. Fucking. Way.
Except they won that Maine Road replay and beat Everton in the final. Even though we had no love for the Blues, there was no way anyone wanted United to win that day. As I said. Liverpool was angry.
And the irony? The exception that disproves the unrest rule between us and them?
Music.
We loved each other's music. Always have.
To this day I love The Smiths, Joy Division, The Fall, Buzzcocks, James etc. and we were only a few years away from Happy Monday and Stone Roses which provided the soundtrack to those Poly years. For our part we had Echo and the Bunnymen, The Farm, The La's and – from across the water – the mercurial Half Man, Half Biscuit and we shared them with everyone. When it came to music both factions put down their arms. We went to their gigs, they came to ours. Obviously, you wouldn't wear your club colours to them – replica shirts weren't really a thing back then in any case – but music formed a neutral zone.
In April 1988, the clubs got together and tried to ease the tension between the clans. They decided to make a few changes to the fixture. Firstly, stadium announcer George Sephton welcomed their fans as 'our friends from the other side of the M62' – a sentiment which was shouted down from all four sides of the ground. This set the tone. Next up, instead of Liverpool running down to the Kop before the coin toss as we've always done, the teams were told to swap ends. Bryan Robson, who would score twice in that game, led his team out to the Kop while Alan Hansen took the Reds to the Annie Road. The Kop and United fans went berserk. Bad idea, lads.
One standout moment though was when, as a gesture of friendship, the United players kicked lots of training balls into the Kop.
Every one was kicked back.
Every single one.
We were not interested in any notion of camaraderie and Corinthian spirit. Not in the slightest. The rivalry was important to both sets of fans. It still is, albeit a lot calmer than those days.
I'm glad it's like that. Football without that dislike and mistrust of other sides simply removes the drama. Yes, it becomes too much at times and no one wants to get hurt, but without that passion we might as well be watching ballet.
Well, I'm older now and most of the anger and frustration that poured out in a roomful of ex-student musicians has evaporated, leaving a calmer, more rational man. I can now watch any match without screaming and firing saliva all over the row in front. I'm a man at peace.
I hope we absolutely batter them.