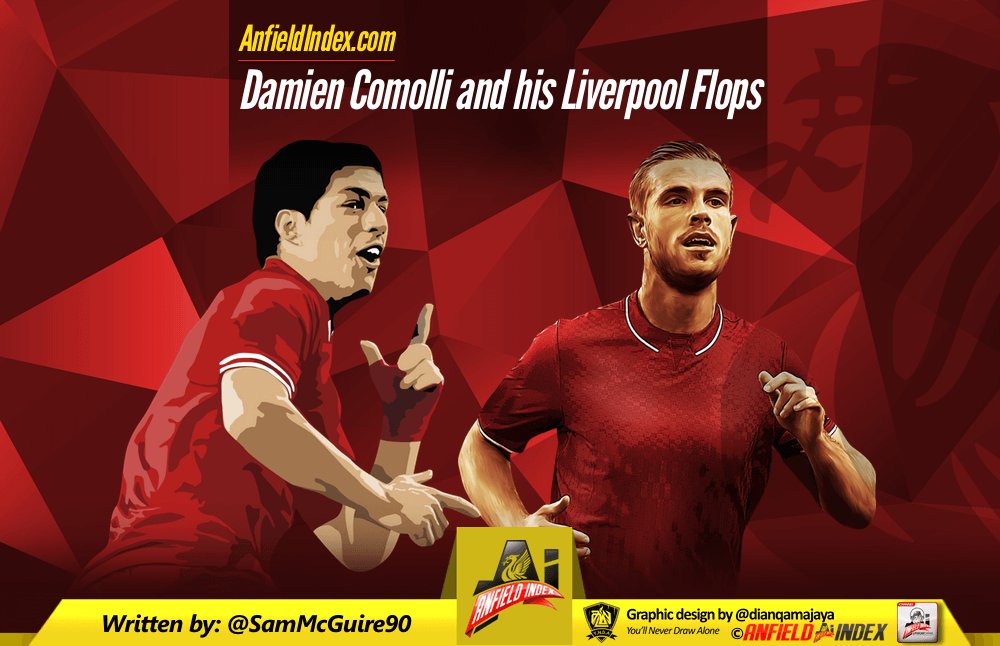 Damien Comolli and his Liverpool Flops
Damien Comolli decided to piggyback on the recent success of Jordan Henderson to once again get his name in the headlines. The ex-Director of Football at Liverpool has claimed the club's owners fired him after telling him that £16million man Jordan Henderson was a waste of money.  In quotes taken from a report in the Daily Mirror the Frenchman went on to say:
"The day I got sacked they [Liverpool's owners] told me I had made a big mistake on Jordan and he was a waste of money.

"Everybody is entitled to their own opinion, but I think we paid the right price.

"He was a young English, British player and we know very often that British players are overvalued. But we were more than happy to pay the price because we thought he would become an outstanding player.

"He fitted the profile we were looking for. We knew he was an outstanding person, we knew he had leadership skills, we knew he was totally dedicated to football, to his passion, and we knew he was someone who wanted to improve on a day to day basis.

"I never said it publicly, but I was convinced he would be the future captain. People will say it is easy to say now, but I was convinced at the time that he would become the Liverpool captain. Now he is and he is also the England captain."
What's interesting about all of this with Comolli is it highlights just how poorly advised FSG were when they originally bought the club. In their midst they had a scout that was perfect for their 'moneyball' approach yet they moved away from that and went with Kenny Dalglish's buy British approach.
Comolli was credited with unearthing Gael Clichy and Kolo Toure as well as being the man behind bringing Luka Modric, Gareth Bale and Dimitar Berbatov to Tottenham Hotspur. He signed the Spurs trio for a combined £34 million and the club later sold them for £138 million. Obviously a lot of the credit goes to the managers who developed these players but that's not to say Comolli doesn't deserve some praise for the part he played. Not all of his signings paid off but it was clear to all he had a talent for identifying players and selling them the project.

For whatever reason FSG decided to go down the British route and this immediately wasted Comolli and his network of scouts. As we're all aware there's rarely any bargains to be had when buying from within the Premier League and on top of that there's always going to be the premium that's added on to those deals just because the players are British.
He oversaw the signings of Andy Carroll, Jordan Henderson, Charlie Adam, Stewart Downing and Jose Enrique for over £80 million. Only Henderson remains and the club recouped just the £26 million from the sales of the other players. It was an experiment doomed from the start and Comolli get's the blame for being the face of it all when in reality he was just following a brief. His one saving grace appears to have been the bravery he showed to gamble on signing Ajax's Luis Suarez.
Since his dismissal from the club in 2012 there have been various reports which detail the players the DOF wanted to bring to Anfield. Rory Smith – formerly of The Times – reported Mario Gotze was a target ahead of Jordan Henderson. Paul Collins, who at the time was with the Daily Mail, reported Comolli's list included Demba Ba (then at Hoffenheim), Olivier Giroud and Shinji Kagawa. There were also links to Lille's Eden Hazard, Saint-Etienne's Pierre Emerick Aubameyang and Blaise Matuidi, Sao Paolo's Lucas Moura, Valencia's Juan Mata and Athletic Bilbao's Javi Martinez.
This is all theoretical of course because had these players signed for Liverpool their careers would have been different to those in actual reality but that list includes players who have moved in deals totalling well over £150million in transfer fees alone. Their quality was evident. At the time these players weren't the superstars they are today and for Liverpool, even without Champions League football, they would have been attainable.
This isn't Football Manager so there's no guarantee these players would have progressed like they have had they been at Liverpool but you've got to imagine Aubameyang, Kagawa, Matuidi, Mata and Martinez would've fared better than the five British players the club did sign and at around half the price.
I can't help but imagine what Liverpool's squad would've turned out like had FSG trusted Comolli with the recruitment instead of Dalglish.