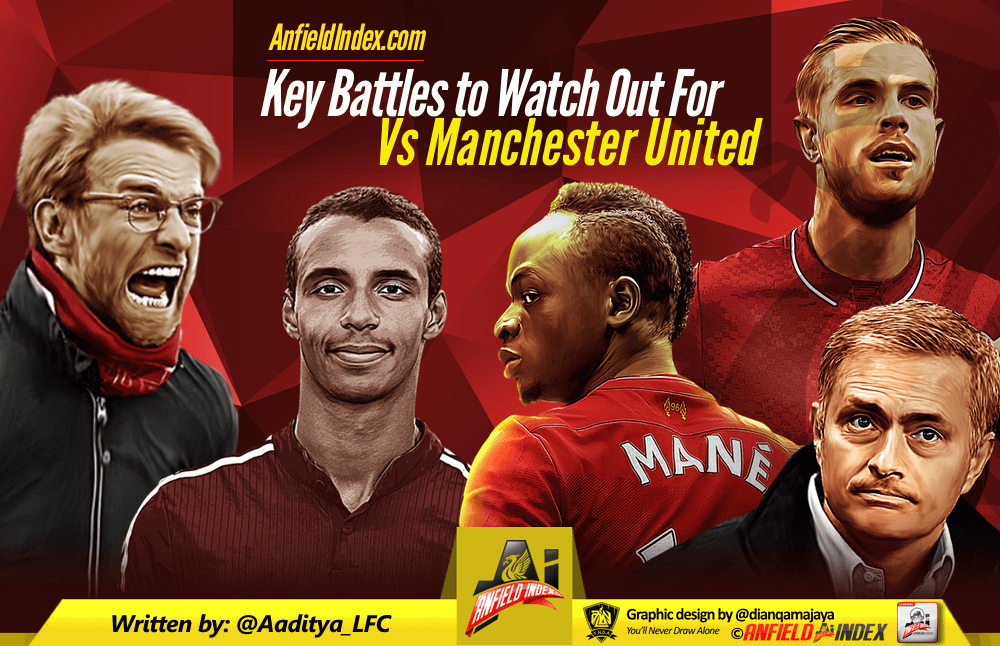 Liverpool v Manchester United: Key Battles
The old enemy. The new Anfield under floodlights for the first time. An optimism that has been a while since we've seen. All the facts point to what should be a mouth-watering Monday night on Merseyside. Liverpool welcome Manchester United to the Anfield Fortress, as the Reds look to build on what has been a promising start to the season.
United themselves haven't been too shabby, although with all the money they spent over the summer, their fans would be justified in expecting a few more points at this stage. But Paul Pogba is beginning to grow into the league and the likes of Marcus Rashford and Jesse Lingard are showing enough promise.
It promises to be an absolute cracker on Monday, and here are a few individual battles that could shape the way the war goes.
Jordan Henderson v Paul Pogba
Our captain is fresh off his first taste of the England armband. Although it was an insipid England performance in Slovenia, having the armband would've done no harm to Henderson's confidence, as would his recent performances for Liverpool. What will add a little more pressure on Henderson is the fact that he is likely to miss Georginio Wijnaldum, his partner-in-crime all season will, in all probability – miss the game. For United, it is imperative that Pogba can boss the midfield. That would give them the base for the likes of Lingard and Juan Mata to express themselves and support Zlatan Ibrahimovic. If Pogba is found wanting, it would mean that Mata and Lingard would have more defensive responsibilities, which would curtail their prowess going forward. For Henderson, the intensity will be crucial. The captain will be looking to stamp his authority early in the game and dent the most expensive player in the world.
Sadio Mane v Daley Blind
It is no secret that Mane will be Liverpool's biggest attacking threat. What makes Mane special is the unpredictability that his blistering pace and quick feet give him. Mane's responsibility will be accentuated by the fact that both Roberto Firmino and Philippe Coutinho have only just returned from South America after two qualifiers. Although the Monday night kickoff will help the Brazilians in terms of the recovery, it will be up to Mane to bear the burden of being the most dangerous attacking player. For United, Jose Mourinho has overlooked both Luke Shaw and Marcos Rojo in their recent games to play the Dutchman at left-back and he has put in very good performances, especially in their win against Leicester. One weakness of Blind is his lack of pace, but he compensates for that with an astute reading of the game and knack of being in the right place at the right time. It is up to Mane to ensure that Blind's lack of pace is thoroughly exploited.
Joel Matip v Zlatan Ibrahimovic
Matip has slowly built himself as the leader of Liverpool's defence this season. In spite of the uncertainty surrounding who partners him, the Cameroon international has put in some top-class performances. As has already been said enough, his reading of the game and his ability to play the ball out from the back make him standout and have enabled him to adapt to the rigours of the Premier League. But sometimes, he does get caught out with his lack of physicality. In our last game against Swansea, Borja Baston troubled Matip no end and should really have got himself a goal or two. It does not get any easier for Matip as the much-heralded Ibrahimovic comes to town. After a flying start to his United career, the Swede has been relatively quiet in recent games. But, he possesses the X-Factor that could hurt any team, and he loves the big occasion. So there is no doubt he will be primed for what is undoubtedly the biggest game of both teams' seasons so far. Matip will also need from whoever starts between Dejan Lovren and Ragnar Klavan.
Jurgen Klopp v Jose Mourinho
The battle on the sidelines will probably be more critical than any of the ones on the pitch. For Klopp, the mantra will be very simple – "more of the same". Liverpool have scored nine goals in two Anfield games this season and have been a joy to watch. Klopp's plan should not be much different from what he has always done – show desire, press the opponent and when the ball is won back, hit them at breakneck speed. Mourinho though, is a master of the big games. He has shown throughout his career that he has a special tactical panache for this kind of match. But all of his previous teams tended to be built on a solid back four and goalkeeper, but with United right now their defence cannot be called a typical Mourinho defence. But I don't expect him to waver from his thinking. He will look to make United compact, cut out the space for Coutinho and Firmino and then look to unleash the pace of Rashford and Lingard on the Liverpool defense, which has its own uncertainties to deal with. So, Klopp's counter-press to the fore again?