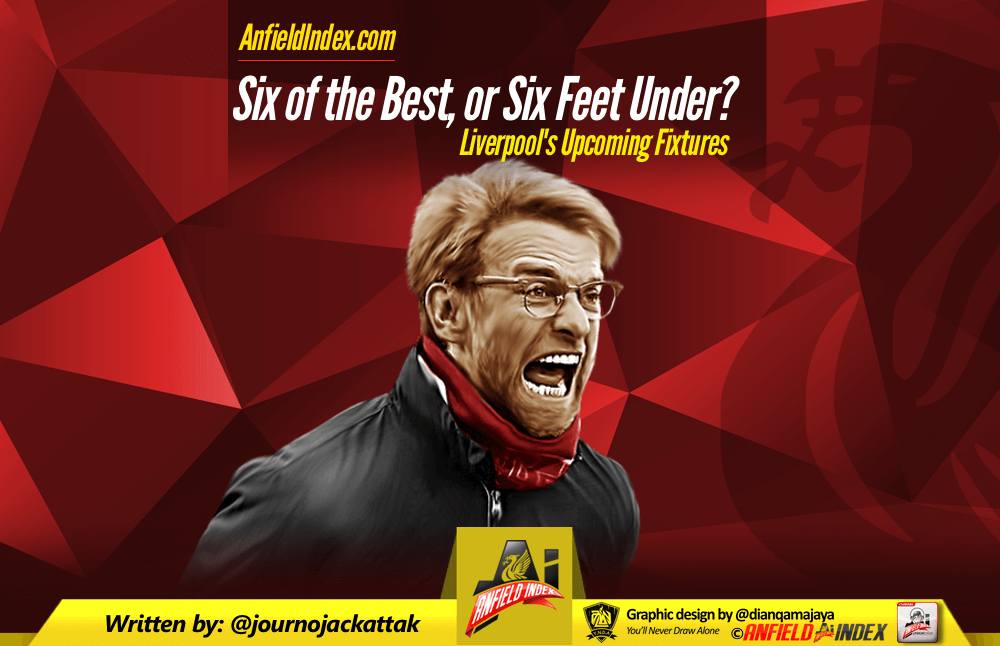 Six of the Best, or Six Feet Under? Liverpool's Upcoming Fixtures
I honestly believe I say this to myself almost every week… but I think we have a really big 6 games coming up.
It's all very tight at the top of the Premier League at the moment, and as Liverpool continue to flatten their inferior opposition with a goal-fuelled fly swat, we're keeping ourselves very much in the mix. Only two points from the top after Man City were beautifully beaten by the brilliant, baby-faced assassins at White Hart Lane. A couple more big wins – entirely possible on current form – could see us top if results go our way.
On the negative side of the coin, there's as much chance we could lose a couple of games too. We'd slip a lot further down the league and all be sat wondering if this is going to be another season of unfulfilled promised and consistent inconsistency.

The first game is a big one, with the old enemy visiting the hallowed, heavenly turf of the expanded Anfield. These games always chalk up a pulsating, hair-raising atmosphere, built on a bellowing chorus of You'll Never Walk Alone sung from the bottom of every red Scouser's bosom. It's the one we all look forward to winning – and, for me, the one result I find so difficult to predict.
Last season showed what a mixed bag LFC vs MUFC can be. Away in the league we were dismantled in a game of brilliant goals. Anthony Martial's untouchable run helped him secure the 3-1 result moments after Benteke scored the most brilliant goal to carry so little positive meaning on a result. Later in the season we fared no better, dominating at home on the way to a soft 1-0 loss.
But, oh contrare, our beloved Premier League, for in Europe Liverpool made their mark. A hard-fought 1-1 draw at Old Trafford marked the beginning of the end for Van Gaal as results sunk to the level their dreadful performances. Then, the emphatic 2-0 at Anfield in the second leg carried Liverpool one step closer to what was so nearly a glorious Europa League campaign.
I can't honestly predict this one either. I think we all have a good feeling about it, don't we?
And yet, if anyone can stop us it's Mourinho. He's suffered a few cup defeats, but we've usurped him just twice in the league, coming a cropper an amazing 8 times. In 2013/14 he derailed our brilliant surge to the title by unashamedly parking the bus and waiting to pounce when the gap in our defence was big enough to fit one through.
It's going to be huge, winning this one. Our records against the big sides, both this season and last under Klopp, gives me huge hope though, and Utd aren't giving me much to worry about for all the big names they possess.
As we know, it's the small fish we've struggled to catch out in the past. While we're better at it this time, our five games after Utd is why I think we face such an important time in the season. Here's how we fared in the corresponding upcoming fixtures last campaign:
West Brom (H) – 2-2
Crystal Palace (A) – 2-1 win
Watford (H) – 2-0 win
Southampton (A) – 3-2 defeats
Sunderland (H) – 2-2
Yes, there's just one defeat in there. Yes, we scored goals. Yes, we're on better form this season. But 8 points from those 5 games – three of them at home – would not be enough for a team aiming for the top four. Man City only face Everton in the top 7 in this time, Spurs have just Arsenal to worry about (I think they'll beat Chelsea) and their North London rivals have four of the bottom eight to play.
If we drop points, then one, maybe two of them, might do the same, but surely not all three, and they're all above us already. It would potentially prove a costly slip that gives others the chance to run away while we're on our bums. A look over Klopp's shoulder and you see Everton and Man Utd – again, both a fixture list laden largely with teams further down the table. Chelsea don't have a particularly nice run, and with their somewhat sluggish start to the season I hope they continue to struggle.
Our struggles against those five teams weren't isolated to a single game last season either. Here's the reverse to the above results:
West Brom (A) – 1-1
Crystal Palace (H) – 2-1 defeat
Watford (A) – 3-0 defeat
Southampton (H) – 1-1
Sunderland (A) – 1-0 win
Add in the league defeats to Man Utd and it looks even worse. Just 13 points, five defeats, three wins, two clean sheets and a goal difference of -4 in the twelve games. These weren't isolated blips, they were consistent struggles against opposition sides who should be succumbing feebly to our strengths and, instead, responding inspiringly to our weaknesses and caught The Reds cold time and again.
After 13 games, the Premier League usually starts to really take shape. At that point last year, in one of the most ridiculous and unpredictable seasons in any year of any sport on any planet, the top 5 and the bottom five were already closed off to the teams above and below them. There may have been movement among them, but both ends were closed to anyone else whether they wanted to break in or not. It's imperative Liverpool make the most these six games to give themselves the best chance of a top four finish.
And I think they will. Sadio Mané was a big part of our struggles against The Saints last year and he's ours now. With him, he also has an attacking force with a staggering level of both quality and strength in depth. We may continue to leak goals, but this hurricane up top should rip the roof off every stadium it comes into contact with. They've been the difference between joyous victory and more disappointment against Hull and Swansea already, and they'll do the same this time around in my books.
Big point of the season coming up. Tension is building. Pressure is mounting. Expectation, fermenting. I can't bloody wait people. Enjoy the ride.