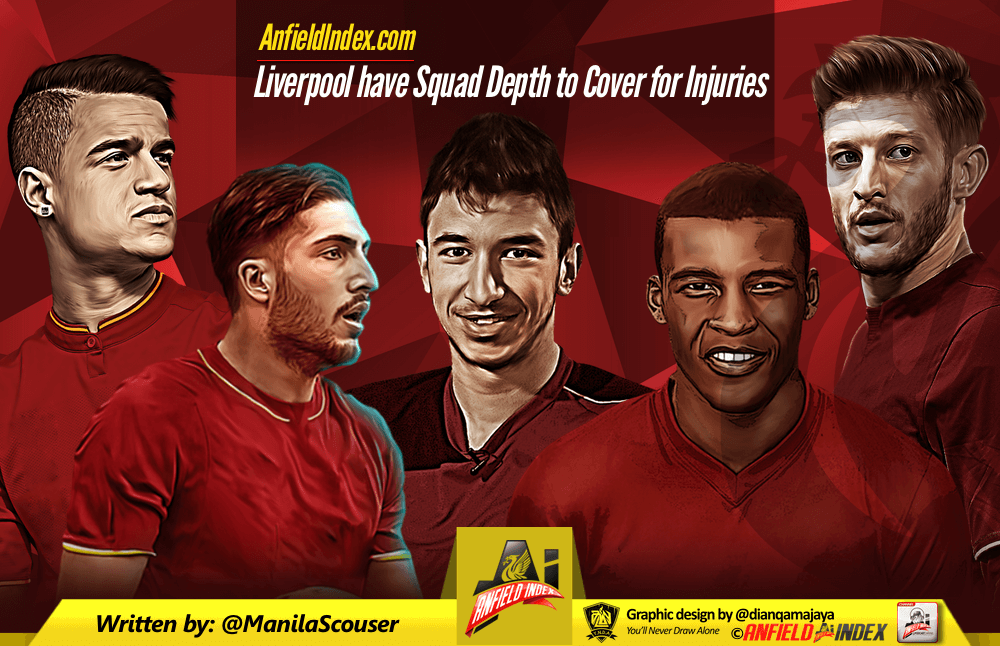 Liverpool have Squad Depth to Cover for Injuries
Injury is a word I thoroughly hate, especially if it concerns a Liverpool player. We've been down this road before, particularly last season where we could field quite a strong lineup with the number of injuries the Liverpool squad had absorbed. We missed key players who were unavailable for very important fixtures, Mamadou Sakho walking off the pitch at Wembley during the Capital One Cup Final against Manchester City last season as an example.
Once again, two months down the line of a new season, Liverpool finds itself without two key players in Adam Lallana and Gini Wijnaldum ahead of what is our most important game yet – against Manchester United. But despite that, there's a massive difference now compared to seasons past. With the abundance of quality and versatility in our squad, there's not much to fret about.
Jurgen Klopp portrayed a 4-3-3 formation in all our games so far this season, omitting the 4-2-3-1 system he favoured last season when he arrived at the club. I'm far from an expert, but to me, it looks like he found a system where he can maximize the abilities of this Liverpool squad, bolstered it during the summer, rather than acquiring players to fit a certain system.

Our midfield three consists of Wijnaldum, Lallana, and Jordan Henderson for virtually all of our games so far, but with the former two in doubt for our clash against our biggest rivals, there are a number of players who we have within the squad, that can fill in for the aforementioned two.
Two of either Coutinho, Emre Can, and Marko Grujic could step in and take on the roles of Gini and Lallana with little to no difficulty – Leaving Daniel Sturridge, Roberto Firmino, and Sadio Mane as our attacking three, very similar to the squad that played majority of the ninety minutes against Swansea City prior to the International break.
Currently, we have a strong core of players, and that's not even including players who are still rehabilitating from terrible injuries such as Joe Gomez and Danny Ings, and also Mamadou Sakho, who's future at Liverpool remains uncertain at this stage.
We have very good options between the posts in Mignolet and Loris Karius, decent alternatives for the defence, and our midfield and attacking selection are greater than it has been for quite some time.
What a difference it's been when you have an incredible manager running the show, doesn't it? From relying on Rickie Lambert, Mario Balotelli and Raheem Sterling to lead the line two years ago, to having an array of attacking options like Firmino, Origi, Sturridge, Coutinho, and Sadio Mane. It's crazy to think our squad has been the strongest it's been for a couple of years, considering the amount of players Jurgen Klopp has cleared out during the summer.
Klopp's done many things as manager of Liverpool in a year. Rejuvinating the dressing room, instilling confidence in our players, giving belief to us fans, and recruiting intelligently. But for me, being confident that we have players available in the squad who are more than able to take upon the role of those who are unavailable, without sacrificing the strength of the team, is rather reassuring.
Squad depth isn't something Liverpool are associated with for the past half decade, even in our title charge in 2013/14, our starting lineup pretty much picked itself, and once we've had a man down, like losing Jordan Henderson in the latter stages of that season, we were basically screwed.
It's scary – a good kind of scary, to think how Liverpool would look like two or three years down the line under Klopp's regime.