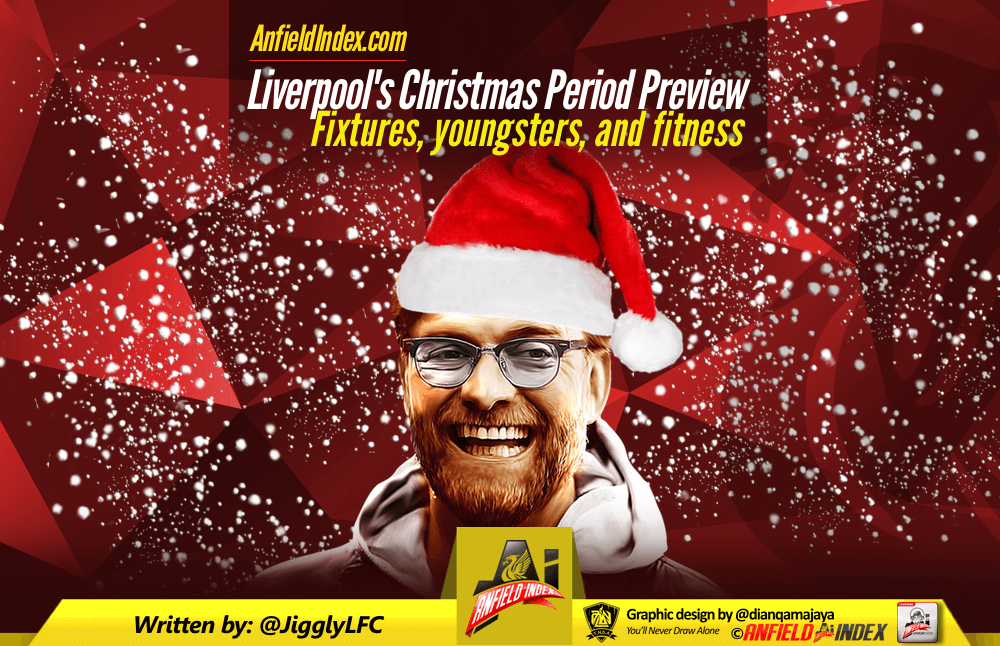 Liverpool's Christmas Period Preview: Fixtures, youngsters, and fitness
It's approaching that time of year again everybody. While it may only be the end of October, many Liverpool fans are starting to turn their gaze forward towards next month's fixtures, as well as the dreaded Christmas period.
In fairness though, there are quite a lot of mouth-watering fixtures to look forward to in the coming weeks and months. Following a start to the season featuring fixtures away at Chelsea, away at Arsenal, away at Spurs, and United at Anfield, Jurgen Klopp's Reds sit at 3rd in the table, joint top with Arsenal and Manchester City whom they face on New Year's Eve. With this difficult start to the season almost behind Liverpool, the fixtures start to look mighty friendly coming into this grueling Christmas period. The next 5 league fixtures are Palace (A), Watford (H), Southampton (A), Sunderland (H) and Bournemouth (A). Even beyond that the fixtures still look very friendly, albeit including Everton and City, but I won't list all of them out because I'm sure you get the point by now.
These next couple of months, including December, is a crucial run of games. These are the types of runs that can define a season. With the teams at the top end of the table still set to play each other and inevitably drop points to one another, this is the ideal time for the Reds to put their foot down and make a statement to the league. Again, Liverpool are only 2 points off of first right now, and a solid run including City at Anfield could find Liverpool securely rooted in the top 4, and if I'm allowed to be a bit ambitious for once, maybe even atop the table come Christmas and the New Year.

Unfortunately though, not everything is quite so easy in football. With these matches comes an increasing amount of fixture congestion, and if you think back to last year, we had some serious highs and lows in the November/December months. The Reds emerged from November and December last year with 13 points from 8 games. Within that run was the 1-4 Liverpool victory over City at the Etihad, but also included in that period was the 2-0 defeat to eventually relegated Newcastle and the 3-0 loss to Watford, both of which are widely accepted as the worst performances under Jurgen Klopp. Granted last year we were in the midst of an injury crisis and we were coping with the Europa League as well, but it's not at all uncommon for clubs to struggle as the fixtures start to come thick and fast.
One of the biggest issues for these dense schedules is fitness, and it's something Klopp mentions in almost every press conference around this time it seems. Keeping your players fit and fresh is especially critical in these runs as there is minimal recovery and training time available. As most, if not all of you have probably already seen, we have less than 48 hours between when we play Manchester City and Sunderland. That's madness, and in fact that's dangerous. It's worth noting that recently we've had injuries during the international break, thankfully all seem to be recovered now, but Klopp may need to  an eye on fitness levels earlier than we might think. It'll be imperative to keep an eye on players like Adam Lallana and Roberto Firmino that are running a particularly large amount in our system in order to keep them as fresh and fit as possible. But with other big teams in the Champion's League, Liverpool as well as Chelsea should have a leg up in these December fixtures.
Luckily for the youngsters at Liverpool, there might be some first team opportunities available in the coming months. If Klopp starts rotating the squad more as I fully expect him to do, Liverpool fans could expect to see starts from players like Grujic, Origi, Stewart, and depending on how fast he fully recovers from his injury, maybe even Joe Gomez. After impressing in the preseason Grujic will be itching to get back out on the pitch and make an impression in the first team. Opportunities in the engine room have been hard to come by recently as Wijnaldum, Henderson, and Lallana have all exceeded expectations, and with Emre Can waiting opportunities will become even more scarce. Origi, Stewart, and Gomez all featured last year, and they'll be looking to build on their solid first seasons. As the cliché goes, "If it ain't broke, don't fix it." and Liverpool have been abiding by that thus far this season. Klopp however might feel forced into rotating due to fitness, and that will be the time for the LFC youngsters to stand up and make their mark. There are even more youngsters that I haven't mentioned like Cammeron Brannagan, Sheyi Ojo, and maybe even Ben Woodburn and Pedro Chirivella who I don't "expect" to get starts over that period, but I hope will get some solid minutes off the bench at the least. Woodburn would be the least likely of the youngsters to see first team action as it's very apparent Klopp wants to take it slow with Ben's development, but with Branno and Woodburn dominating the U23's at the moment, they may force Klopp's hand eventually.
But all of this is obviously mere speculation. The games still need to be played as matches obviously aren't won on paper. It'll be a great period for fans as there will be 6 December fixtures averaging a match every 5 days, so hopefully we can rally behind the tired Reds and help put together a great run of games that sets us up well for the back half of the season.