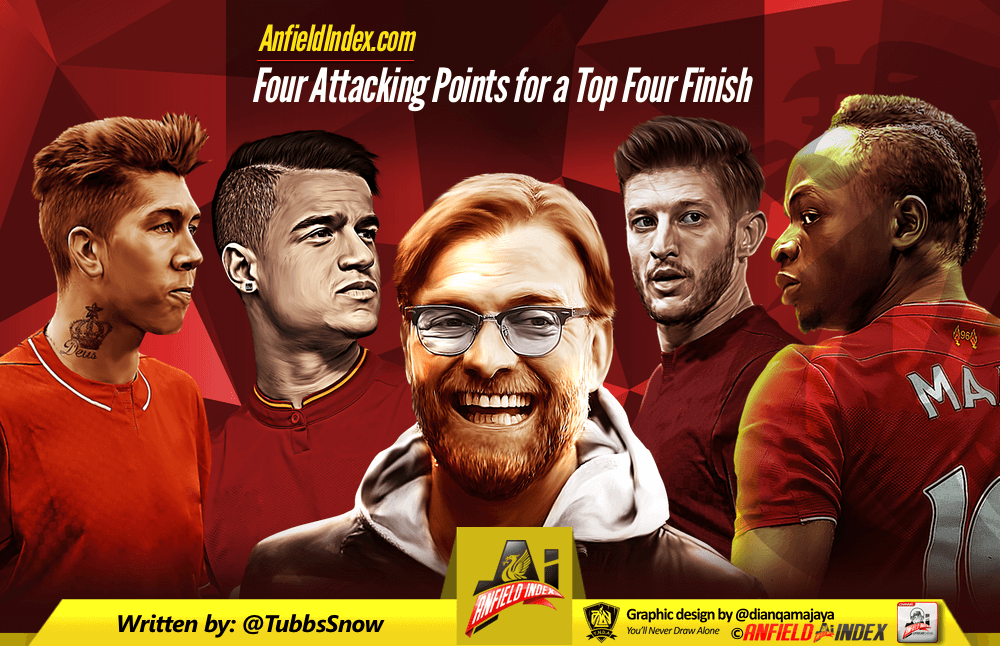 Four Attacking Points for a Top Four Finish For Liverpool
It's early days in the six year tenure of Jürgen Klopp and there's a general state of mixed emotions within the Liverpool fanbase – a mix of quiet confidence and an itch for reaching another level of talent in the team. With the current skill-set of the Liverpool squad that Klopp has created up til now, there is great validation to flooding the midfield with dynamic, attack-minded players that can understand and execute on his vertical, counter-pressing style of play.
Though the squad lacks subtlety and diversity in the specialists involved in the midfield dynamic, the overarching aim for now, as reiterated by Pep Lijnders' quotes in preseason, is to resolve the attacking flow of the team.
In an interview with Goal.com, Lijnders said, "We are very clear in what we want: how we want to prepare pressing situations…how we can advance as a team using the free spaces the opponent leaves in their organisation…we analysed our game model, looking at how we want to start our attack, how we want to master our attack, inside creation, outside creation…this is how we want to organise pressing situations. So using that, we looked at where we needed development."

Given the lack of key midfield and defensive signings that many Liverpool fans expected – based off Klopp's previous models at Dortmund having complementary midfield specialists and a strong centre back pairing – Lijnders' quotes provide valuable insight into a paradigm shift that has taken hold within Klopp and his coaching staff, as they took stock of the tactical potential in this Liverpool squad and what was available in the transfer market to their scouting and recruitment team.
Operating without the allure of Champion's League football or exorbitant salary packages, Liverpool's signings were restricted almost exclusively to the knowledge base of the coaching team, as the need for developing the attacking game plan, became a task of the highest importance that needed to be resolved instantly but a task that came too quickly for the scouting department to profile adequately. You can make the assumption that Klopp, Buvac, Krawietz and Lijnders in toe, left little margin for error in getting the attacking signings right, based on the players that were signed and the transfer fees paid for them. They signed Mané, Wijnaldum and Grujić for approximately £70 million; inclusive of proven players and proven talent with great decision-making in the final 3rd, familiarity with counter-pressing or total football systems and players with naturally excellent physical characteristics. Even the signing of Karius is a pseudo-attacking signing also befitting of the coaching team's knowledge base, as he offers the differential of a familiar Bundesliga talent that excels with his distribution in fast break, attacking transition situations.
However, in a way, this tactical 'obsession' and huge financial outlay on attacking elements is almost a bit…confusing. Klopp came in bringing the hope of a dominant midfield engine room that was creative and purposeful in its passing, dominant in all transitional moments, dynamic in defence as well as attack, and, specialised by the right complements. In saying this, he also came boasting the promise that the primary tactical focus was a strong defence first and foremost – of which the ultimate measure has to be to concede less goals across an entire season. Many crucial elements of this hasn't happened yet with Liverpool and the way that they play across any given ninety minutes and I don't think it will happen this season either.
For now instead, for this season, expect Jürgen Klopp's Liverpool to refine their geigenpressing game and to improve their attacking flow foremost. That, you can expect and should expect because that's where the spending money has been thrust into and where the tactical focus has been set since last season and this preseason. Tactically speaking, here is a list of four points, four key characteristics of attacking play that Liverpool fans can expect to see:
Liverpool dominating space in the final 3rd and consistently creating high quality chances by forcing turnovers by the opposition in vulnerable areas.
Liverpool having synchronous movement of their midfield players in offensive transition against destabilised defensive lines.
Liverpool improving the positional link-up play, penetration and finishing ability of these midfield players after attacking moves created by long vertical passes, penetration from wide areas via intelligent use of attacking full-backs and intricate movements of midfield players who use decoy runs to create space for others in the opposition box.
Liverpool improving the ability of their attackers to create and pass out of diamond overloads in between the lines against deep defensive teams, especially from within their opponents' half-spaces.
These four points will ultimately come to define Liverpool's long term attacking style, where the route to goal will be the most vertical and intelligent one. Where the route to goal is the one that creates as much space and time for the final player in the attacking move to score. The game against Hull exemplifies these points excellently. In turn, the game against Burnley highlights the need for improvement in some of these, which along with the wins against Arsenal and Swansea, highlights defensive elements that will ultimately require tactical focus and, in my opinion, new signings. But if you start to see further improvements in these four points, I think that has to be seen as a successful season for Klopp and his coaching, fitness and sports science staff. The ultimate affirmation of that would be a top four finish and Champion's League football next season.
Having said this, in equal parts like Newton's 3rd law, the ultimate defensive aim of the team has to be dominating and securing the defensive transition after an initial failed press, defending our own half-spaces close to our box and ensuring we shift away from the 'bend don't break' midfield we currently have, to a dictatorial and intelligent one. To reminisce of Mascherano and Alonso is not remiss of us when so recently, Klopp had the likes of Bender and Gündoğan or Şahin as his central midfield core. But maybe, through a bid to reach Champion's League football first and to first appoint a technical sporting director to assist Klopp and co. with recruitment, we will then be able to focus on the right, high-quality defensive signings, whether that's a Mahmoud Dahoud or a Jonathan Tah or other players.
But coming back to this season, will an incisive and refined attacking flow of play be enough for a top four berth, given the financial strength, high level of talent and consistency in the squads and management staff of our rivals? Or is this a perfect storm situation akin to the 2013/14 season, where Liverpool will be unilaterally dominant in their attacking style, bereft of a congested fixture schedule to concern them and with their rivals in a state of transition with new managers and styles of play needing to be adapted and developed? If greater improvement is seen in these four key characteristics of attacking play after a third of the Premier League fixtures have been played, then I say, the challenge is on.