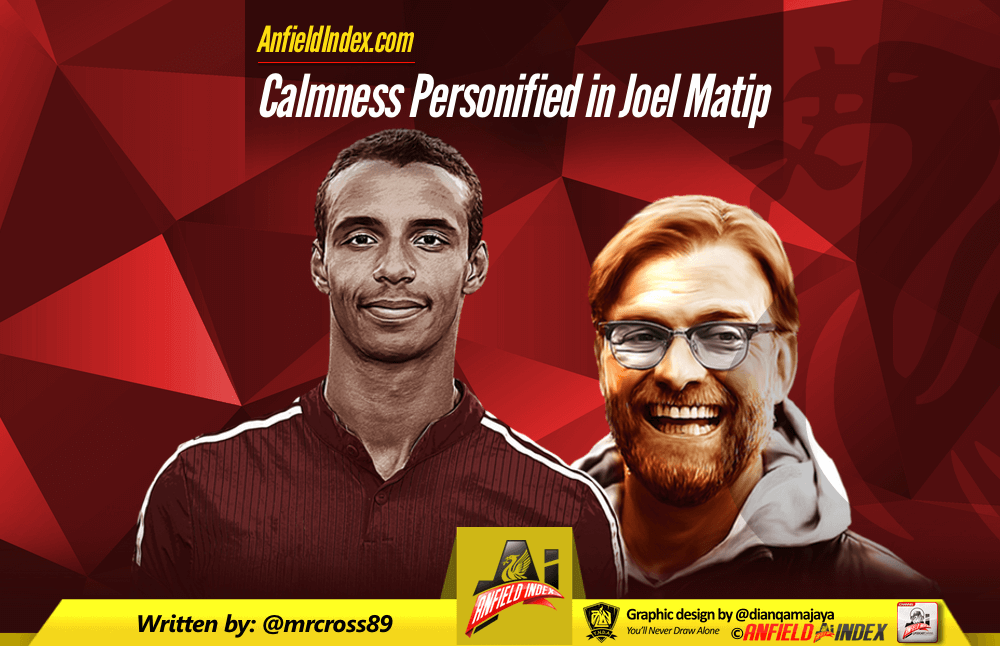 Calmness Personified in Joel Matip
It was the game we had all been waiting for since the start of the season.
After a full weekend of build up that had the feel of a WWE Wrestlemania main event, we finally made it out of work buzzing with anticipation and dreaming of not just beating our greatest rival Manchester United, but destroying them.
The whole country was ready for an entertaining game. We just forgot that Jose Mourinho was the opposition manager.
The Anti-Christ of football was in no mood to allow Liverpool to play their game in any capacity and he made sure that for the entire 90 minutes, United focused their efforts on frustrating Liverpool rather than putting their multi-million pound forward talents to good use.
Jamie Carragher and Ryan Giggs warned viewers that Mourinho would sit deep and frustrate Liverpool. His tactics were to make sure Liverpool had no space in the midfield and that they would bypass any efforts to build up play from the back, playing the ball as direct as possible. Mourinho's tactics were to turn a back four into a back six, with Rashford and Young playing as fullback at times.
Jose wanted to frustrate Anfield with the hope that should they force the ball into Liverpool's half of the pitch, he could repeat his tactical masterclass that robbed Liverpool of the title in 13/14. Evidence of this could be seen from the first whistle as United went for the long ball at the kickoff. But despite their best efforts to get the ball up to Pogba and Ibrahimovic as quickly as possible, there was one man who made sure that there would be no slip ups today, and that man was Joel Matip.
When a game finishes 0-0 with few clear cut chances(according to Four Four Two Statzone Liverpool produced 0 big chances), it would be wrong not to give the man of the match award to a defender. Much will be made of United's defending exploits and rightly so as they were the ones defending for the majority of the game. But when the red devils did get a chance to get the ball into Ibrahimovic, Joel Matip was alert and ready to frustrate the striker for the full 90 minutes.
Joel Matip Numbers (From FourFourTwo Statzone)
88.6% Passing Rate
2 Ball Recoveries, 1 Chance Created
1/1 Tackles
3 Interceptions
1 Block
3/3 Clearances
1/1 Arial Duels
Joel Matip was outstanding in providing a calm influence on the defensive side of our game. Liverpool failed to find their rhythm in the first half as United's insistence in sitting deep and to their credit pressing efficiently when Liverpool moved the ball into their half frustrated the home side. Emre Can and Firmino were particularly sloppy with the ball and often lost possession in dangerous areas of the pitch. But once United advanced into Liverpool's half, Joel Matip was there to make sure Liverpool recovered possession and began building from the back. This calmness rubbed off well on Dejan Lovren, who hardly put a foot wrong despite Liverpool's early frustrations.
Just imagine if Skrtel partnered Lovren today!?
Matip's cool head allowed Liverpool to grow from the back and the team improved in the second half. His performance raised Confidence in the team that if United did get a ball over the midfield, Matip was ready to press Ibrahimovic and nullify United's only real attacking threat.
Whether in the air or on the floor, Matip performed his defensive duty with such composure, Zlatan could hardly 'dare' to do anything. In truth, Matip and Lovren had one of the best strikers in world football in their pocket. Only once did Zlatan pull free and almost score after Milner let a cross from Pogba get into the box.
Aside from that, Liverpool's defence did not allow United to create any patterns of play that may open up the defence. Clyne and Milner made sure that they did not take their attacking frustrations back into defence and Jordan Henderson did a fantastic job in always putting Pogba under immense pressure, winning 5/6 tackles and four interceptions. But the key to all that was right with Liverpool's defending was Matip making sure the back two avoided any defensive errors, something that hurt Liverpool time and again in recent times.
Liverpool used to lose these types of games because they allowed their frustrations to get the best of them. If they didn't attack well they would lose their composure in defence and allow teams to smash and grab 3 points; Burnley being a perfect example. The 0-0 may frustrate fans who bayed for United's blood, but it was a first indication that should the attacking side of our game not work, our defenders won't let us down.
The positive spin is that we have finally kept a clean sheet for the first time since beating Watford 2-0 in May.
If Matip can calm the Liverpool defence down in times of frustration, just imagine what he could do for world peace?
Matip for president please!