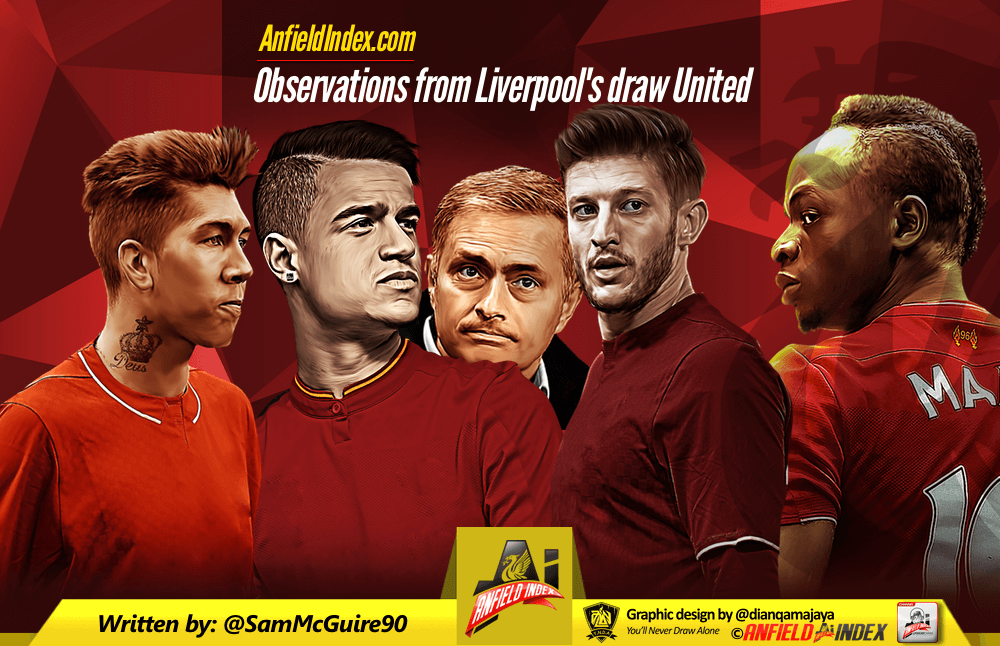 Observations from Liverpool's draw United
It wasn't what the majority had hoped to witness but the Reds finally ended United's winning streak at Anfield on Monday night. It didn't go to plan. Liverpool didn't blitz their bitter rivals. They didn't get revenge on Mourinho for 2013/14. But they did successfully manage to highlight just how one dimensional the special one actually is. As someone on Twitter said, United have gone from beating teams 8-2 to using that as a formation. Liverpool should have anticipated this but they failed to counter it. There were positives to be taken.
Undefeated against the big teams – Liverpool have now played Arsenal, Spurs, Chelsea and Manchester United and haven't been defeated. From 12 points on offer Liverpool have taken 8. The Reds haven't been outplayed or dominated in any of these matches either and only one of these matches has been at Anfield. It's a good foundation to build on and it's encouraging for Klopp and his team.
Clean Sheet – Finally. The mythical Premier League clean sheet makes an appearance. It wasn't pretty and there happened to be a few clenched-arse moments but they didn't cave in and Zlatan Ibrahimovic missed, by his standards, a relatively good chance when he ghosted in unmarked to get his header all wrong. It might not be much to write home about but it's got that monkey off our back and it'll give the back five some confidence moving forward.

Firmino, Lallana and Coutinho fluidity – The trio that caused so much havoc in Klopp's debut season have been integral to Liverpool's impressive start to the current campaign and when Lalllana was brought on after 57 minutes the Reds finally sparked into life. They unlocked the United defence on a few occasions with quick passing, intelligent movement and great anticipation. It just shows how important the three of them are to this Liverpool team and Klopp's style. With Lallana on Liverpool went from first gear to third. Hopefully Lallana is over his injury now.
F*cking David De Gea – Y'know like Luis Suarez tormented Norwich for years? I think we're David De Gea's Norwich, in the Premier League at least. It's just never-ending. Two completely different saves tonight but both just as good. The one from Emre Can highlights just how good his reaction saves are and the one from Coutinho shows his athleticism. I had hoped after Coutinho scored at Old Trafford from an acute angle that the hoodoo had been lifted but alas, it's still alive and kicking.