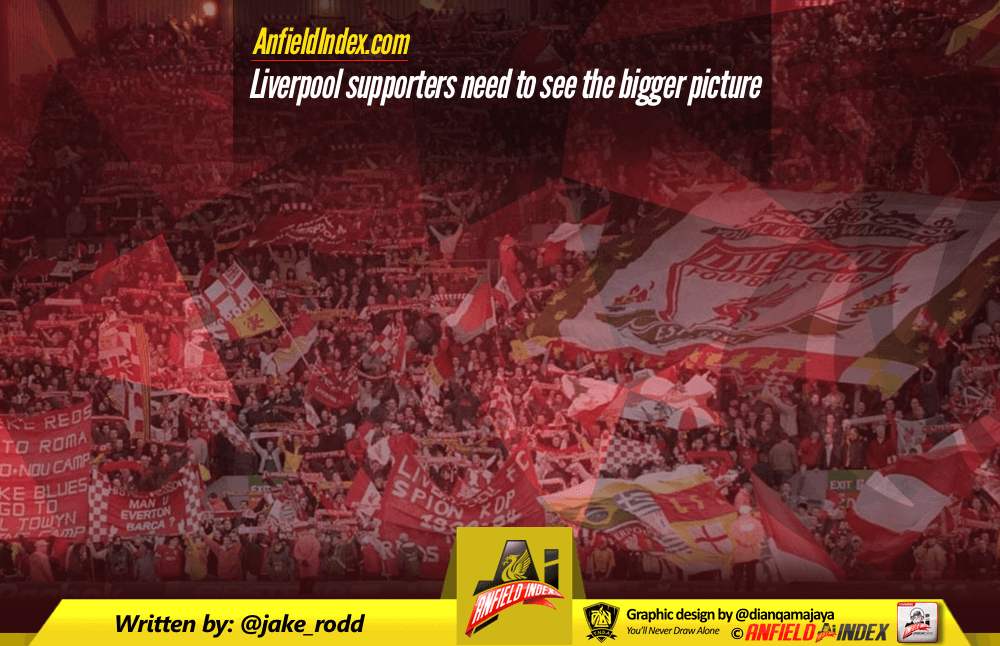 Liverpool supporters need to see the bigger picture
Being a Liverpool fan has never been, nor ever will be, an easy ride. The reds dominated English and indeed European Football for large portions of the 1960, 70s and 80s but, perhaps inevitably, currently find themselves languishing behind a pack of teams growing in terms of footballing credentials and, naturally, wealth. Over a decade and three managers since Liverpool last won a major trophy, Jurgen Klopp's reds are, once again, gearing up for an assault on England's most desirable crown – the Premier League trophy.
This, however, will take time. Though Liverpool's start to the 2016/17 Premier League campaign has been solid – enough even for some bookies to make the reds second favourites to top the Premier League pile come May – predictions for the title, or even a Champions League spot, are premature at best.
The safety of a prediction lies, obviously, in the reliability of the subject of prediction. For example, a prediction that Luis Suarez would contribute to a goal in his next outing for Barcelona would be relatively safe – the Uruguayan contributes, statistically, to well over one goal a game for the Blaugrana – Liverpool, sadly, lack the same consistency and, consequently, predictions, regardless of the predictor, must be taken with a pinch of salt.

History tells as much – Liverpool's most recent title assault was, in part, the product of a brilliant, yet unexpected, 11 match winning streak that propelled the reds up the table in 2013/14. Moreover, Leicester City's title triumph was predicted by none but welcome by all, serving as a reminder that football, and particularly the Premier League, is a box of chocolates.
Fans, and the majority of pundits alike, are reactionary, a trait which sees players, not just teams, prematurely judged. It was only two weeks ago I wrote a piece centred around Jordan Henderson and his need for patience in response to a bout of knee-jerk criticism from fans on social media – four days on, the same Liverpool fans can be found hailing their captain following a wonder-goal that capped off a superb performance away at Chelsea. Moreover Gini Wijnaldum, Liverpool's second most expensive summer acquisition, was criticised after three games in Liverpool red with many fans questioning his purpose – in fact, this premature criticism was the focus of another article – now, pundits and fans alike are applauding his solid performances and lauding his selfless, dedicated and effective work as part of Liverpool's midfield. The season is young still, any definitive judgment on teams and players, both positive and negative, must be withheld.
Knee-jerk judgments can, of course, sometimes turn out to hold truth – even a broken clock is right twice a day – but fans should take more time to develop an opinion before passing judgment.
For example, Loris Karius was widely touted to be the answer to Liverpool's goalkeeping issues following consistent issues with Simon Mignolet – a couple of games in and the German has been no better, and to some worse, than his Belgian counterpart, and it is thanks only to Zlatan Ibrahimovic's mistimed finish that a Karius mistake did not cost Liverpool against Manchester United. Moreover Adam Lallana, widely considered ineffective during his first season in red, is now Liverpool's first choice midfielder,  the man injecting energy into the side with his infectious desire to win the ball back and ability to turn quickly to start the transition from defence to attack. These examples go to show that although quick reactions are tempting, they should never be counted as definitive.
Unfortunately, a short sighted response is often so attractive the big picture is often overshadowed, misunderstood and neglected. In Liverpool's case, the big picture is thus: a team that has built an identity under Jurgen Klopp that, in time, plans to challenge for the highest honours consistently. However, Liverpool are yet to prove an ability to perform consistently and finished in 8th place last season – a title prediction is unfounded, for now. A more realistic aim, however, is Champions League football – a jump from 8th to 4th or higher would represent real progress and, to most, success.
In short, Liverpool fans should ease their judgment and focus on the big picture – two defeats in the next two games would not render the reds incapable of competing this season, nor would two comprehensive victories make them title favourites. Taking games one at a time is a cliché for a reason, after all.