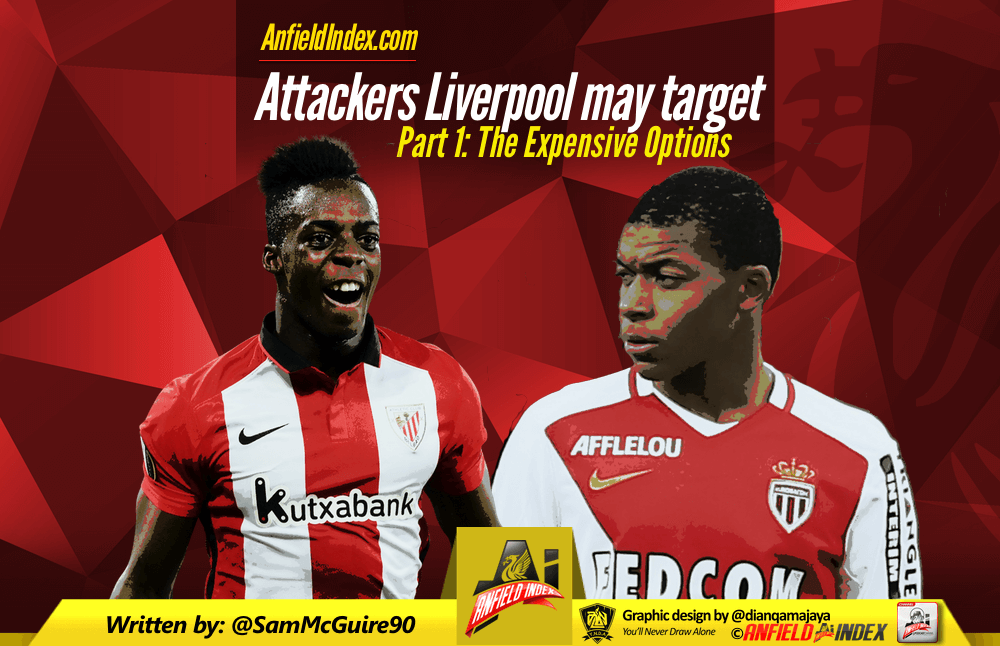 Attackers Liverpool may target: Part 1 - The Expensive Options
Liverpool's impressive early season form, which sees them just two points off the top after 8 Premier League matches, has been largely down to just how rampant their attack has been.
The summer acquisition of Southampton's Sadio Mane has really seemed to be an adrenaline shot to what was at times a pedestrian, lacklustre Liverpool front line during 2015/16. Yes, at times Philippe Coutinho, Roberto Firmino and Adam Lallana clicked and Liverpool seemed unplayable but moments like those were few and far between and the team lacked the ability to go from 3rd gear to 5th in the final third. That's what Sadio Mane offers and that's why Liverpool have looked pretty formidable when going forward at times this season.
Before Mane Liverpool had the creativity, the guile and the goal threat but they didn't have the power, the pace and the directness that he's brought to the team. He's already showcased just how much damage he can inflict on the opposition with all three of the aforementioned traits with that sumptuous fourth goal in the win against Arsenal. So far it looks as though Mane was the perfect fit for Klopp's revamped Liverpool side.

In his absence, the 2-0 defeat to Burnley, looked like they'd ran out of batteries in attack. Make no mistake about it, Burnley did defend well. They sat deep and they smothered the space centrally meaning Liverpool had to look wide and it played straight into Burnley's hands. There wasn't as much incisive movement from Liverpool's attacking trio.
Barring an injury it looks as though Mane will be going to the African Cup of Nations in January. It's a loss to this squad with Liverpool not really having a viable replacement on their books. The closest player to fitting the profile seems to be Divock Origi but for all of his talents it's unlikely you'll see the talented Belgian offering the team half of what Mane does from that inverted right role.
Liverpool scouts will no doubt be looking for potential incomings, not just to cover for Mane but for the long-term to improve the squad. There will be a clear profile for the recruitment team to work with. If we use Mane as the blueprint it's clear they will want to identify an attacker with great speed, one who doesn't ignore his defensive duties, is an attacking threat and can not only do a job now but has a lot of room to grow further down the line. After all, It's not often you'll see the club buying the finished product.
Inaki Williams 
Liverpool have been linked with the Athletic Bilbao attacker practically ever since Jurgen Klopp was appointed manager. In January the Guardian reported the club were keen on activating Williams' €20 million release clause but then, much to the disappointment of many fans, Williams signed a new deal with Bilbao which saw his release jump to €50 million. Bilbao have history when it comes to playing hardball. Both Ander Herrera and Javi Martinez stayed with the Basque club until their release clauses were met despite clubs offering €30 million for each of the players.
Bilbao won't sell Williams for anything less than his release clause so any interested club, if they're serious about bringing him to their club, will have to bite the bullet and pay up. While the likes of Chelsea, City and Barcelona may not hesitate to pay such a fee if the Reds did sign him he's comfortably be their record buy and huge expectation would fall on him.
However, there is a lot of evidence to suggest maybe, just maybe, he's worth that kind of money and under Klopp he could explode.
Much like Divock Origi at Lille Williams has been playing out of position with Bilbao but still impressing. By nature he's much better centrally but he's been playing wide right. Of course, Liverpool can't offer him a central role yet but it is worth noting that the Reds use a narrow system and you'll often find both Mane and Coutinho in central areas. If you combine minutes played in 2015/16 and the La Liga minutes he's featured in this season he's played 2231 minutes of football. In that time he's scored 9 goals and has 5 assists to his name meaning he's involved in a goal every 159 minutes – not bad for a player out wide.
He completes 1 dribble per 90 minutes, something that would definitely need to be worked on as well as his passing, which currently stands at 67% pass success rate per 90 minutes. It's hard to judge an attackers influence defensively because it really depends on how their team sets up and the players instructions but using Roberto Firmino's stats whilst he was at Hoffenheim you can get a picture of how much defensive work an attacker does. Firmino averaged 3.8 tackles and interceptions throughout his time in Germany – Williams' figure currently stands at 1.3.
Kylian Mbappe 
Another player who was linked with a move to Anfield in January. The 17-year-old has already broken two of Thierry Henry's long standing records at Monaco and is said to be the second coming of the Arsenal legend.
Due to the fact he's only made 13 first-team appearances for Monaco it makes it difficult to get a sample of his stats and even if you could the sample size is too small to really read into them. However, anybody who has been fortunate enough to watch the attacker can see just how talented he is. Much like the aforementioned Henry he's a striker who is able to play on the flanks and it's his pace and trickery which means not many full-backs will come up trumps 1 on 1. He's an accomplished finished, he's happy to use either foot and he's always looking to be direct.
The Daily Mail reported Manchester City had a £35 million bid rejected for the youngster in the summer and it's easy to understand why. The French club rate him as a better prospect than Anthony Martial.