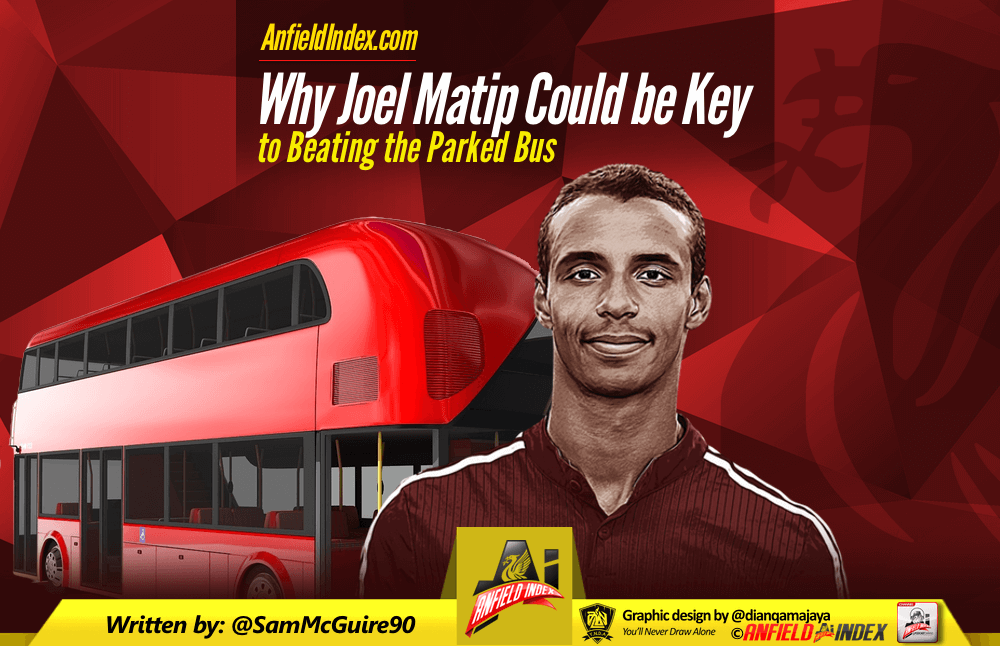 Why Joel Matip Could be Key to Beating the Parked Bus
From a Liverpool perspective Monday night was a night of frustration. Jose Mourinho's Manchester United arrived at Anfield with a clear game plan in mind and to their credit they executed it to near perfection. They stifled, smothered and dictated where Liverpool could and couldn't play.
For Liverpool fans it felt like deja-vu. There they are on a good run of form and Jose comes to town with the sole purpose of disfiguring their pretty play. It was 2013/14 all over again. Granted, this time Jose didn't come and park the bus for the entire match. Instead this time he had a plan for when Liverpool had the ball in their own half and then when they had the ball in the United half. When they set up for the former they pressed the Liverpool defence enough to make them have to play the ball long. For the latter they simply stuck 8/9 men behind the ball and laughed as the Reds toiled trying to create chances against a well disciplined defensive set-up. Y'know like Burnley did under Sean Dyche just without all the media hysteria?
The aftermath on social media was what you'd expect.

"Liverpool can't beat teams that park the bus"
"Klopp hasn't got a plan B"
"Jose Mourinho is a glorified Tony Pulis"
Yet of all those statements only one of them has any truth to it. Liverpool can beat teams that park the bus and Klopp does have a plan B, it's just not so dissimilar from his plan A and there's nothing wrong with that.
As Sky Sports pointed out United 'nullified' the rampant Liverpool attack but had it not been for a bit of luck, David De Gea and a last ditch Antonio Valencia tackle the Reds would have won. It wasn't the free-flowing attack fans have become accustomed to but Liverpool had multiple chances to win it, whereas United had just the single chance, the Ibrahimovic header that he got all wrong. Liverpool weren't bereft of ideas. They didn't start having 50 yard efforts in frustration. There didn't appear to be any frustration in their play, they just kept going on the hope that final pass would eventually come. And it nearly did when Coutinho flicked the ball to Firmino.
Liverpool were creative in their build up and one player who was surprisingly influential was Joel Matip. The Cameroonian centre-back pocketed Zlatan Ibrahimovic and coped well with the long balls United were insistent on playing. However, it wasn't his defensive performance which caught the eye but his ability on the ball and how it enhanced the attack.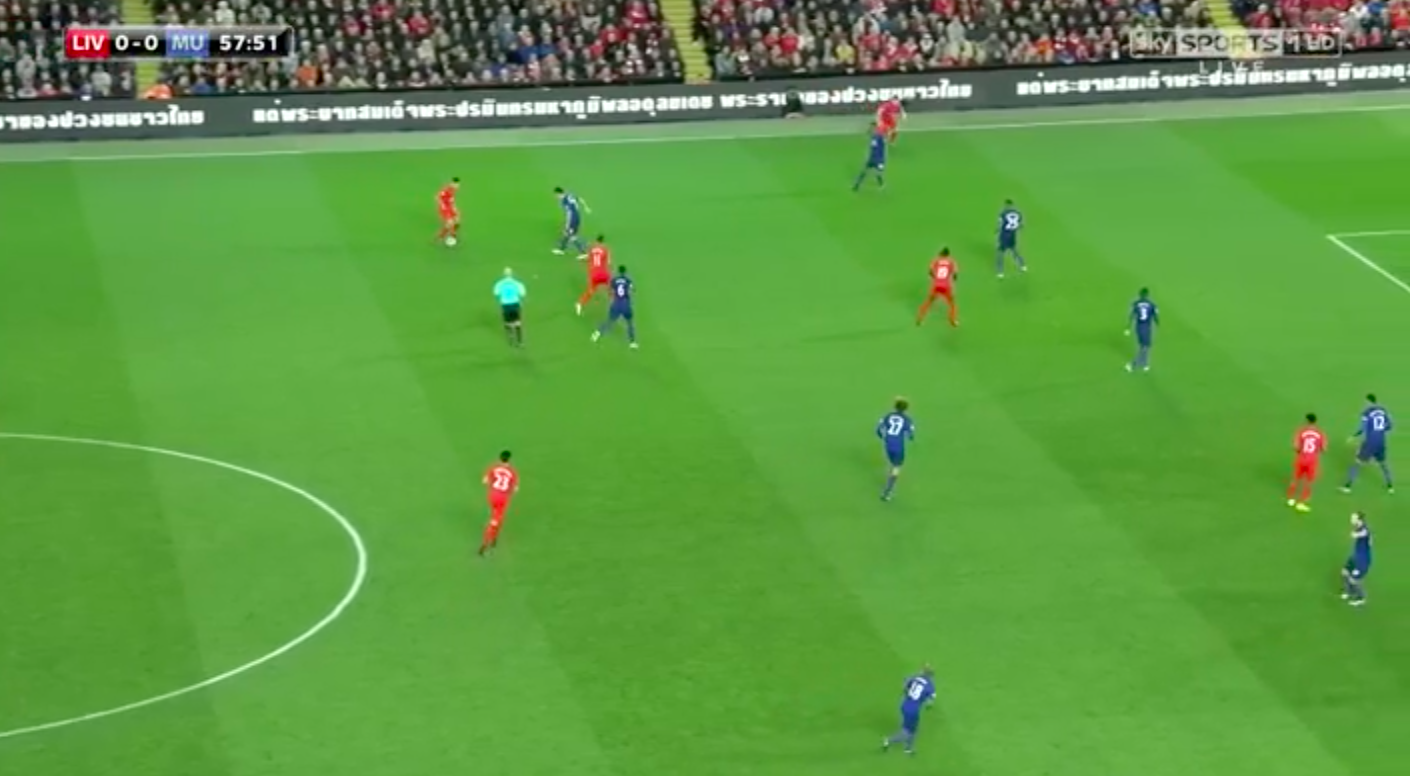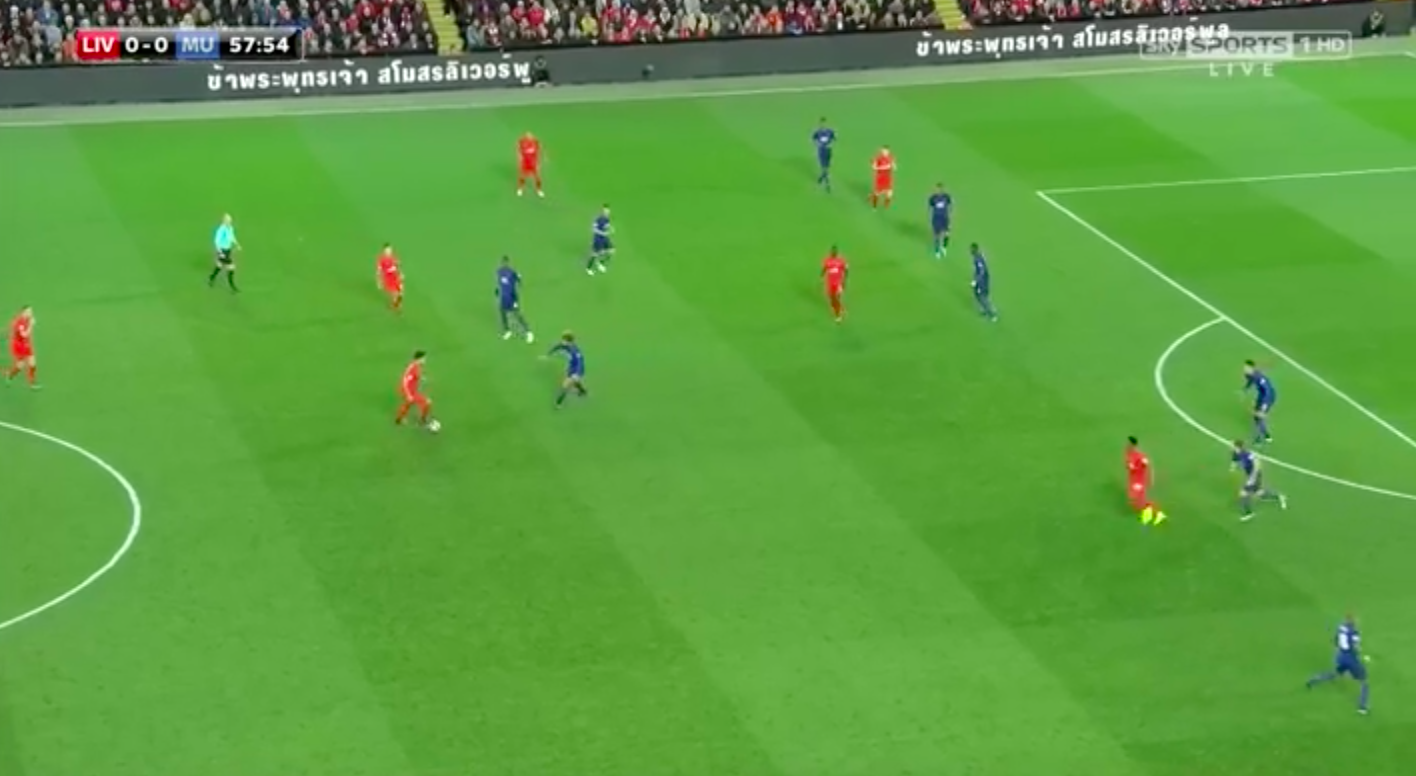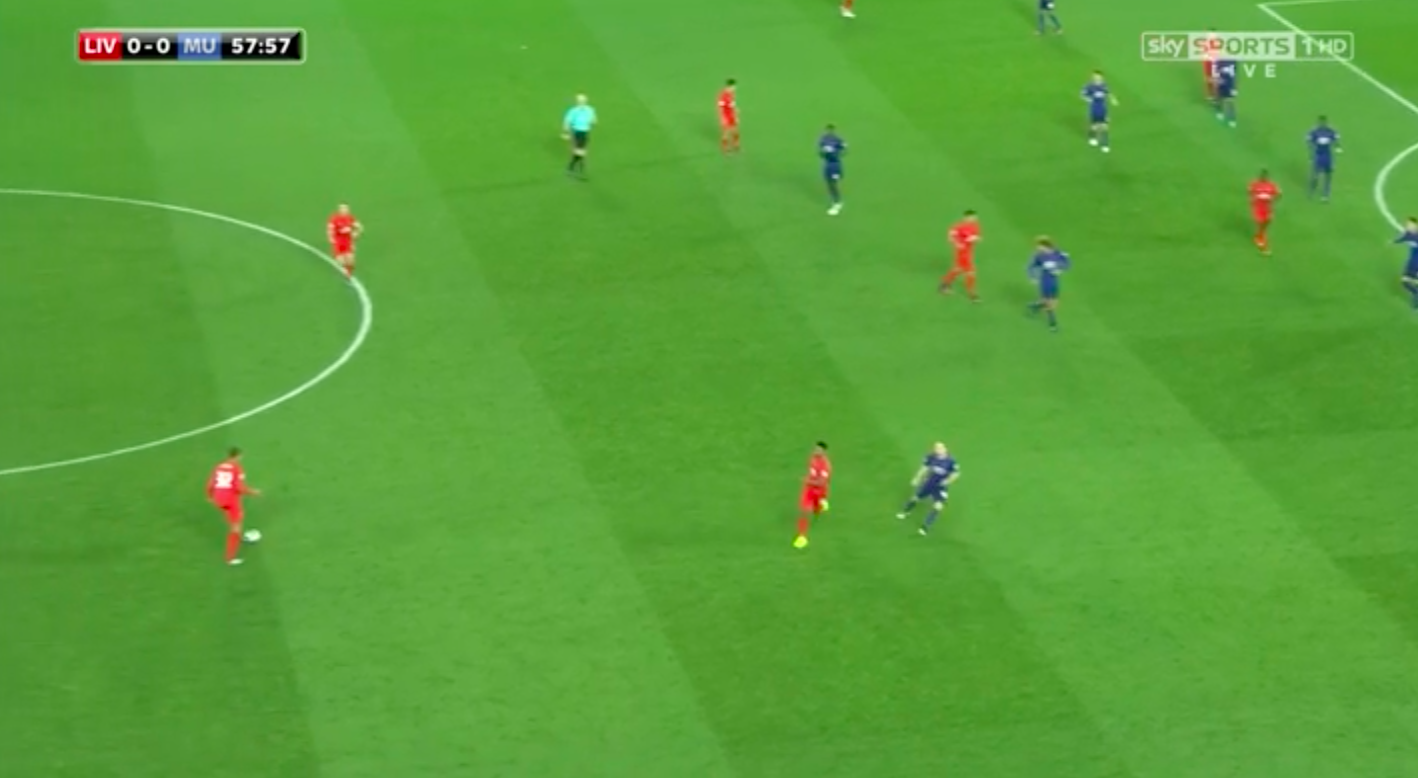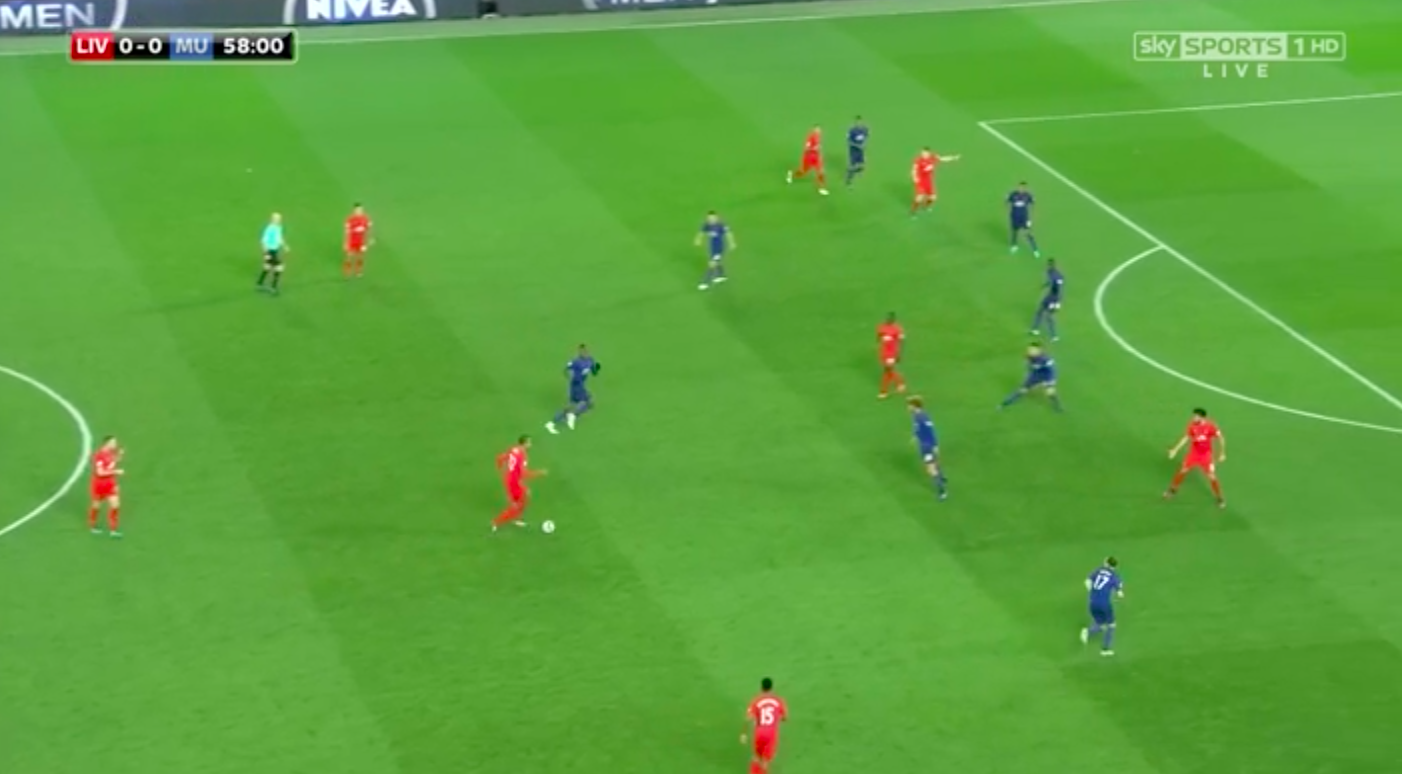 The above series of pictures is the lead up to the Emre Can chance. It was the perfect storm in terms of movement from the likes of Emre Can, Sadio Mane and Daniel Sturridge as well as Joel Matip's decision making.
Daniel Sturridge drifted out wide, Sadio Mane took up a central position before dropping deep and dragging Chris Smalling out of position, which left Emre Can in acres of space after he'd took up a position in the Fellaini's blind spot. United didn't anticipate Matip carrying the ball forward and so both Pogba and Fellaini got caught ball watching as the no.32 made his way into space.
It's this sort of aggressive play which will help Liverpool against the teams who sit deep. Upon receiving the ball he could've simply played the ball back to Henderson (in the third screenshot) but instead he takes responsibility. He did something United would've expected Emre Can to do and this in turn freed up the German to take up a position further up field. A goal nearly came from it.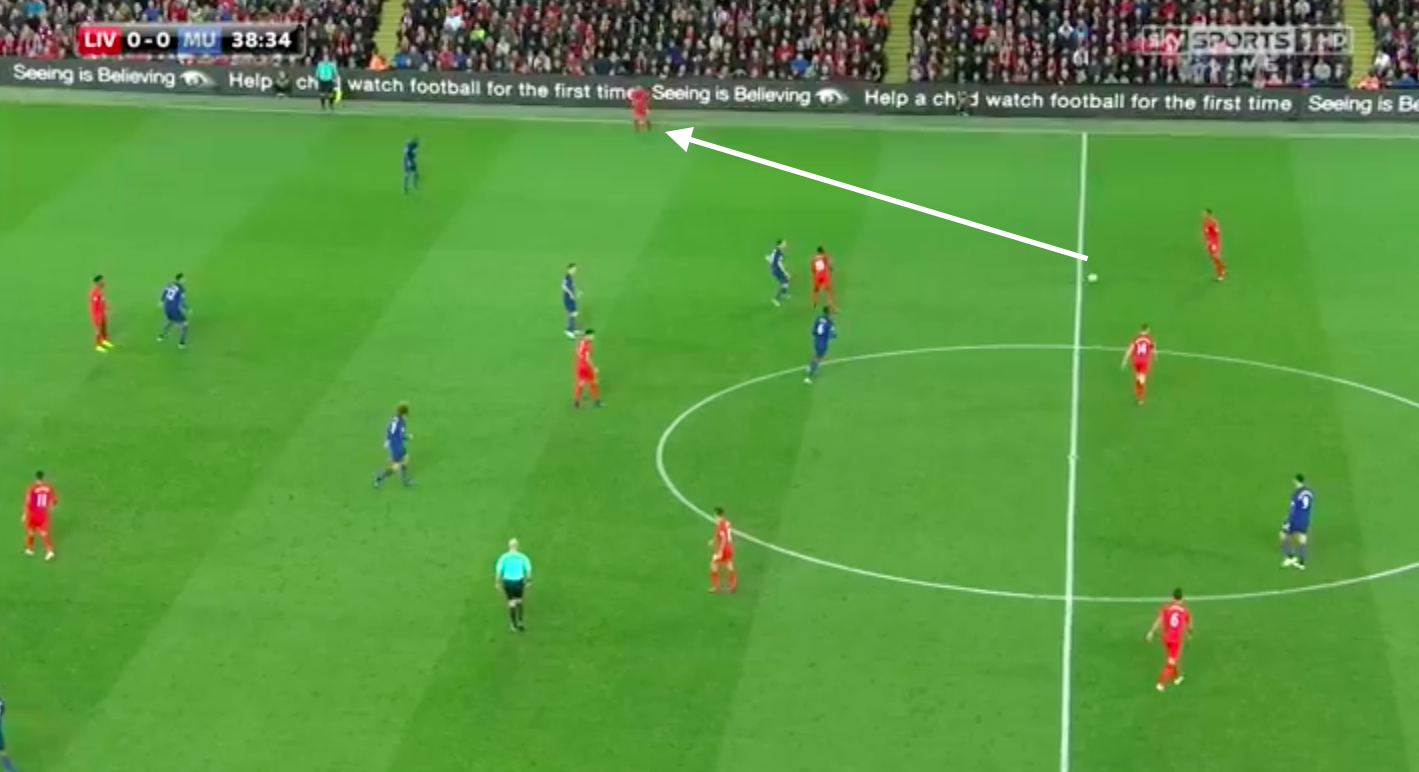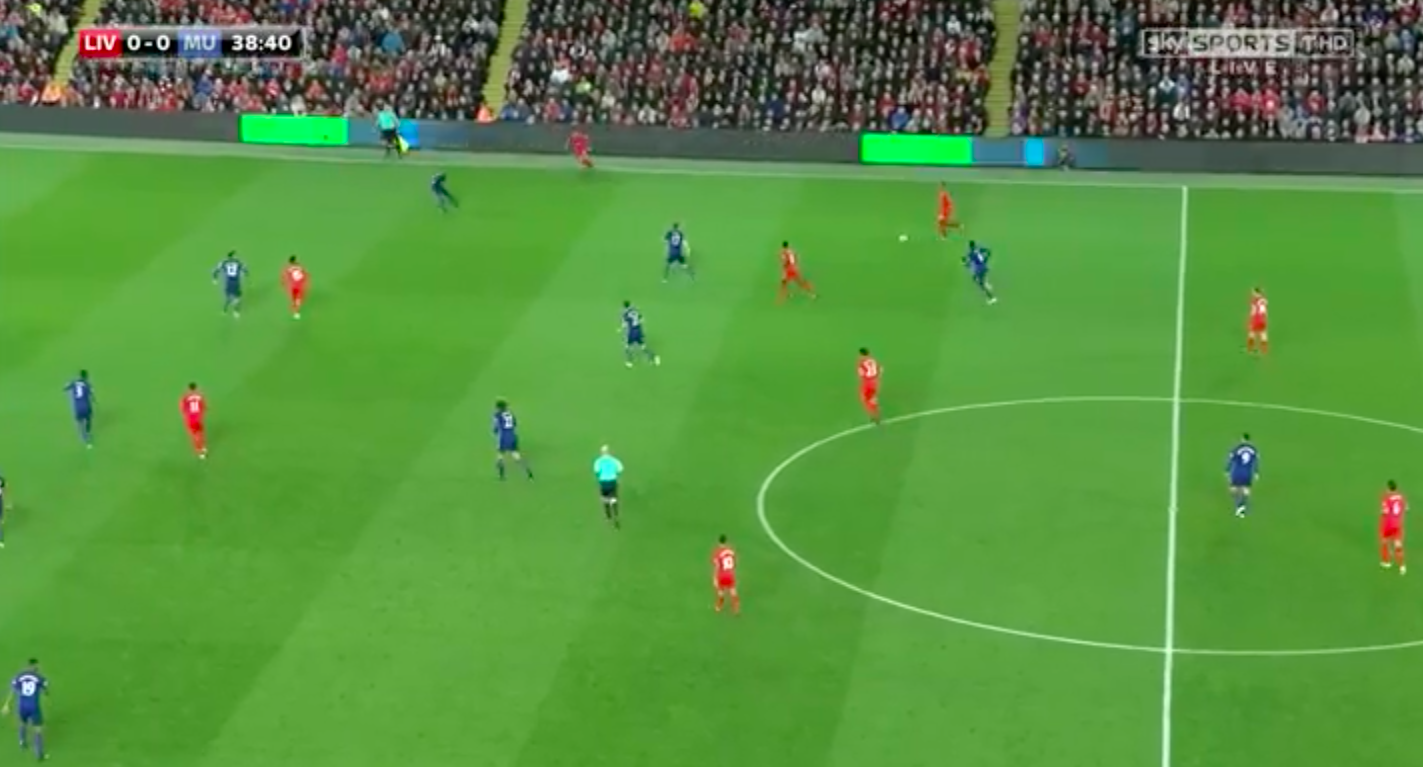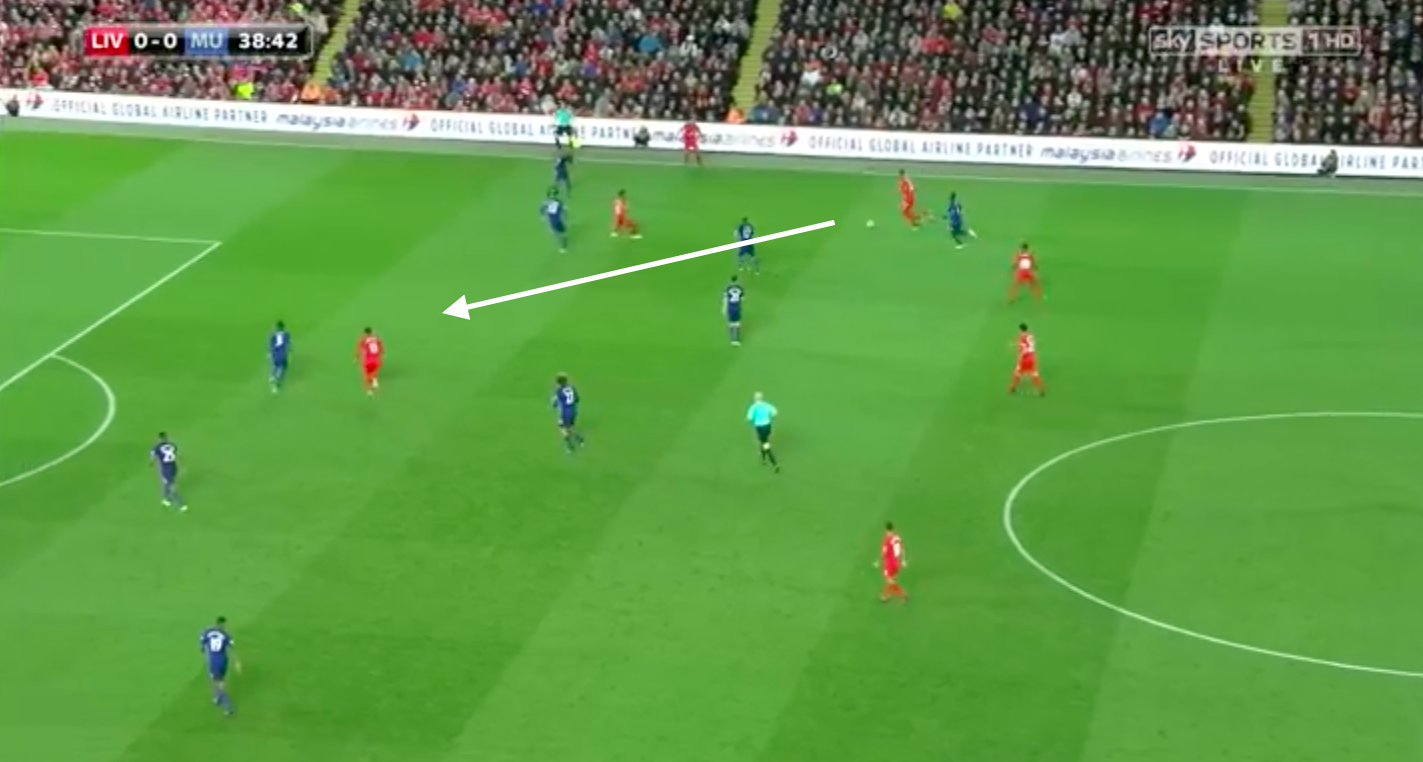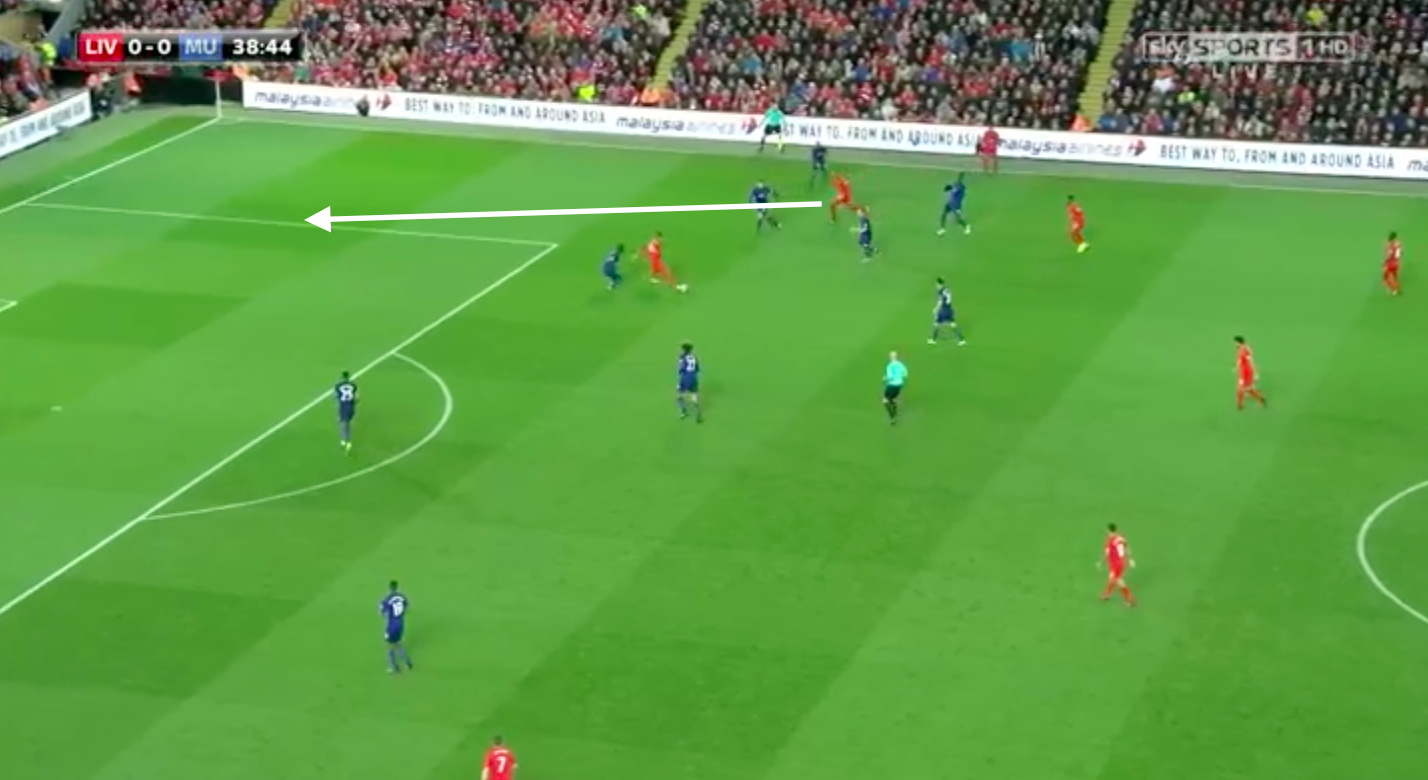 Again this series of screenshots highlight just how aggressive and direct Matip is. In the first picture Henderson has played the ball to Henderson and the white arrow shows the pass most players would take in that scenario. It's simple and it gets Liverpool up field. But instead of taking the easy pass Matip drives into the space that Clyne hugging the touchline has created. You can see Sturridge moving towards Matip and dragging Smalling out wide which creates space between the United centre-backs and leaves Firmino 1 on 1 against Eric Bailly. Matip plays the ball inside to Firmino (as shown in the third picture) and carries on with his run.
Luckily for United Smalling is able to play the ball off of Matip and out for a goal kick. It was Matip's movement and directness that created this opportunity and allowed Liverpool to move the United defence into areas they aren't comfortable.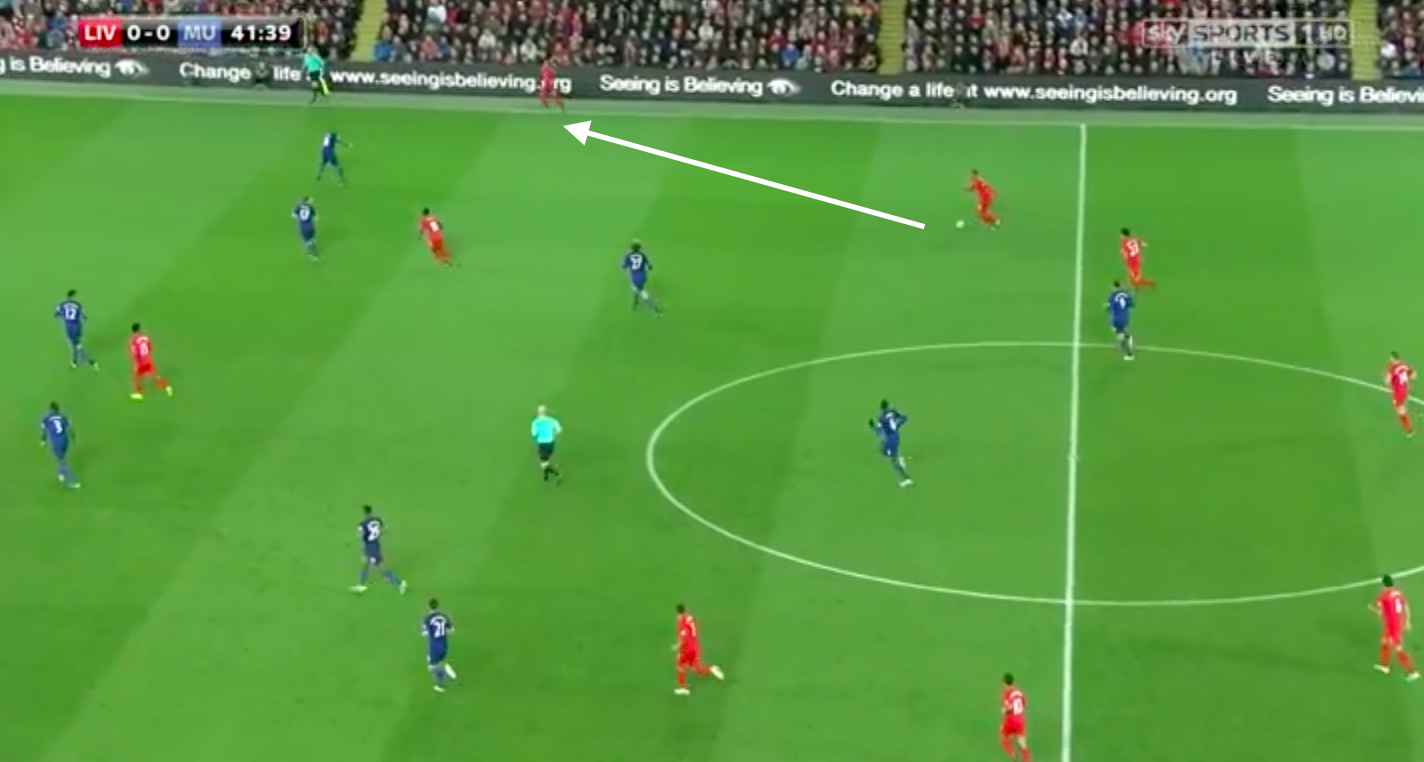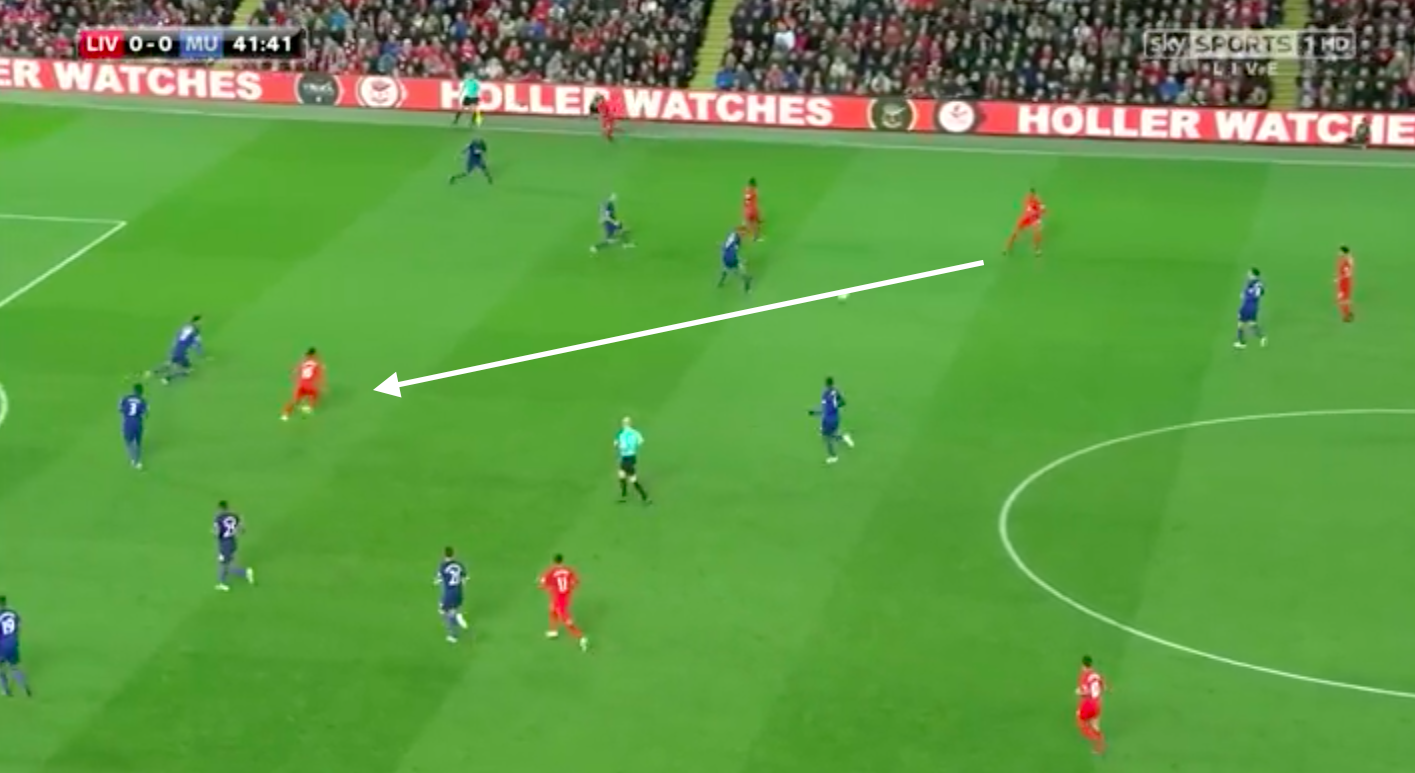 Again this is Matip showing the importance of a ball-playing centre-back. The white arrow in the first picture shows the pass most people would expect him to make there. But once again he carries the ball forward and plays a ball to Sturridge's feet. It was one of the few times Liverpool were able to play a simple pass straight through the middle of the Manchester United midfield and it's purely because Matip moving into midfield caught them off guard.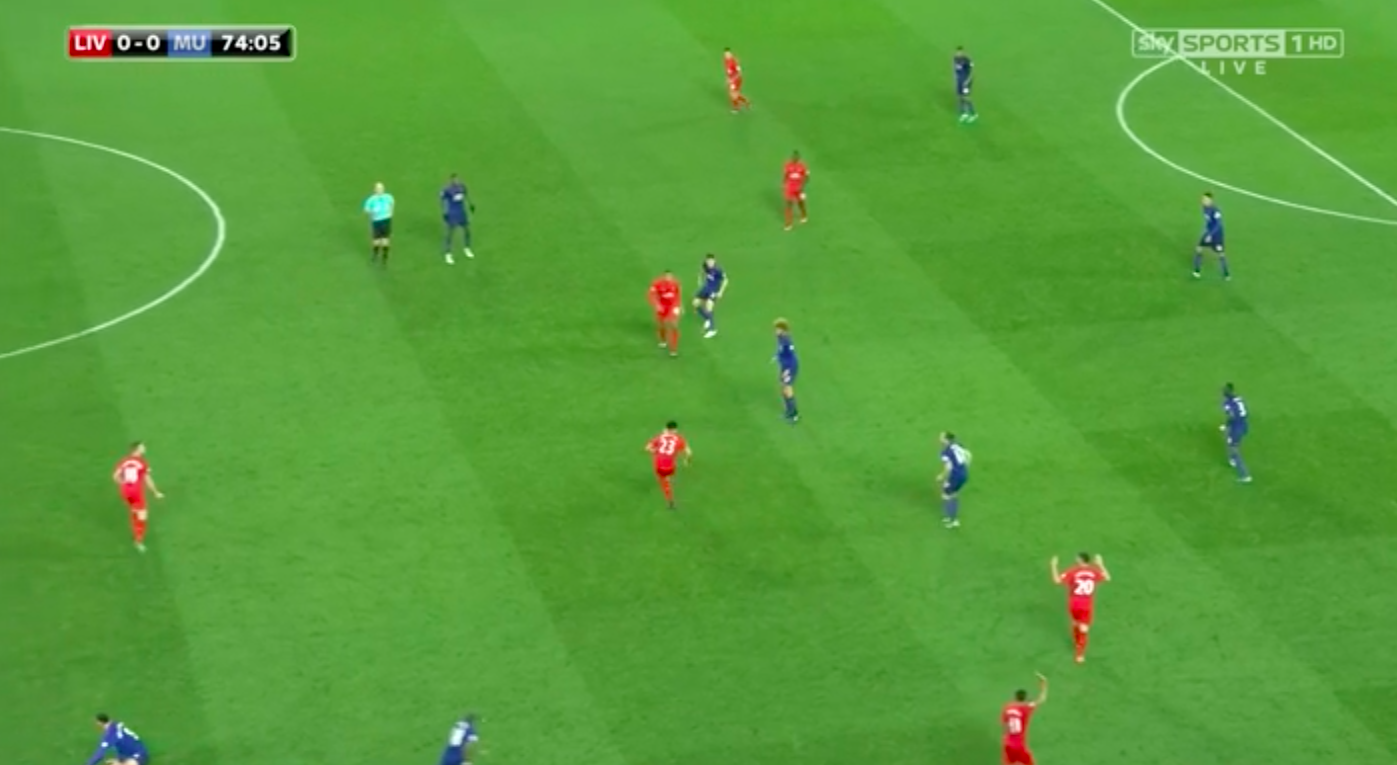 The final picture shows the space Matip creates when he drives into midfield. The picture shows Emre Can as he's playing a pass to James Milner just off screen. Had he fancied it, he could have played a pass to Sadio Mane who was in space in the number 10 position because both Herrera and Fellaini were distracted by Matip's presence in midfield. Obviously it's a difficult pass but had Can been able to get it to Mane Liverpool had a 3 vs 2 on the left hand side of the pitch.
The Reds weren't fortunate enough to pick up the three points against United but there were enough signs to suggest they knew how to unlock a team determined to sit deep. It wasn't through lack of effort or creativity. Joel Matip may be key in Liverpool beating these well disciplined teams as the season progresses.