NOTE: Before I go into detail in this article, I just want to explain a few things. The numbers, figures, statistics, and transfer fee's are all taken from a combination of; www.Wikipedia.org , www.premierleague.com, and www.lfchistory.net. It is also worth noting I have only included players who were 18 or under when they signed for us.  Hence why Insua is included, but Plessis isn't for example. And finally, I've only considered players who have made a league debut for Liverpool. Many youngsters have played in the Cups/Europe in recent years, but again, few have gone on any great heights with ourselves, or others. Finally, I have made the conscious decision, not to mention names of players, who have yet to make their debut's. I know which I feel are the talented ones, and others have their own eyes on others too, but I think looking at them as a collective group is better. We really do have a huge pool of talent, and instead of pinning our hopes on one or two, it is on a wide selection. Maybe one or two will make it…

In 1998, we saw the opening of  Liverpool's "new" Academy. The facilities were compared with those at Ajax, who seemed to have a production line of talented players, and we wanted to try and emulate some of their great work. At the time, Youth Football was a little less informal at Liverpool, but the academy was to provide top quality facilities, which in turn would hopefully provide, top quality players.
Fast forward 13 years, and we are now in 2011. Many players who were in the academy (or under 18's) during the last 10 years, would have matured, and grown up, beyond their youth days.  In that time however, we have only seen a handful of players break through to the first team, with very few making a big impact. In fact, since the formation of the new academy, only Stephen Warnock has made any real impression in the Premier League, making 40 League Appearances for Liverpool. And, to his credit since leaving Liverpool, has made a solid career for himself (making a further 137 Premier League appearances for other clubs, as well as 2 England Caps).

But compare Warnock, who is a good player, with Gerrard, Carragher, and Owen, then there is clearly something missing. They have made a huge impact on Liverpool, playing in excess of 1000 league games in their time with the club between them. They also have over 200 England Caps. And that is just 3 players. Unfortunately, we have been so far away from producing that level of talent since the academy opened.
Now, I don't specifically know why. I could speculate a number of reasons. For example, is it the coaching? The lack of opportunities for the young players in today's Premier League football? Or, were our scouts not picking up the right players? These are not questions I can answer, but what ever was happening, maybe things have changed.
In the last 2 seasons, 6 academy grade players, have made their Liverpool Premier League debut.  That is more than the four year period between 2005-2009.  In fact, last season was the most academy players to breakthrough to the first team, since it opened.
Below is a table of players who made their breakthrough to the first team, since 1998. In 1998, there were no breakthrough players (and to be fair, to expect such a quick return on the new facilities, would be unfair, hence why it isn't included). But it does tell the story of just how poor things have been.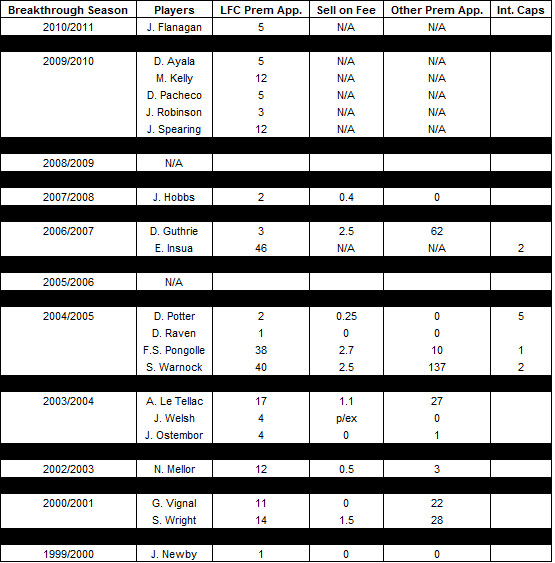 Note: The table for LFC Prem Appearances, is their League Appearances to date. The fee's received are in million £'s. International Caps are full caps only.
Remember, this doesn't include players who didn't feature for us in the league. And it has to be said, many a youth prospect has come and gone, without playing for us in the league, but can you think of any that "got away"? I can't think of one we let go, and have gone on to regret.
As I mentioned earlier, Warnock has the most Premier League appearances of any academy graduate we have produced in recent years. The others who have made an impact at the top level, have in the main, been abroad. Insua has the most Premier League appearances for us, but his loan spell in Turkey hasn't been a hug success so far. Pongolle has done OK for himself in Spain, and Le Tellac has found his level in France.
Probably a good measure of how good these players are, is their impact on the international stage. Which across the board, is very little really. Darren Potter, who is currently at Sheffield Wednesday in League 1, has the most international caps with 5. The rest of the list just make 5 appearances between them. I am sure a fair few had some success at under 18, 19, 21 levels, but so little on the full international scene, shows we are yet to produce that star player. Yet.
So what has changed? Firstly, in the academy itself. Jose Segura, and Rodolfo Borrell. Before they joined our set up, I doubt many would have heard of them directly. But there is no doubt you would have heard of their great work. Between them, and others at Barcelona of course, they over saw the development of Barcelona's academy and B/Team. Some players they worked with include Andres Iniesta, Victor Valdes, Gerard Pique, Bojan Krkic, Cesc Fabregas, Mikel Arteta, and Lionel Messi.  5 of those players could be playing in a European Cup Final in the coming weeks.
Now, these two joined our club in 2009, and it was Rafa who was instrumental in bringing both of these to our academy, to help develop our youth players. I am certainly not saying that with these two, we will produce anything like that selection of Barcelona's best. But it does no harm having two coaches, who worked so closely with that selection of talent, at our academy now.
It is probably no coincidence that since their arrival, we have seen the Youth Team progress again. In years gone by, we have all pinned our hopes on one or two players, but very few got anywhere near the level we expected. Now, you can practically name a full starting XI, and more, who "could" make it. This is further highlighted with recent youth international call ups. Liverpool players, aged under 19, make up 7 out of an 18 man England squad. In recent years, we have been lucky to have one or two.
The nature of a Youth Academy is simple. Some make it with Liverpool, some make it elsewhere, and unfortunately some don't at all. But surely, by having such a large selection of highly regarded talented footballers, you have a great chance of producing one or two. It is also worth mentioning, we have youth internationals from Spain, Hungary, Iceland, Ireland, and Portugal. This is shown on Wikipedia.
The team itself this season, finished runners up of their group, to the eventual winners, Everton. But the real measure of a youth team, is how many players it can produce, not how many cups it can win. But finishing so highly, shows the talent that is available. Considering that the two Under 18 full backs, have both made their full league debut's this season, is a testament to the success of the side, this season.
As I touched on earlier, and in the last 2 seasons, we have seen 6 academy graduates make their debut's for the first team in the league. Many of them are still in their teens, so to expect them to have made their international debut's maybe asking a bit too much just yet. But one in particular, Martin Kelly, is already on Capello' radar, and if it wasn't for his injury, could have featured in recent squads. Spearing has proven me wrong, as I had written him off, but he has shown he can more than hold his own in the first team. The youngsters Flanagan and Robinson appear to have a very bright future, and the Spanish duo Ayala and Pacheco, have impressed on their respective loan spells. You could have an argument that a fair few of them 6, will feature heavily in our future.
Before the season is up, we may see one or two more make their league debuts for the club. Many have featured on the bench at times this season, and I wouldn't be surprised to see at least one more, get a run out. That one more could be one of a number of players, because we really are spoilt for choice now.
So, in the first 10 years of the new academy, we didn't  produce anything in the same class as Gerrard, Owen, or Carragher. However, in the last 2 years, maybe things are starting to change. This is shown by the number of players making a name at youth level (for Liverpool, and their respective Youth Internationals), as well as seeing a fair selection of the lads making their league debuts.
They have a long way to go to emulate what previous graduates have achieved. But, with a combination of great facilities, top Youth Coaches, and importantly, top talented players, the pieces are in place to create a production line of future Liverpool, Premier League, and International players. Time will tell how many make the full grade, but I am sure many feel the next decade of academy graduates, will be better than the previous one.