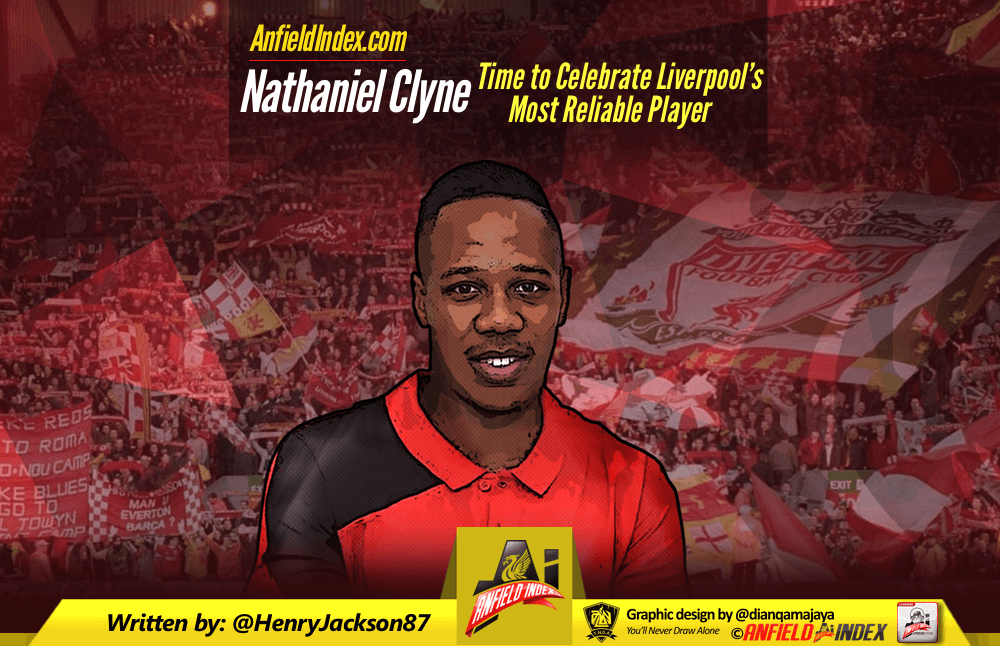 Nathaniel Clyne: Time to Celebrate Liverpool's Most Reliable Player
Nobody really grows up dreaming of being a right-back, do they? It is, quite possibly, the least glamorous position in football.
The likes Carlos Alberto, Cafu, Philipp Lahm and Dani Alves have done their utmost to make it fashionable, but it has invariably been a role that goes relatively unnoticed, in comparison to goalkeeper, centre-back, central midfield, striker and pretty much any other position on the field.
Even left-back is a little more mysterious and cool, due to left-footed players being something of a rarity, and more stylish (I'm left-footed, hence the bias there).

If you're an attack-minded right-back you do at least have a chance of being noticed, but if you're merely solid and spectacular, chances are you won't fill many column inches.
This is where Nathaniel Clyne comes into play. Since joining Liverpool from Southampton for a bargain £12.5million in the summer of 2015, the 25-year-old has been far and away the Reds' most consistent performer. Having had to put up with the disaster area that was Glen Johnson for so long, Liverpool acquired a player who guarantees you no less than a six-out-of-10 performance every game, and one who won't cause you horrendous levels of stress.
Defensively, he is invariably immaculate – he may make the odd error, like any defender, but they are few and far between – with opposing wingers almost never getting the better of him.
When can you last remember Clyne really having a torrid time against a speedy, tricky winger? It was against Anthony Martial in last season's Europa League clash at Old Trafford, wasn't it? It is the obvious answer, because it is the only time it has happened.
Opposing managers are fully aware how dependable the England international is, and it is no coincidence that he is hardly ever targeted. He is excellent at blocking attempted crosses, snappy but sensible in the tackle and reads the game expertly. There is also an unruffled nature about him that makes you trust him implicitly.
In many ways, Clyne is Liverpool's most boring player, but that is no issue at all when you consider where he plays. Perhaps Johnson had such a damaging effect on me that I no longer care about Reds have rampaging full-backs who fly into the final third. In terms of natural talent, he is probably inferior to Alberto Moreno, but there is simply no comparison between the two as things stand, due to the Spaniard's inability to play with any calm, composure and all-round defensive nous.
Clyne is certainly thought of fondly by many Liverpool supporters, but it is still hard to escape the snobbery that surrounds English players in the modern game. Were he Spanish or German, for example, he would receive even more plaudits, much in the way Markus Babbel and Alvaro Arbeloa did during their respective spells at Anfield.
He is the kind of player who helps win a team trophies, like Juanfran at Atletico Madrid, Lahm at Bayern Munich and Gary Neville during United's glory years, and he will be an integral member of Liverpool's team for the foreseeable future. You need players like these to succeed – the kind who quietly go about their business, keep things simple and glue the side together.
It is understandable that Clyne's metronomic style will often be overshadowed by the magic of Philippe Coutinho, the class of Roberto Firmino, the pace of Sadio Mane and the work-rate of Adam Lallana, but it is about time he was celebrated more.
He has already made 62 appearances in just 15 months as a Liverpool player – Daniel Sturridge has made 100 in nearly four years, to put it into perspective – and you can count on one hand the number of times he has let the Reds down. He is dependable, intelligent and also effective going forward when he wants to be, and he should be regarded as one of Liverpool's best signings in recent years.
Matches will often drift by without realising Clyne is even on the pitch, and like a top class referee, that is about the biggest compliment you can pay him. A full-back who is too noticeable – sorry Glen and Alberto, but I'm laying into you two again here –  can often be a bad thing.
You can pick holes in any player if you dig deep enough, but while Clyne may have experienced the odd uncharacteristic mistake – his slack pass that led to Burnley's opener this season, for example – he has been one of the Premier League's best full-backs for two or three years now.
In his debut season on Merseyside, he won more than half of his on-pitch duels (54%), made just one key error and slotted straight in at a huge club where many can turn up daunted and incapable of coping with expectations.
He has carried on where he left off so far this season – making interceptions, using the ball well, winning one-on-one battles and letting his more talented teammates wreak havoc further up the pitch. Long may it continue.
Very few Liverpool supporters are ever likely to get Clyne's name on the back of their shirt, or sing his name from the rooftops, but no Reds player is more trustworthy than Jurgen Klopp's low-key right-back currently.
This is a Liverpool side full of players willing to take risks, such is the manager's footballing philosophy, but seeing Clyne subtly doing his thing like an extra in a Blockbuster can be as just as pleasing as watching Coutinho curl one into the top corner from 30 yards.
Sometimes, you can't beat a consistent player who never causes you sleepness nights, and Clyne is exactly that. If I ever wake up in a cold sweat thinking about his poor form, it may be time to give up on football.