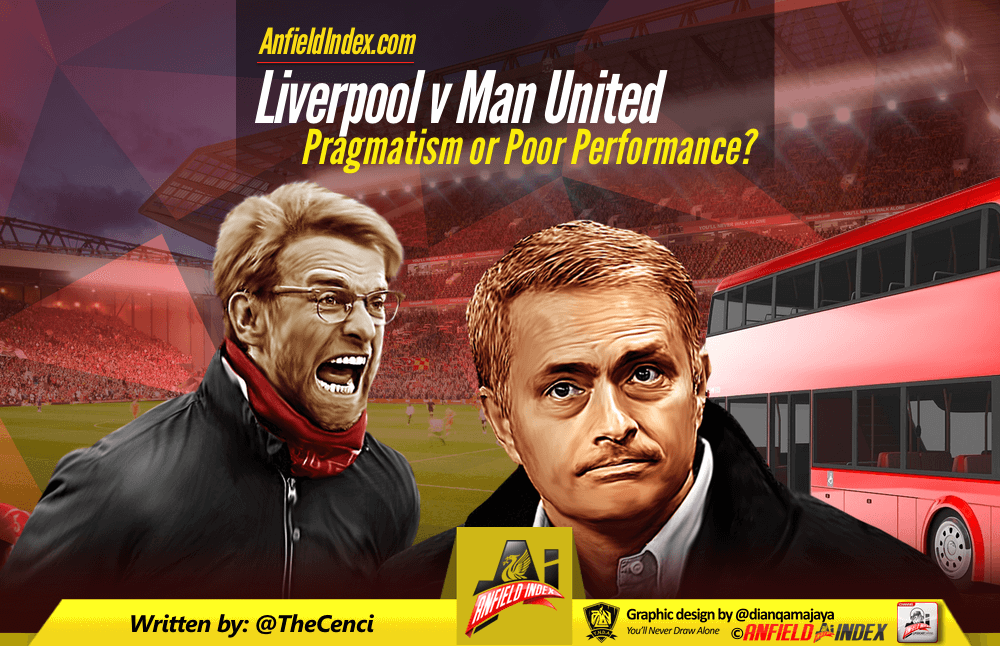 Liverpool v Manchester United: Pragmatism or Poor Performance?
Oh, Lord this is going to be tricky.
Before I start on this complex and somewhat tricky standpoint, I'd like to issue the following caveats.
Firstly, I don't like anything to do with Manchester United.

I'm one of those people who finds themselves wiping their hands on their jeans if I accidentally brush one of their shirts in a sports shop. Ridiculous at my age, but there we are.
Secondly, I don't like Jose Mourinho.
If I were to bump into him I would stand on his foot and give him the 'shush' fingers on lips gesture, which he gave us in Cardiff in 2005 – the tit. The man is arrogant, humourless, discourteous and, worst of all, once beat Liverpool while wearing a bodywarmer. Of all his crimes that is the most heinous
There. Please bear that in mind as I'm about to defend what they did on Monday.
Following the game I was more or less laughed off Twitter for saying I was alright with his negative tactics at Anfield. I stand by that.
I'm okay with that anti-football.
Let's start by looking at their tactics.
For the first half hour, United were first to every ball. And second. Henderson was turned around so often that he faced our own goal more often than Ibrahimovic. The returning Can, who likes time to take his time, was closed every time the ball went near him to such a degree that every second touch became a tackle. Such was the United harrying that our midfield over or under-hit passes as United choked the game. The instructions were clear – do not let Liverpool out of the central third or get behind us. It worked. We were pressed.
I may be wrong, but the turning point – such as it was – came when Coutinho, usually trapped on the left hand side, took the ball and ran horizontally across the pitch. Don't get me wrong. He did nothing with it and another attack broke down, but at least we got to see the same Red player holding the ball for more than three seconds. Slowly we forced our way into the game though chances were at a premium. Forward play was non-existent. United skied a few into the Kop and we did less than that. Operation Don't Get Beat.
The second half bore signs of the Arsenal game. In that encounter, the opposition came out after the break and decided to cede the midfield – either due to tactics of freeing space or because they were a bit knackered, but just as the Gunners had in August we were suddenly given space to play in front of the back four but never behind it. They dropped deeper and deeper. They didn't commit or come out and the game fizzled out into a draw once De Gea had his say. 0-0. Nobody lost.
In brief, they tried to win it in twenty minutes despite not shooting and then took the draw when that strategy failed. A bore draw in every sense.
A shame in numerous ways as it was a chance to express our current dominance and bloody Mourinho's nose into the bargain. Ah, well.
Following the game my Twitter timeline genuinely surprised me. The place was awash with some awful caterwauling and shittery as Mourinho's tactics were laughed at and shouted down from all quarters as if he'd somehow cheated. Some of the comments were misplaced, others ill-advised rants and some just downright bizarre. I'd like to go through some of them
No we weren't. We didn't play well simply because we weren't allowed to by a motivated midfield who took advantage of a ref who 'wanted to let play flow' (and finally booked the first player to commit a non-yellow offence despite Herrara going about the place reinventing the opening scenes from Saving Private Ryan). We didn't get going because Sadio Mane had no room and they played with their defence and midfield two yards apart. In our current system, Liverpool need and create space. We were denied that and only a moment of near-genius from Coutinho and a smart save from De Gea prevented the Reds from taking all the points.
And?
I don't get this as a criticism.
Of course they did!
When you play away to a side who are favourites to beat you, you stay together and don't let them past. In situations like this where you can play a, let's be polite, 'pragmatic' game you leave it to the other team to find an answer rather than risk leaving gaps. United had no interest in winning the game once their Plan A failed.
And you know what? That's fine. And if you say 'I could never support a team to do that' I'd like to ask what was on your mind when Liverpool travelled to the Nou Camp in 2001 or Juventus in 2005 when the Reds played the dullest, most arid and yawn-stifling football ever witnessed on the continent (actually, Baros should have scored in that Juve game but was too busy doing his 'I must run to the corner flag for no reason' act instead). Okay, they were tense legs of European games, but there are times when we've done it in the League too. Gerard Houllier was the master of the shit away game and, I'll be honest, I loved it. Sometimes there's a glory in a 0-0 even though we don't like to admit it. Not every game has to be 4-3.
After all, wasn't the difference between the wretched Chelsea game in 2014 based on the same tactics when Ashley Cole took a full minute to take a free kick in the third minute of the game and they brought on Andre Schurrle as a second left back to stifle Luis and his mates? The only difference there was an act of a cruel and unforgiving God and a runaway goal as we pushed everyone up late in the game. The dull 0-0 became a 0-2. The manager that day being…
In a fucking bodywarmer.
But, the point is that we've done it. Hell, we've won some of greatest trophies thanks to playing such unimaginative horsewank away from home so let's not be hypocritical about this.
Let me paint this picture.
We travel to the Etihad on 18th March with the mighty Reds sitting four points clear of City at the top of the League. It's our final tricky game with the exception of the derby which is the next match.
City are webbing everyone in sight and are on the march, but we've got those four points. Four of the most beautiful diamond points in creation. The equivalent of a game and a point clear. 18th March.
City overrun us and we can't get out.
Four points.
Who's taking off a defensive midfielder and putting Divock on to see if we nick it? Honestly?
Don't be daft.
You'd take the point and hug it tightly and plan for the derby with your heart inflated by thoughts of the title.
United have been battered by City and Watford, pretty much dumped their talisman captain and have Chelsea and City again coming up in the next few weeks. They would have begged for that poor point beforehand, just to stop the rot.
Okay. Then there's this.
Got all those players, spent all that money and still have to play like that?
Yep. Because you have to sometimes. And, yes, it's funny.
So, it's a shame we didn't win against a team who, though inferior in many respects, have enough about them to stop us doing what we want. It's just silly to criticise a team because they wouldn't let us win. Bit stupid. Their ambition was lower than ours and they achieved that aim.
Luckily, Jurgen knew this was coming and is, I'd imagine, looking to marshal everything he has into knocking West Brom off the planet.
Up the Reds!