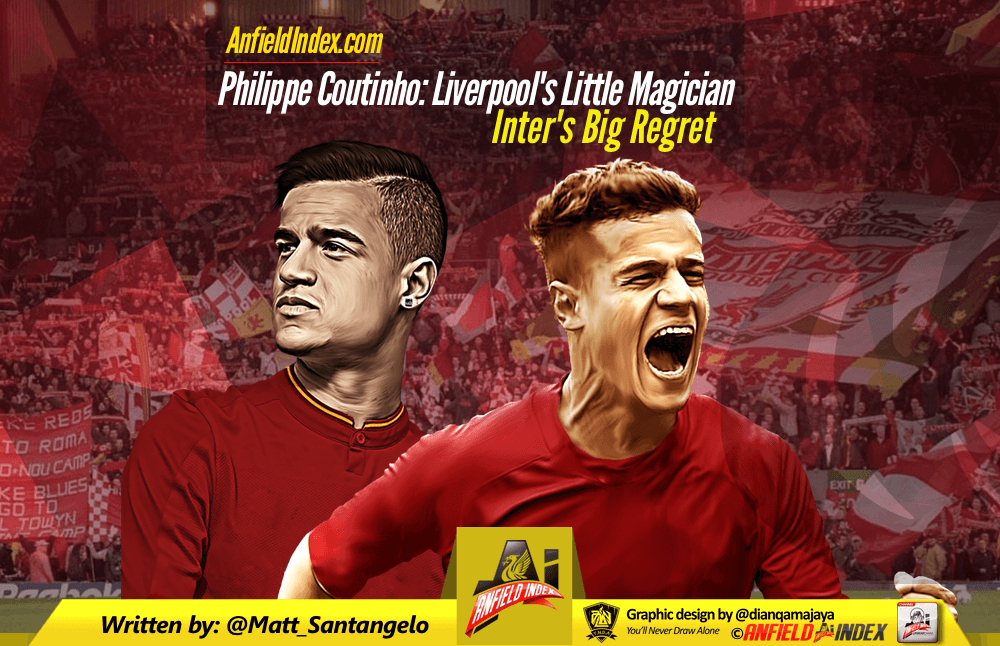 Philippe Coutinho: Liverpool's Little Magician, Inter's Big Regret

Currently considered to be one of European football's premier playmakers, the Seleção's Philippe Coutinho Correia has evolved into everything Liverpool had hoped for when they acquired him from Italian giants Internazionale nearly three years ago.
Known around Merseyside as "The Little Magician," Liverpool's modest number ten has been a breath of fresh air since swapping the black and blue shirt of former treble winners, Inter, for the red of Liverpool.
Coutinho, born in the football haven of Rio de Janeiro, became heavily invested in the game at a very young age. Playing with his older brothers, a concrete pitch for futsal was his temple before he joined up with the popular Vasco da Gama youth system.
To no surprise, the skilled attacker thrived from the jump. Former Internazionale president Massimo Moratti and ex-manager Jose Mourinho quickly swooped in for the teenager in July 2008, acquiring the 17-year old's signature for an estimated €4m; a bargain by current industry standards for a Brazilian wonder-kid.
Coutinho would spend the next two campaigns on loan at Vasco da Gama before joining the Nerazzurri's first team in 2010 under a familiar face around Merseyside, Rafa Benitez.
For Coutinho, finding substantial minutes as a young 18-year old proved difficult at an Inter side which employed the likes of Thiago Motta, Wesley Sneijder and Esteban Cambiasso in the midfield. Up front in Benitez' preferred 4-2-3-1 system, the attack was well stocked with star Cameroonian Samuel Eto'o and Diego Milito.
On the back of Inter's impressive treble winning season the year prior, minutes for youngsters became scarce and nagging knee injuries proved detrimental, keeping him on the shelf for a large portion of his debut season in the peninsula.
To no surprise, he was shipped out on loan to Spanish outfit Espanyol during the January 2012 market to progress.
During his short spell in Spain with Espanyol, Coutinho flourished. Mauricio Pochettino's decision to play him out wide — with the endless freedom  — proved to be the key in unlocking Coutinho's true potential. In 16 appearances for the Periquitos, the diminutive playmaker scored five times, playing behind the strikers and on both wings.
Quick to act, Liverpool director Ian Ayre managed to convince Inter officials to relinquish Coutinho and let him move to England. In January 2013, Liverpool completed the transfer of Coutinho for an estimated £8.5m (€10m) and handed the youngster the iconic number 10 shirt.
Though the Nerazzurri seemed to appreciate Coutinho and everything he delivered, they had other intentions out on the market.
Wesley Sneidjer, the club's key cog in the 2009-10 treble-winning campaign, was sold to Turkish giant Galatasaray for €10m during the January window. Along with the sale of the Dutch international, the ree received from Coutinho was said to fund the activation of fellow countryman's buyout clause, Paulinho, as per Sky Italia.
Paulinho, who would later join forces with Tottenham, rejected a move to the Italian club in favour of stay with Corinthians.
From January until the end of the 2012-13 season, Coutinho was exceptional for manager Brendan Rodgers. Star hitman Luis Suarez and Daniel Sturridge occupied the central area of the attack, shifting Coutinho into a wide-playmaker role where he excelled.
In just half over a dozen appearances, the gifted Brazilian scored three goals and registered seven assists, via transfermarkt.
While a seventh place finish is never something Liverpool supporters are willing to accept, it was understood that a full season with Coutinho could be the missing ingredient in contending for a Premier League title; an achievement that has longed escaped their clutches.
Liverpool jumped out of the gates the following season. Suarez was, well, Suarez and Sturridge became one of the league's most lethal attacking threats. Together, along with the brilliance of Coutinho and experience of club talisman Steven Gerrard, the 2013-14 campaign was filled with title hopes.
Coutinho's first interval in England saw Liverpool, Manchester City and Chelsea all in contention for Premier League supremacy. Coutinho's five goals and seven assists in 33 appearances, along with the historical season of Suarez was unfortunately not enough for Liverpool to lift the trophy, finishing two points off winners Manchester City.
The Brazilian, now a major player for the national team, would follow up his first full season in England with a solid 2014-15, but the team struggled to adapt to life after Luis Suarez who was sold to Barcelona that summer.
Individually, Coutinho's seasonal efforts were awarded. He was the solo Liverpool player to be named into the PFA Team of the Year and was handed the honour of being the club's Player of the Season. Despite falling short in the race for PFA Players' Player of the Year and finishing third behind Chelsea's Eden Hazard and Tottenham's Harry Kane for Young Player of the Year, it was understood that Coutinho was now among the elite players in the Premier League at tender age of 23.
The following summer, Liverpool nabbed Brazilian compatriot, Roberto Firmino, from Hoffenheim, hoping to add another dimension to the attack. Firmino possesses similar qualities, but the idea behind the big £29m move was to conjoin the two and expand the way football was played under Rodgers.
The Seleção duo performed well alongside each other, but the results did not fall in line.
The Irishman was sacked October last year, and in stepped the fiery former Borussia Dortmund boss, Jürgen Klopp who has since transformed Coutinho into a multi-dimensional playmaker.
In 2015-16, Coutinho pulled out all the stops on the way to his best season yet at Anfield. 12 goals and seven assists across all competitions saw Klopp's attacking dynamo clean sweep all of Liverpool's end of the year honours.
Since Klopp's after his arrival, Coutinho has been deployed out on the left flank in a 4-2-3-1 formation. It's in this role where has thrived tremendously, meshing smoothly with Firmino, newcomer Sadio Mane and Adam Lallana.
Coutinho's immense skill-set along with the ability to adjust to various roles within Klopp's system currently makes him the German tactician's most influential squad player. Firmino is the obvious first-choice number 10 and Mane's blistering runs down the right are a handful for opposing left backs, but it's the "Little Magician's" various talents positioned on the left that makes Liverpool tick.
Klopp has basically awarded Coutinho the keys to the attack. His combination play is exceptional when plunging forward. The close control and sensational dribbling enables him to create room for himself and others. The space provided by the left wing gives him unlimited freedom to dart at defenders, use his vision to combine with Mamadou Sakho and Alberto Moreno on overlapping runs or cut in on his preferred right to have a go from distance which seems to be his biggest delight.
It has taken more time than he had hoped, but Philippe Coutinho's club displays have earned him a regular role for the national side under Tite. Though he is still 24 years of age, Coutinho's excellence at the heart of Klopp's revamped Liverpool has garnered quite a bit of praise, including from Brazil's footballing king, Pelé.
Speaking to LFCTV, the 75-year old commended the Liverpool star, saying: "Our country has many brilliant players in Europe…but they don't have Philippe's experience."
Last April, Inter's high-ranked officials were not shy voicing their opinions in the aftermath of Coutinho's uprising in England.
The Nerazzurri's sporting director, Piero Ausilio, admitted to feeling regret for allowing Liverpool's star man to depart at such a young age.
Ausilio told Sky Italia in 2015 that "he (Coutinho) was not playing much and we lacked patience so we decided to sell him. I would like young players to grow and succeed here; when I see them play for other clubs, it makes me sad."
Coutinho, now among the English Premier League's elitists, has several European suitors itching for his signature.
This past summer, clubs from across the continent came calling, including Paris Saint-Germain and Barcelona, but Coutinho resisted the urge to explore new challenges outside of England, committing his future to Liverpool. However, the iconic Seleção number nine, Ronaldo, has revealed that he'd wish to see his countryman leave Anfield for the Bernabeu.
Ronaldo told Sky Sports (via Onda Cero) that he would "love to see Coutinho at Real Madrid. Spanish football is, without doubt, the best in history. It has always bought the best and produced the the most beautiful football."
Coutinho, who inked a long-term deal with the club last February through 2020, has made it clear his intent to stay put. For now, his future with the club is of no concern at the Kop but should they be swayed by a large figure, they'll make a hefty profit far exceeding the 10 million euro they dished out for him.
In theory, the thought behind Inter's market plans made sense at the time. However, to give up expeditiously on a 20-year old like Coutinho who — albeit raw and unrefined — displayed all sorts of trickery and ability to decide a match was a mistake. Now, nearly four years later, it's inconceivable to think that Inter didn't jump the gun by selling him.
Liverpool and Jürgen Klopp, currently in contention for the league title, are reaping the reward of Inter's decision to sell the 24-year old superstar prematurely.