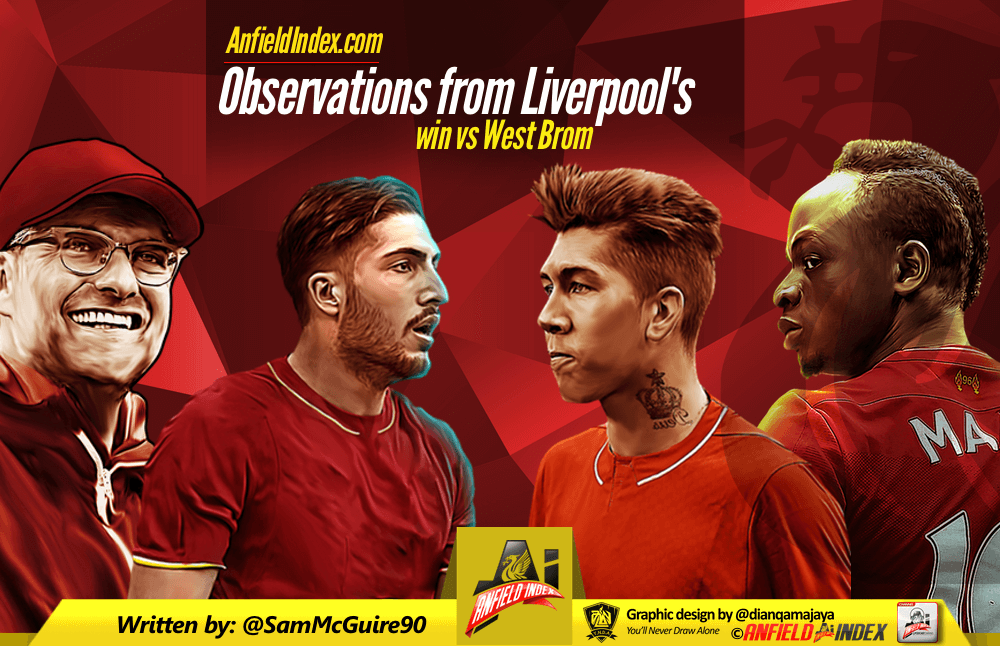 Observations From Liverpool's Win Against West Brom
Joint top of the Premier League. It's been a while since Liverpool fans been able to say that but, for 24 hours at least, you're able to say it. A mesmerising display in the first-half was enough to put the Reds top of the table. Yes, the second-half plateaued a little but the damage was done in the opening 45 minutes. There were plenty of positives to be taken from the match and here are just a few:
Liverpool put the West Brom bus out of service
There was a bit of an uneasy feeling in the build up to this match. Fans wanted to be confident, they had every right to be, Liverpool are playing some breathtaking football. But there was that niggling feeling that the Tony Pulis hoodoo would continue and West Brom would take a leaf out of Manchester United's book and look to frustrate Liverpool. Any pre-match concerns were quickly quashed as Liverpool were at their inventive best to play through the 8 man defence West Brom decided to set-up with. This is a fairly resilient WBA side but Klopp's Liverpool had them chasing their shadows for the most part. It just goes to show they do have it in them to beat teams that sit deep.
Mane, Coutinho and Firmino – Liverpool's holy trinity
When these three are on it they're basically unplayable. All three were involved for both goals and they created all kinds of chaos and havoc in the WBA backline. They're all on the same wavelength with their flicks, tricks and dummies. It's just clicked. They've struck up a dynamic that the Reds can't seem to replicate when one of them isn't playing so it's a conundrum that Klopp will have to look to solve when Mane goes away to the AFCON but for now fans should just enjoy it. Most of the defences in the Premier League won't be able to cope with the three of them.

Emre Can
After the Manchester United match social media was rife with fans saying Emre doesn't have a place in Klopp's new look Liverpool side. They said he was too sluggish, had too much timber on him and just didn't offer anything comparable to Adam Lallana and Gini Wijnaldum. It just goes to show how reactionary many can be. They'd forgot about Can's one man midfield performances last season and had all but wrote him off. He was a bit rusty to begin with but isn't that to be expected? He grew into the game against WBA and looked pretty dominant in a role which gave him more freedom. In another couple of weeks he'll be back to his formidable best.
Joel Matip's Importance 
Someone described Matip as a Sami Hyypia and Daniel Agger hybrid. That's quite the compliment but after his impervious defensive displays and his creative ability on the ball it's not a comparison that's undeserved. Since getting into the first-team he's looked right at home and it's hard to see him losing his place anytime soon. Liverpool in the past have been accused of being easily bullied but Matip has handled Ibrahimovic and Rondon within the same week with relative ease. To think he was signed on a free transfer is unbelievable.
The one negative from today –
Set piece Kryptonite
Another goal conceded from a set piece. It's deja vu every single week now as a Liverpool fan. It was an angst filled Anfield after McAuley fired the ball home but he was allowed the freedom of the penalty area to do it and questions have to be asked. Teams don't have to play well against Liverpool, they just need to get a set piece and there's a chance of a goal. You have to ask why this is still an issue?