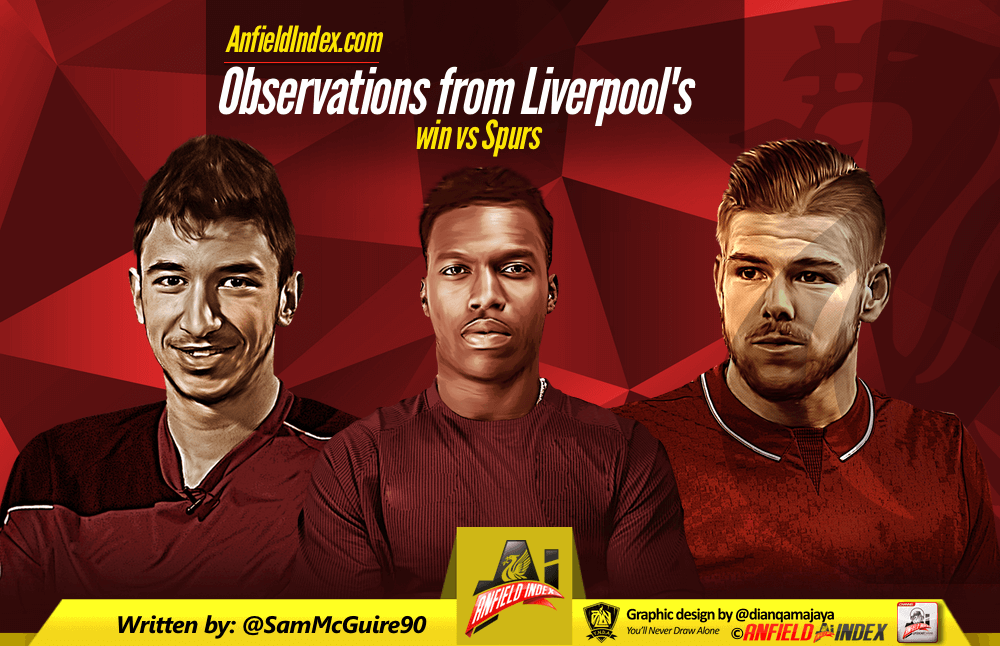 Observations from Liverpool's the win against Spurs
The win against Spurs means Liverpool are not only through to the next round of the EFL Cup, they're also now undefeated in 10 matches in all competitions.
It was a completely different Liverpool to the side that beat WBA on Saturday with Klopp making eleven changes. Not only were the personnel different but so too was the system; gone was the 433 and in its place was the return of the diamond. The German also reunited Divock Origi and Daniel Sturridge up front.
Systems suit players
There's been a lot of talk surrounding Daniel Sturridge lately. Some want to sell him and some think he should be a guaranteed starter. Against Spurs he showcased just how destructive he could be and it was a performance that will give those saying he should start every single week even more ammunition. But, how much of tonight's performance was down to the system he was deployed in?

Sturridge and Origi alternated throughout the match. They took turns dropping deep and wide. Both linked play and both played on the shoulder of the last man. It's different to the normal system Klopp uses and it's not something Sturridge would be able to replicate with the likes of Mane, Coutinho and Firmino.
He may have impressed today but don't expect Klopp to start him in the league if he intends to continue with the aforementioned interchangeable three.
Youngsters getting games
It's positive to see youngsters like Trent Alexander-Arnold, Ovie Ejaria and Marko Grujic getting minutes in the first-team. Alexander-Arnold was a bit rash early on but looked like a positive and aggressive player on the right – a perfect Klopp player? Ejaria was tidy in possession, he was disciplined enough, covering for the attacking Liverpool full-backs and he was, like Alexander-Arnold, positive in his play. Grujic, for me at least, was a stand-out performer in that midfield role. He was a bit of a monster – composed on the ball even when pressed, he used the ball well and supported the play. He could be a key cog in Klopp's Liverpool machine.
Alberto Moreno
The Spanish full-back looked a lot more disciplined in that left-back role. He was perhaps fortunate not to give away a penalty but it was a slice of luck Liverpool deserved after the ref awarded the away side a soft penalty just moments earlier. However, the real talking point surrounding Moreno is the extreme lengths he goes to not to use his right foot. When he slides in for a tackle and dislocates his left foot just so he can hook it round, it's amazing. It's that sort of commitment that wins you trophies.
No clean sheet
It's becoming a bit of a habit this season. The opposition are gifted a goal and what would've been a good defensive performance is undone. But, much like the two previous matches, Liverpool defended well in open-play and it's something to build on.