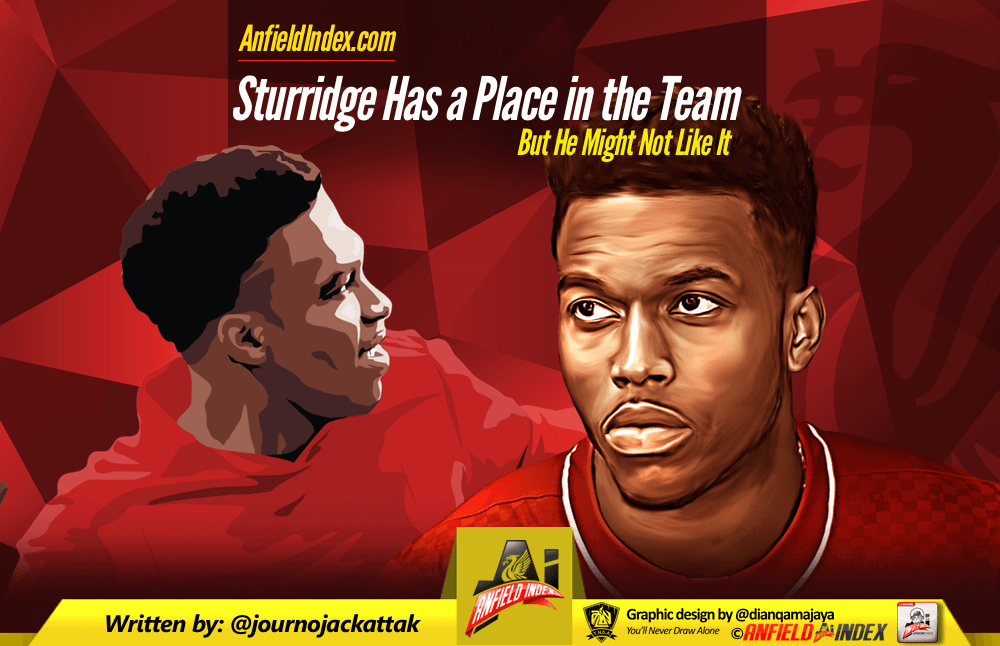 Sturridge Has a Place in the Team, But He Might Not Like It
I think I've pointed out in the past that I love this man. Daniel Sturridge, in my opinion, is the most natural finisher England have got. Forget Harry Kane, forget Jamie Vardy, forget Marcus Rashford. Sturridge is the best finisher of the lot.
Those three all have their qualities but none can quite stick the ball in the onion bag with the same natural, predatory, instinctive incisiveness as our own Big Danny Sturridge. Would anyone else have snuck that goal in against Wales at the Euros? Not a chance. The lack of backlift almost defied physics. On top of that, he knows where to be, and he knows where the goal is. Doesn't matter where he is, he'll find it.
I just have this horrible sinking feeling he might not be at Anfield much longer. I know others have touched on this already, but I for one would like to express my genuine regret that there appears to be no place for this gifted player in the side.

Klopp's playing style is quite something. I've never seen football like this at Anfield in my short life. I love it. But somehow, it doesn't seem to tick with Sturridge in there.
It should make sense that a born finisher is what we need. A couple of times lately, we've dominated games only to just scrape through a win (West Brom and Swansea spring to mind). In both we played brilliantly at times, just the finishing was left wanting. Sturridge could be the ingredient that takes us from winning these games by one goal to winning by two or three
Thing is, we do seem much better with him. Here's why.
Last season, under Klopp, we won 18 points (1.64 per game) and scored 24 goals (2.18 per game) in 11 games in which Sturridge played at least some part, compared to 30 points (1.58 per game) and 31 goals (1.63 per game) in 19 games without him. He gave us goals, he won us points.
That was before the summer though. What makes this season so delightful is that, having had a summer to make some acquisitions and work with his players much more closely, Klopp has turned them into his team. We're different to last season.
Mane, Firmino, Coutinho and Lallana are utterly insatiable when it comes to finding pockets of space when teams leave you very little at all. We've got 9 goals in the 360 minutes Sturridge been on the pitch. That's a goal every 40 mins. Liverpool have played 540 more league minutes with him off the pitch, scoring 15 goals – one every 36 minutes. Even though he's a proven and naturally instinctive goalscorer, Liverpool bag more goals without him.
Like many, I think we looked turgid against Burnley and Man Utd, both games he started. With him replaced by Lallana, we looked much better against the latter and I agree with most others in that Lallana – providing he was fit – should have come on sooner, if not started. These two teams sat mega deep and cut out all the space behind the defence, where Sturridge operates best. He shouldn't have played either really.
But think back to games he played a big part in where we looked good. Leicester tried to play football against us and their slow defence got caught cold at the back by his pace and timing. His movement created space for Firmino's opener and the opportunity to set up Mané for his goal. Against Hull, he found space easy to come by with their defence a man down and, frankly, all over the place.
At Spurs, where we drew 1-1, I felt that Liverpool's pace on the break was slightly let down by our lack of ruthlessness in front of goal. When teams attack Liverpool, or leave space at the back for whatever reason, they come forward and gaps appear behind the defenders, rather than in between them. There's no one better in the Liverpool team at punishing them than Sturridge.
Here's something that I think sums up exactly what he offers the team. Liverpool have had, on average, 60.5% of the ball in games he hasn't played. These are the kind of games where we have the other team pegged back and there's not a lot of space in the opposition box for him to work with, whereas the rest of our forwards relish these tight spaces.
In games he's played a big part in, we average 63.8% possession. However, this includes defeat to Burnley and the 0-0 with United – games we struggled in, games we dominated, and games which did not suit him at all.
Discount those two games, and we average 58% possession across the other three with him in the team, where the other team has more of the ball, comes forward, and spaces open up behind their defence. In other words, the less of the ball we have the more effective he can be to the team.
In last week's EFL Cup win against Spurs, we only had 46% of the ball. They were coming at us, and what was a pretty smash and grab win which suited Sturridge down to the ground. Funnily enough, he scored both goals.
My point is, if we're against a parked bus, Lallana, Coutinho and Firmino are neater, more skill-full players when there's much less room to play with. However, when we're under the cosh a bit, if the other team are pegging us back for a change – when we're holding a narrow lead for example – who better to bring on and stick up top on his own to latch onto a long ball?
It might not be pretty, it might not be Klopp, but there will be games this season we're hanging on and I reckon that to be an excellent plan B should we need to grind out these tricky, edgy victories that show real league winning pedigree. The problem is, how many of these games will we really face this season?
In my books this should not be the end of Sturridge's Anfield career. He may not necessarily be first choice, he might not find a way past the bus when teams park it. But when they open up and come at us when we're in the lead, his pace, guile and pure finishing quality are exactly what you need to kill them off.
He'll be the odd goal that nicks a win here and there, and those odd few points will make a huge difference.
The thing is, I don't think he wants that. I don't want him to be pushed out, but there's every chance he may walk and I'll be gutted if he does.