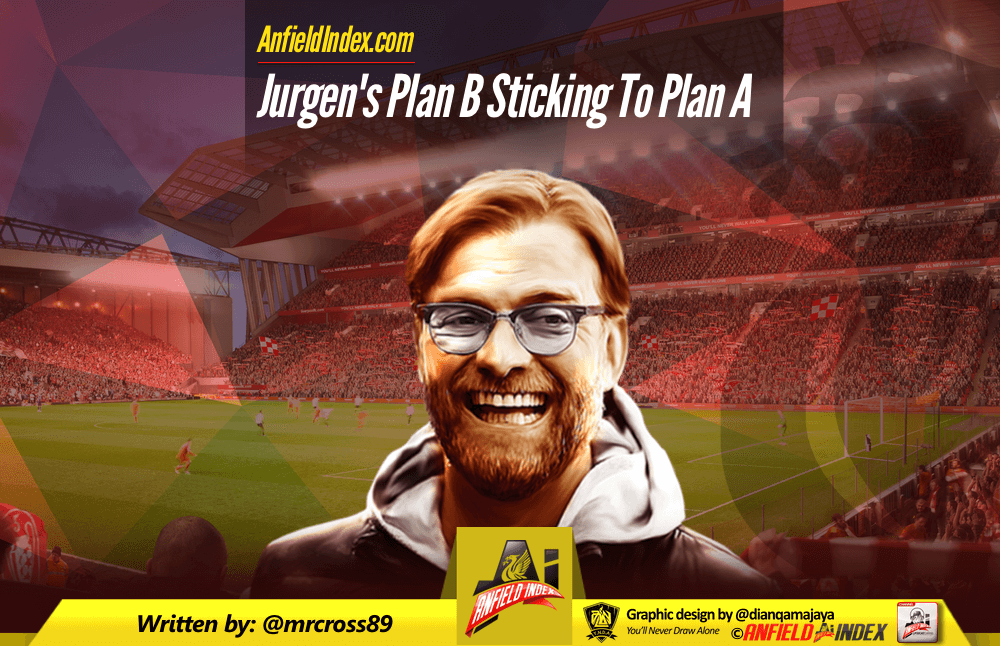 Jurgen's Plan B Sticking To Plan A
Disclaimer- Despite the positive performance and result using our second string side against Spurs last Tuesday, I am aware that we did beat a Spurs reserve team who have an eye and a half on the Champions League and these boys will face up to tougher opponents.
During Mauricio Pochettinos post-match press conference after Liverpool's EFL win over Spurs, the Spurs coach stated that Liverpool boasts one of, if not the best, squads in the League after the Liverpool reserves defeated his team 2-1 in convincing fashion. Two goals from Daniel Sturridge either side of half time took Liverpool into the quarter-finals and Despite Liverpool once again failing to win with a clean sheet after once again gifting their opponent a route back into the game through an error, the general mood amongst the fans after the match was one of growing optimism.
What will please Jurgen the most about this victory is that he was able to see the depth of his squad, without changing the way in which he likes his teams to play. His reserve side proved to the fans that our squad is a lot stronger than we think.

Klopp made 11 changes to the team that beat West Brom and decided to start with two strikers instead of one yet despite the significant changes; the team applied Jurgens game plan just as well as their 11 teammates would do against Palace this weekend. Not only did Jurgen learn that he can trust Origi and Sturridge to form a partnership when he needs two up front, but He also discovered options he can rely on in key positions should players get injured.
Mignolet, Klavan, Lucas, TAA and Moreno
When the Liverpool team sheet was announced, a new scouser featured in the right back position; Trent Alex-Arnold. The 18-year-old made his debut for the senior team riding a wave of recent plaudits from fans and players such as Steven Gerrard. If you haven't had the opportunity to see him yet, his performances for the under 23 team is well worth a watch as it will give you an indication of how good he is. At just 18 years of age, TAA may already save Liverpool millions as he proved that he is more than capable of holding his own in the senior team with a solid performance for the Reds. Despite some rash tackles, he was very confident on and off the ball and showed that he is ready to be called upon if, in the unlikely event, Clyne gets injured.
Alongside TAA was Mignolet, Klavan, Lucas and Moreno, all players who despite their talents, don't seem to have a bright future on the horizon.
Klavan and Lucas both showed that they could fill in for Matip and Lovren if needed but their presence seems more short term than long term. Lucas reinvention from a DM to a ball playing centre back means he now provides useful cover for Matip, which will help Klopp in the meantime as he finds a replacement for Sakho. Unfortunately for Lucas, he did his prospects no favours when he gave away a penalty and heaped pressure on his team mates with 10 minutes to go. Much like Mignolet, Lucas has chalked up an incredible amount of critical errors during his career at the club which makes fans and teammates nervous every time he plays.
Moreno, who saw his first team place disappear to a right midfielder also had a solid game and gave plenty of glimpses of just how good he can attack the left-hand side of the pitch. Moreno would go on to fill in for Milner against Palace, providing Liverpool with a lot more balance in the wide left area. Despite a decent performance against Palace, the jury is still out on whether Klopp can trust him as the undisputed number 1 left back for now. But Klopp still sees the potential in the Spaniard and alluded to this recently when he spoke of Moreno needing time to learn how to iron out his mistakes.
Tottenham rarely threatened Liverpool's defence, which allowed the back four to audition their quality's in pressing and passing situations. TAA and Moreno provided Liverpool with a great width in attacking positions, and Klavan and Lucas handled the Spurs press very well, with Lucas distribution a particular highlight as his passes frequently allowed Liverpool to turn defence into attack quickly. But the verdict is still out on whether any of the five selected tonight will feature prominently in the first team shortly.
Stewart-Wijnaldum-Ejiaria-Grujic
The Midfield quartet gave Jurgen Klopp food for thought with each player contributing significantly to the midfield domination they enjoyed over Spurs. They may be playing second fiddle on the team sheet, but Jurgen Klopp's development behind the scenes is already bearing fruit on these young players and their knocking on the door for a seat at the table.
Jurgen Klopp has discussed at lengths his desire for his players to retain possession in the opponents half as quickly as possible. The only way this can work is if the players press the ball as fast as possible, but also make sure that they press sufficiently.
Klopp described Kevin Stewart as the best tackler on the team, and he proved his bosses words were not a thing of fairy tales.
Kevin Stewarts Key Numbers
5/7 Tackles
5 interceptions
1/2 Arial Duals
84 touches (highest of the team)
"He was very important. I have said a few times, he's the best challenger in the squad.

"One-on-one he is really ugly to play against. He's a good footballer, good player and he had a good game. Very good."- Jurgen Klopp Post Match
His defensive numbers were impressive, but his subtle improvements in possession are what caught the eye. He seems to be growing in confidence under Jurgen Klopp, taking better touches and looking for better passing channels and he is confident to win the ball anywhere in the midfield area.
Kev Stewart looking more confident when he wins the ball these days.#LFC pic.twitter.com/9a7K18OQ33

— GoalMouth (@mrcross89) October 26, 2016
In front of Kevin Stewart was Gini Wijnaldum and another product from the LFC Academy, Olivia Ejaria.
Ejaria, like Alexander-Arnold, looked very comfortable in the senior team. Despite no key passes from the midfield, Ejaria gave plenty of examples that he is willing to play defence-splitting passes, and rarely delays his decisions on the ball. Unfortunately, this wasn't his best game in a Liverpool shirt, but he didn't look out of place in the middle of the park.
For Gini, this was perhaps his finest game in an LFC shirt as he taught the young Spurs midfield a thing of two about one touch passing. Question marks were raised when Klopp brought in Gini to repackage him as a central midfielder, but these doubts are now a thing of the past with his movement and quick interplay with his teammates proving particularly important in Liverpool's style of play.
Marko Grujic produced his best performance in a red shirt with a dominating display and gave LFC fans a glimpse of a future where our creative player also happens to be a man mountain! Grujic was involved in both of Daniel Sturridge's goals and gave an all round excellent display, showcasing his passing range, control on the ball, dominance in the air and efficient pressing in the opposition's area. Grujic will be a big player for Liverpool in the next few years.
Marko Grujic Key Numbers
2/2 Dribbles
3/5 Aerials won
3/5 Tackles won
1 Interception
79% Pass completed
1 Key Pass
2 shots
Sturridge and Origi: Who Needs a Front 3
Of all the players who needed a game to show their worth, Origi and Sturridge were the two who needed it the most.
It must be incredibly difficult to sit and swallow your pride when you know your teammates are in red hot form, particularly when you know you have the talent to make the first team. Origi and Sturridge have both demonstrated to the fans at one time or another that they can lead the line for Liverpool and score goals, but unfortunately, an out and out striker is not what Jurgen Klopp is looking for in his Plan A.
Their performance last Tuesday was proof that they can make a formidable strike partnership if given the time as both have the qualities that feed off each other. Sturridge needs Origi for the hold-up play and direct runs to give Sturridge the opportunity to pop up in goal scoring positions. Origi needs Sturridge because he creates the space by dragging defenders away, so Origi has more room behind the defenders to run into and cause problems.  On numerous occasions, this partnership opened Spurs up just as well as the free flowing movement of Firmino, Mane and Coutinho, with Origi's physical and direct runs and Sturridge's awareness and finishing ability causing Spurs trouble throughout the game. Sturridge would end the game with two goals and Origi with an assist and for most teams that would be enough to force yourself into the first team. But Firmino, Coutinho and Mane continued their clinical relationship up front in the following game against Crystal Palace and just like that, Origi and Sturridge's potential partnership is put on the back burner.
It makes little sense for Jurgen Klopp to chop and change his starting eleven. There aren't enough games to justify tinkering the team in League games and when your front three is contributing 19 goals and assists in just 10 Premier League games, why would Klopp want to change it around? The one thing the EFL game against Spurs did show Klopp, is that should he pick up injuries, suspensions or in Manes case, lose players to international duties, he has a strike partnership waiting in the wings that can push Liverpool over the line. Sturridge and Origi have the ability to score the extra goals needed to put together a title challenging team that fights right to the end. Klopp can also call on midfielders and defenders who can slot seamlessly into the team without forcing the manager to change his style.
And to think, we all complained about the depth of this squad at the start of the season.