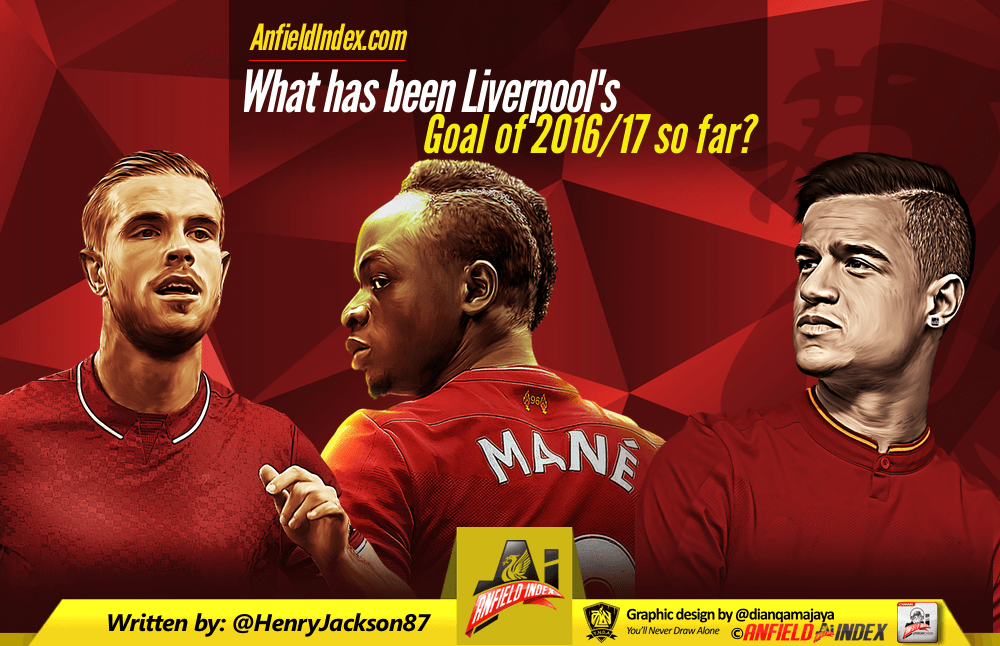 What has been Liverpool's Goal of 2016/17 so far?
When recently asked about his favourite Liverpool goal of the season to date, Jurgen Klopp admitted there were several contenders in his eyes.
"There have been a lot of nice goals [so far this season]," he said.
"Sadio's goal at Arsenal was not too bad, especially when I saw it after the game when I saw the movement he made to go between two players—it was really nice. 

"A wonderful goal was, of course, Hendo's against Chelsea and Roberto Firmino's goal when Daniel Sturridge made the move against Leicester to open the gap for him. 
"I love all of them—I don't want to decide, I love all of them and hopefully there are a lot [more] to come."
With that in mind, I've had a sit down and given this topic the undivided attention it deserves. It's life-altering stuff.
The Reds have found the net 22 times this season, following the 2-1 win against Spurs on Tuesday – here are their top 5 goals of the campaign so far…….
Sadio Mane – Liverpool 4-1 Leicester (10th September)
https://www.youtube.com/watch?v=gZ3s3L2j3-4
As Klopp stated as above, Roberto Firmino's goal against Leicester City was beautifully-worked, but it doesn't make the cut. Instead, it is Sadio Mane's effort in the same game that sneaks in ahead of it in the top 5.
This goal epitomised everything great about Liverpool's attacking play under Klopp – pace, invention and ruthlessness.
Jordan Henderson's perfectly-weighted first-time pass over the top found the on-rushing Daniel Sturridge – not bad for a player with 'no movement' – who then produced a sublime back-heel to Mane. The 24-year-old did the rest, dinking an effort past Kasper Schmeichel.
A new-look Anfield, showcasing the new Main Stand for the first time, had been treated to a moment of Klopp-inspired magic.
Sadio Mane – Liverpool 2-1 West Brom (22nd October)
https://www.youtube.com/watch?v=3wM2om8m2r4
The fact that Mane features heavily in this list says everything you need to know about the impact he has already made in a Liverpool shirt.
He was once again in the right place to finish off a sumptuous Reds move in the 2-1 win over Tony Pulis' rugby-playing West Brom side on Saturday.
A gorgeous Philippe Coutinho dummy was the key to the goal, freeing up space for the marauding Emre Can in the middle of the park. The German ran at the Baggies defence, found Firmino on the left and the Brazilian produced a sublime looping pass for Mane to fire home from close-range.
Liverpool's inability to be merciless in front of goal has been one of their achilles heels for many years, but Mane is someone who is putting a stop to that.
Jordan Henderson – Chelsea 1-2 Liverpool (16th September)
https://www.youtube.com/watch?v=Se9vi_ssWco
Few goals have made me want to message every single person who has laid into Henderson and ridicule them in the most smug way possible.
The Liverpool skipper has received a hideous amount of unfair stick throughout his career, and this stunning strike at Stamford Bridge was one big *insert sweary riposte* to his detractors.
With Klopp's men leading 1-0 thanks to Dejan Lovren's opener, a Chelsea clearance fell to the feet of Henderson 30 yards from goal.
While his watching critics had their phones at the ready to post another 'hilarious' message about his shooting ability, the 26-year-old buried an outrageous strike right into the top corner of Thibaut Courtois' net.
It was Henderson's best goal for Liverpool to date, and one that ensured his side picked up a crucial three points at Stamford Bridge.
Philippe Coutinho – Arsenal 3-4 Liverpool (14th August)
https://www.youtube.com/watch?v=zOxodG8qLtU
The more I watch Coutinho, the more I wonder if we take him a little bit for granted.
Like that pushy parent who forever criticises their talented child, perhaps our expectations of Coutinho are unfairly high at times.
The brilliant Brazilian has scored so many great goals for Liverpool, but this beauty at Arsenal on the opening weekend was both dazzling and crucial at the same time.
Liverpool had been dire in the opening 45 minutes at the Emirates, and with half-time seconds away, social media was preparing for Reds-related meltdown.
Coutinho then decided to show the world how great he is by bending an incredible 35-yard free-kick past Petr Cech and into the top corner. It changed the entire complexion of the game, and Liverpool went on to win 4-3.
Come the business end of the season, that moment may be far more important than we realised at the time.
Sadio Mane – Arsenal 3-4 Liverpool (14th August)
'Best of' lists are always extremely subjective – I've already got my tin hat ready, because there's probably someone out there who thinks Ragnar Klavan's tap-in against Derby County was No.1 – but Mane's amazing solo effort at Arsenal has to top the pile, right?
The Senegalese forward had not been a universally-popular signing when he made his big-money move to Anfield in the summer, but an impressive pre-season had won him new admirers by the game.
To score a goal of this brilliance on his competitive debut for Liverpool really made the fans sit up and take notice, though.
With the Reds 3-1 up and threatening to humiliate Arsenal on their own turf, Mane ran onto a pass at full speed down the right, before powerful past Calum Chambers and Nacho Monreal into the area.
He wasn't done there, however, and he drilled an unstoppable shot past the helpless Cech, sending the travelling Reds behind the goal into delirium.
That image of Mane on Klopp's shoulders in celebration just summed up what a great time it is to be a Liverpool supporter.
What are your top 5? Let me know on Twitter: @HenryJackson87