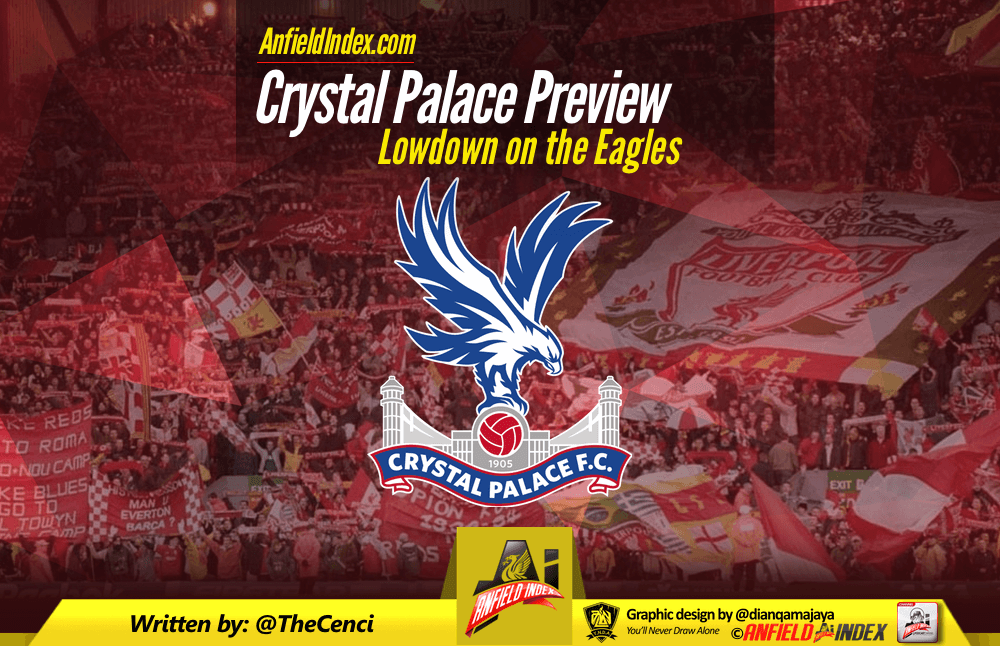 Crystal Palace Preview | Lowdown on the Eagles
So, it's Crystal Palace at the weekend. The Eagles from SE25.
Palace are a strange club, or, at least, we have a strange relationship with them. There's no confident prediction about our games with them. They bloody our noses from time to time and we batter them back. Give us a non-descript game and we do okay, but if there's something riding on it they love to spoil the party. The 3-3, the Cup semi in 1990, Gerrard's swansong etc.…
So, what do we know about Palace? What are they like? What have they done? What, as it were, is the point of them?

Well, first of all, they've had some great kits down the years. The 1970s white shirt with a blue and red sash – modelled on the Peru kit at the time – is one of my favourites. Absolutely glorious.
Mind you, they've had some dogs too. In the Ian Dowie era (2003-4) they had a Brazil kit of yellow shirt and sky blue shorts. All similarities with the South Americans ended there.
As for the stadium, Selhurst Park isn't always a popular venue for away visitors. Firstly, it's not the easiest place to get to despite having a train station – Selhurst – nearby. Even if you live in London it's a bit of a bark. I've just looked up my own journey from North London – two Tubes and two trains and I live less than twenty miles away. Imagine doing that from Liverpool. For a night game.
The ground itself is a bit ramshackle with its unmatching stands and a Sainsbury's on the corner and, to be honest, I love it. Bear with me here as I'm a bit odd in this regard. I can't stand new grounds with their cinema seats and family areas. Football grounds should be foreboding and unwelcoming for the visitors. They're not our mates and this isn't sitting in front of 'Honey, I Shrunk the Kids' with a bucket of popcorn. They should be at least a bit nasty. This is why I love Goodison Park. All wood and splinters.
Once you're inside though it's loud – far more so than most grounds and, in terms of their attendance, quite impressive. They love their flags and banners too.
I can't speak for everyone, but I like that they're boisterous in their devotion to the club. All grounds should be like this rather than the ubiquitous 'Soandsosredandwhitearmy' or dancing to the piped-in music being played after goals. They have their own songs – we nicked their Sister Act song for Lucas – and that's always to be welcomed. Pay attention, Leicester City.
Equally, I applaud their support in the face of their previously abysmal administrations. When investor Ron Noades bought the club in the early 80s they were an old Second Division side but would plunge further. The turning point was the appointment of Steve Coppell in 1986, who took them to third in the league and a cup final with players like Ian Wright and Mark Bright before the chairman's stupidity took over. Following the departures of their big names, they bounced between the top two divisions. Why would they leave because of their chairman? Well, this didn't help. Here's Noades talking about the racial make-up of his side.
"The black players at this club lend the side a lot of skill and flair, but you also need white players in there to balance things up and give the team some brains and some common sense"
Well, isn't he lovely?
Not a popular man.
Once Noades sold the club they were on their way to another relegation but this time with players on Premier League wages. They sunk again and headed to administration…
So it's gratifying to see their hard-core fans so loud when they've regularly flirted with relegation and bankruptcy. They don't shut up.
An example.
In 2013 I went to see our under 21s play our lads on a Bank Holiday Monday. It was a fiver to get in and only one stand was open with about 300 people in the ground. We battered them 4-1. Even Jack Robinson scored, but to the locals it was like a derby against Millwall or Charlton. Thirty or so of their lads sang for the whole game – either at the pitch or at former manager Steve Coppell who was sat in the Director's Box – wearing a pink V-neck jumper if you please. A nothing game and they were absolutely raucous. Not a prawn sandwich in sight.
One of my best friends is a Palace fan and over the years I've seen them play against some of the top teams in the country and dross of the lower divisions. He likes to point out young players who are the next upcoming thing and pester me as to their brilliance. In 1998, when they played Arsenal in the FA Cup, he excitedly told me that their young Icelandic centre back Herman Hreidarsson was a kind of Bobby Moore and Franz Beckenbauer crossbreed. 'Watch him, mate. Just watch him.' I did. The game was barely two minutes old when Hreidarsson misdirected a header to his keeper and let Nicolas Anelka through on goal. 0-1. This, at the time, was not untypical of Palace.
Later that year they qualified for the Intertoto Cup and took on Samsunspor of Turkey. It was their first foray into Europe and one that lasted just two legs. They lost 2-0 and at one point one of their lads ran down the wing doing keepy-ups while looking expectantly at the Palace bench. It was the most blatant beg for a move I've ever seen.
A year later they were minutes away from going into administration.
Liverpool's recent history with them is tumultuous to say the least. There's the 9-0, of course, and their 4-3 semi-final in 1990, but more recently there's the aforementioned 3-3 from a 3-0 lead, which dragged the curtain down on Brendan's title tilt. Crystanbul, my mate calls it. Or National Bolasie Day.
Some old school Palace fans have it in for us for more deep rooted reasons. In 1991, we were allowed back into Europe following the Heysel ban. Palace had finished third and were due to make their debut, but we took their place. Had our ban lasted another year they would have played. It all went wrong from there. Ian Wright went to Arsenal and the spiral began – relegation then promotion then relegation again. Matt's Fantasy League team was called Elastic Eagle – bounce bounce bounce.
They're doing better now – reaching the FA Cup final last season and even leading before Pardew tweaked the nipples of fate with his Dad-dancing on the touchline. Their squad's pretty good too. While Benteke may not have been a hit at Anfield, their style is more suited to his bullish presence. Look out for their new keeper Steve Mandanda too, who has already proved a hit with the Selhurst faithful. Let's hope he has a thoroughly miserable Saturday night. Matt's already informed me of his brilliance so, given his record, the French international will be throwing it into his net a few times.
So, there you have it. Palace. All sorts. You never know what you're going to get. 0-0 or 12-9 with a man trying to breakdance on the side.
Up the Reds.