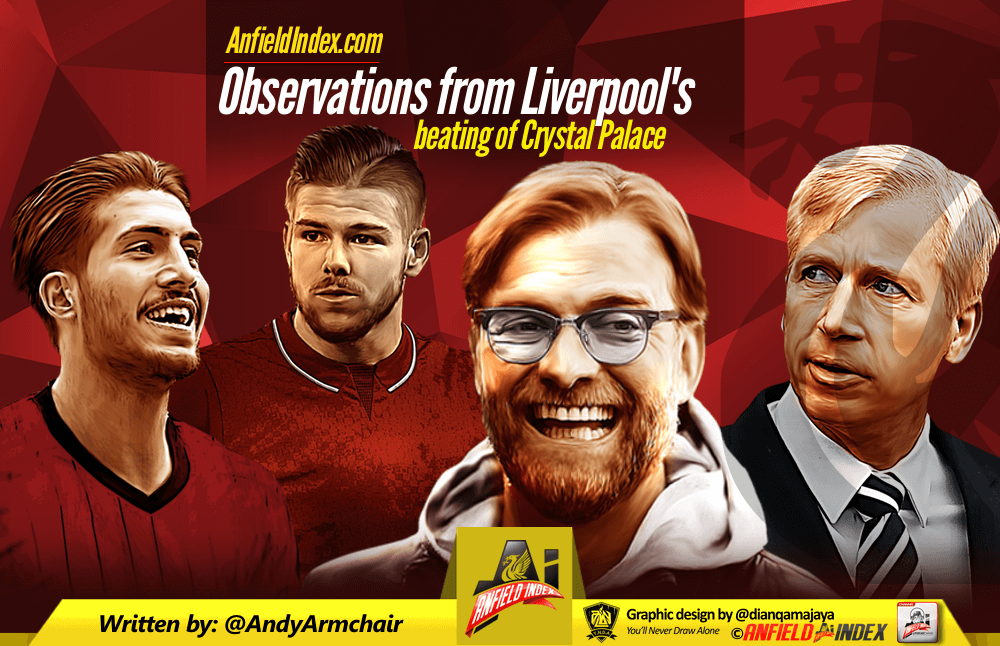 Observations from Liverpool's win at Crystal Palace
It was billed as Benteke v Liverpool; the striker's first game against his former club after his ill-fated move to Anfield lasted just one season. As it transpired, he was nearly as peripheral here as he was for his former club, despite Palace scoring from crosses. Instead, this was a game that emphasised both sides of this Liverpool team – some irresistible attacking play that resulted in four goals and defensive vulnerability in conceding two, but here are my observations from the 4-2 win:
We have goals all over the team
On the day former Liverpool legend Jamie Carragher spoke of how, following on from Steven Gerrard and Luis Suarez, Philippe Coutinho was now Liverpool's 'main man', we again saw evidence to the contrary. That's not to say that Coutinho isn't a fantastic player and hugely influential, but Liverpool are becoming Jürgen Klopp's vision of a team built around collective strength and not reliant on one or two outstanding individuals. Part of that is the regularity of goals from all over the team and not relying on one or two players to score the bulk of the total. This game was the perfect example: four goals from four different goalscorers.
The defence is still broken
After taking the lead, to gift an equaliser the way Dejan Lovren inexplicably did was unforgivable. Quite what he was thinking as he scooped the ball into the path of James McArthur, I'm sure none of us will ever know. Sadly, these brain-fart moments still exist, as do the fundamental shortcomings involved in the second. Between Alberto Moreno not getting tight enough to Zaha and Lovren failing to attack the resulting cross, these basic failings are still costing Liverpool too many goals.

Alberto Moreno may still have a future
He's lost his place to James Milner and has had his defensive abilities torn to shreds publicly by some pundits. Most of the criticism he's received has been justified, but some of it over zealous. This was a big game for him and a test against a pacey winger in Zaha, who has been in decent form, but Moreno coped with him well. Apart from the second goal, where he could've closed Zaha down better, he largely kept him in check and provided an attacking threat of his own, including setting up the opening goal. Milner, with his lack of pace, may have found Zaha tougher to handle, so perhaps Moreno could still have a part to play this season.
Competition for places
In midfield and attack, there is healthy competition for places and that can only be a good thing because it keeps players on their toes. If anyone is not pulling their weight or having an off game, there is someone ready to take their place. The midfield has become versatile and interchangeable with Henderson's defensive adaptation, the conversion of Adam Lallana to a deeper role, the acquisition of Georginio Wijnaldum, the return of Emre Can and Coutinho's ability to play there, as well as in attack. Speaking of the attack, Coutinho has flourished there and works beautifully with Roberto Firmino. Sadio Mane has settled in brilliantly, Daniel Sturridge is slowly regaining his sharpness and Divock Origi is busting for an opportunity. Whoever plays, the system remains virtually the same, something that shouldn't be underestimated.
It's going to be a nerve-wracking season
A one goal lead never looks enough and until we scored the fourth goal, I was running out of finger nails. For the neutral, we'll be a great watch – exciting football, lots and goals and some topsy-turvy matches. For Liverpool fans, there will doubtless be some fantastic highs and crushing lows. However, full-throttle is Klopp's way and unless the defence dramatically improves, be ready for a roller-coaster ride.