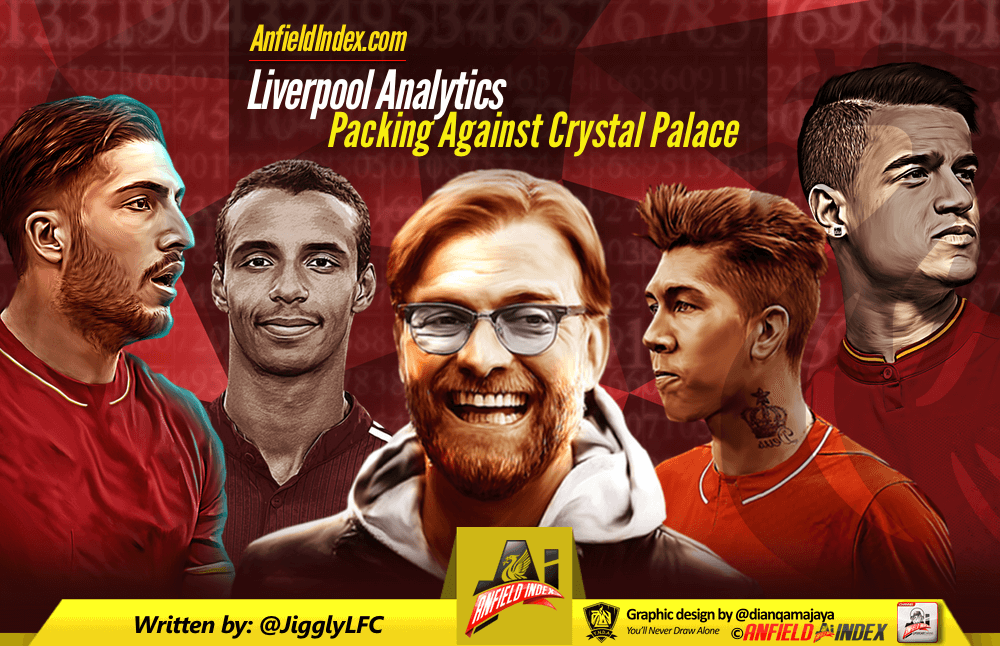 Liverpool Analytics: Packing Against Crystal Palace
Well it's midweek after yet another confident Liverpool win, and the dust from the match has settled. After watching the match I remembered that back at the beginning of the season I'd thought about doing a weekly analytics article talking about each week's match. I wanted the articles to be about the types of metrics in football that are talked about a little bit less, and the type of metrics that tell you a little bit more about what's going on within a match. So this is the start of that series of articles. Welcome.
The main metric that really caught my attention was this new statistic that came to light over the summer during the Euros called "Packing". Former Leverkusen and Eintracht Frankfurt player Stefan Reinartz felt during his playing days that as a defensive midfielder, not much of what he offered on the pitch was quantified or even appreciated by the general football watching population. He thought that instead of just keeping track of possession %, he wanted to be able to assign value to passing, especially for those players who didn't get goals or assists, but still affected the game via their passing. This lead Reinartz to come up with this new statistic that he talked about and collected during the Euros. Despite only being a few months old, Packing is starting to gain some traction within analytics, and I've already spoken to one person who works at a professional club that is looking into Packing as a statistic. Presumably the top level clubs already are keeping track of it, but are keeping it under wraps like a lot of other cutting edge metrics.
What is Packing?
The best way to explain packing is visually, so I pulled a couple screenshots from our fourth goal against Crystal Palace to help illustrate for you.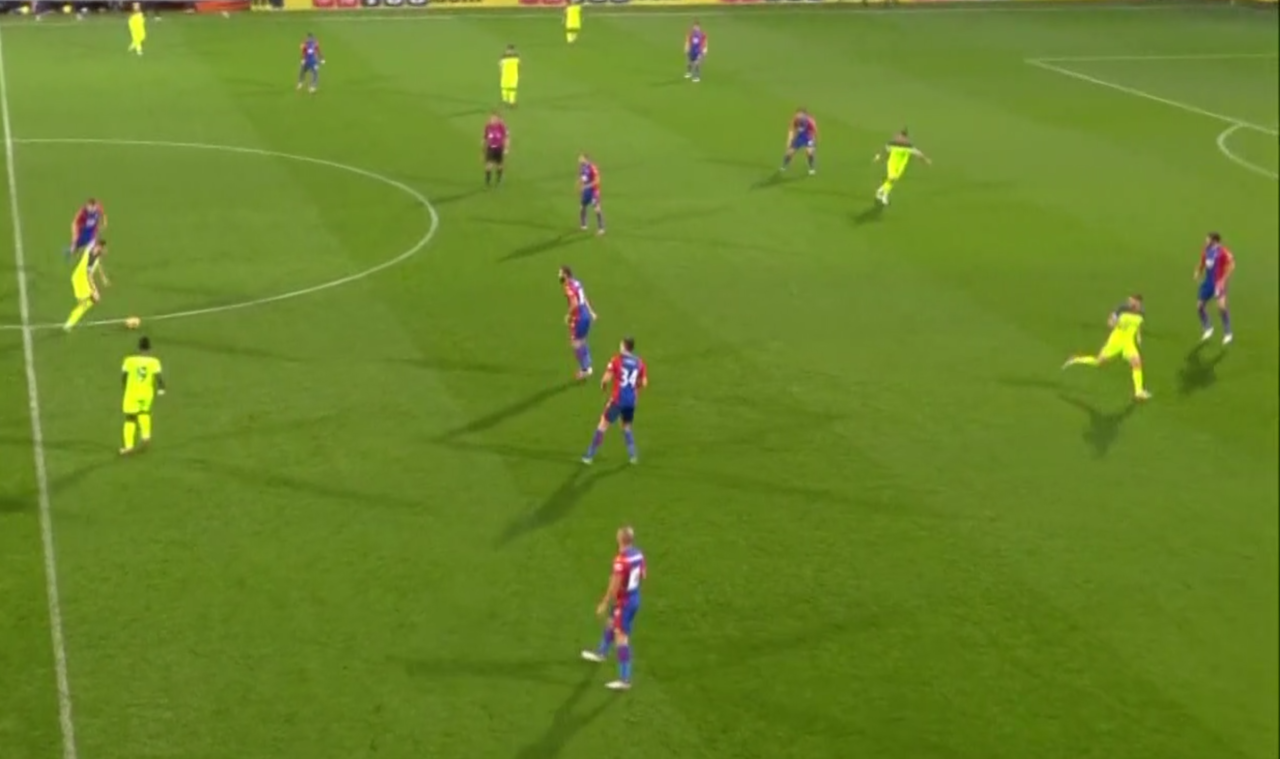 So here's Jordan Henderson on the ball, just before he plays the ball through to assist Firmino. As you can see there is a bank of 5 in front of him (Martin Kelly the left-back had stepped up to press Mane and is now in the midfield). Behind that bank of 5, there are 3 more players, the 2 centre-backs and the right-back to be specific.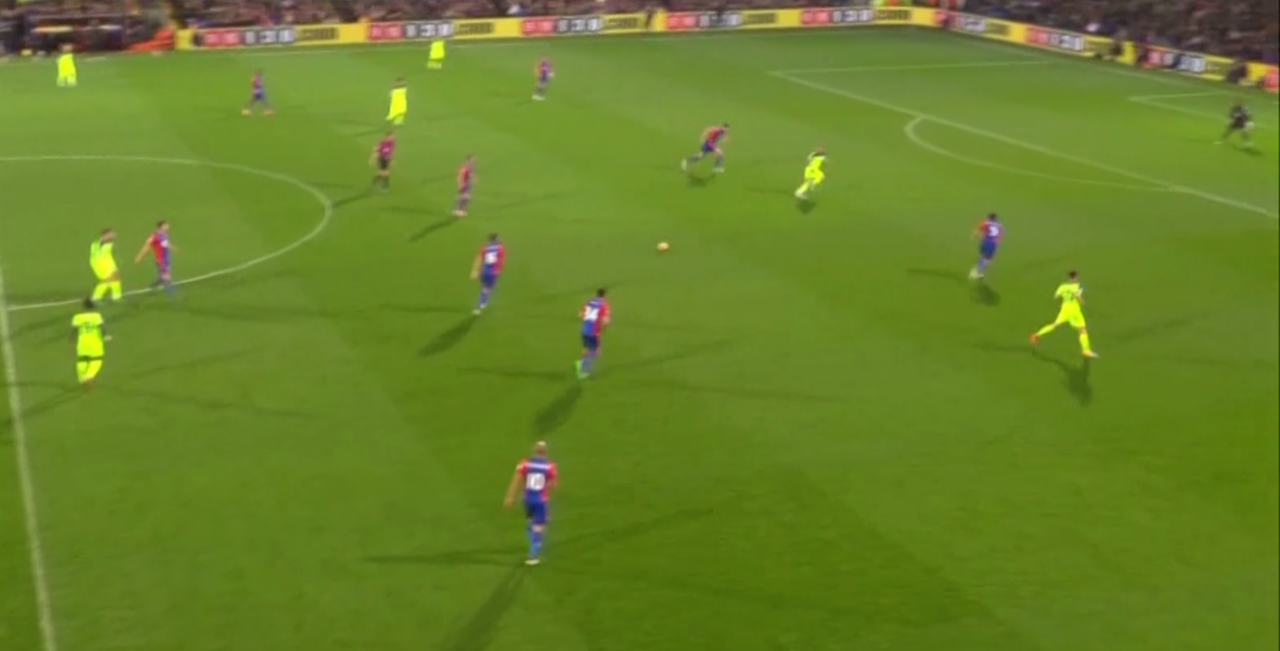 Now you can see the ball has been played, and it's traveling on it's way to Firmino. What Packing measures is the number of players taken out of the game either via passing or dribbling past them vertically or diagonally. Square balls and back passes don't count as Packing even if they bypass the opposition. So in this instance, when Firmino receives the ball, Henderson will receive a +8 Packing Rate because he will have passed through 5 players in the midfield and the 3 players behind them. Firmino will also get a +8 in Packing Rate because Packing counts the player that receives the pass as well. This way players like Ozil that are good at finding pockets of space and receiving passes between lines are valued for their contributions as well.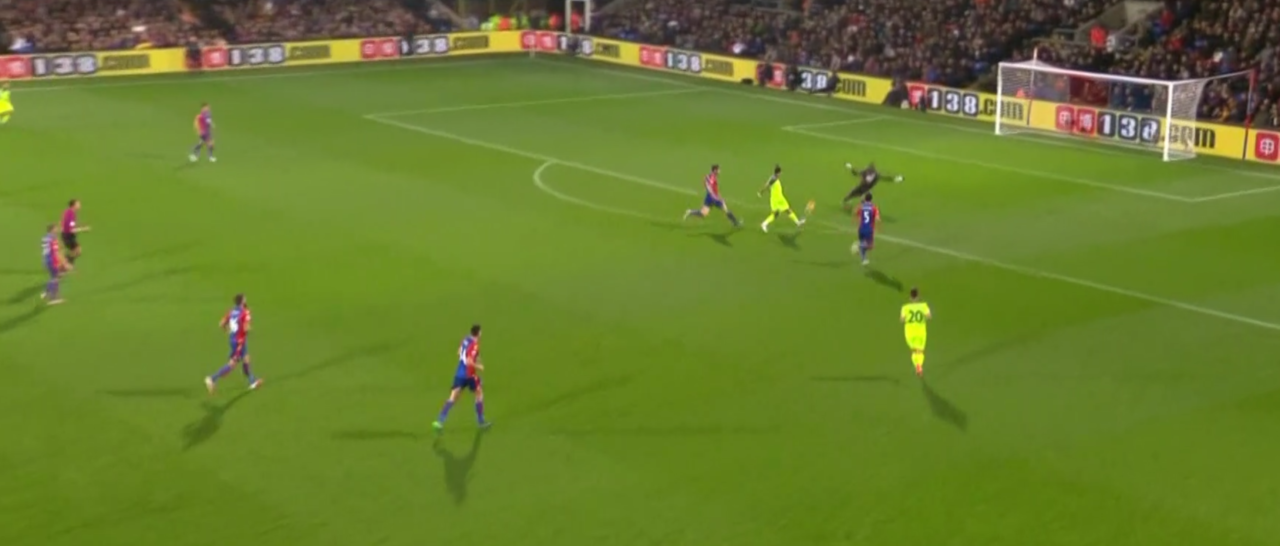 And finally, here's Firmino chipping Mandanda to finish the move off. In terms of Packing, Firmino receives no extra points for scoring, and Henderson receives no extra points for it being an assist. It's all about the players removed from the game. Beyond Packing, there is also a statistic called IMPECT, but IMPECT only calculates the number of defenders taken out. So for this exact same goal, both players only receive a +4 for IMPECT because Palace were playing a back 4, and all 4 were passed through for this goal. The same concept applies for dribbling, with the exception that since there is no receiver of a dribble, only 1 point is assigned to Packing Rate and IMPECT. It seems a bit confusing at first, but it's actually pretty simple.
So for the entire game, I sat down and counted how many opposition players our team took out of the game. I counted individually for each Liverpool player the Packing Rate for both passes and dribbles, the IMPECT (defenders) for both passes and dribbles, and how many times each Liverpool player was passed or dribbled by (I called this "Packed Out"). It's the same concept, I just counted how many times the opposition did it to us.
So without further ado, here's the table I threw together quickly for a handy visual for our Packing Rate against Crystal Palace: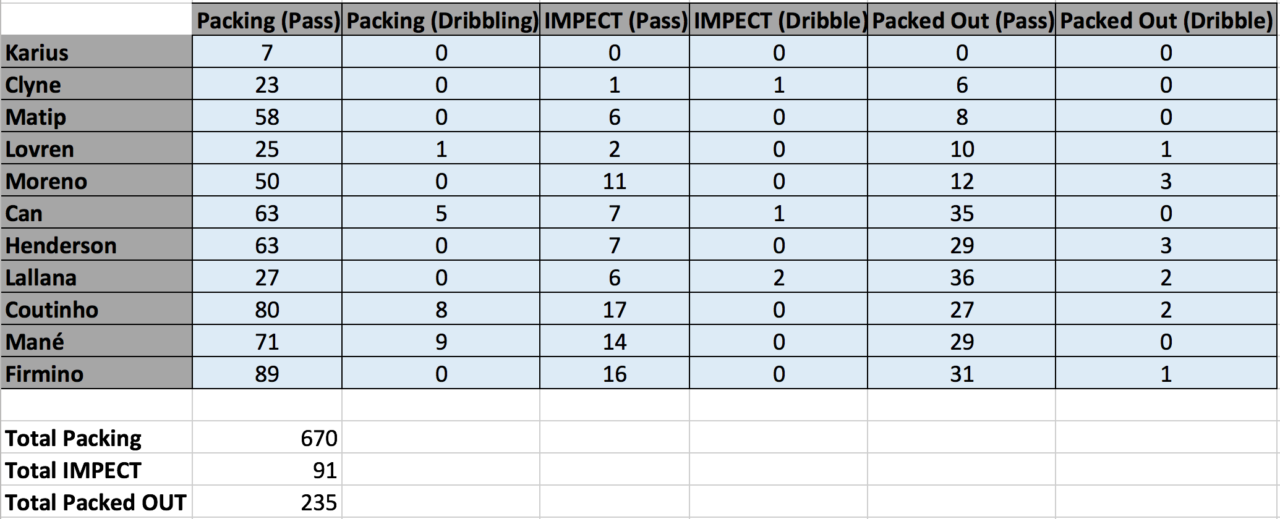 For right now, the totals of IMPECT and our Packing Rate are kind of irrelevant. I'll need to collect data for more matches in order to compare the rates to help get meaning out of those totals. However what we can tell from one match's worth of data is who did the heavy lifting in each match, and who was/could be a weak link in the side. What I'll do is break up the starting 11 into groups, and discuss what the numbers mean for each group.
GK
Not much to say here. I mean he's a goalkeeper, it's not like he's going to having any insane numbers. However, +7 isn't too bad considering that Karius's  distribution was off for almost the entire game. He struggled to ping passes to players like he normally does, but I'm sure when he has a better game his numbers should spike. Also interesting to note that the 7 for Karius's packing rate was collected from just 2 passes. The rest of his passes either didn't find their target or didn't take anyone out of the game. 1 of them was a 15 yard pass to Henderson that bypassed Benteke for a +1, and the other +6 came from a counter-attack where he launched a punt over 6 Palace players that ended up coming to nothing along our left flank. Definitely worth keeping an eye on Karius's numbers in the coming weeks, and will be a really interesting comparison if Mignolet gets a league start for me to collect stats on.
Defenders
The big number here is obviously Matip, but Moreno's contributions in the final third should definitely not go unnoticed. He contributed more than any other defender or midfielder to IMPECT, and his assist for Emre Can's goal is a perfect example of that. Moreno's verticality along our left flank and his partnership with Coutinho allows him to get involved really heavily in our build up and in our final third, and you can even see through the packing numbers that we favour that left flank. I don't have the exact numbers anymore, but I collected a couple games with Milner as LB in the beginning of the season, and that emphasis on the left flank was still there, but less work in the final third got done on that flank with Milner in the game. As for Matip, admittedly his numbers are skewed from a couple hoof balls that he played which found Firmino up front, but he was still one of the most influential players in our build up play. As I'll touch on more later, he teamed up well with Henderson to break lines and find Can, Moreno, and Coutinho with a lot of regularity. The numbers don't show it, but there were also a couple times where Matip stormed with the ball into the midfield and played some scything balls through the opposition's backline to Lallana and Firmino. Matip looks to be an enormous asset not only defensively but offensively as well. It looks like he will properly replace and improve upon the impending departure of Sakho in both areas. Clyne and Lovren were both decent, and at times underwhelming, but it didn't really matter with Matip, Moreno, and Henderson doing so much between themselves to feed the attack. Lovren also gets a brief shoutout for being the only defender today to get a +1 IMPECT for dribbling when he stormed up the left flank and beat Palace right-back Joel Ward for pace in our final third. Dejan Lovren. What a wild guy.
Midfield
As I said earlier, Henderson was crucial today. As per usual he would drop between the split CB's which provided former LFC striker Christian Benteke with some issues cutting passing lanes from both. In the short spells where Liverpool had prolonged control, Henderson really shone and pushed play forward brilliantly. Liverpool's budding no. 6 had another great game and was generally speaking solid defensively despite being outpaced through the centre a couple times more than I would like. Emre Can was another who had a very good game, as he provided a key link between Henderson and Matip; plus Coutinho, Firmino, and Moreno. At times he was careless on the ball, but he stormed past a few midfielders on long runs as his dribbling stats will tell you, and his passing numbers also illustrate how he was consistently making himself available for Joel and Jordan and finding good passes forward. Adam Lallana on the other hand was…not great. Despite roaming around constantly throughout the match he really struggled to consistently make an impact on the game. On the bright side though, almost a third of his Packing was IMPECT so that when he was getting involved, it was usually pretty dangerous involvements. For those of you that are Lallana lovers though, fear not. In the earlier season games I collected he was pretty consistently one of our best players in terms of Packing Rate. Palace just seems to have been a rough match for him.
Attack
And here come the big boy numbers. With an impressive 80 and 89 Packing Rate respectively, Coutinho and Firmino were the offensive juggernauts in this one. The stats don't show it, but most of Bobby's Packing and IMPECT actually came from him receiving the ball rather than passing it. His tendency to drop between the lines and pull the defenders around was key as he was always a dangerous attacking option to receive the ball. I know the stats I recorded don't show the difference between passing and receiving, but I'm going to amend that in the future. Those differences are critical, and we need to be able to see them. Coutinho on the other hand was the opposite. He spent most of his time supplying the balls through to Moreno on the overlap, Firmino, or Sadio when attacking. When we had possession high up he'd often drift deep and inside, and Moreno and Can would overlap on both sides of him. This proved to be immensely useful as it allowed Phil to run at the defence or use his vision to clip balls through to players running behind. His role in this one managed to perfectly combine the danger he offers in the final third, and also his usefulness deeper as a playmaker. Coutinho ran rampant in this one as he delivered the highest IMPECT of any Liverpool player on the day and collected the second highest Packing Rate via dribbling on the team, second only to Sadio Mane. While Mane didn't quite put up the impressive numbers Bobby or Phil did, he was definitely still a real threat. With the most players beaten off the dribble and still a healthy amount of IMPECT, Sadio was still very effective, running behind especially, and was unlucky to not have a goal or two to his name when the final whistle blew.
In this match, the Packing Rate mirrored the story of the game: Liverpool dominant. I haven't touched on it yet, but Liverpool were surprisingly good defensively given the scoreline. We weren't compact by any stretch but Liverpool's relentless press meant very few periods for Palace to play their football and try to build up. If not for a couple disappointing errors defensively, the scoreline would've better reflected just how dominant the Reds were, as Liverpool had almost 3 times the Packing Rate of Crystal Palace. There's still more work to do, but I'm happy to be kicking this series off with as convincing a performance as this. Now just imagine how this could look when Adam Lallana is firing on all cylinders…